Ashleigh Barty's miracle comeback* to professional tennis is complete after the young Australian won the French Open singles title at the weekend.
Ranked No. 623 in 2016 after taking a break from tennis to play cricket, Barty is now a true-blue* international star after defeating Czech player Marketa Vondrousova 6-1 6-3 in the grand slam* final.
Ending a 46-year Australian drought* at Roland Garros, Barty will rise to No. 2 player in the world, earning $3.5 million and a spot in tennis history.
With her parents Rob and Josie watching the final on television from England and sisters Sara and Ali doing the same from Australia, Barty confirmed her position as the hottest player in the world.
Urged on courtside* by former Australian tennis champions Rod Laver and Pat Cash, the Queenslander was simply too good for Vondrousova.
Barty claims French Open!
After the win, Barty said she had played "the perfect match".
"It's amazing. I mean, we have done the work, and we tried to put ourselves in these positions. Now that we're here, it's just incredible.
"For the last fortnight, the stars have aligned* for me. I have been able to play really good tennis when I've needed it.
"This is just incredible. I never dreamt that I'd be sitting here with this trophy here at the French Open. I mean, obviously we have dreams and goals as children, but this is incredible."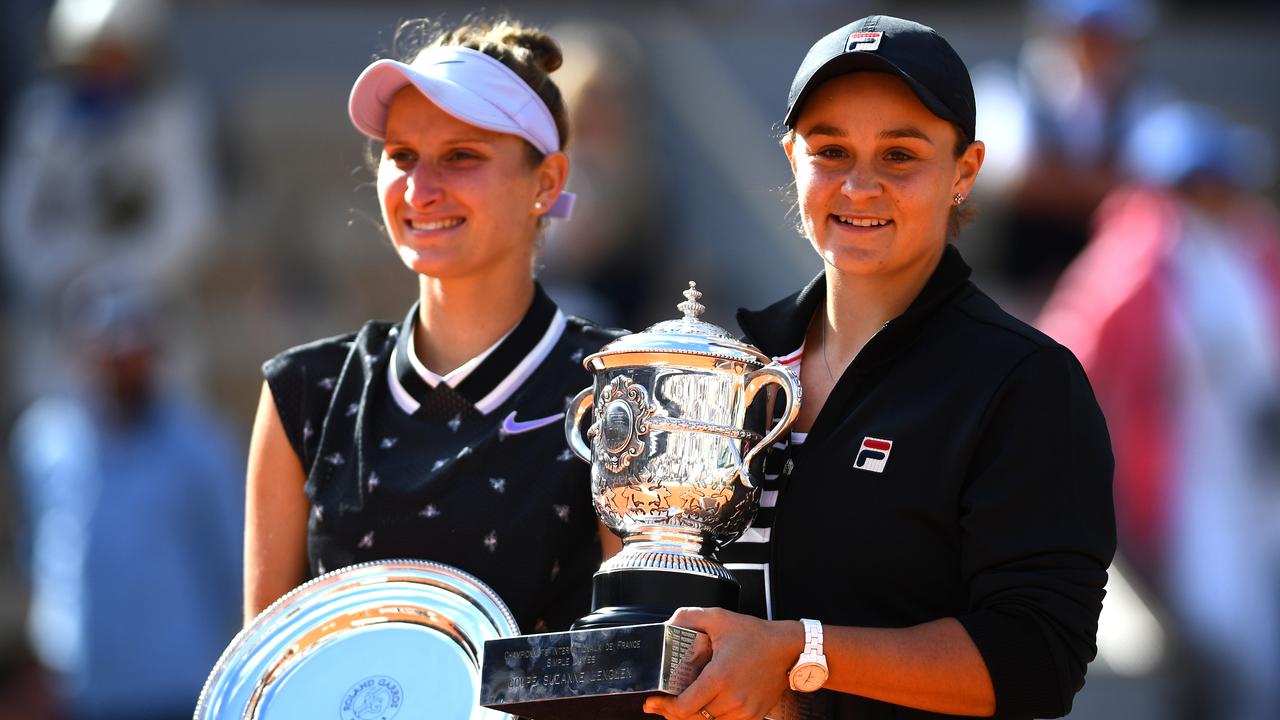 The laid-back* Australian became Australia's first indigenous grand slam champion since Evonne Goolagong at Wimbledon in 1980.
Lifting the Coupe Suzanne Lenglen trophy, Barty is Australia's fourth women's singles champion at the French Open, joining Margaret Court (1962, '64, '69, '70 and '73), Lesley Bowrey ('63 and '65) and her idol* Goolagong ('71).
Barty, 23, revealed she played cricket in the changerooms while waiting for her match to start and she kept focus throughout the match with a simple message.
"I just kept saying to myself, 'I may never get this opportunity ever again, so try and grab it with both hands'," she said.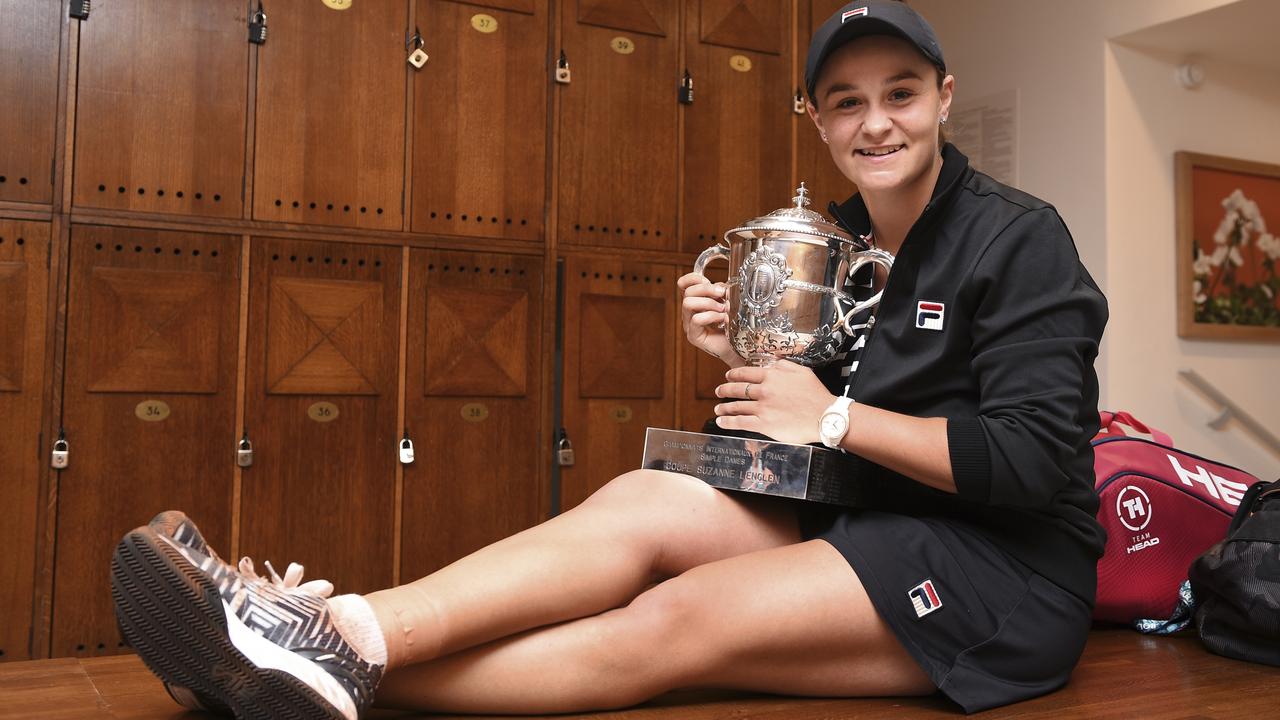 DYLAN ALCOTT ALSO WINS FRENCH OPEN
Australian tennis player Dylan Alcott has won the first French Open quad wheelchair singles title.
The Victorian won his fifth Australian crown in January and with Wimbledon about to hold its first quad tournament next month, Alcott has history in sight — he wants a grand slam sweep.
A grand slam sweep requires a player to win all four majors (Australian Open, French Open, Wimbledon and the US Open) in a season.
Alcott, 28, won the French Open with a 6-2 4-6 6-2 triumph over David Wagner.
The victory was Alcott's eight singles major, adding to his five Australian and two US crowns.

GLOSSARY
comeback: return to something
true-blue: confirmed
grand slam: one of four major tennis titles — French Open, Wimbledon, US Open and Australian Open
drought: a long gap between victories
courtside: sitting in the stands on the side of the court
aligned: everything going right
laid-back: relaxed
idol: hero
EXTRA READING
Maroons steal Origin Game 1 from NSW
Aussie mates set mass skydiving record
Daredevil's high-rise motorbike backflip
QUICK QUIZ
What was Ashleigh Barty's world ranking three years ago?
Who did she defeat in the final?
Which Aussie champions were watching courtside?
Who was the last Australian woman to win the French Open before Barty?
What did Barty do before the match started?
LISTEN TO THIS STORY
CLASSROOM ACTIVITIES
1. News snippets
Depending on when and where they are broadcast, news stories can be long and detailed, or much shorter summaries of an event. Edit this news story to make it suitable for the following:
A quick news bulletin during the television commercials. (A one-sentence summary, that will make viewers want to watch the news later to find out the rest.)
A radio news broadcast. (4-5 sentences including the key facts and a quote from Ashleigh Barty.)
Time: allow 30 minutes to complete this activity
Curriculum Links: English
2. Extension
Tennis players are often interviewed on-court after their matches. Make a list of 5 interesting questions you would ask Ash Barty (or another tennis player of your choice) if you got the chance to be the interviewer.
Time: allow 15 minutes to complete this activity
Curriculum Links: English, Health and Physical Education
VCOP ACTIVITY
With a partner see if you can identify all the doing words/verbs in this text. Highlight them in yellow and then make a list of them all down your page. Now see if you and your partner can come up with a synonym for the chosen verb. Make sure it still makes sense in the context it was taken from.
Try to replace some of the original verbs with your synonyms and discuss if any are better and why.
Curriculum Links: English, Big Write and VCOP
HAVE YOUR SAY: Do you think Ashleigh Barty will go on to become the world's No. 1 tennis player? Tell us why or why not.
No one-word answers. Use full sentences to explain your thinking. No comments will show until approved by editors.