Colossal Comm Games shock revisits ancient 'circus' in cartoon
Mark Knight probes Australia's history, reputation and identity as a great sporting nation after Victorian Premier Dan Andrews canned the Comm Games and left athletes' dreams in rubble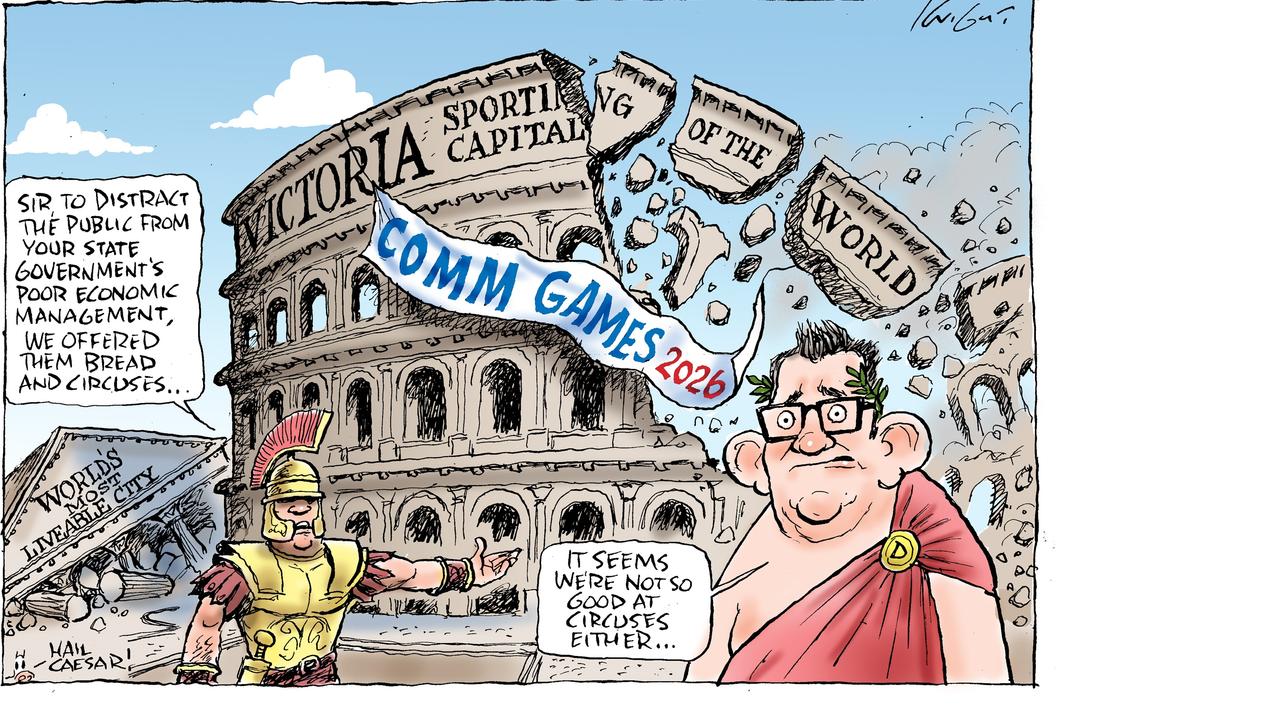 The cancelled Commonwealth Games fiasco crumbled more than the national mood in Mark Knight's multi-layered cartoon. Picture: Mark Knight
Australia is a sporting mad nation. This week alone, putting to one side our intense national Rugby League and AFL competitions, we are also holding the Women's World Cup Soccer Tournament here. To say we enjoy our sport would be an understatement*.
So when the news broke this week that Victorian Premier Dan Andrews was cancelling his state hosting the 2026 Commonwealth Games, there was real shock.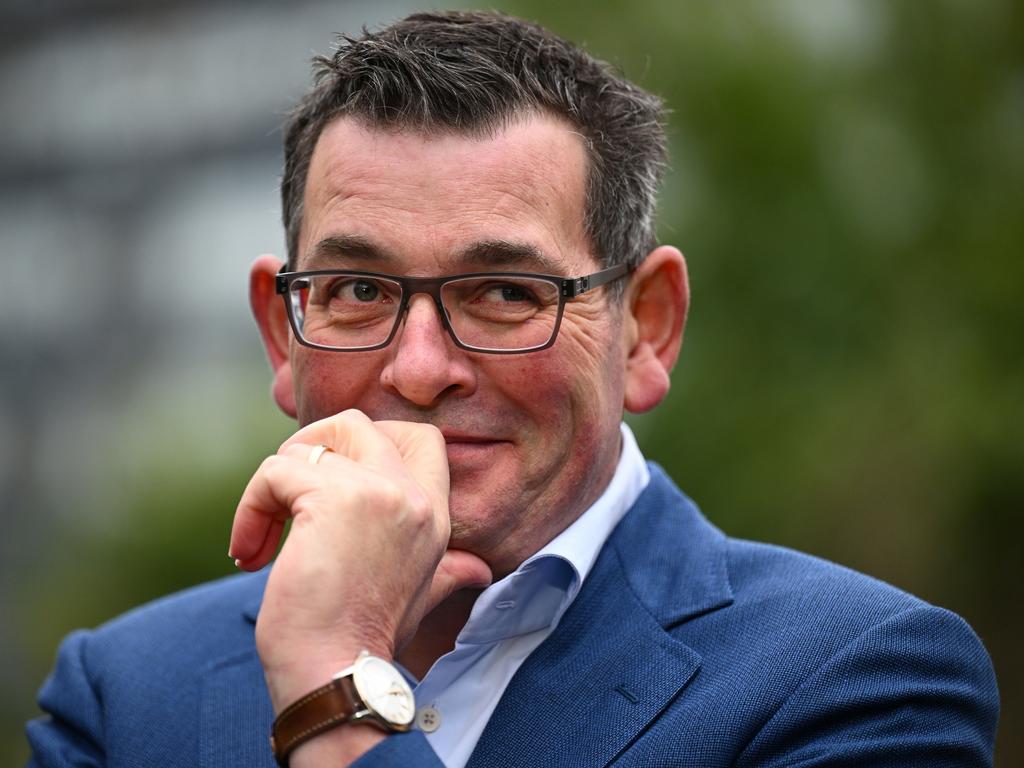 The Victorian state government led by Premier Dan Andrews, pictured, cancelled the 2026 Commonwealth Games, slated to be held across regional Victoria, on Tuesday 18 July. Picture: AAP Image/James Ross
Victoria and Melbourne are often referred to as the sporting capitals of the world, so to hear that the state could not afford to hold a major sporting event like the Commonwealth Games came as a major blow to its reputation as a sporting mecca*.
Premier Andrews said that costs had blown out – and the fact that he wanted to hold the Games' events in Victoria's regions made it even more expensive. He said he could not take money away from schools and hospitals to pay for a 12-day sporting event, even though a year ago he put his hand up to hold it.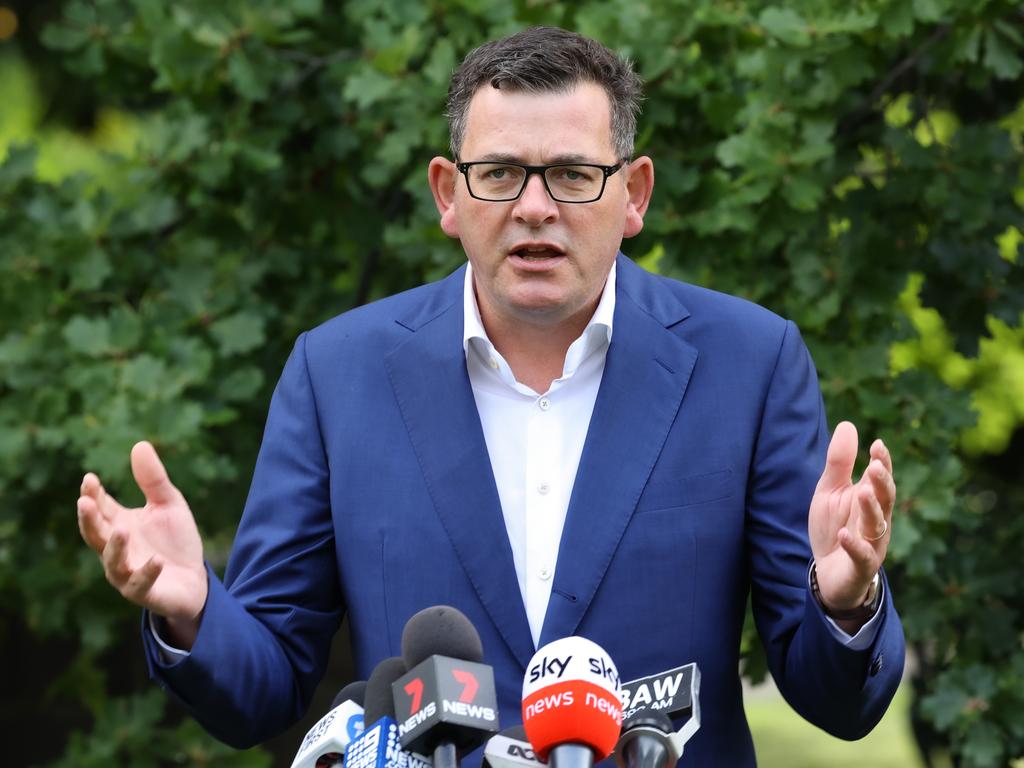 Victorian Premier Dan Andrews announced that Victoria would bid for the 2026 Commonwealth Games – pledging a predominantly regional program if successful – on February 16 last year but cancelled the event less than 18 months later. Picture: Ian Currie
Victoria was under huge financial pressure with many of its big infrastructure* projects going over budget; however, there were no previous signs that the Victorian Games were on shaky ground.
The Comm Games organisation did not see the cancellation coming. The recent Victorian State Budget did not allude* to any problem and funding was in place.
Athletes, particularly Australian ones, were making good their preparations for an event on home soil and only 1000 days away. Their huge disappointment was laid bare in interviews in the media. This called for a cartoon on the subject, I thought.
Sometimes, with big stories like this, there are so many angles to it that it's hard to know what part of the story you want to highlight.
Pictured from left, Athleta Gymnastics gymnasts Chontelle Burgess, 13, Amber Duffy, 16, Ryan Voinescu, 17, Indiana Pham, 14, and Alyssa Rantino, 12, have had their hopes of representing Australia at the Games dashed by the announcement. Picture: David Caird
When the story broke, I drew a cartoon of an athlete on the starting line to symbolise the 2026 Games, with Daniel Andrews holding a starter pistol* saying, "On your mark …". Unfortunately, Andrews' starter pistol was pointed at the athlete. That cartoon summed up quite simply the main fact that the Premier had terminated* the Games. But now I wanted to dig a little deeper and draw a cartoon commenting on the threat to Victoria's reputation as a sporting capital with the cancellation of the Games.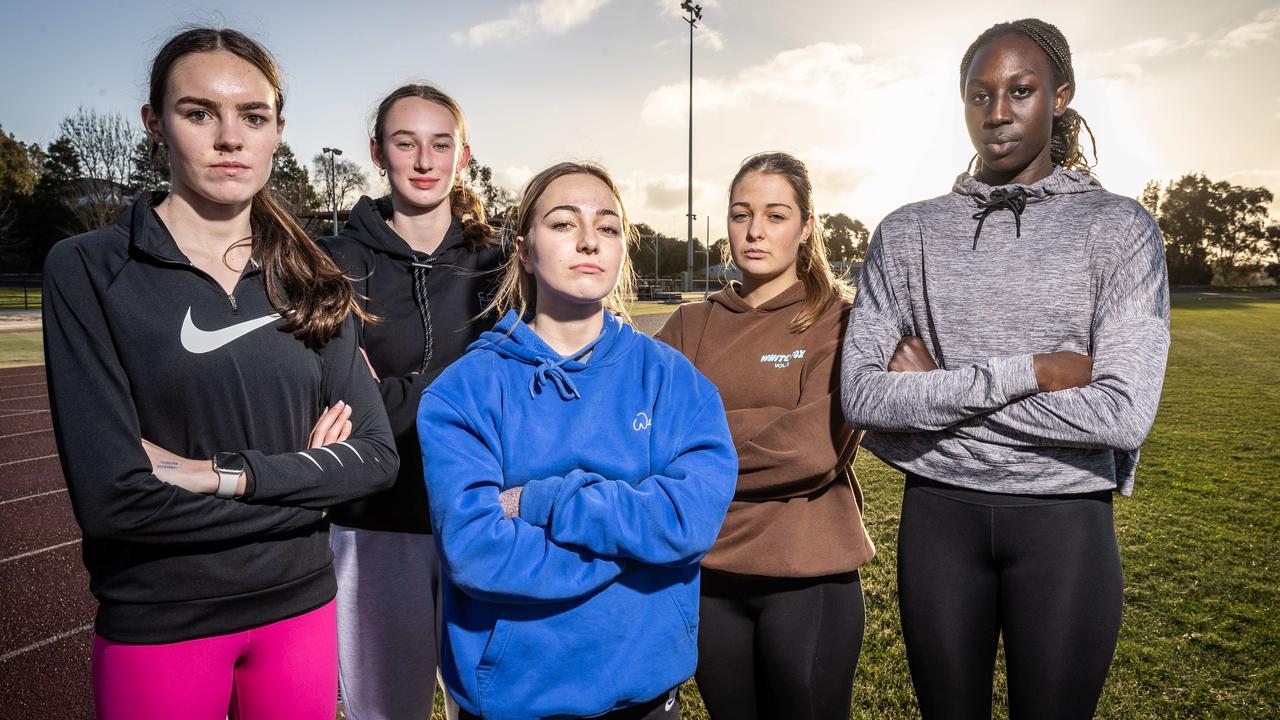 Ballarat athletes are disappointed that the "regional" Commonwealth Games have been cancelled. Pictured from left is Molly Fraser, 17, Mackayla Culbenor, 15, Armani Anderson, 16, Bridie Orchard, 15 and Nyajima Jock, 20. Picture: Jake Nowakowski
I needed a strong symbol of Victoria's sporting might, and having just travelled to Rome on a holiday, I thought the Colosseum* would be a great symbol of its success. Add to that Premier Andrews, the three time election winner, as the all powerful emperor and conqueror*, standing in front of Victoria, the Colosseum of sporting events where the 2026 Commonwealth Games would be held.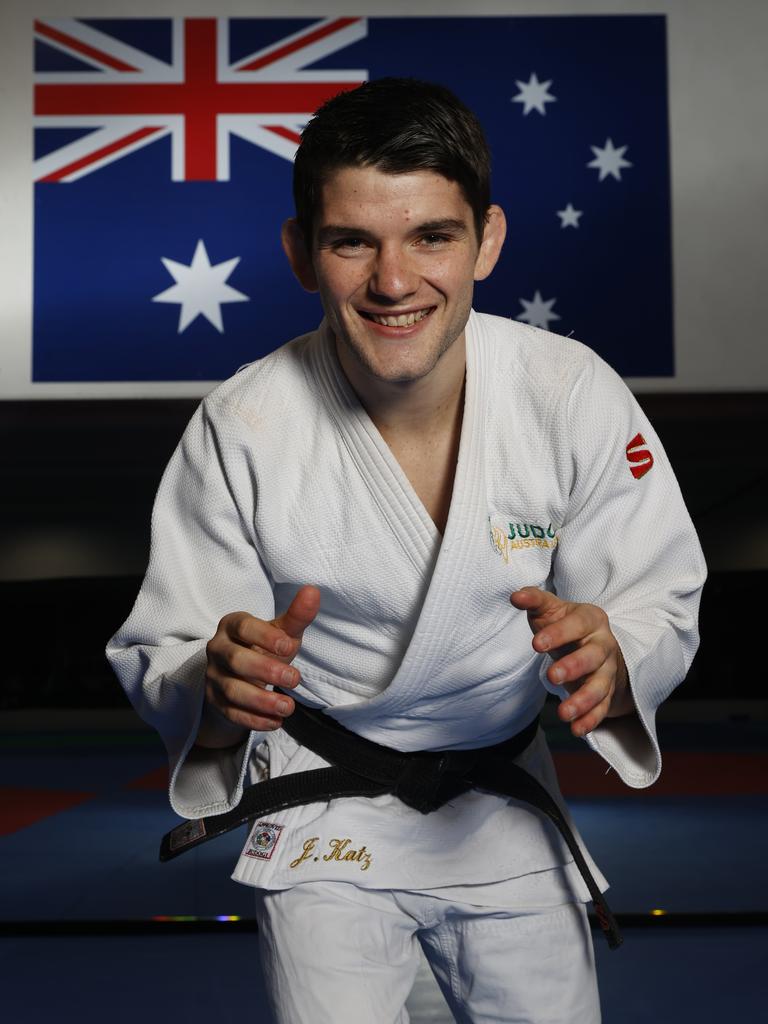 Aussie judo athlete Josh Katz had also hoped to compete at the Commonwealth Games in Victoria. Picture: Alex Coppel
Wow, this would be fun to draw.
I set about sketching the scene, referring to my sketches of the Colosseum I did in the notebook I took with me to Italy. Sadly I would have to add the cancellation of the Victorian Comm Games, so in the cartoon the Colosseum is crumbling, the banner announcing the Games is shredding and the marble facade* is tumbling down in the cartoon, symbolising the threat to Victoria's sporting crown.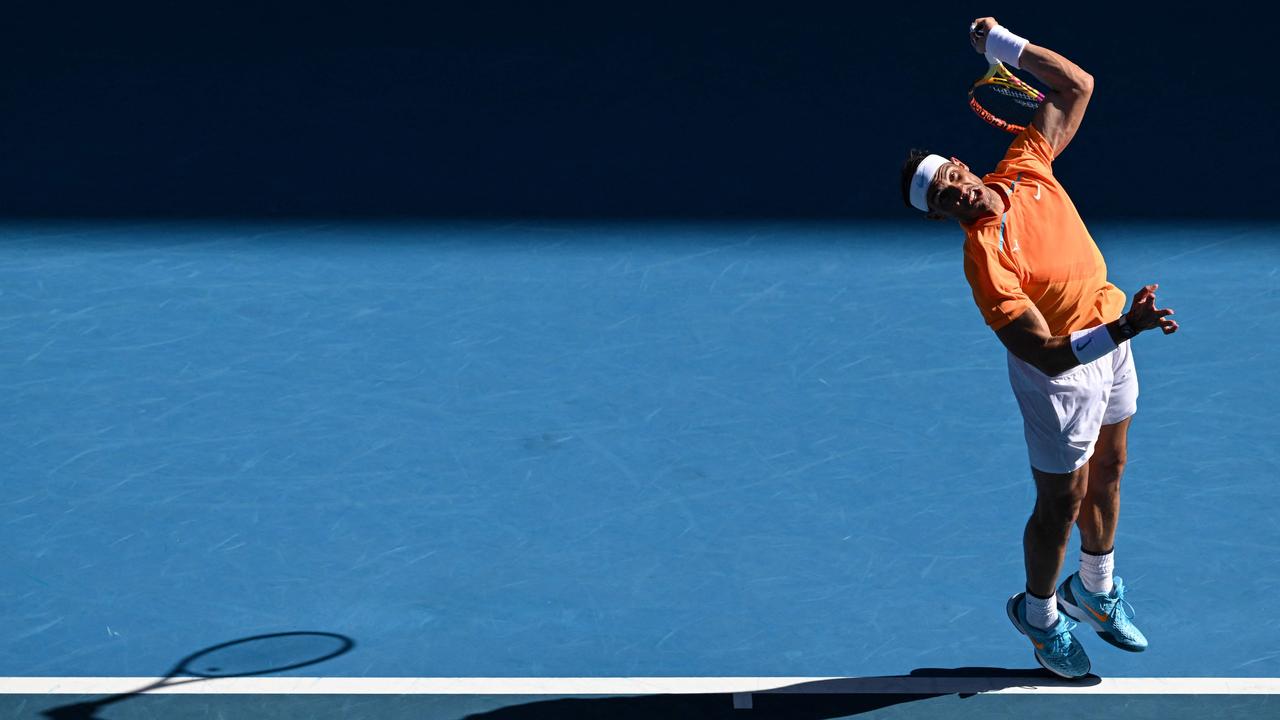 The Australian Open is one of the major international sporting events that have put Melbourne and Victoria on the map. January 16, 2023 Spain's Rafael Nadal is pictured serving against Britain's Jack Draper on day one of the Australian Open on January 16, 2023. Picture: Manan Vatsyayana/AFP
It is here that I thought I would refer to a well-known line from a Roman poet from the 1st century AD, who said that political leaders of the day would attempt to keep the Roman public happy by offering them free "bread and circuses" to distract them from the failings of their leaders. It's nice to know that 2000 years ago, politicians were much the same as they are today!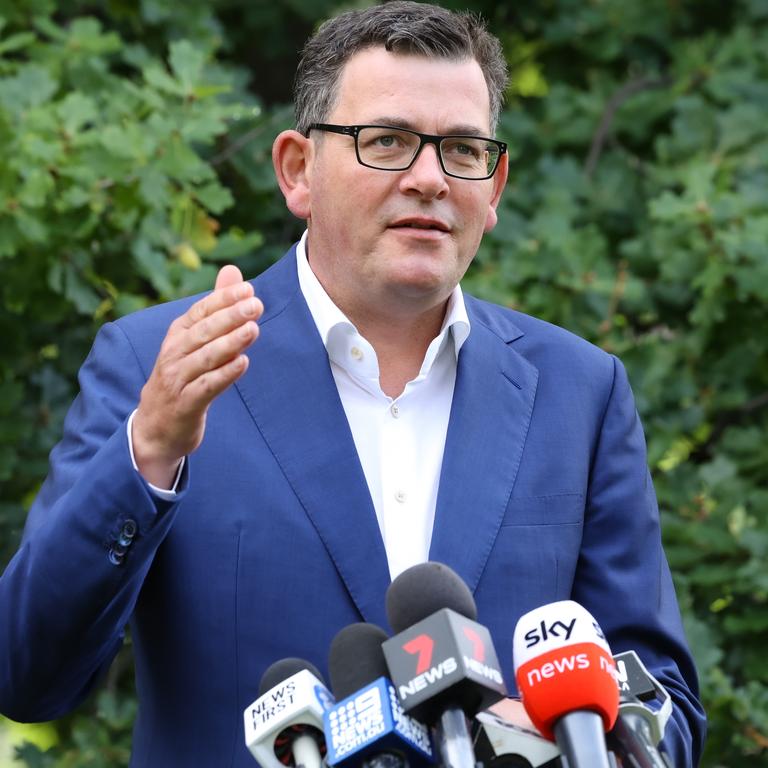 Cartoonist Mark Knight wondered if last year's looming state election sparked Victorian Premier Dan Andrews' enthusiasm for hosting the Commonwealth Games. Picture: Ian Currie.
Some might see the Premier's hasty decision to hold the Commonwealth Games in Victoria without any long term financial planning, as an attempt to entertain voters in the country regions during last year's state election with a Comm Games "circus". So I added this theme to the cartoon, with Emperor Andrews quipping* that due to the collapse of the Comm Games in Victoria, "they're not so good at circuses either."
Cartoons like this that contain historical metaphors* can be complicated, but hopefully they encourage people to explore the past, which can help us understand the present.
Like I say, history always repeats.
POLL
GLOSSARY
understatement: describing something such that it sounds less important, serious or impressive than it is
mecca: a place to which many people are attracted; Mecca capitalised is the spiritual centre of the Islamic faith
infrastructure: systems and services needed to support an economy, like transport, communications, electricity and water
allude: to mention someone or something in an indirect or brief way
symbolise: one thing used to represent another thing
starter pistol: a small gun that makes a loud noise to signal the start of a race
terminated: ended, finished, concluded or stopped
conqueror: person who has taken complete control of a country or group of people
facade: here it refers to the front of a building
quipping: making a smart, clever remark
metaphor: describing a person or object by referring to something thought to have similar characteristics
EXTRA READING
Victoria cancels the 2026 Commonwealth Games
Comm Games close on golden note for Aussies
Kids to help design 2026 Comm Games mascot
QUICK QUIZ
What sporting events were happening in Australia the same week the cancellation was announced?
Premier Andrews said he could not take money from which two sectors to pay for the Games?
Which famous Ancient Roman monument is featured in Mark Knight's cartoon?
What would distract the masses from the failings of government, according to an ancient poet?
What might some people say led to Andrews' decision to bid for the Games in February last year?
LISTEN TO THIS STORY
CLASSROOM ACTIVITIES
1. What happens next?
Imagine this cartoon is part of a story that is made up of three cartoons. The three cartoons tell a complete story and Mark's cartoon is the start of the story. Think about what the story could be and draw the next two cartoons that tell the story.
Time: allow 30 minutes to complete this activity
Curriculum Links: English, Visual Arts, Visual Communication Design, Critical and Creative Thinking
2. Extension
Being able to draw is only one of the skills needed to be a great cartoonist. Write a list of all of the other skills that you think cartoonists like Mark need to do their job.
Next to each skill, write a sentence that explains why that skill is important or helps them to do a great job.
Time: allow at least 20 minutes to complete this activity
Curriculum Links: English, Personal and Social Capability, Media Arts, Visual Communication Design
VCOP ACTIVITY
Stretch your sentence
Find a "who" in the cartoon – a person or an animal. Write it down.
Add three adjectives to describe them better.
Now add a verb to your list. What are they doing?
Add an adverb about how they are doing the action.
Using all the words listed, create one descriptive sentence.