HE'S become the story of the athletics world championships, the Botswana runner who's beaten a virus, a temporary ban and red-tape to make this morning's 200m final.
And while there was no fairytale finish to win gold, Isaac Makwala still captured the hearts of the athletics world after being banned by the IAAF (International Association of Athletics Federations) from running in the 200m heats and the 400m final because he was staying in a team hotel where an outbreak of a gastro virus occurred.
He'd claimed he was no longer sick and even turned up the stadium before the final, only to be denied* entry.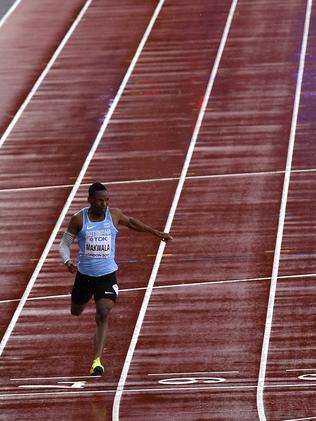 But on Thursday he got a last-minute chance to race again after being granted a solo time trial to see if he could qualify* for the 200m semi-finals.
With the rain pouring down, Makwala ran on his own in lane seven and comfortably went under the targeted time of 20.53 sec, clocking 20.20 sec much to the delight of the crowd who'd cheered his every move.
Two hours later he was back for the first semi-final, running with the other runners in lane one and finishing second to qualify for the final.
Makwala raised his arm to the sky as he crossed the line in celebration, clocking 20.14 sec to make him the third fastest qualifier.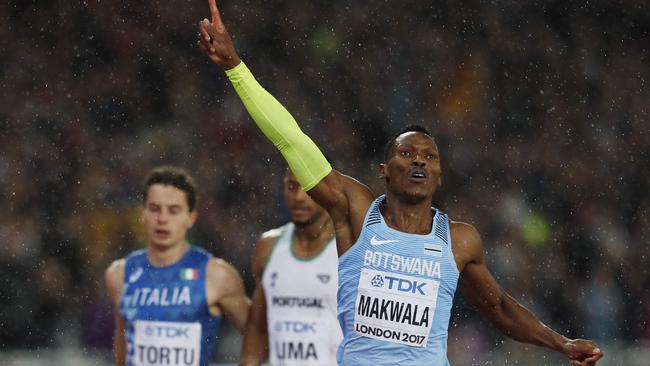 "I put everything on God after what happened yesterday," he said. "I'm still running with my heart broken.
"I wish the IAAF had given me the decision to run the 400m first. I was ready to run. I don't know who made the decision. 400m is my reason for training.
"I'm running with anger. 400m is my race. But thanks to the crowd, they were amazing."
More than 30 athletes and staff from a number of countries have been impacted by the virus at the Tower Hotel in London.
The IAAF ruled that Makwala's "quarantine* period" had ended which is why they left the door open for him to qualify for the 200m.
His case was helped by the intervention* of IAAF president Sebastian Coe who had "massive sympathy" for the Botswana runner.
"No one from the IAAF is showing a lack of empathy* with Isaac, far from it in fact," Coe said.
"We have massive empathy for him as he worked so hard to get here."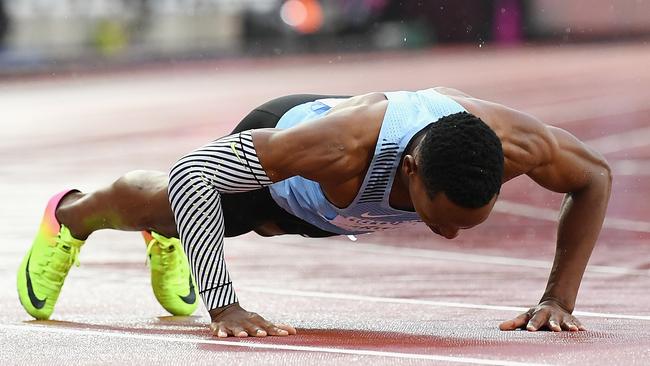 In the final this morning, however, Ramil Guliyev from Turkey, shocked everyone by out-sprinting both Makwala and favourite Wayde van Niekerk. Makwala finished sixth.
OTHER MEMORABLE ATHLETIC ACHIEVEMENTS
The Botswana runner's determination is reminiscent* of other athletes who have fought against the odds in competition.
ERIC THE EEL
Swimmer Eric Moussambani Malonga, from Equatorial Guinea, had never seen an Olympic sized swimming pool before arriving at the 2000 Sydney Olympics to swim in the 100m freestyle.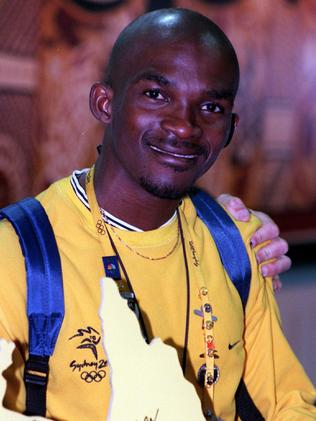 He gained international fame after winning his heat in a time of 1:52.72 — the slowest time on record for the event, but a personal best for Eric and a national record for his country. When his two heat competitors were disqualified for jumping early, Eric won his heat and the hearts of the Olympic audience. He failed to progress to the next stage.
EDDIE THE EAGLE
The British skier captured the attention of the world for his tireless effort to make it into the Winter Olympics. In 1988, he competed for Great Britain in ski jumping at the Calgary Olympics in Canada. He was the first UK representative to qualify for the event since 1929.
But he didn't win. In fact, he finished last in both the 70m and 90m events but his story and determination just to compete won over the crowds.
Last year a biographical comedy drama movie starring Hugh Jackman was released about Eddie.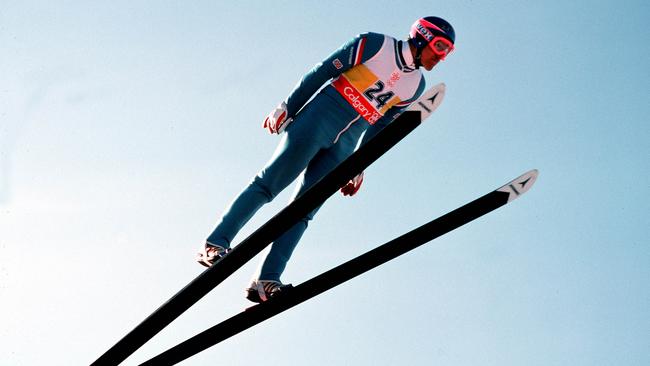 GLOSSARY
denied: stopped
qualify: get into
quarantine: isolation
empathy: feel what someone else feels
reminiscent: looks like
LISTEN TO TODAY'S STORY
CLASSROOM ACTIVITIES
Activity 1. Understanding the story
• Why was Isaac Makwala banned from running in the 400m final?
• Why was he allowed to run a 200m race?
• What was unusual about this race?
• What was the result of this unusual race?
• What did Isaac achieve in the following race?
Extension:
In the story you read about other athletes who fought against the odds.
What can we learn from these people?
List the positive things that people like Eddie the Eagle, Isaac Makwala and Eric the Eel can teach us.
Use these points to write a story for younger students about these athletes.
The purpose of your story is to help the students understand the good qualities of these athletes that they can focus on in their own lives.
You could create a picture book.
Time: allow 80 minutes to complete this activity
Curriculum links: English, Personal and Social Capability, English, Visual Communication and Design
Activity 2.
Imagine that you are Isaac Makwala.
Write a letter to the IAAF explaining why you think that their decision to ban him was wrong.

Extension:
Imagine that you are Sebastian Coe, President of the IAAF.
Write a letter back to Isaac explaining why you banned him from the 400m final and his original 200m heat.
Time: allow 50 minutes to complete this activity
Curriculum links: English, Health and Physical Education, Critical and Creative Thinking
VCOP ACTIVITY
(Vocabulary, Connectives, Openers, Punctuation)
Racing words
Not only are you an amazing writer, you are a superstar swimmer and runner!
You are going to race against Eric the Eel and Isaac Makwala today.
You will need a timer to race against Isaac Makwala.
Have a partner press the start timer.
Then you must write as many vocabulary words in 20:20 seconds.
Then as many openers as you can in 20:20 seconds.
And finally, as many connectives as you can in 20:20 seconds.
Once you've raced against Isaac, it's time to take on Eric the Eel!
This time, you need to use some of the words you've formed racing Isaac and put them into some sentences. You have one minute and 52 seconds to do this!
Can you beat Eric the Eel? Ready, set go!
Time: allow 15 minutes to complete this activity
Curriculum links: English, Big Write, VCOP

EXTRA RESOURCES