Breakdancing could join the 2024 Paris Olympics.
The Paris Olympics organisers have applied to the International Olympic Committee to include this athletic dancesport, which is also called breaking or b-boying/b-girling, after the sport's success at the Youth Olympics in Buenos Aires, Argentina last year.
Along with breakdancing, the Paris committee has asked for skateboarding, climbing and surfing to be included as a way of making the Olympics more urban*, more artistic*, more gender* balanced and more appealing for young people.
VIDEO: Breakdancing was included in the 2018 Youth Olympics in Buenos Aires
In competitive breakdancing, breakers — alone or in teams — face off against each other in "battles", taking turns to show off with imaginative, acrobatic* and improvised* moves to a DJ's beats, watched by a judging panel that picks the winner. The music is typically hip hop* or funk*.
Skateboarding, climbing and surfing — but not breakdancing — have already been included in the 2020 Olympics in Tokyo. The International Olympic Committee (IOC) will make a decision on the Paris sports in December 2020, after the Tokyo Games.
Breakers feel that even just being put forward for inclusion* by the Paris organisers is a positive step for the acceptance of breakdancing as a real sport.
"It's a victory for us. Even if it goes no further, we'll still have won," said Mounir Biba, one of the top breakdancers in France, where there is a strong breakdancing culture.
"There's simply no doubt about the athletic aspects* of the discipline*," said Mr Biba, who answered questions at the Paris announcement about how breaking qualifies as a sport.
"I defy* Cristiano Ronaldo to do just one of my movements," he said, referring to the famous Portuguese professional footballer, or soccer player.
VIDEO: Athletes compete alone or in teams, facing off in "battles"
The head of the Paris organising committee, Tony Estanguet, said the committee's goal was "to connect the games to their era*".
Organisers explained the proposed sports have broad appeal to young people, large and active audiences on social media and, with skateboarding and breaking in particular, an urban base. The IOC is trying to make the Olympics less expensive and wasteful, which advantages the four proposed sports, which shouldn't need large and complex new venues.
There are already 28 sports confirmed for the 2024 Paris program.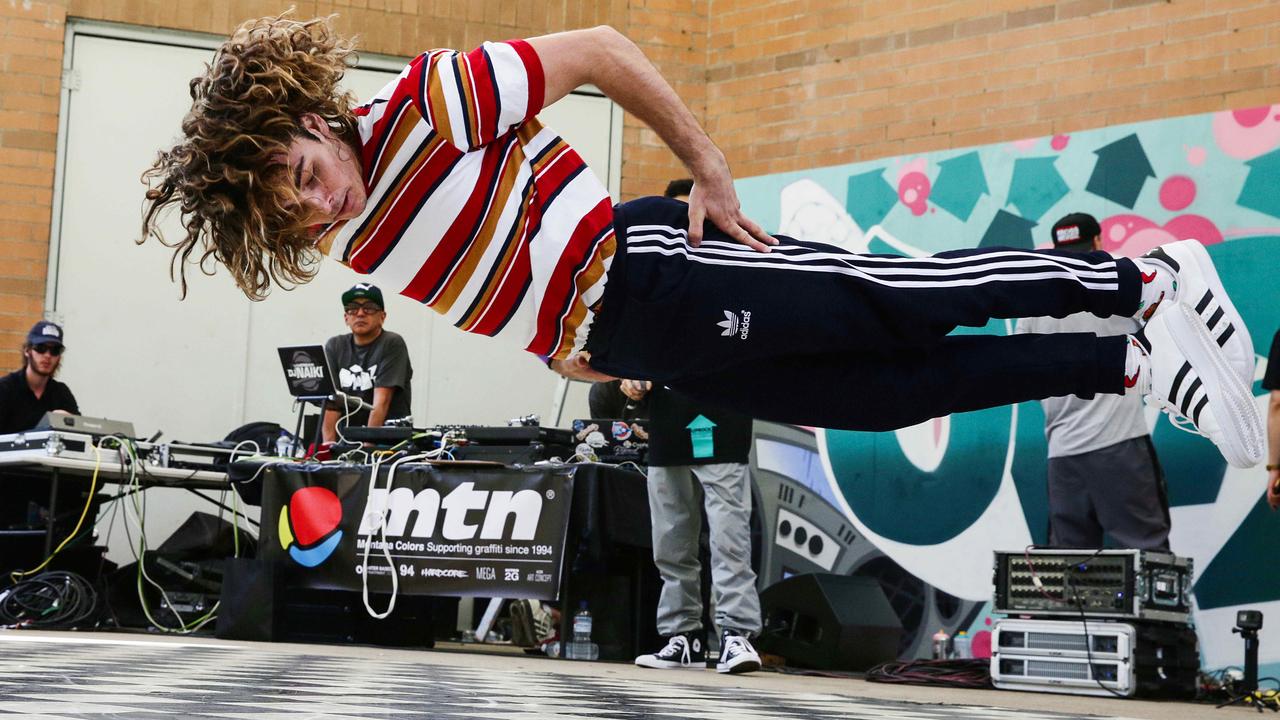 A SHORT HISTORY OF BREAKDANCING
Breakdancing was created in the 1960s and '70s by African-American youth in US cities such as New York and Boston.
There are elements borrowed from gymnastics, Kung Fu films, the moves of funk and soul* entertainer James Brown and from street dancers in Africa.
The term "breaking" was slang for getting excited and acting energetically.
It is one of the four main roles in hip-hop culture. The others are the MC (the rapper), the DJ (who makes music with turntables) and the graffiti artist.
Serious breakdancers don't call themselves breakdancers. Many feel the name "breakdancing" is a bit mainstream and they sometimes use the term as an insult, to indicate someone isn't very serious about the sport.
"Breaker", "b-boy" and "b-girl" were the original and often still are the preferred ways of describing breakdancers.
There are four main types of moves: toprock (standing moves), downrock (floor moves using arms and legs), power moves (acrobatics) and freezes (still poses supported by upper body strength).
Russia's Sergei Chernyshev, competing under the nickname Bumblebee, won the first breakdancing gold medal for boys at the 2018 Youth Olympics, while Japan's Ramu Kawai, competing under the nickname Ram, won the girls' title.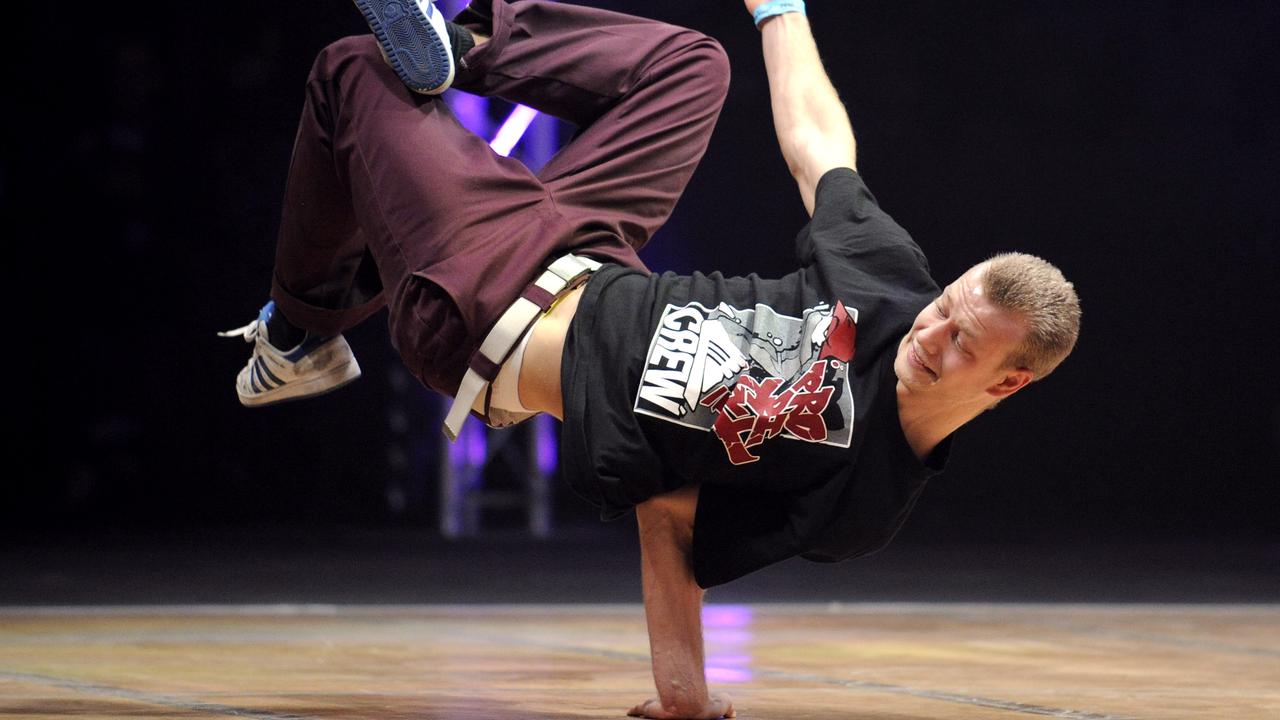 GLOSSARY
urban: relating to the city
artistic: creative, imaginative, inventive, original
gender: either of the two sexes, male or female
acrobatic: performing or involving spectacular gymnastic moves
improvised: made up on the spot; not following a script
hip hop: a style of music featuring rap and electronic backing
funk: a style of dance music featuring blues and soul elements and having a strong first beat in each bar
inclusion: the action of including someone of something
aspects: parts or features
discipline: a branch of study, sport or activity
defy: challenge someone to prove something
era: period in time
soul: a style of music featuring blues and gospel elements
EXTRA READING
Scotty James wins halfpipe gold medal
Street artist hits the big time
QUICK QUIZ
Where are the 2020 and 2024 Olympic Games?
What four extra sports is the Paris organising committee supporting for inclusion?
Name the four roles in hip hop.
Name the four types of moves.
What are the nicknames of the breakdancing gold medallist from the 2018 Youth Olympics?
LISTEN TO THIS STORY
CLASSROOM ACTIVITIES
1. Fast moves
Using the news article and videos for inspiration, create 4 breakdancing moves of your own. Practise each move, give it a name and decide which category it fits into (out of toprock, downrock, power move or freeze). Rehearse your 4 moves in sequence and perform them for an audience (such a classmate or your whole class, a teacher or on film).
Time: allow 30 minutes to complete this activity
Curriculum Links: Dance
2. Extension
What sport would you like to see included in the 2024 Olympics that isn't already confirmed? Provide a list of reasons why it should be included.
Time: allow 15 minutes to complete this activity
Curriculum Links: English, Health and Physical Education
VCOP ACTIVITY
With a partner see if you can identify all the doing words/verbs in this text. Highlight them in yellow and then make a list of them all down your page. Now see if you and your partner can come up with a synonym for the chosen verb. Make sure it still makes sense in the context it was taken from.
Try to replace some of the original verbs with your synonyms and discuss if any are better and why.
HAVE YOUR SAY: Should breakdancing should be an Olympic sport? If yes, why? If not, what sport would you like to see included. Why?
No one-word answers. Use full sentences to explain your thinking.