Better female athlete pay and facilities in play after the Matildas
Mark Knight's cartoon suggests that the game-changing success of the Matildas' World Cup wasn't reaching the semi-finals for the first time, it was forever shifting the goalposts for women's sports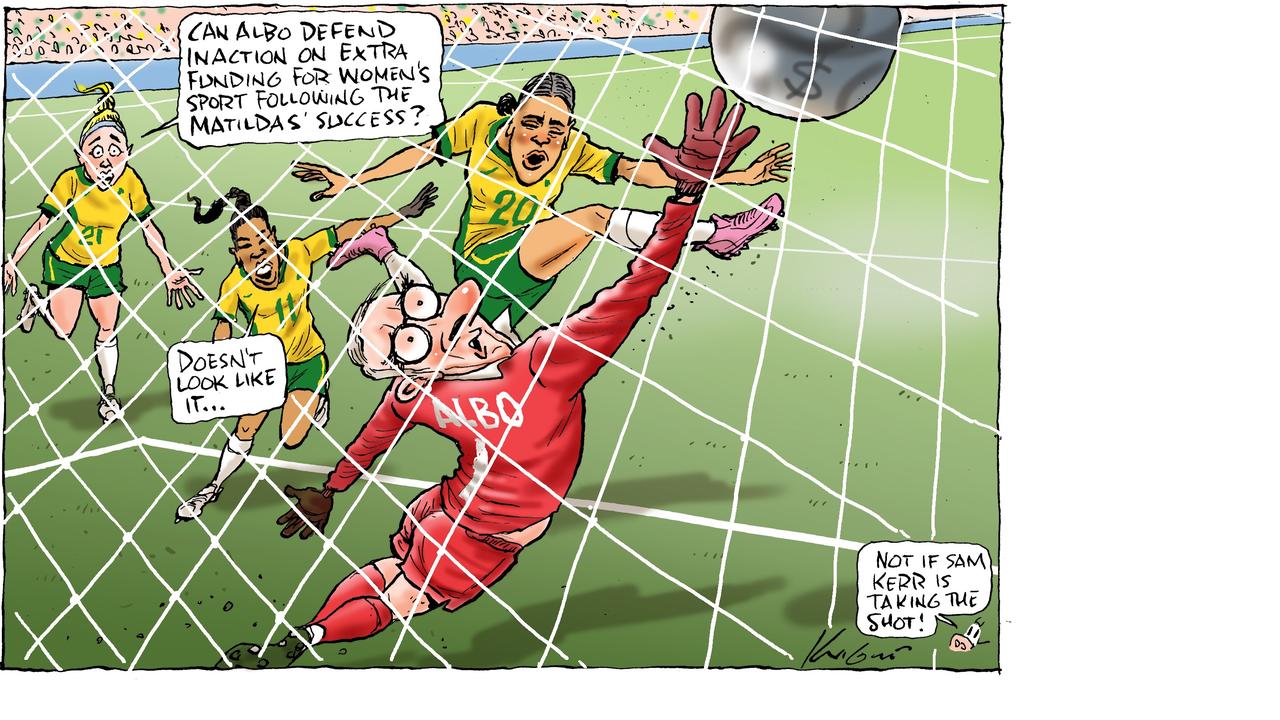 Cartoonist Mark Knight expects that increased funding for women's sport will be one of the big goals the Matildas kicked during their FIFA Women's World Cup tournament. Picture: Mark Knight
There's no denying that the Women's World Cup of football (soccer) held in Australia and New Zealand was an outstanding* success. Let me go the full bottle and say that it was the best ever!
The home side, our Matildas, are now a jewel of Australia's sporting culture, having had their best result at a World Cup. Despite the fact they lost the third place playoff* to Sweden and finished fourth in the tournament, I don't think I'm alone in saying the Matildas were the big winners when it came to recognition of women's sport, women's pay in sport, funding of women's sport and the coverage* of women's sport in the media.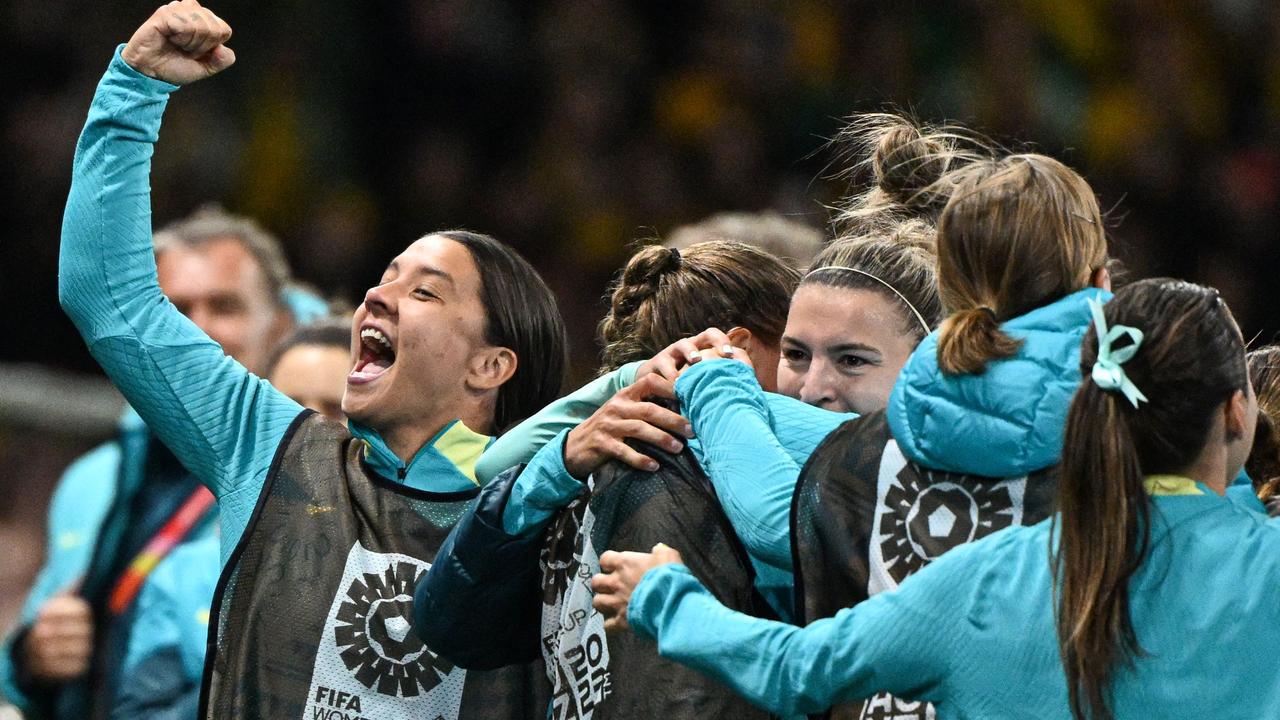 Sam Kerr was not the only female athlete punching the air during the FIFA Women's World Cup. What the Matildas achieved will likely transform women's sport in Australia. Picture: William West/AFP
They kicked a lot of goals on these issues, as well as making themselves household names across Australia. To think that only a month ago, not many Australians could name a player in the team apart from captain and international star Sam Kerr; now we discuss Mary Fowler's speed and finesse* in the forward line, the courage and mental strength of Cortnee Vine in a penalty shootout, and the brick-wall-like defence of goalkeeper MacKenzie Arnold. We follow them on social media, we buy their player merchandise* and we look up to them as mentors* for young women around Australia.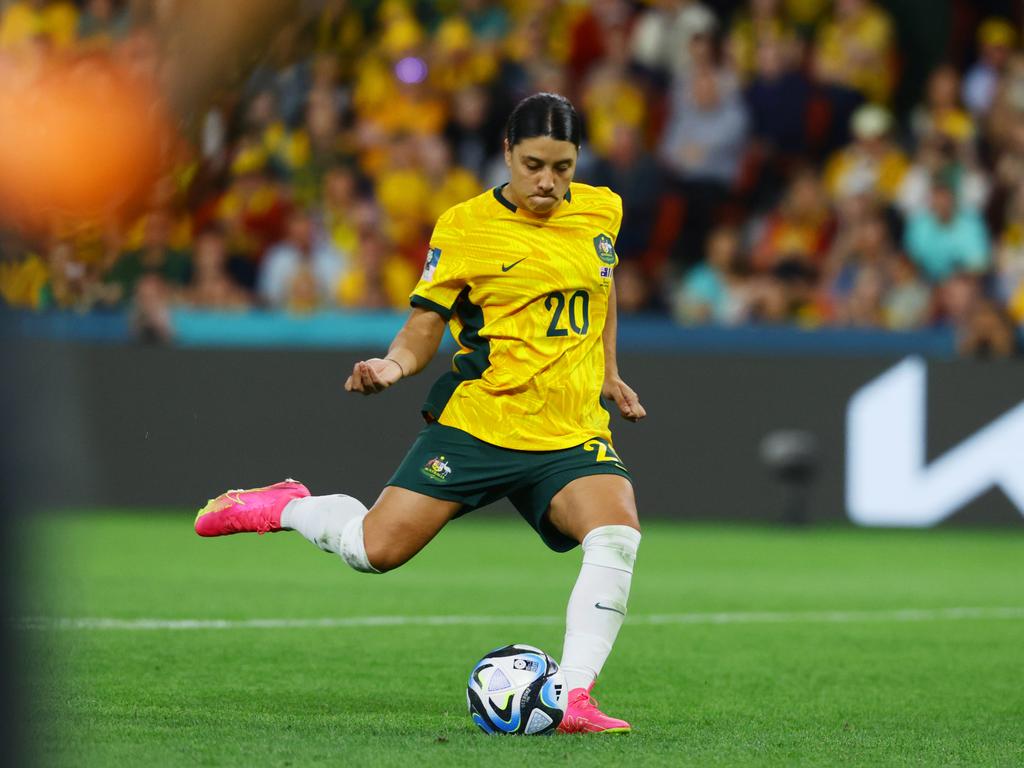 Fans did not see much World Cup action from an injured Sam Kerr, but her goal in the semi-final against England was one for the ages. Kerr is pictured here during the quarterfinal against France at Brisbane Stadium. Picture: Lachie Millard
So with this wave of positivity coming from the Matildas' World Cup campaign, it seemed like a good idea to keep the momentum* going on women's sport, and increase government funding for training facilities and sports grounds to encourage more girls and young women to play football, thereby ensuring the successful next generation of Matildas. The PM attended a lot of matches at the World Cup and was almost the most popular man in Australia when he promised a public holiday for workers if the Matildas won the tournament and became world champions.
Some people thought that rather than a holiday, funding of women's football would be a better way to celebrate the Matildas' success. When the World Cup finished with the Aussies finishing fourth, the call for a financial boost from the PM came. There was a moment of hesitation* from our leader and that's when I thought I would draw a cartoon on the subject to maybe help him decide what to do.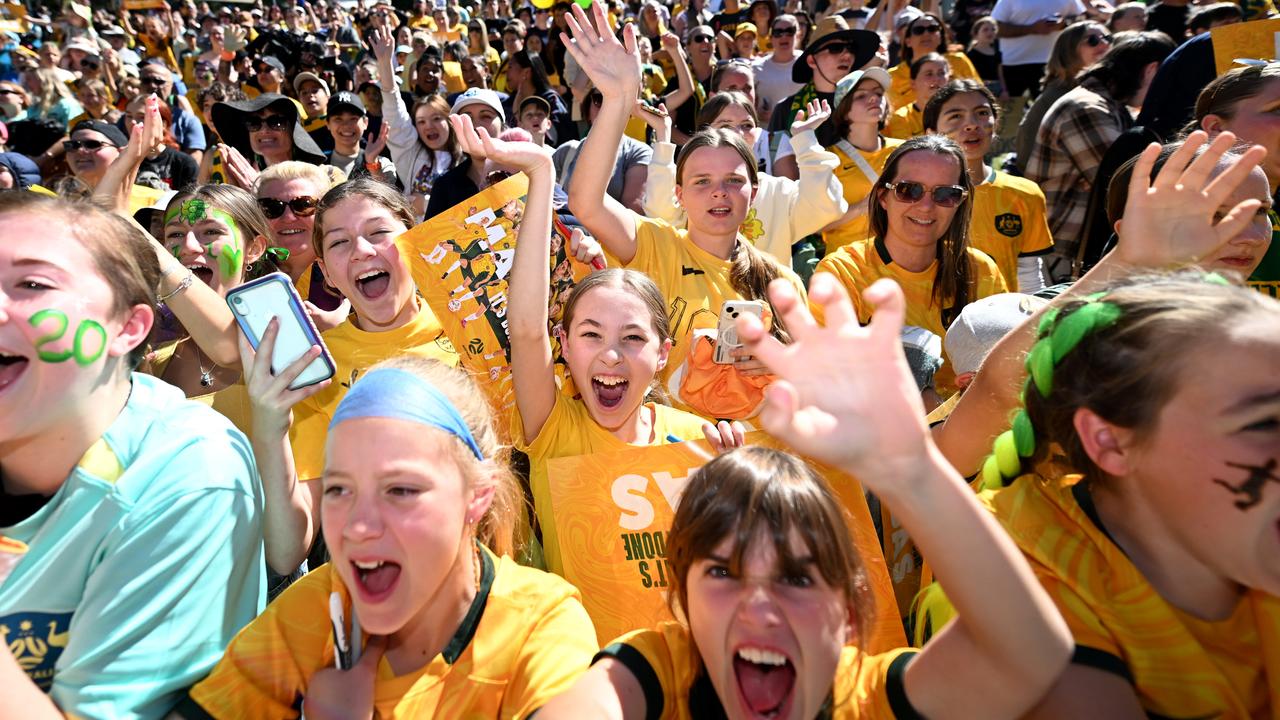 The future of women's sport in Australia: young Matildas fans gathered to show their support for the Matildas at an event in Brisbane. Picture: Dan Peled/NCA NewsWire
I, like most Australians, watched all the Matildas' games. I thought if I'm going to draw a cartoon about government funding for the Matildas, I would love to draw some of the Matildas players.
Reading news stories about the possibility of extra funding, I remember one comment in print that said that the PM could not defend doing nothing on increasing the budget for women's football. He had to act after being so invested* in the Matildas' campaign. That word "defend" was used many times by commentators* during the coverage when describing the job of a team's goalkeeper, and as soon as I heard it, a light went on in my brain with a picture of Albo in the goals with his shorts, boots and gloves on.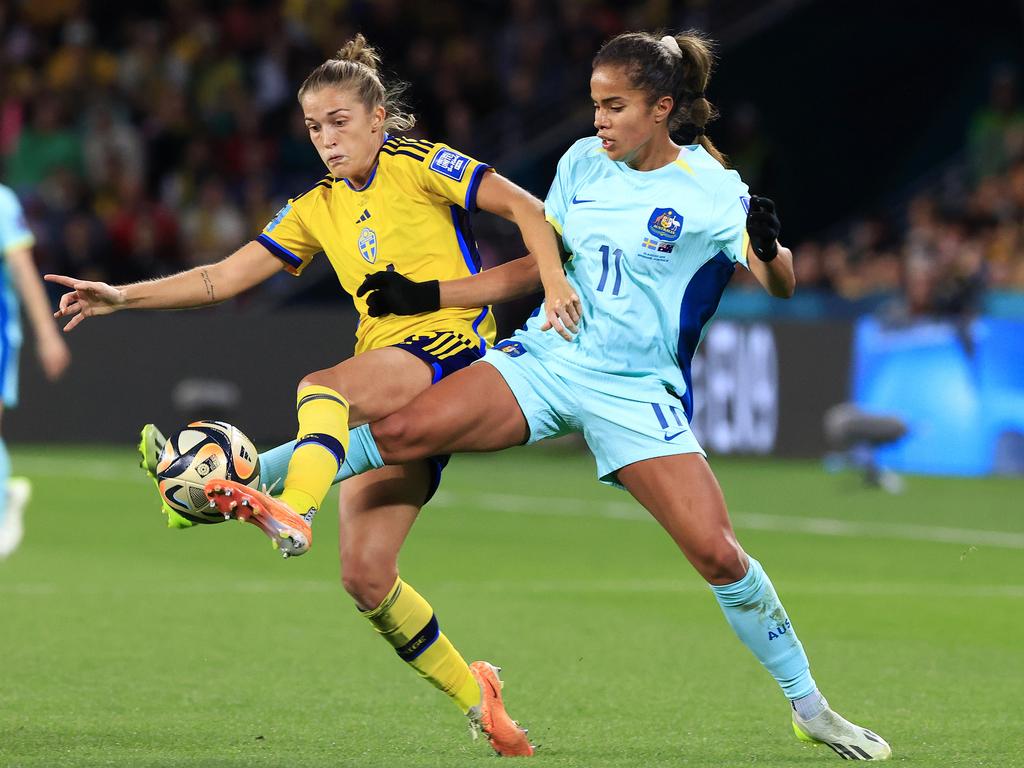 Pictured right during the semi-final against Sweden, we all know this Australian player's name now. Picture: Adam Head
People ask me, "Where do you get your ideas from?" Sometimes all it takes is one word to light the fuse and this was one of those moments. I sketched the PM standing there defending the goal, then I realised here was a perfect opportunity to draw some of the Matildas players. Ellie Carpenter, Mary Fowler and Sam Kerr are all very identifiable* players and so I sketched them playing in front of goal with the ball, with Kerr slamming the ball in a shot reminiscent of her missile-like shot on goal against England.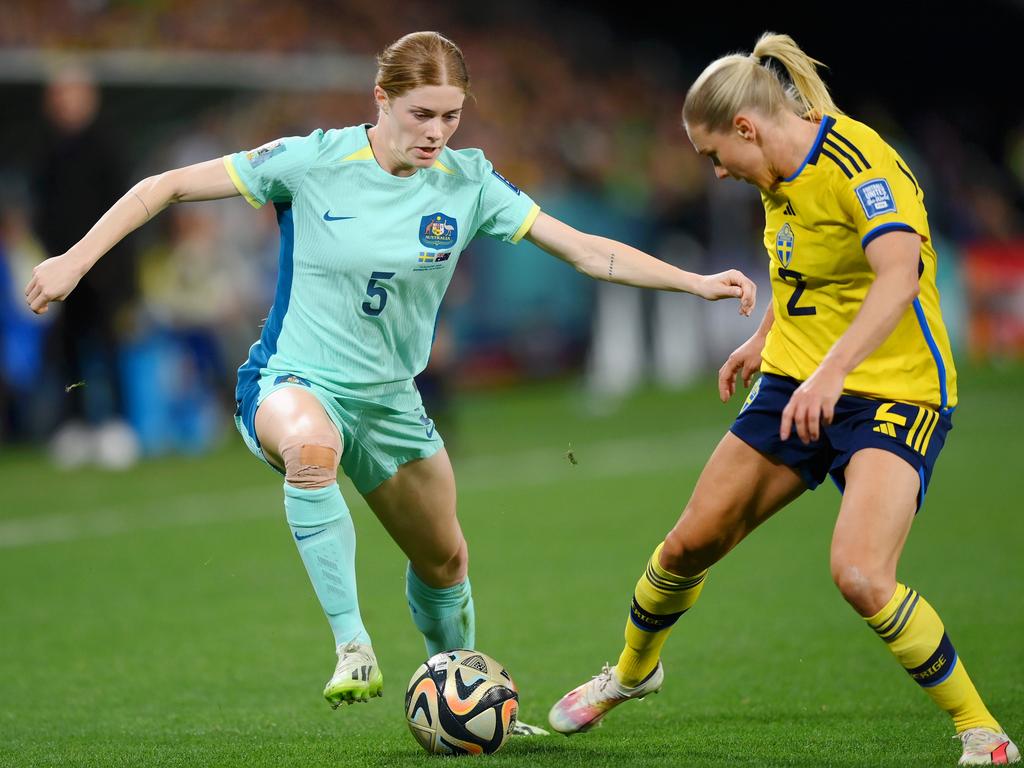 Cortnee Vine and Sweden's Jonna Andersson compete for the ball during the playoff for third place at Brisbane Stadium on August 19. Picture: Justin Setterfield/Getty Images
Albo is diving but can he stop the call for more funding?
To the viewer of the cartoon, seeing a lunging Prime Minister up against a shot on goal by Sam Kerr, I think the answer is, "No, he can't".
I was likening the strong surge* in public support for the Matildas, and more financial support for the women's game, with the surging power of a Sam Kerr shot on goal. Unstoppable. It looks like another goal for the Matildas!
And it was. A few days later, the Prime Minister announced there would be increased funding for women's sport as a result of the Matildas' success.
The winning goal of the tournament, I would say.
POLL
GLOSSARY
outstanding: excellent, extremely outstanding, wonderful
playoff: an extra game played to decide the winner or runner-up of a sports competition
coverage: extent of reporting about an event or subject by newspapers, TV and digital media
finesse: great skill and style, flair
merchandise: goods that are bought and sold, like branded team jerseys
mentors: those with person with experience who support and advise others
momentum: when movement and progress of players in a game seems to be building
hesitation: to delay, pause or doubt a decision
invested: put effort, time, emotion or often money into something
commentators: professionals who write or broadcast about a particular subject
identifiable: distinctive, readily known and recognised
surge: a sudden and great increase, an outpouring
EXTRA READING
'Til next time: our hearts are won
Semi-finals: Matildas male history
QUICK QUIZ
Who did the Matildas meet in the playoff for third place?
Which issues did the Matildas kick a lot of goals for during their campaign?
Who is goalkeeper for the Matildas?
Which word used many times by commentators inspired Mark Knight's cartoon?
What did the Prime Minister announce a few days after Mark drew his cartoon?
LISTEN TO THIS STORY
CLASSROOM ACTIVITIES
1. What happens next?
Imagine this cartoon is part of a story that is made up of three cartoons. The three cartoons tell a complete story, and Mark's cartoon is the start of the story. Think about what the story could be and draw the next two cartoons that tell the story.
Time: allow 30 minutes to complete this activity
Curriculum Links: English, Visual Arts, Visual Communication Design, Critical and Creative Thinking
2. Extension
Being able to draw is only one of the skills needed to be a great cartoonist. Write a list of all of the other skills that you think cartoonists like Mark need to do their job.
Next to each skill, write a sentence that explains why that skill is important or helps them to do a great job.
Time: allow at least 20 minutes to complete this activity
Curriculum Links: English, Personal and Social Capability, Media Arts, Visual Communication Design
VCOP ACTIVITY
Stretch your sentence
Find a "who" in the cartoon – a person or an animal. Write it down.
Add three adjectives to describe them better.
Now add a verb to your list. What are they doing?
Add an adverb about how they are doing the action.
Using all the words listed, create one descriptive sentence.