Australian basketball star Ben Simmons faces the biggest game of his brief NBA* career when the Philadelphia 76ers attempt to avoid being knocked out of the playoffs* by the Toronto Raptors.
A bad result will lead to more calls for the 76ers to trade* the Aussie 22-year-old and for head coach Brett Brown to be axed*.
Simmons has been hit with a lot of criticism from Philadelphia fans, US media and former NBA stars including legend Charles Barkley after the 76ers lost the past two games against the Raptors to fall just one loss away from the end of their season.
The Raptors lead the series 3-2 with Game 6 in Philadelphia on Friday (10am Australian time).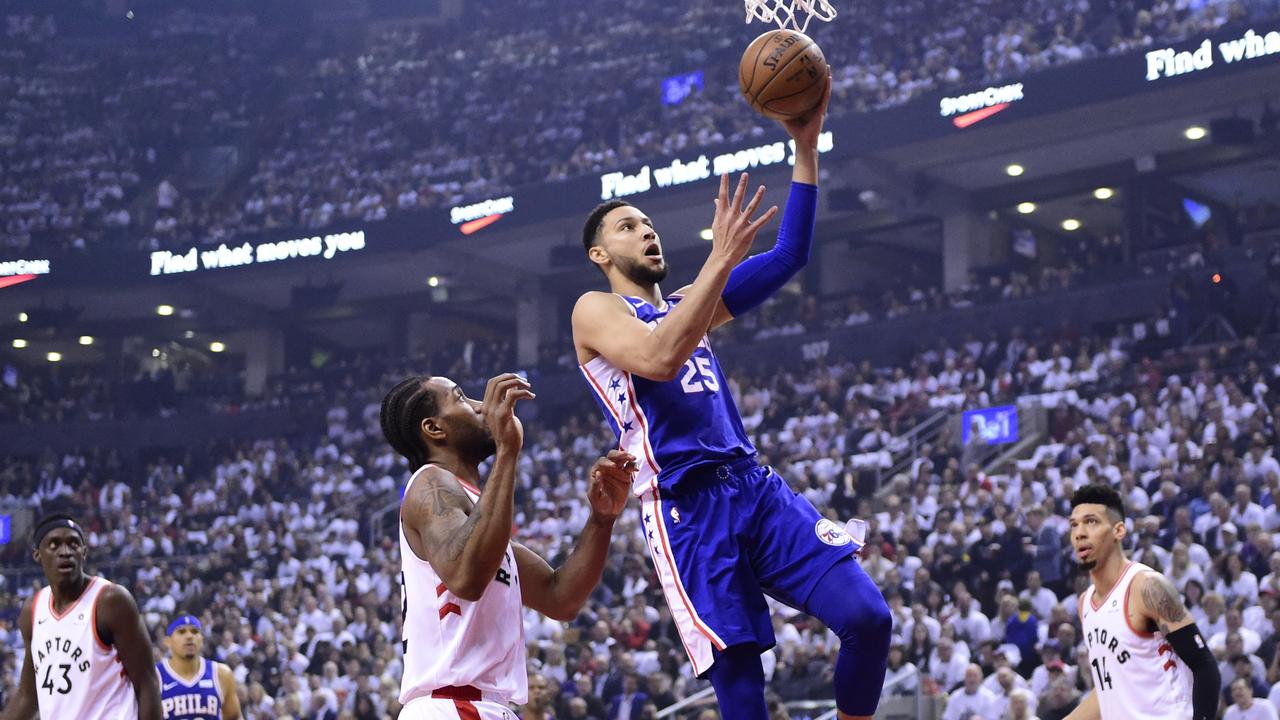 Barkley made negative comments about Simmons and 76ers teammates Jimmy Butler, Tobias Harris and JJ Redick after the 125-89 Game 5 loss, accusing them of "stinking up the joint" and not stepping up for centre Joel Embiid while he struggles with illnesses and knee issues.
"Especially Ben Simmons," said Barkley, who began his Hall of Fame career with the 76ers.
"He has to play better, man. He has to play a lot better."
Simmons had a horror game with the Melbourne-born All-Star committing two turnovers in the first 36 seconds.
Simmons finished the game with just seven points, seven rebounds, four assists in just 25 minutes on the court.
A year ago the 76ers were knocked out of the playoffs by the Boston Celtics with Simmons refusing to attempt field goals away from the basket one of the contributing* reasons. Simmons, the reigning NBA Rookie of the Year, still refuses to shoot from distance.
Philadelphia fans and media commentators on radio and TV across the US were calling for Simmons to be traded for an All-Star better suited to playing alongside Embiid.
Simmons was booed by the Philadelphia crowd in Wells Fargo Centre in the first game of this year's playoffs — which ended with a loss to the Brooklyn Nets.
It did fire Simmons up and the 76ers won the next four games to defeat the Nets and face the Raptors.
There is talk that Simmons, who is up for a five-year, $A220 million contract extension in July, could be traded to the Los Angeles Lakers where LeBron James is desperate for All-Star help.
GLOSSARY
NBA: National Basketball Association in the US
playoffs: series of games played to reach the finals
trade: exchange usually for money
axed: fired
contributing: adding to
EXTRA READING
Big Ben runner has tough time at end of marathon
AFL will not tell fans to stop booing
Cheating bans end for Smith, Warner
QUICK QUIZ
Which team is Philadelpia playing in the playoffs?
Which legendary player has criticised Ben Simmons?
How many points did Simmons score in Game 5?
Rumours suggest Simmons could be traded to which team?
Where was Simmons born?
LISTEN TO THIS STORY

VCOP ACTIVITY
With a partner see if you can you identify all the doing words/verbs in this text. Highlight them in yellow and then make a list of them all down your page. Now see if you and your partner can come up with a synonym for the chosen verb. Make sure it still makes sense in the context it was taken from.
Try to replace some of the original verbs with your synonyms and discuss if any are better and why.
Curriculum Links: English, Big Write and VCOP

HAVE YOUR SAY: Do you think Ben Simmons should stay with the Philadelphia 76ers or be traded to the LA Lakers?
No one-word answers. Use full sentences to explain your thinking. No comments will show until approved by editors.