For the first time in rugby league history a female will referee an NRL game this weekend.
Highly regarded* Queenslander Belinda Sleeman has been appointed to control the Broncos match against local Brisbane team Wynnum Manly on Saturday night.
"It's a huge opportunity to test myself at the next level," Sleeman told The Daily Telegraph.
"I used to play and ref touch football where I grew up in Rockhampton then tried rugby league when I was 18. I always had a passion for the game with my Dad."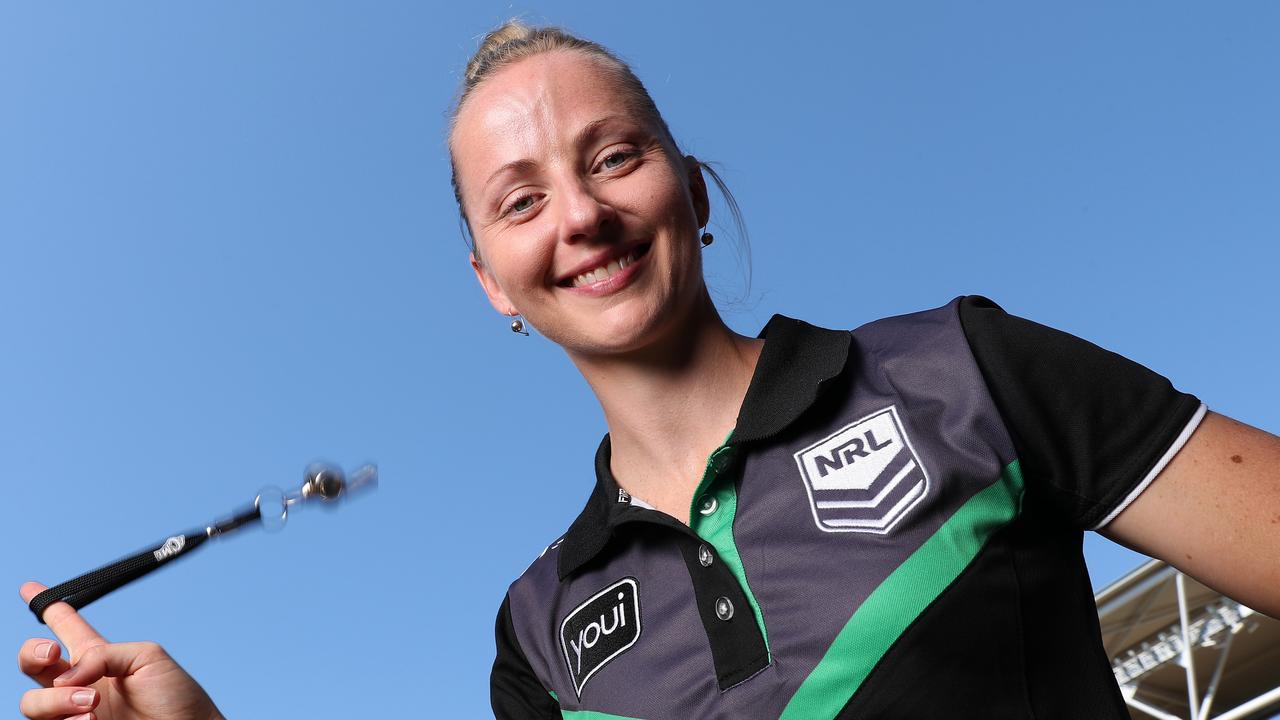 Asked about being under the spotlight as assistant referee on Saturday night instead of her usual role as a touch judge*, Sleeman said: "There are no nerves. At this time of the year it's more exciting than anything else.
"We've been training since November like the players and you use the trials to get back into the swing of things."
As for her fitness and pace* to keep up with the speed of first-grade players, she has no concerns.
"All our sprint technique training and on-field training is exactly the same," she said.
"We all work really hard to ensure I can compete at the highest level."
The 31-year-old, who works full-time for Queensland touch football, said she had never been treated differently to male officials and was pleased to have been appointed on her ability, not because she was female.
"The interactions* I have with the players are exactly the same as any other official," she said.
"Sometimes there are difficult characters but everyone just wants an official who is competent* at what they do.
"I've only ever had positive experiences in all my involvement as a female in the game.
"I like to be treated exactly the same way as every other NRL referee and I think they respect that."
GLOSSARY
highly regarded: admired
touch judge: official who monitors the touchline in a game of rugby
pace: speed in walking, running or moving
interactions: communications
competent: having the knowledge or skill to do something successfully
EXTRA READING
Renegades snatch BBL final from Stars
Plan to pay male and female athletes equally
QUICK QUIZ
How will Belinda Sleeman make history this weekend?
Which organisation does she work full time for?
How old is Belinda?
Which teams will she referee?
LISTEN TO THIS STORY
VCOP ACTIVITY
After reading the article, with a partner, highlight as many pieces of punctuation as you can find in green. Discuss how these are being used, where and how often. What level of the punctuation pyramid is the journalist using in this article?

HAVE YOUR SAY: What do you think about Belinda Sleeman becoming the first female to referee at the NRL's top level?
No one-word answers. Use full sentences to explain your thinking.