Michelle Lee has become the first Australian woman to row across an ocean after a 68-day, 5000km solo journey across the Atlantic.
Five years after reading an inspiring* book about rowing adventures and only two years after first trying rowing, the Sydney woman rowed from the Canary Islands, off the northwest coast of Africa, to Antigua in the West Indies.
On her journey she lost 14kg of body weight, ate freeze-dried food and ended up with a huge phone bill from talking to friends when she felt lonely.
VIDEO: Michelle Lee rowing in the Atlantic Ocean
Ms Lee, who is 46 and a former banker and now a massage therapist, left the Canary Islands on December 12. She arrived in Antigua 68 days, 12 hours and 49 minutes later and celebrated with a burger and coleslaw with her best friend, Claudine O'Keefe.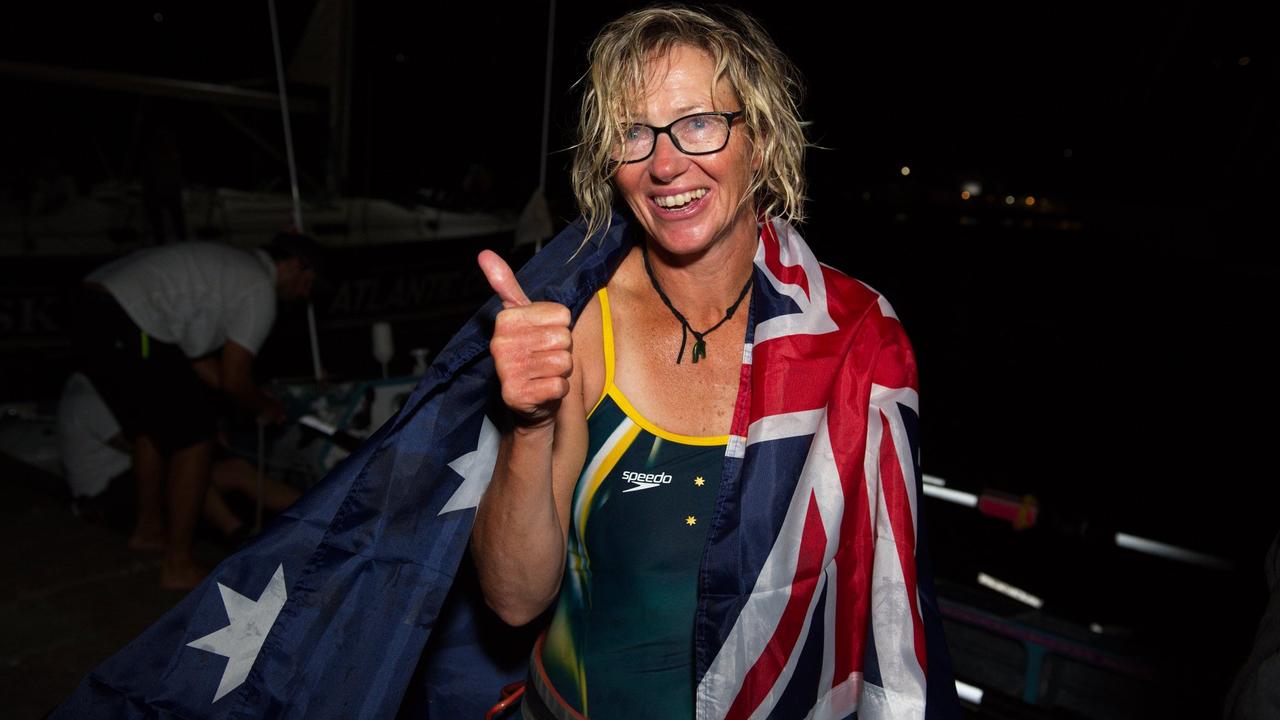 "It is a relief to be here, I am so happy, " Ms Lee said on Wednesday after her first sleep in a bed in almost three months.
"I have holes in my fingers from gripping the oars and massive callouses* on my hands.
"I have sores on my bottom as well from 12 hours in the seat.
"I had tooth ache and ear ache, which I managed to fix with a bit of self help — three courses of antibiotics* — it also made me realise how vulnerable* I was.
"It was terribly confronting* and frightening at times."
She also cut her hand, had diarrhoea and had to go under her boat to clean pipis that attached to the bottom.
She rowed from 5am until 10pm each day and at night slept in a small compartment in her boat. She had satellite phone contact with her rowing mentor and talked on her radio to passing ships.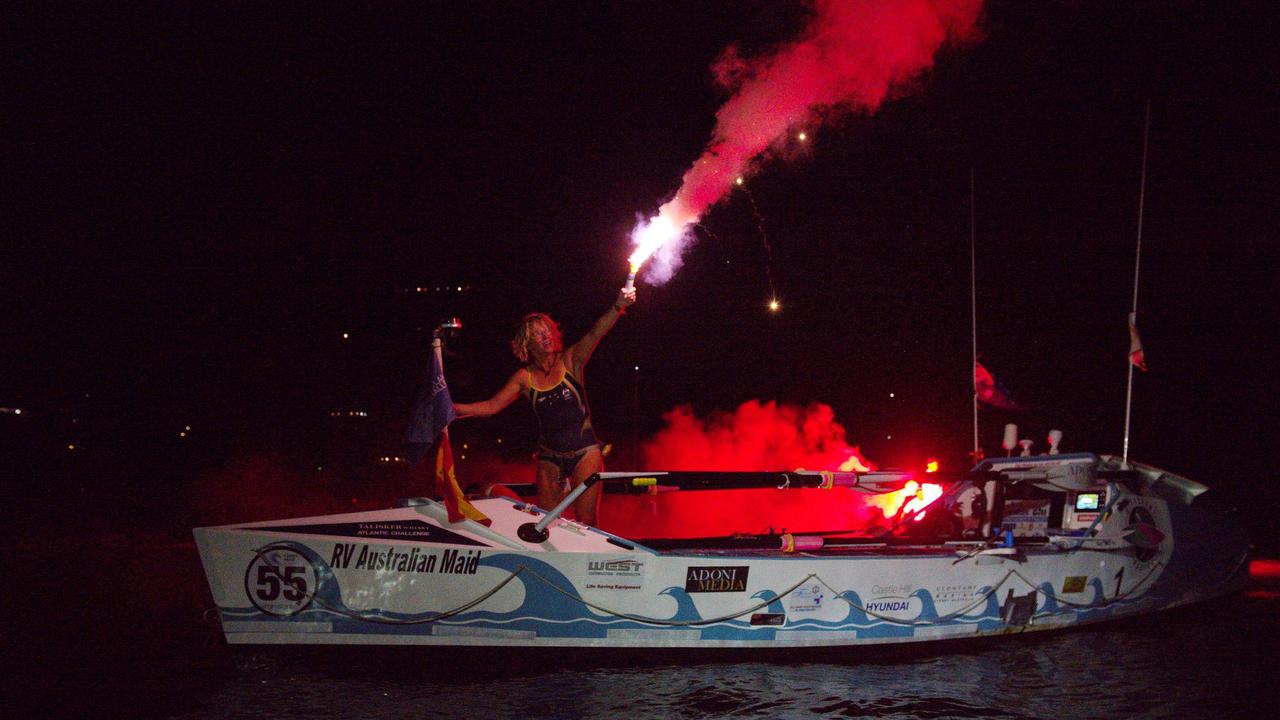 There were wonderful moments she will never forget.
"I was in awe* of nature out there, the energy of it, the stars, the sky, the Milky Way, the wildlife," said Ms Lee,
"I had pilot fish following me. I had the whale army, a couple of hours where whales were sharing waves with me. I had dolphins around me. I wondered who sent them, if they were my guardian angels to give me energy to continue."
She set herself the challenge after reading Rowing the Atlantic by Roz Savage, who is a UK ocean rower who holds four Guinness World Records for ocean rowing, including first woman to row solo across three oceans: the Atlantic, Pacific and Indian.
It is Ms Lee's second record. In 2017 she became the fastest woman to row 1 million metres.
Ms Lee completed her Atlantic journey as a competitor in the Talisker Whisky Atlantic Challenge ocean rowing race.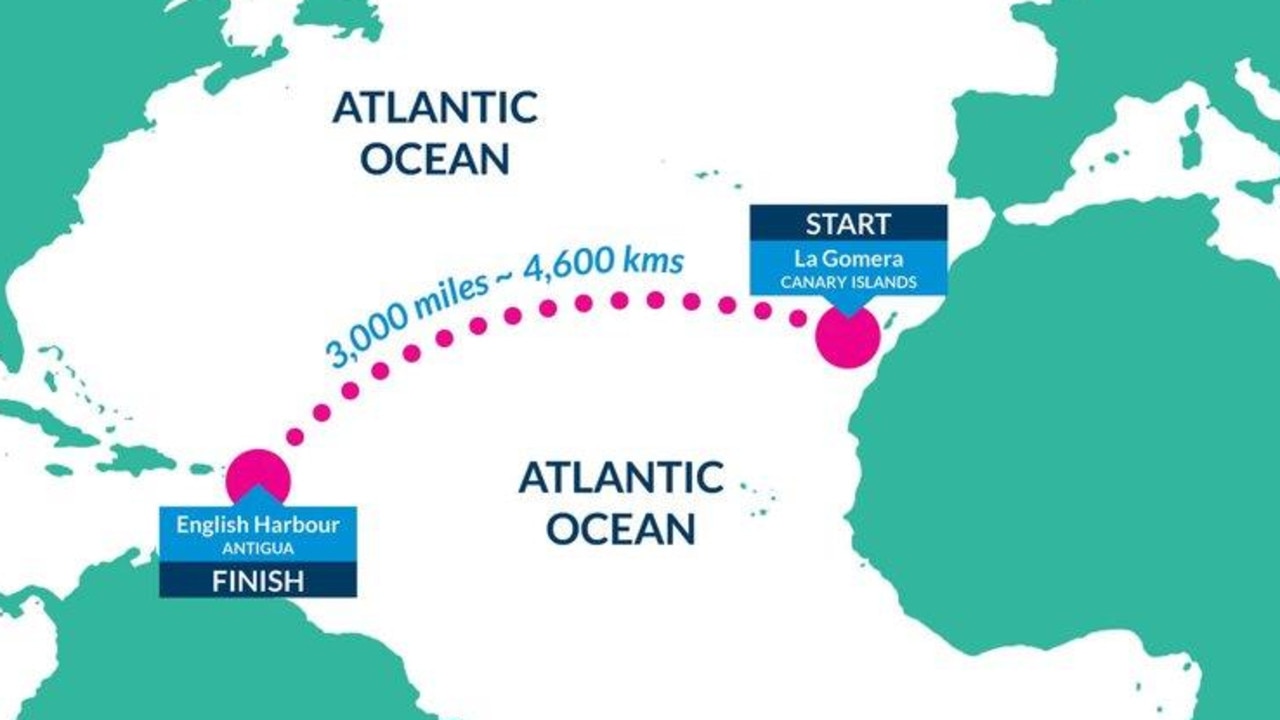 GLOSSARY
inspiring: having the effect of inspiring someone else
callouses: thickened pads of skin from overuse
antibiotics: drug that fights bacterial infection
vulnerable: at risk
confronting: makes you face up to something, such as a fear
awe: feeling of respect mixed with wonder
EXTRA READING
From paralysis to Mount Everest
Aussie climber on top of the world
Teens win award for looking after nan
Famous round-the-world sailor dies
Cycling around the world in 79 days
QUICK QUIZ
How far did she row?
What were the start and end points?
How long exactly did the journey take?
What hours each day did she row?
Who is Roz Savage? Why did she inspire Michelle Lee?
LISTEN TO THIS STORY
CLASSROOM ACTIVITIES
1. Special moments
Michelle Lee describes some of the wonderful moments on her journey. Draw an artist's impression of what these experiences may have been like. You could draw your picture as if all these experiences happened at once or you could draw a few different pictures.
Michelle also mentions some of the more difficult aspects of her trip. Write a diary entry from Ms Lee, explaining how she was feeling through some of the toughest times and how she managed to persevere. You may make assumptions of what other things made her trip difficult. (For example, the weather.) Make sure you use interesting vocabulary to describe the situation.
Time: allow 40 minutes to complete this activity
Curriculum Links: English, The Arts — Visual Arts
2. Extension
Michelle Lee was inspired to complete this journey after reading Rowing the Atlantic by Roz Savage.
Think back through any biographies or articles you may have read on Kids News or people you may have heard about on television or in books, whom you have found inspiring. There are many articles on Kid News about people achieving magnificent physical challenges or making incredible discoveries, or making a stand on an issue to improve our environment or society.
For example, you might have read about Daniel Bull (Feb. 4, 2018), Alia Ferdowsian (Feb. 14, 2017), Jane Hameister (June 8, 2017) or about the teenage cousins in Tasmania who won the invention award (Feb. 7, 2019).
Choose one person and write a paragraph or two about why you found their actions or achievements inspiring. The following questions may help guide your writing. You do not have to answer them all specifically.
What did this person achieve?
What is it about this person that you find impressive?
What character traits did this person display to help them achieve their goal?
Has this person inspired you to try a similar challenge or achievement?
Why was their discovery/achievement significant or important?
Time: allow 30 minutes to complete this activity
Curriculum Links: English, Personal and Social Capability
VCOP ACTIVITY
What an amazing adventure Michelle must have had being on the ocean for 68 days.
She mentions some of the animals she met along the way.
Write a narrative about one of her encounters that she might have shared with one of her friends on the phone.
Don't forget to use your VCOP to uplevel your writing.
HAVE YOUR SAY: What amazing journey would you like to take? Would you row across an ocean? What would you like and not like about it?
No one-word answers. Use full sentences to explain your thinking.