Australian tennis champion Ash Barty reveals the five words that drove her to greatness
Former tennis No. 1 Ash Barty had the rare ability to stay calm in some of the toughest matches of her career. Now she has revealed the five words that motivated her to become a champion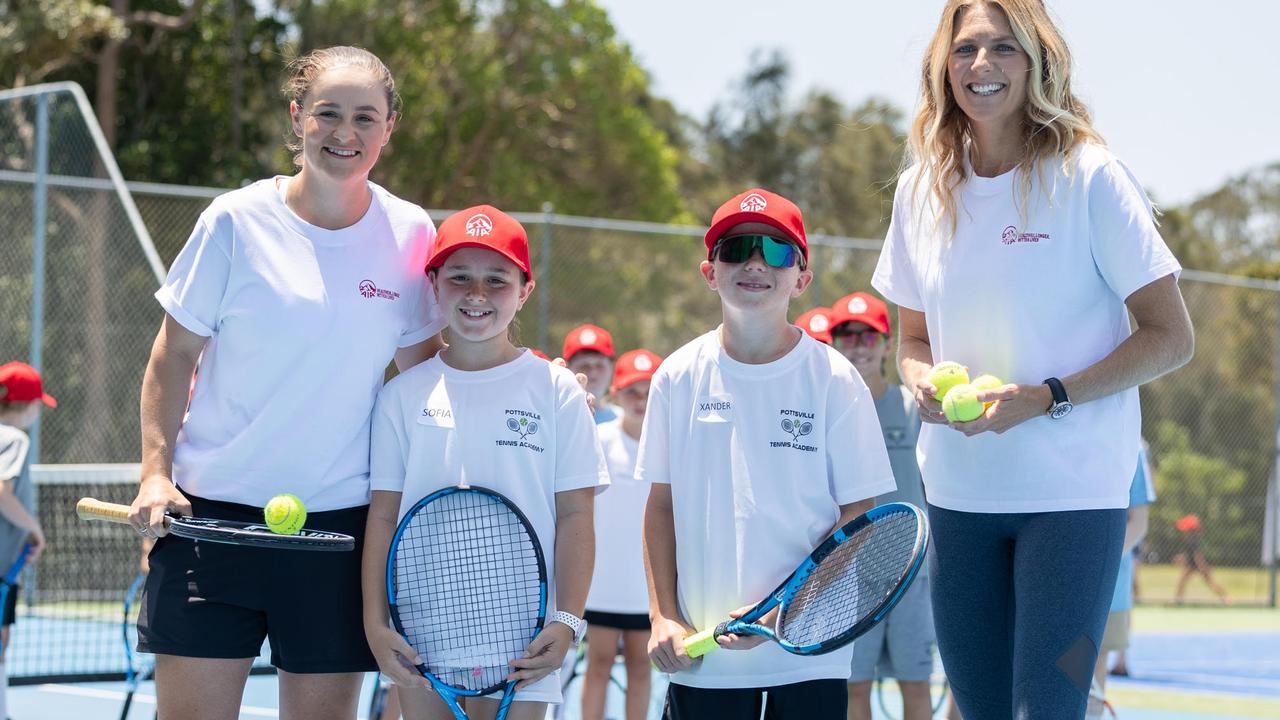 Australian tennis star Ash Barty and surfing champion Steph Gilmore with youngsters Sophia Kolovos and Xander Hicks at the Pottsville Tennis Club. Picture: Sophia Kolovos.
Ash Barty has revealed the five simple words that motivated* her to greatness on the tennis court.
Barty, a former world No. 1 and triple Grand Slam* tennis champion, and eight-time world surfing champion Steph Gilmore were talking to a group of schoolchildren at the Pottsville Beach Tennis Club on the NSW north coast before taking them for a surf and a game of tennis.
In a question-and-answer session with the group, Barty revealed she would use five key words — calm, clear, present, sharp and fun – to reset herself when she felt under pressure during matches.
She said thinking about these words could ease her mind especially if she was feeling "cornered*" in a tough game.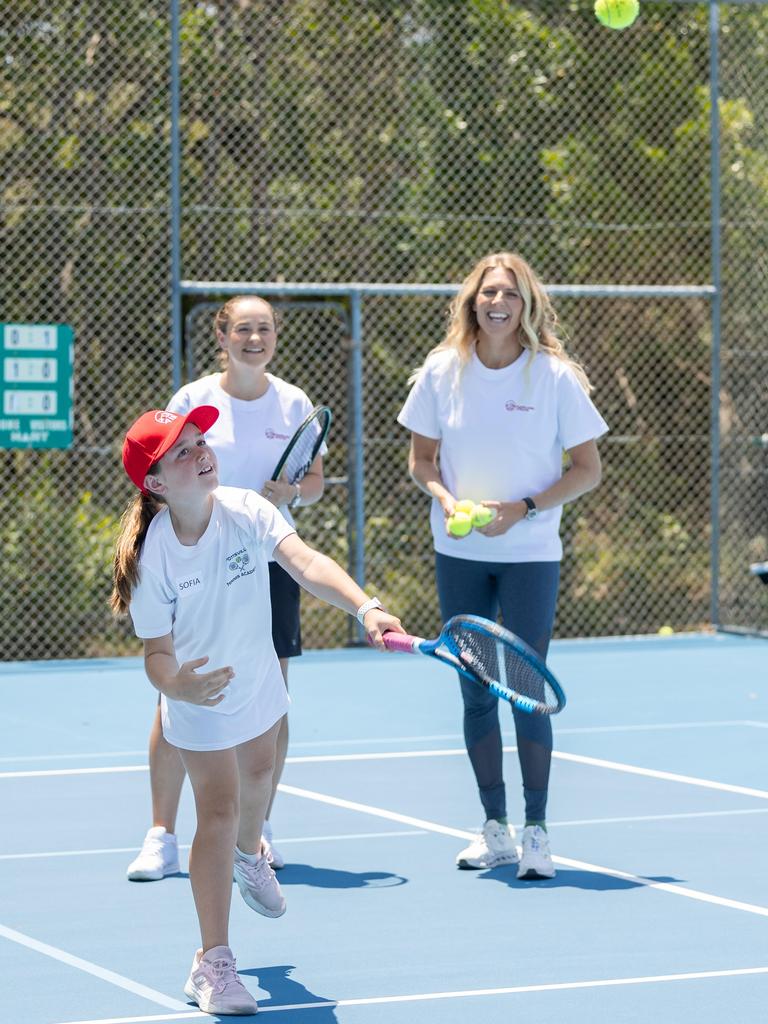 Ash Barty and Steph Gilmore watch Sophia Kolovos in action.
She also confessed that the slice shot* was still her favourite.
One youngster shouted, "Oh my god'' as three or four of her special sliced backhands skimmed* the net with the smooth flight path of a low-flying plane coming into land.
"I loved hitting the slice,'' Barty told the group.
"I loved learning it when I was really young knowing not many other girls could hit it so I worked and worked and worked on it.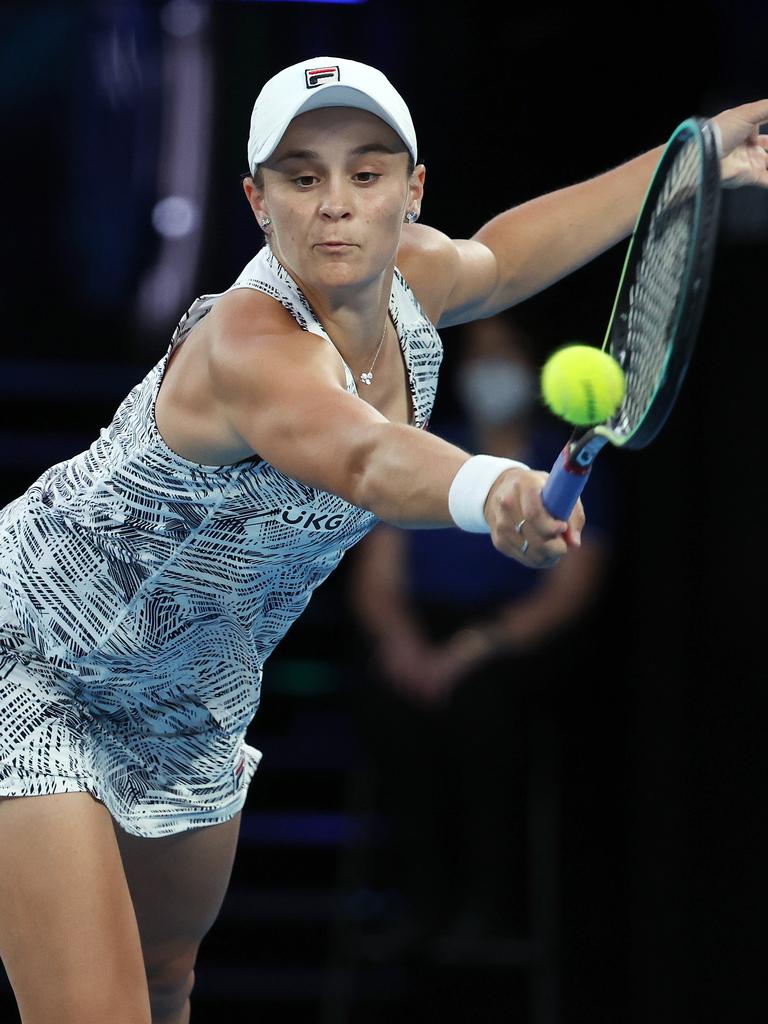 Ash Barty in action on her way to winning the Australian Open tournament. Picture: Michael Klein
"I still have so much fun hitting it now. I like throwing it into kids who have not seen it. I will throw some in to see how they react off the court," she said.
"It's nice to be out with kids and you sometimes forget how much fun that group environment is.''
Fun enough to consider a comeback to professional tennis?
"No … no … no … I just enjoy playing with my nieces and nephew,'' Barty said.
While Barty's retirement will continue, there has been a new racquet arrive at her Springfield home – for her four-month old son Hayden.
"He has got his own little tennis racquet. It's about as big as a phone. He has been out on the court with me and my nieces and nephews. He will play tennis but will also play a lot of sports. We will see what he loves. I am excited to watch him grow.''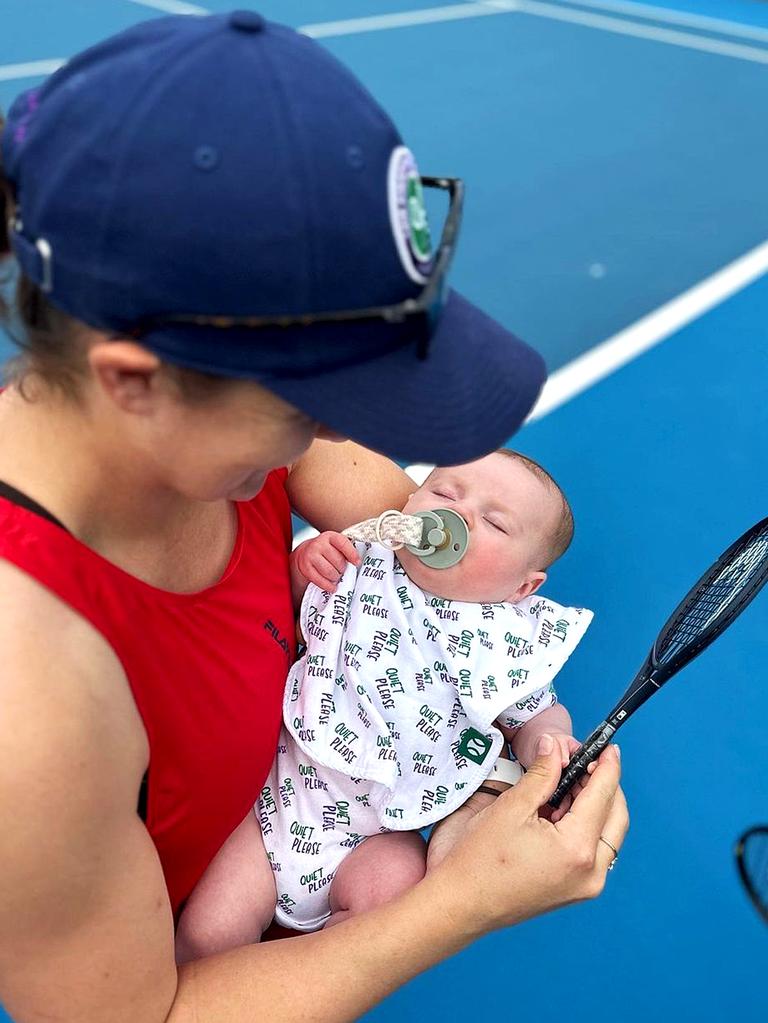 Ash Barty with her son Hayden and his tiny racquet. Picture Instagram
Asked if she had ever smashed a racquet like Nick (Kyrgios), Barty said no and revealed a lesson her dad taught her when she was young.
"Dad said, 'Just know if you break a racquet like that you won't get another one','' Barty told the group.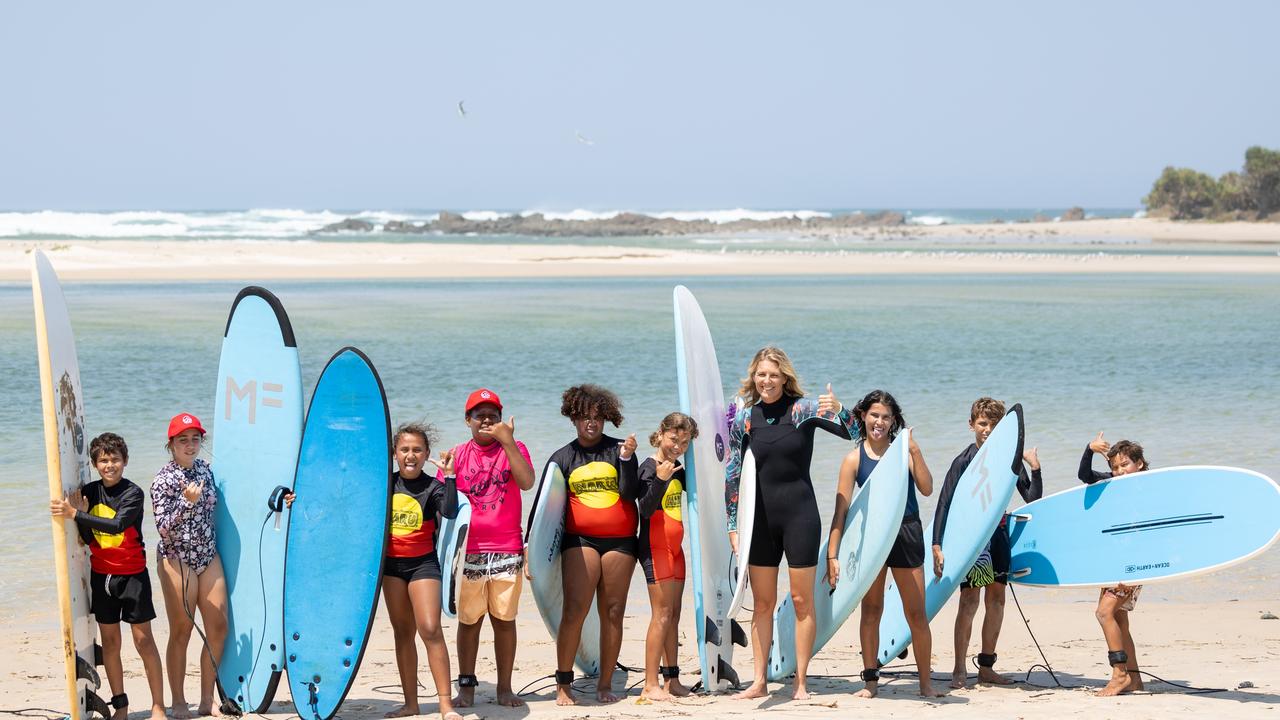 Stephanie Gilmore poses with children from the Naru Surf Gathering. Picture: Mackenzie Sweetnam/Getty Images.
Gilmore enjoyed taking the kids for a surf and said the need to get outside in our screen-dominated* world has become as important as ever.
"It has definitely become more apparent* to myself and Ash how important it is to be outside and healthy,'' Gilmore said.
"Not just kids but adults as well, we are all spending too much times on our phones.''
The sports stars' visit was part of an announcement where three tennis clubs and three surf schools will receive $10,000 each from insurance firm AIA Australia.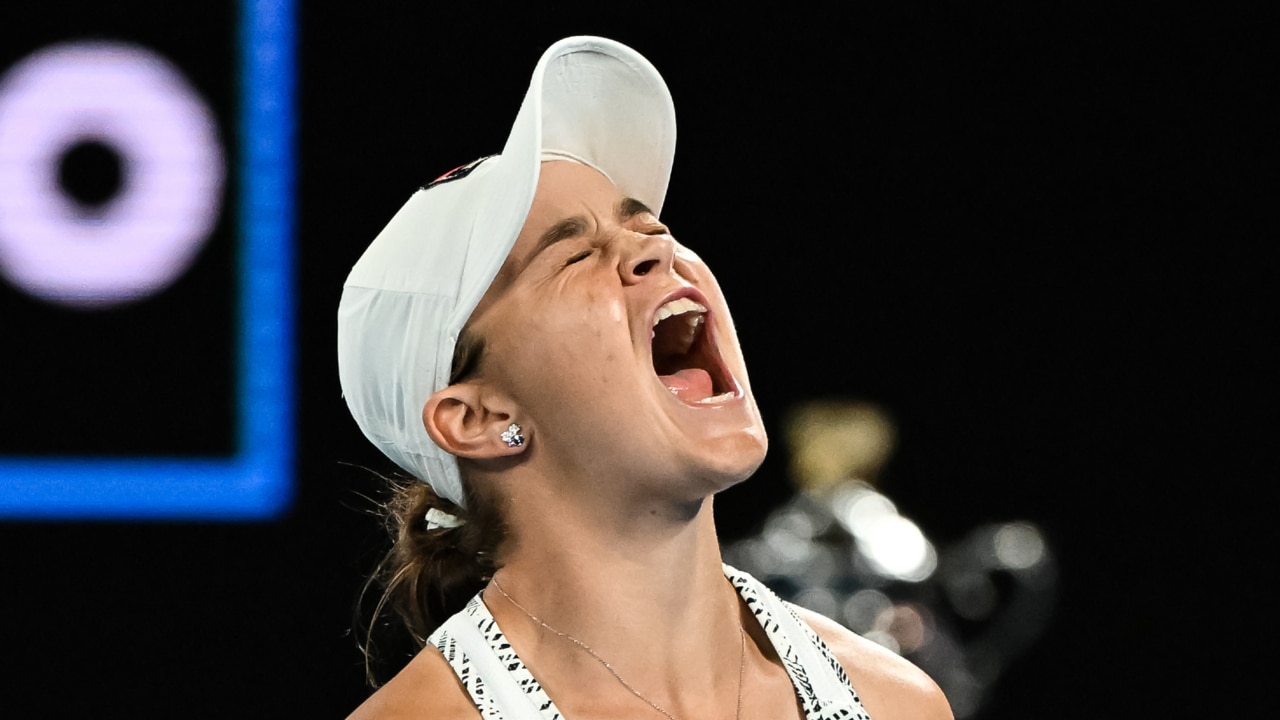 POLL
GLOSSARY
motivated: inspired to do something
Grand Slam: one of four tournaments — the Australian Open, French Open, US Open and Wimbledon
cornered: forced into a situation which is hard to escape or win from
slice shot: a type of shot where the player puts backspin on the ball
skimmed: to move quickly or lightly over something or through the air
dominant: having control
apparent: clearly visible or understood
EXTRA READING
Ash Barty talks to Kids News about her new books
Barty: I want to inspire kids to chase their dreams
Steph Gilmore's tips for a health lunch to fuel your body
QUICK QUIZ
1. What are the five words that motivated Ash Barty during her tennis career?
2. How did the five words help her game?
3. Why was the slice shot so special to Barty?
4. How many Grand Slams has she won?
5. What is Steph Gilmore famous for and what does she say is as important now as ever?
LISTEN TO THIS STORY
CLASSROOM ACTIVITIES
1. What's your five?
Be inspired by Ash. Think of five key words that you, or other kids could use, to help to refocus or be calm when you are facing a challenging time. Write them down.
Time: allow at least 15 minutes to complete this activity
Curriculum Links: English, Personal and Social Capability
2. Extension
Think about what Steph Gilmore said about screen time. Design a poster that will teach adults about the benefits of less screen time for them.
Time: allow at least 30 minutes to complete this activity
Curriculum Links: English, Health and Physical Education, Visual Communication Design
VCOP ACTIVITY
1. Imaginative dialogue
Imagine you were there during the tennis session with Ash Barty or the surfing lesson with Steph Gilmore.
Create a conversation between two characters from the article — you may need or want to include yourself as one of the characters. Don't forget to try to use facts and details from the article to help make your dialogue as realistic as possible. What three questions would you ask?
Go through your writing and highlight any punctuation you have used in green. Make sure you carefully check the punctuation used for the dialogue and ensure you have opened and closed the speech in the correct places.