Two Australian teenage girls have impressed the skating world with incredible performances at one of the world's biggest competitions.
Thirteen-year-old Sabre Norris, from Newcastle, won the Bowl-A-Rama women's final at Bondi Beach in Sydney at the weekend despite revealing just weeks ago that she is suffering a brain condition that has stopped her growing.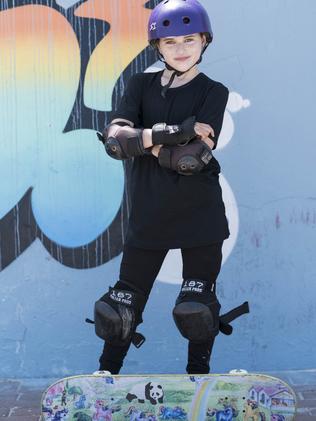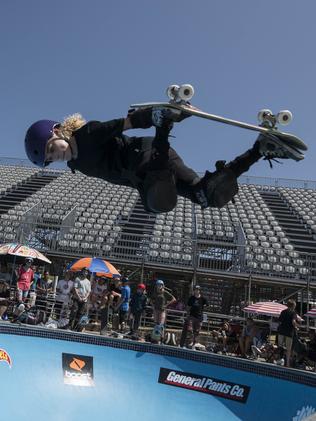 And Grace Cochrane, 15, created a slice of Tasmanian skateboarding history when she became the first skater from the Apple Isle to compete at the event, which attracts the best professional skaters from around the globe.
Cochrane not only held her own but reached the finals and finish fourth overall — despite suffering a nasty fall before the final began.
She finished behind the talented Poppy Starr Olsen, 17, from Sydney who finished third.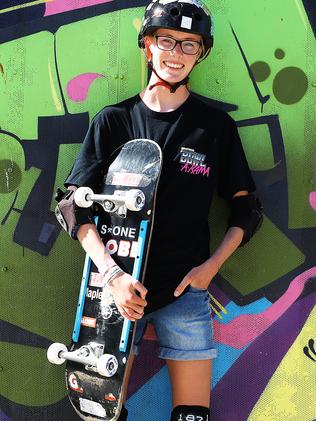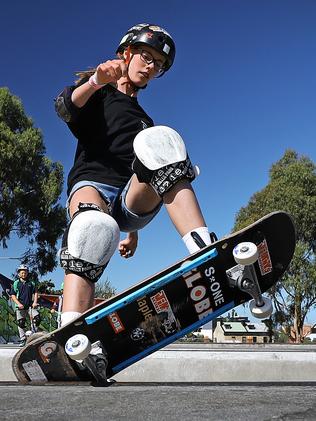 It was an incredible achievement for Norris to win the competition while suffering from Chiari Malformations. This is a structural defect in the base of the skull and cerebellum, the part of the brain that controls balance. It also appears to have stunted* her growth.
But the bubbly* skateboarder and surfer, who gained instant fame after appearing on the Ellen show in the US last year to talk about her love of surfing, says she is determined her health challenges won't derail her plans to compete in skateboarding at the 2020 Olympics.
"My brain is too big which you'd think is a good thing, but it's too big for my skull so it's been pushed down my spinal canal," she told the Today Show on Channel 9 recently.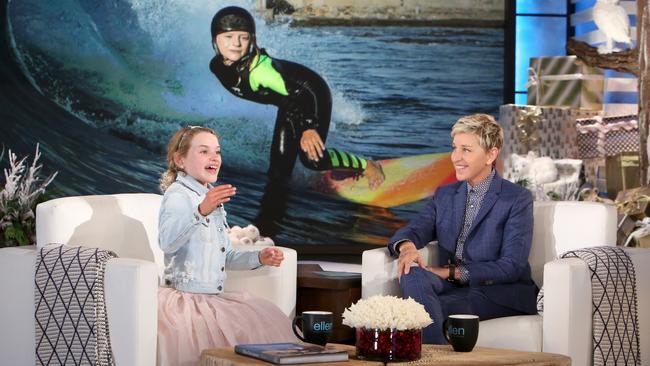 Norris is having ongoing tests and may require an operation, but said for now the condition is not affecting her skateboarding or surfing.
"I can't feel anything in my back, it's just normal. But I am worried that it might get worse," she said.
Cochrane only started skating three years ago but hopes to join Norris and skate at the 2020 Tokyo Olympic program.
"I knew it would be really big, I had watched some videos and I was really excited, my goals were to just land a run and not come last," said Cochrane, who booked a wildcard* spot at Bowl-A-Rama by finishing second in a lead-in event.
"It was pretty crazy, I was just stoked to be there and to meet them all (the professionals) and watching them skate, you can learn a lot from just watching.
"It is a very creative sport, once you put your mind to it you can do anything you want to do. There are always new tricks to learn, new goals."
GLOSSARY
stunted: stopped or prevented
bubbly: a cheeful person
wildcard: an opportunity to enter a sports competition without having to take part in qualifying matches or be ranked at a particular level.
LISTEN TO TODAY'S STORY
CLASSROOM ACTIVITIES
1. Comprehension questions
What significant things happened in the lead-up to the Bowl-A-Rama event for Sabre Norris and Grace Cochrane that make their performances even more impressive?
What were Cochrane's expectations coming into the competition and what did she hope to achieve? Do you think she was happy with her performance and why?
Describe Norris's attitude to her challenges and how this makes you feel.
Both of the girls share a similar goal for the future — what is it?
Extension: Pretend you are a skateboarding commentator and write a description of one of the competitors runs, using your best skateboarder language.
Time: Allow 15 minutes.
Curriculum links: English
2. Planning a skateboarding event
A lot of planning goes into an event like Bowl-A-Rama to make sure that it is a success. Make a list of all of the tasks that you can think of that would need to happen in the lead up to the event to make sure that everything runs smoothly. Can you think of at least 15? A couple of tasks are listed to help you get started.
– Decide on a venue for the event
– Find sponsors to help pay for the event
– Arrange trophies and prizes
Extension: Design an advertising poster for Bowl-A-Rama. Make it bold and colourful, capturing the excitement of the event.
Time: Allow 20 minutes.
Curriculum links: English, Visual Art
VCOP ACTIVITY
After reading the article, with a partner, highlight as many pieces of punctuation as you can find in green. Discuss how these are being used, where and how often. What level of the punctuation pyramid is the journalist using in this article?
IN ONE SENTENCE, TELL US WHAT YOU LIKE ABOUT TODAY'S STORY
Please do not use one-word answers. Explain exactly what you think about the article. Use lots of adjectives.