An Australian Olympic athlete has been awarded a special honour for helping raise the issue of civil rights* for black people.
The Australian Olympic Committee presented the family of the late Peter Norman an Order of Merit at a special ceremony at the National Sports Museum in Melbourne on Friday night.
It was awarded posthumously* to acknowledge Peter Norman's support for American athletes Tommie Smith and John Carlos during their silent civil rights protest on the medal podium at the 1968 Mexico Olympics as well as his athletic achievements.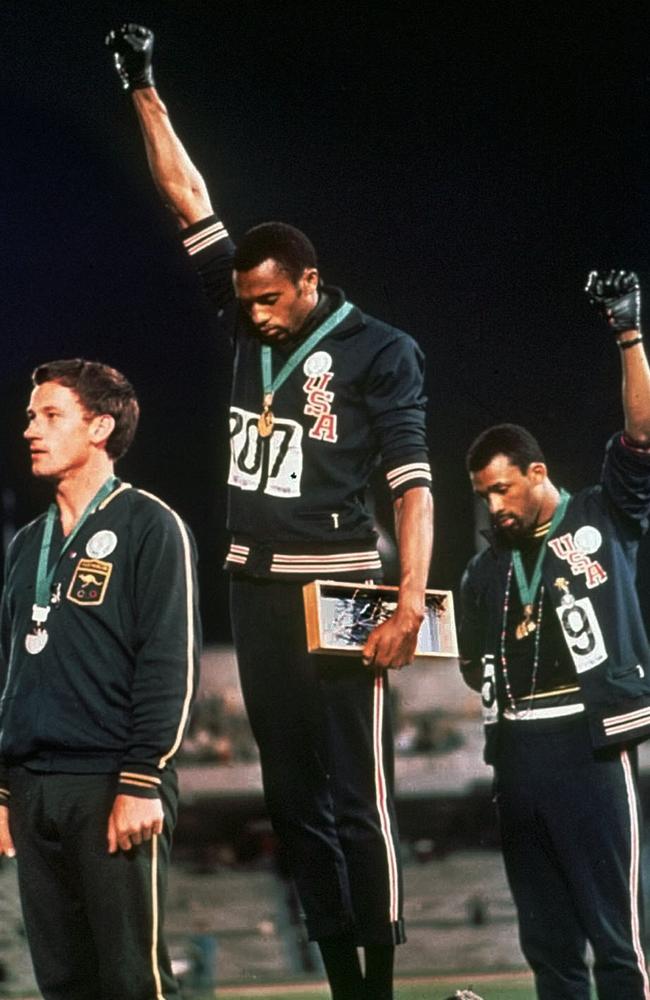 Norman won the silver medal in the 200m. He shared the podium with Smith and Carlos, who finished first and third, as they wore black gloves and raised their fists in black power salutes during the playing of the US national anthem.
The Americans were protesting against the way black people were treated 50 years ago. It was at a time when coloured people were kept separate from white people on buses, in schools, public toilets, while voting and in many other ways.
Norman wore an Olympic Project for Human Rights badge to support the Americans — an action that is believed to have cost him selection for the 1972 Munich Olympics.
Norman, who grew up in Coburg, Melbourne and died in 2006, received a posthumous apology from the federal Parliament "for the wrong done by Australia in failing to send him" to the 1972 Olympics.
On Friday, AOC President John Coates noted that Norman's remarkable achievements as an athlete were inevitably* forgotten compared to his support for the black Americans.
Mr Coates said while the AOC recognition was long overdue, it was important to recognise the athlete and the event that has a unique place in our sporting history.
Mr Coates pushed for the honour after he watched a documentary and saw a statue of the three athletes in Washington, which made him realise Norman was more recognised in the US than Australia and that needed to change.
"It was a simple act, standing with those athletes, wearing their badge and telling them he supported them," Mr Coates said.
Peter Norman's daughter Janita said the Norman family was very proud of the stand taken by her father.
"That pride hasn't diminished* with the passage of time, so to accept this award 50 years on has only added to that feeling," she said.
"But we are also grateful that his athletic achievement is recognised. His Australian record still stands and that too means a great deal to us. It won't stand forever of course, but 50 years is not a bad effort."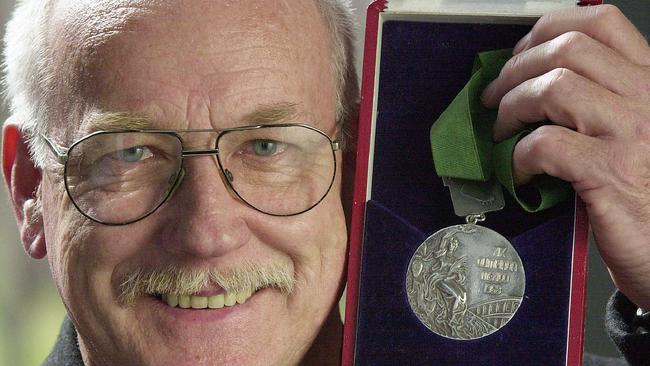 In the 2008 documentary Salute, Norman himself said of his actions: "I couldn't see why a black man couldn't drink the same water from a water fountain, take the same bus or go to the same school as a white man. There was a social injustice that I couldn't do anything about from where I was, but I certainly hated it.
"It has been said that sharing my silver medal with that incident on the victory dais* detracted* from my performance. On the contrary. I have to confess, I was rather proud to be part of it."
GLOSSARY
civil rights: the rights of citizens to political and social freedom and to be treated equally
posthumously: after the death of someone
inevitably: certain to happen
diminished: made smaller or less
dais: medal podium
detracted: reduce the value or with of something
QUICK QUIZ
Why did the Americans feel the need to protest at the Olympics?
How did Australian Peter Norman support them?
What penalty did Peter Norman pay for his involvement?
Name the award Peter Norman received.
Which event did Peter Norman compete in?
CLASSROOM ACTIVITIES
1. Standing Up for Others
Complete a three-column P-M-I chart on Peter Norman's actions standing up for his fellow athletes. Use the three headings PLUS / MINUS / INTERESTING
In the first column record all the positives (PLUS) achieved for Peter Norman in standing up for others.
In the second column record the negatives (MINUS) that arose from his actions.
In the last column record any interesting facts or questions that arise for you as you read the article.
Share your PMI chart with two other classmates and compare points that you had the same or different.
2. Extension: Work with a partner and think of some current situations which you think are not fair. It could be at school, in your community or happening in Australia or overseas. What are some things you could do to help support the cause that you think is unfair?
Time: Allow 20 minutes
Curriculum links: English, Ethical Capabilities
VCOP ACTIVITY
After reading the article, with a partner, highlight as many wow words or ambitious pieces of vocabulary that you can find in yellow. Discuss the meanings of these words and see if you can use them orally in another sentence.
HAVE YOUR SAY: How do you think you would feel if you were a black person living in America in the 1950s and '60s?