UPDATE: Australian snowboard halfpipe champion Scotty James has lived out his childhood fantasy and made it to the Olympic podium.
The two-time world champion claimed bronze yesterday, falling short to American rival Shaun White and silver medallist Ayumu Hirano from Japan.
Fighting back tears, the 23-year-old said winning gold simply wasn't meant to be.
"I came out and did it the Australian way. I gave it a hard crack," he said.
"The contest was insane, it was going off like a fish milkshake, two wombats in a hessian bag, a frog in a sock, I was just happy to be a part of it.
"Now, I want to go home to my beloved Warrandyte (in Victoria) and see my friends and family that I haven't seen in a long time and really enjoy this."
Dad Phil James, a man of few words, said he was thrilled for his hardworking son.
"It's an emotional rollercoaster," he said.
"Be proud of him Australia, you should be proud of him. We are proud."
OUR PROFILE ON SCOTTY JAMES BEFORE THE GAMES
It's hard to believe the current king of the world in snowboarding grew up in Australia where there's hardly any snow.
But Scotty James is no ordinary competitor.
At just 23, James has already competed in the sport for 10 years and has just achieved an Australian first — he holds three of the four major world snowboard halfpipe crowns*, the fourth being Olympic glory, which he's chasing this month.
James is one of the 51 Australians competing at the Winter Olympics in Pyeongchang in South Korea from this Friday (February 9). Australia will contest events in alpine skiing, bobsleigh, cross country skiing, figure skating, freestyle skiing, luge, short track speed skating, skeleton, snowboard and speed skating.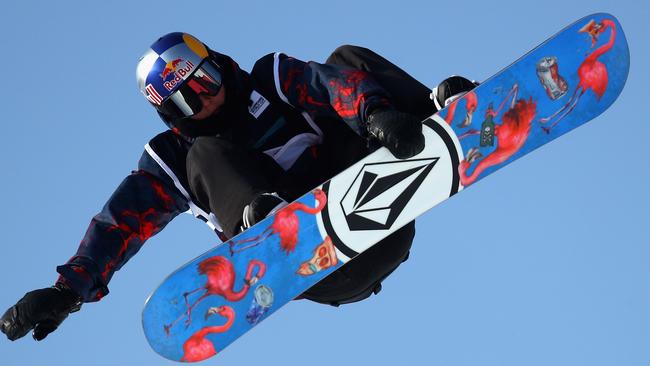 James competed in both Slopestyle and halfpipe at the 2014 Sochi Olympics — one of only five men in the world to do so – but he still didn't win a medal.
For these Olympics, he's decided to focus just on the halfpipe. The halfpipe is named because competitors snowboard on a course that looks like a pipe cut in half.
At 188cm tall, James is unusally big for a snowboarder. As he grew, he had to learn to embrace his height and use it to differentiate* his tricks from everyone else's.
"I'm a little unorthodox*,'' James said.
"I'm quite tall for a snowboarder so my ability to move my limbs, from outside looking in, it might look a little tough.
"But for me, I see it as an advantage. I'm pretty powerful, I can get through some tough transitions* and things like that.''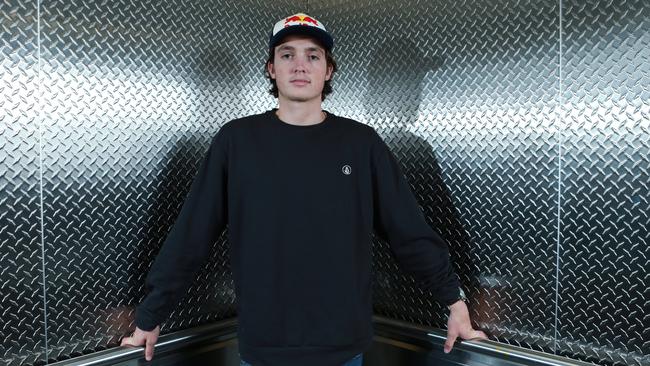 James has certainly come a long way from the 15-year-old who was the youngest male of all competing nations at the 2010 Vancouver Winter Olympics. At the time, he was also Australia's youngest male Olympian in 50 years.
James will take a big gamble in Pyeongchang as he plans to complete the switch backside double cork 1260, which is a trick involving three-and-a-half rotations and a blind landing
He landed the trick in the World Cup event at Snowmass in Colorado last month.
"The switchback 12 is something I've been working on and something that's never been done before, so it definitely got me mentally the past couple of competitions, but I was very stoked and over the moon to put it down," he said.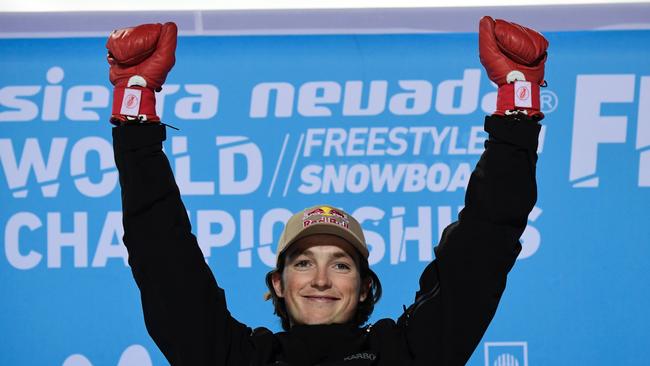 James is known for his signature red boxing gloves which sport the famous Boxing Kangaroo picture, but strict uniform rules mean he cannot wear them at the Games.
However, the Australian Olympic Team's official glove supplier and manufacturer XTM has helped out by designing a combined snow and boxing glove in team colours for James to wear in PyeongChang.
FAST FACTS ABOUT SCOTTY JAMES
Height: 188cm
Weight: 78kg
From: Warrandyte, Melbourne. Lives in Colarado.
Favourite sports to watch: F1 racing and golf.
Favourite food: sushi.
Favourite music: loves rock'n'roll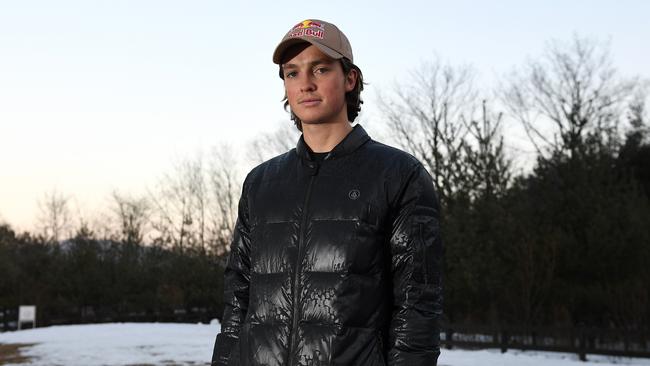 THREE THINGS YOU DIDN"T KNOW ABOUT SCOTTY JAMES
1. When he's not training or competing, you'll find him reading some aviation books or taking photos. He wanted to be a pilot when he was a young boy.
2. He is a keen AFL fan and follows the Bombers (Essendon Football Club)
3. James' first snowboard was a $10 display board from Vancouver as a gift from his father and was the only board small enough for him to ride.
GLOSSARY
crowns: awards or distinctions gained by a victory or achievement, especially in sport
differentiate: what make someone or something different
unorthodox: not usual, traditional or expected
transitions: the process or period of change from from one condition to another
LISTEN TO TODAY'S STORY
CLASSROOM ACTIVITIES
1. After reading the Kids News article profiling Australian snowboarding champion Scotty James, answer the following questions in as much detail as possible.
– How long has Scotty been competing in the sport of snowboarding for?
– How many Australians are competing in the 2018 Winter Olympics?
– Which Olympic Games has Scotty participated in?
– Does Scotty see being fairly tall as an advantage or disadvantage? Why?
– Which trick is Scotty hoping to perform and land at the upcoming winter Olympics?
– Why do you think Scotty lives in Colorado?
– How do you rate Scotty's chances for winning an Olympic medal to add to his other achievements?
– Do you think snowboarding is an exciting sport to watch? Why or why not?
Extension: Draw and label a diagram to explain the trick Scotty is planning to perform at the upcoming winter Olympics.
Time: Allow 15 minutes
Curriculum links: English
2. After reading about the trick Scotty James is planning to perform at the winter Olympics, work with a class mate and design your own amazing, impressive and technical trick that he or other snowboarders could work on.
Give your trick a name and sketch a detailed diagram of the moves the trick involves. You may need to research some other world class snowboard half pipe tricks to give you some ideas and inspiration.
Extension: Write a postcard to Scotty James wishing him luck and giving him any advice as he prepares to compete in the winter Olympics.
Time: Allow 25 minutes.
Curriculum links: Critical and Creative Thinking, Personal & Social, Health & Physical Education
IN ONE SENTENCE, TELL US WHAT YOU LIKE ABOUT TODAY'S STORY
Tell us your thoughts on the story using your best spelling, punctuation and grammar. We will publish the best comments.