Australia breaks a billion hearts to claim its sixth World Cup in India
The Aussies have made history, winning their sixth World Cup in India and defeating the hosts by six wickets in their only loss of the Cup, thanks to a sensational performance from Travis Head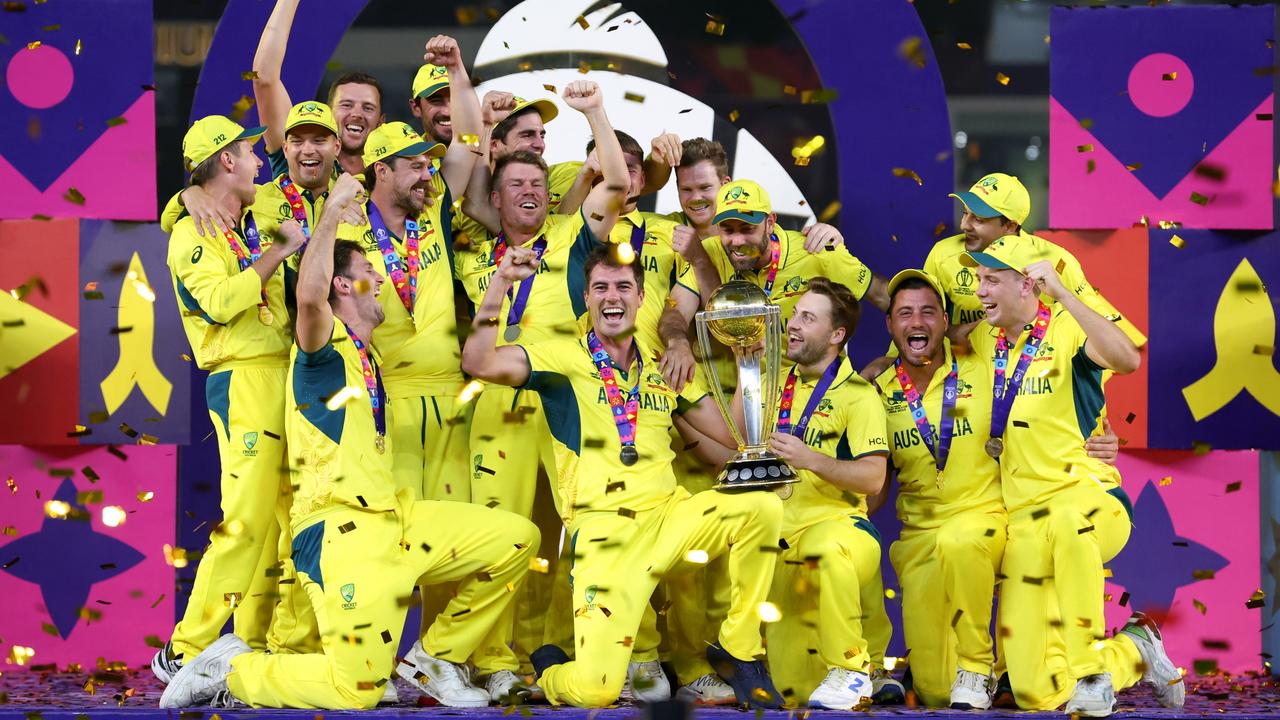 The Australians celebrate with the ICC Men's Cricket World Cup trophy following the final against India at the Narendra Modi Stadium on November 19 in Ahmedabad, India. Picture: Robert Cianflone/Getty Images
Australia has denied India and claimed its sixth one-day World Cup title in a heartbreaking finish for the hosts.
The Aussies silenced a crowd of 92,453 at the Narendra Modi Stadium as Travis Head and Marnus Labuschagne overcame their side's shaky start.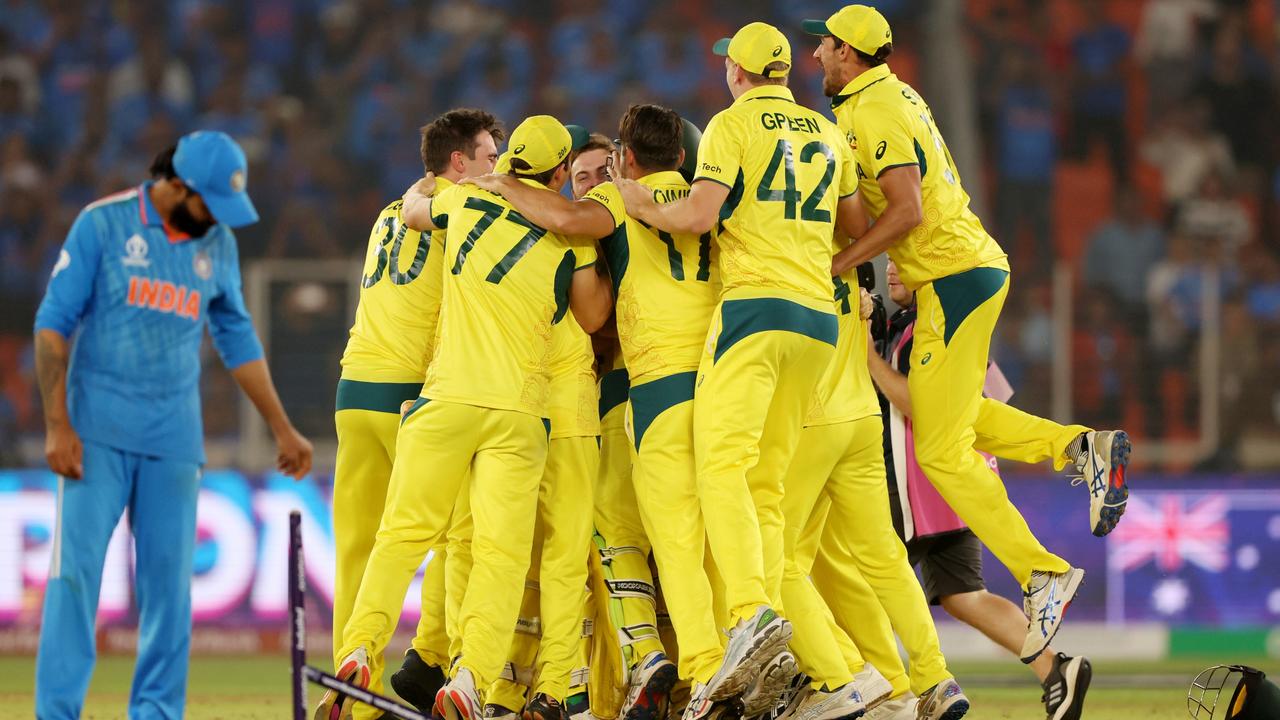 Australian players celebrate after winning the ICC Men's Cricket World Cup. Picture: Robert Cianflone/Getty Images
Chasing 241, the target seemed a mile off when Australia plummeted* to 3-47 at the end of the seventh over, after Steve Smith decided against reviewing an lbw* decision from umpire Richard Illingworth that would have been overturned* if referred upstairs.
But Head and Labuschagne vindicated* the faith of selectors, guiding the Aussies to victory. It was India's only defeat in a tournament that will be remembered as the one that got away.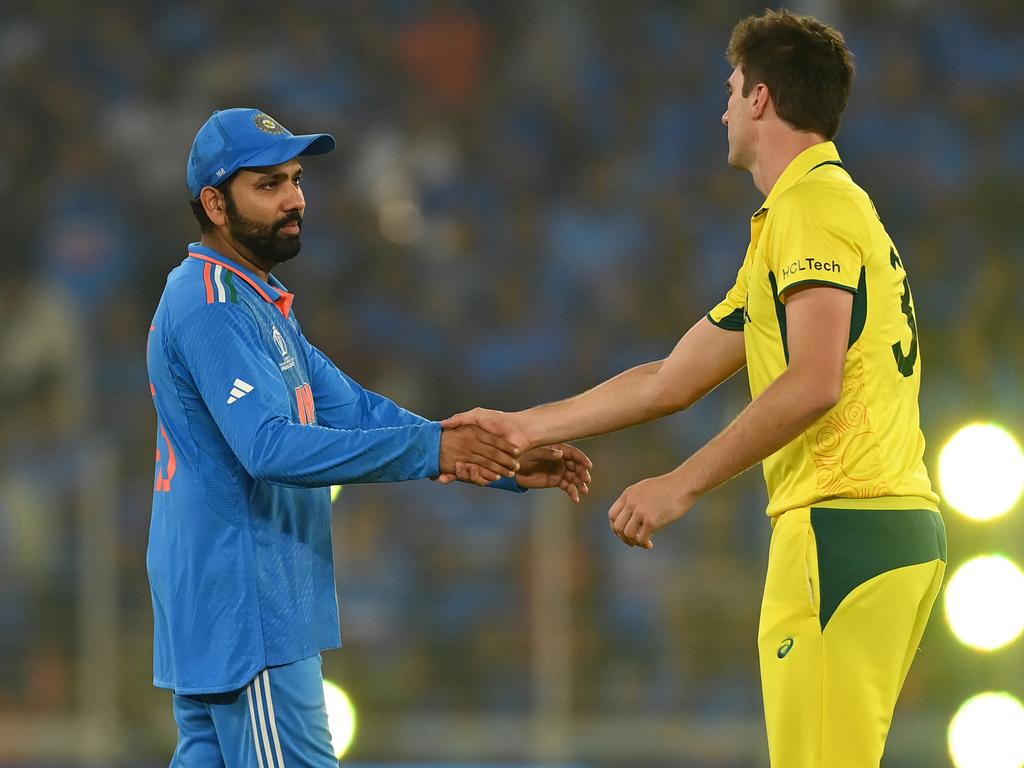 India captain Rohit Sharma shakes hands with Australia captain Pat Cummins after the visitors broke a billion hearts by denying the hosts in the decider. Picture: Gareth Copley/Getty Images
Despite being the outright favourite, India has not won a senior men's world title since 2011.
The sea of blue shirts in the crowd thinned as Australia's fourth-wicket pair whittled away at the target. Head's magnificent 137 from 120 balls in a 192-run partnership left Australia with just two needed to win.
Glenn Maxwell struck the winning runs for Australia. Picture: Robert Cianflone/Getty Images
Glenn Maxwell struck the winning runs with a two to deep mid-wicket off Mohammed Siraj, as Australia secured a six-wicket victory with 42 balls to spare.
Forced to stay home for the early part of the tournament after suffering a broken hand in South Africa in September, Head posted his second century of the tournament, nullifying* India's spin pair of Ravindra Jadeja and Kuldeep Yadav in one of Australia's greatest one-day displays.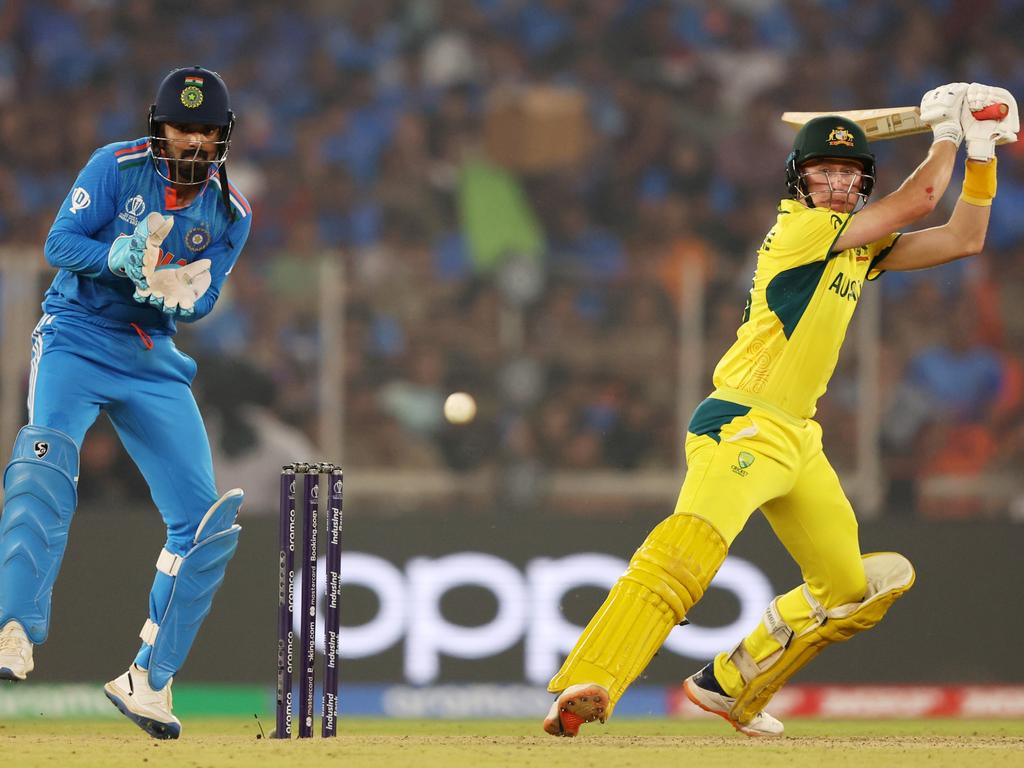 Marnus Labuschagne of Australia capped his comeback story in the final. Picture: Robert Cianflone/Getty Images
Labuschagne, who was not in Australia's preliminary 18-man extended squad for this tournament, capped his incredible comeback story, fending off India's attack after the early loss of David Warner (seven), Mitch Marsh (15) and Smith (four).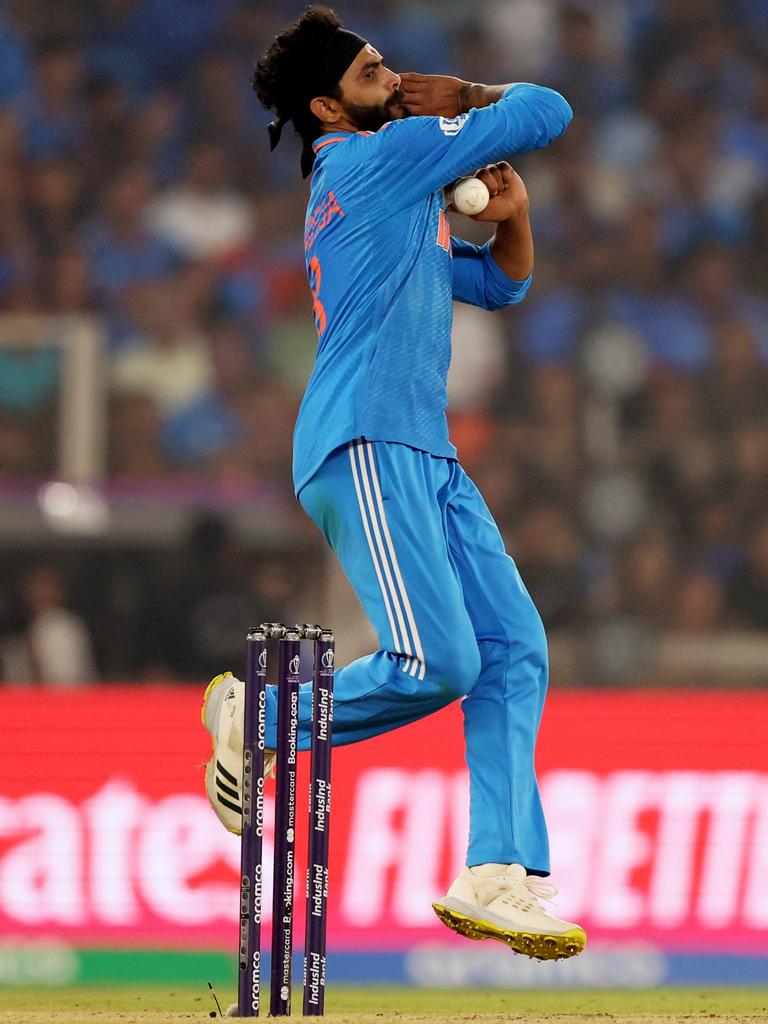 Ravi Jadeja of India in action during the final. Picture: Robert Cianflone/Getty Images
The win adds to a title-rich year for the Aussies, who claimed the World Test Championship crown against India in June before retaining the Ashes in England via a drawn series. Head was player of the match in the WTC decider at The Oval, an award he also won for his showing in the semi-final victory against South Africa.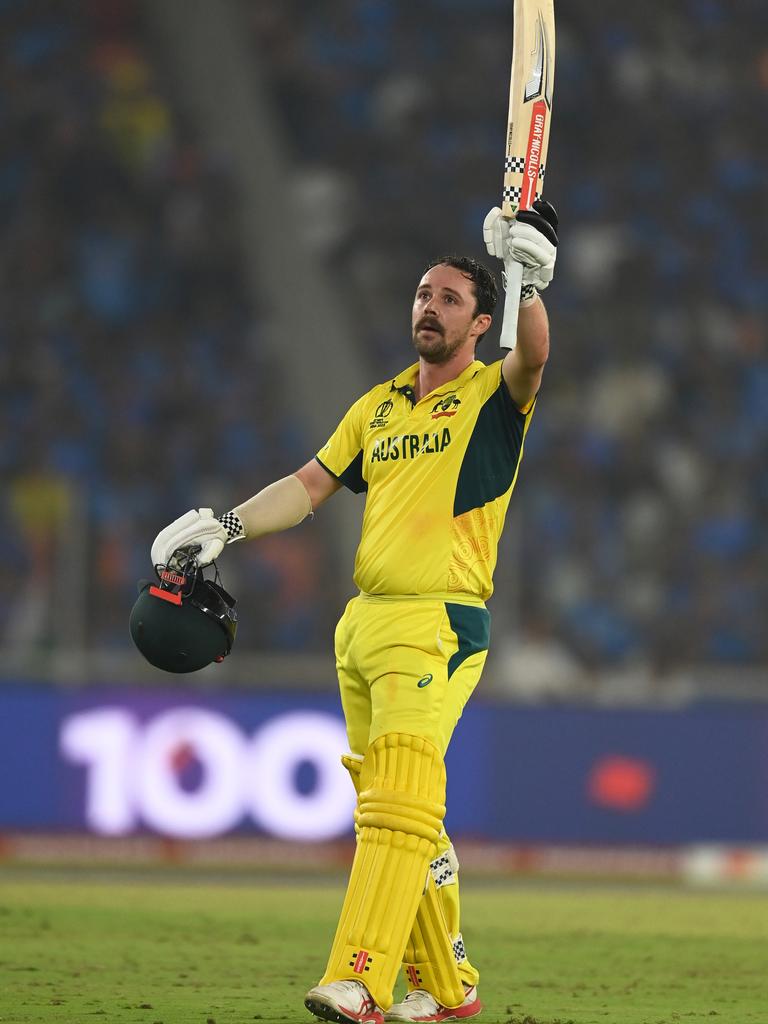 Travis Head of Australia celebrates his century. Picture: Gareth Copley/Getty Images
Captain Cummins backed up his call with a mighty bowling effort, while a fantastic catch by Head removed Indian skipper Rohit Sharma for 47 and proved a turning point.
Virat Kohli was still looking dangerous though, before Cummins plunged the world's biggest cricket stadium into silence as the Indian great went for 54 to a short ball.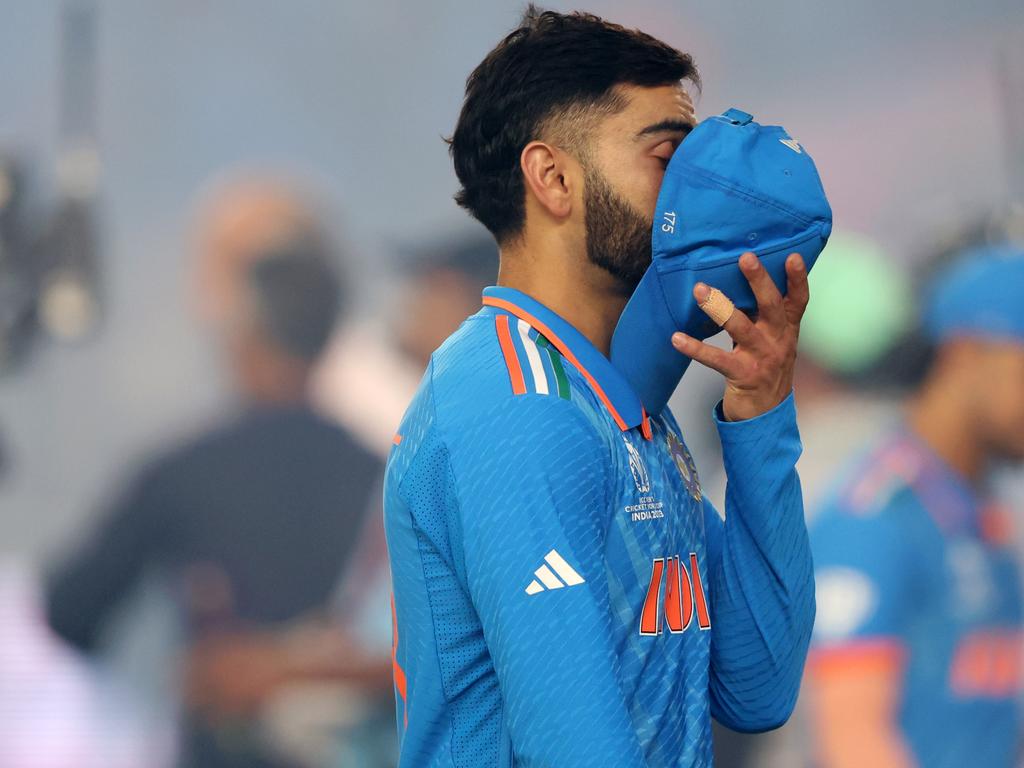 Virat Kohli went for 54 to a short ball from Cummins. Picture: Robert Cianflone/Getty Images
From there India's chances of reaching 300 were looking slim, and so it proved as Josh Hazlewood and Mitchell Starc curtailed* the home side.
Cummins finished with 2-34 from his 10 overs in what was an exceptional display.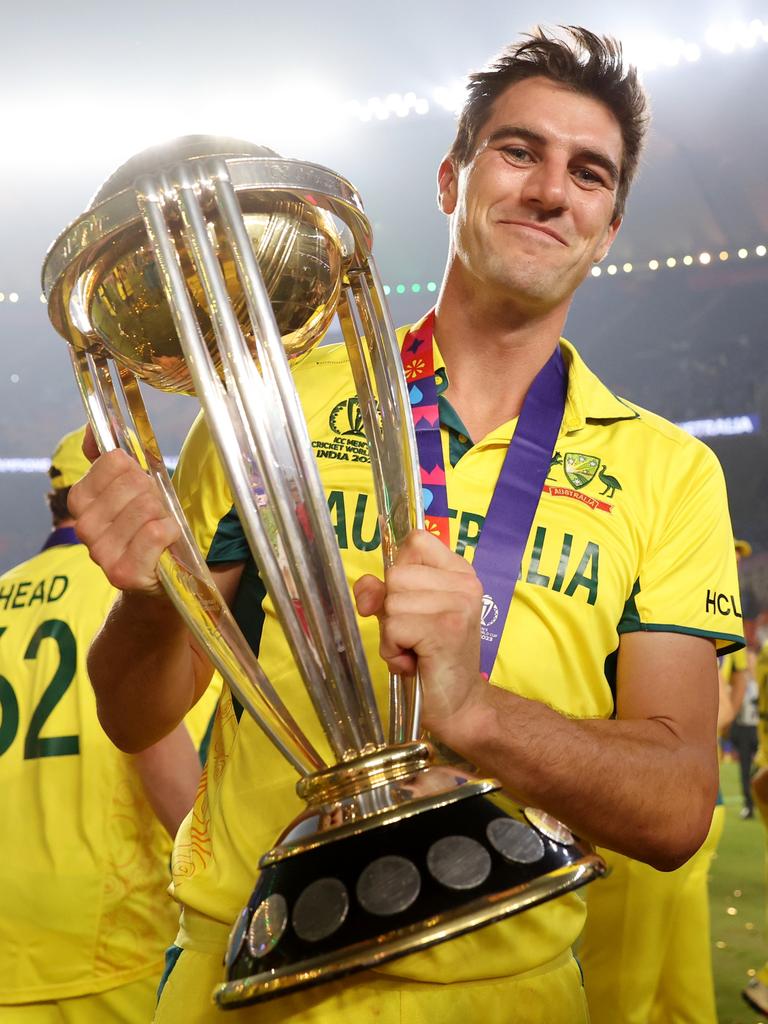 Australian captain Pat Cummins of Australia finished with 2-34 from 10 overs. Picture: Robert Cianflone/Getty Images
THE AUSSIES' PATH TO GLORY
Australia's road to victory meant overcoming South Africa in another classic semi-final, after they claimed a three-wicket win* with just 16 balls remaining*.
While not quite as close to the wire as the 1999 World Cup semi-final between the two sides, the match was filled with tension* as Australia crawled to victory in an extraordinary contest*.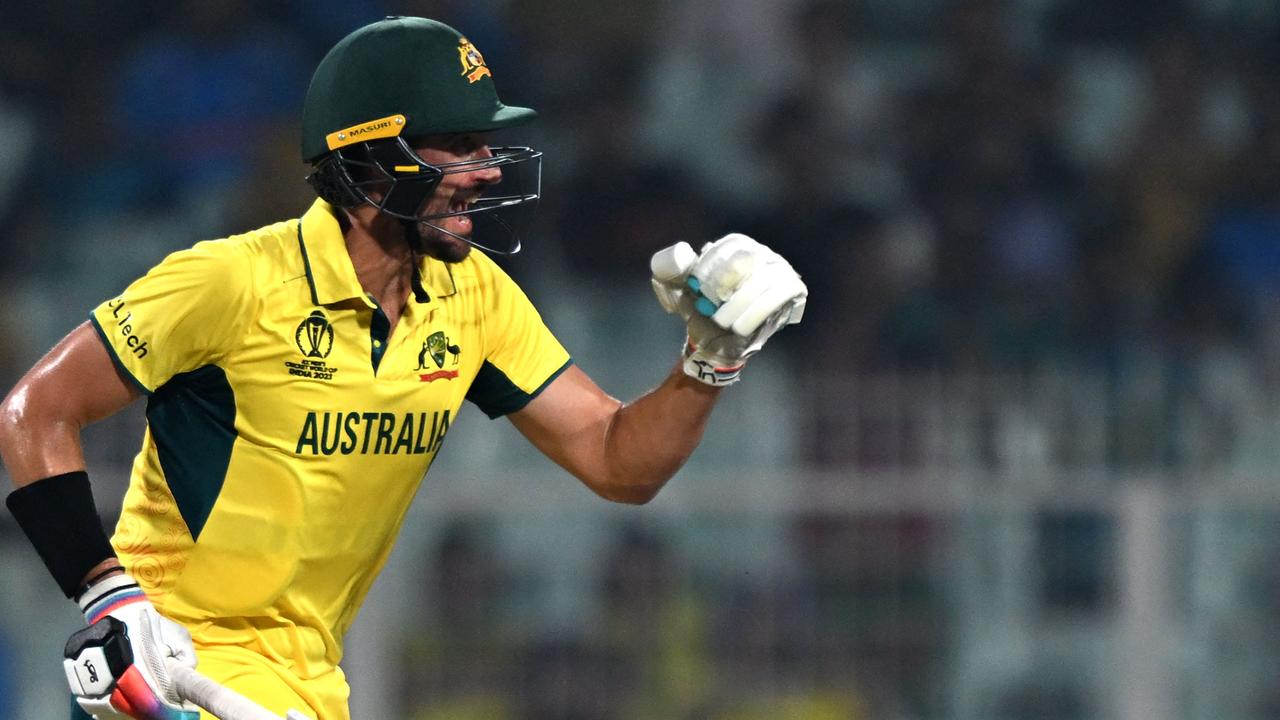 Australia's Mitchell Starc celebrates their win at the end of the 2023 ICC Men's Cricket World Cup one-day international semi-final match against South Africa. Picture: Arun Sankar/AFP
The result saw South Africa knocked out in a World Cup semi-final for the fifth time – three times by Australia – and still searching for its first final appearance.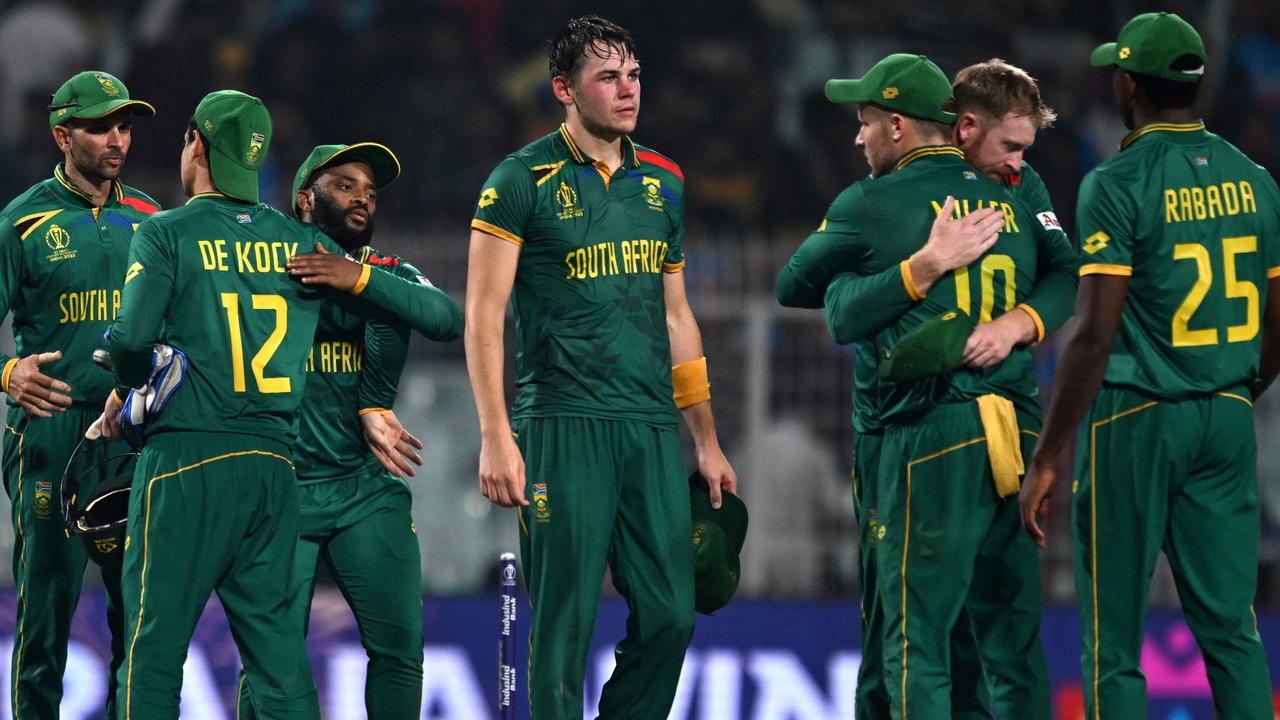 South Africa's players react after losing the 2023 ICC Men's Cricket World Cup one-day international (ODI) second semi-final match against Australia at the Eden Gardens in Kolkata on November 16, 2023. Picture: Arun Sankar/AFP
For Australia, it was the eighth time the team has qualified for the final.
Regular wickets* kept it tense, and when Steve Smith (30) was the sixth wicket to fall, it left the tail* exposed with 39 runs still to be made.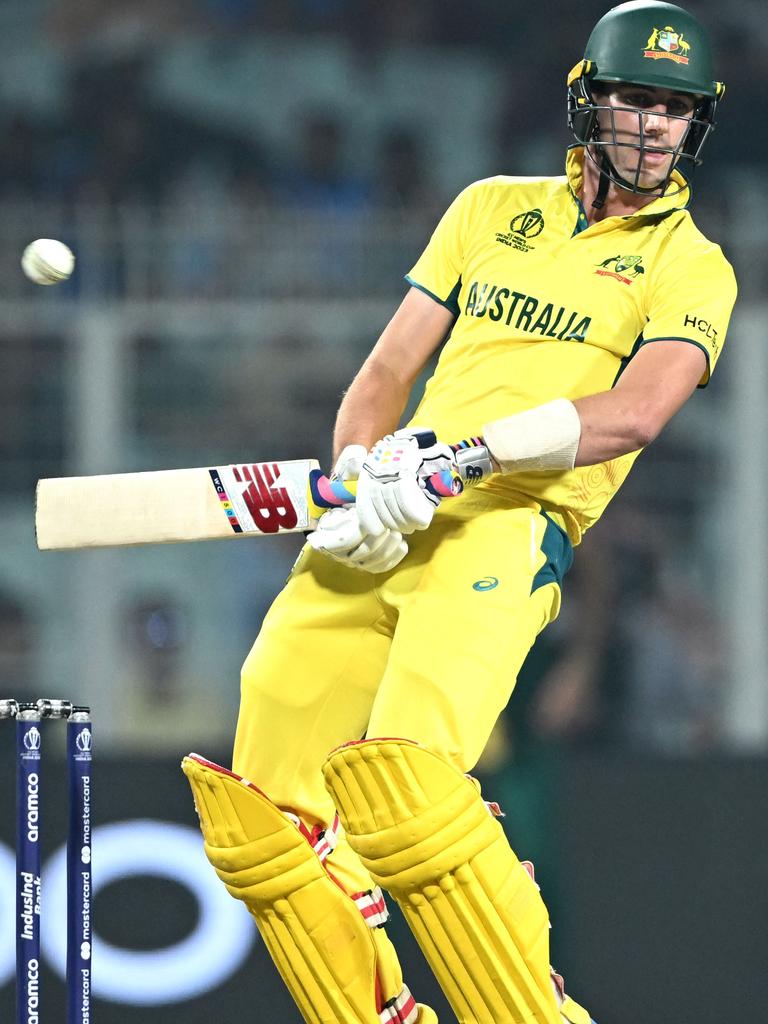 Australia's captain Pat Cummins in action. Picture: Dibyangshu Sarkar/AFP
Mitchell Starc and Pat Cummins combined to get Australia home as the skipper hit the winning runs with 16 balls still remaining.
Head, who also took two wickets in two balls in his five overs for 2/21, was named the Man of the Match.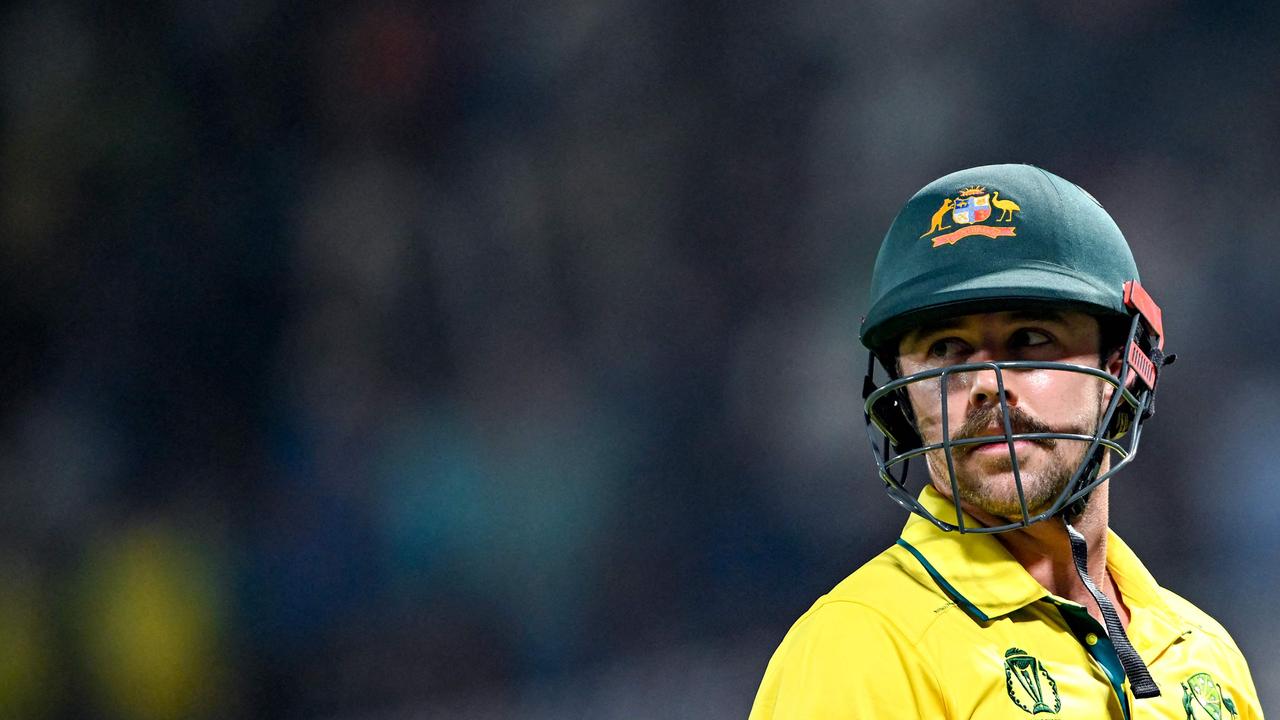 Australia's Travis Head was named Man of the Match in the semi-final against South Africa Picture: Dibyangshu Sarkar/AFP
"The Australians have got out of jail*," ex-Aussie captain Ricky Ponting said in commentary*.
While on paper the low-scoring thriller* didn't seem like much, it was an intense contest* and proved the perfect preparation for the final triumph against India.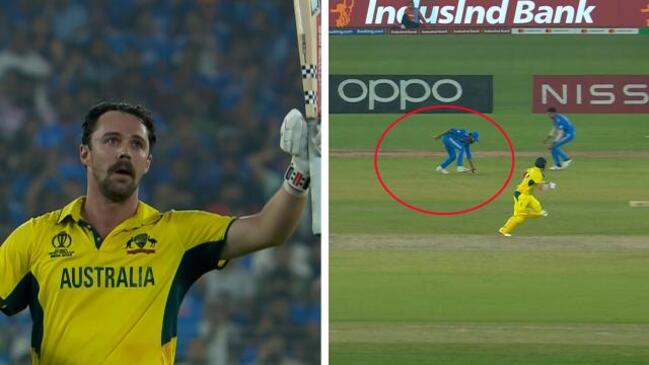 Pat Cummins of Australia lifts the ICC Men's Cricket World Cup trophy after his side's victory in India. Picture Robert Cianflone/Getty Images
POLL
GLOSSARY
LBW: leg before wicket, a rule that means the batsman is out if the ball strikes any other part of his body aside from his hand
overturned: reversed, revoked, to change an official decision
plummeted: fell at top speed
nullifying: stopping the effectiveness or impact of something
three-wicket win: Australia won the match by three wickets, meaning they successfully chased the target set by South Africa
balls remaining: the number of cricket balls (throws) left to be bowled in the match
tension: feeling of nervousness or excitement
extraordinary contest: an exceptional and remarkable competition
decider: the match that determines the champion
tournament: the entire series of matches in the Cricket World Cup
wickets: the number of times a team loses a batsman
spinners: bowlers who specialise in delivering spinning balls
tail: the lower-order batsmen in a cricket team
unheralded: not widely known or recognised
out of jail: an expression meaning escaping a difficult or challenging situation
commentary: the spoken or written description of a cricket match
low-scoring thriller: a match with fewer runs scored but filled with excitement and tension
intense contest: a closely fought and competitive match
EXTRA READING
Maxwell's innings declared greatest ever played
Harris hits six with broken bat and smashes records
Five new sports named for 2028 Olympics
QUICK QUIZ
Describe Australia's performance in the Cricket World Cup final against India. What was the final result, and who did they have to overcome in the semi-final?
What was a turning point in the match?
Identify the players mentioned in the story who played crucial roles in Australia's victory. What were their contributions to the team's success?
Explain the significance of the term "man of the match" and why Travis Head received this title in the semi-final. What were his notable achievements in the final against host nation India?
India was the favourite to win the World Cup - but when did they last win a senior men's world title?
LISTEN TO THIS STORY
CLASSROOM ACTIVITIES
1. Use the words
Think about these words and phrases from the story: 'the one that got away', 'heartbreaking', 'down to the wire', 'turning point', 'filled with tension', 'exposed', 'thriller', 'extraordinary'.
Make sure that you know what they all mean. Then, plan and write a story that uses all of the words and phrases. Your story cannot be about sport.
Time: allow at least 25 minutes to complete this activity
Curriculum Links: English, Critical and Creative Thinking
2. Extension
Rewrite the story from the point of view of an Indian cricket fan. You could use your research skills to find out more about the Indian cricket team and how they scored or what they did during the match.
Time: allow at least 30 minutes to complete this activity
Curriculum Links: English, Health and Physical Education
VCOP ACTIVITY
To sum it up
After reading the article, use your comprehension skills to summarise in a maximum of three sentences what the article is about.
Think about:
What is the main topic or idea?
What is an important or interesting fact?
Who was involved (people or places)?
Use your VCOP skills to re-read your summary to make sure it is clear, specific and well punctuated.