AFLW star Tayla Harris has slammed internet trolls after offensive comments were directed at an incredible photo of her kicking a football.
A troll is a slang name for someone who aims to upset people by posting offensive or off-topic messages on the internet.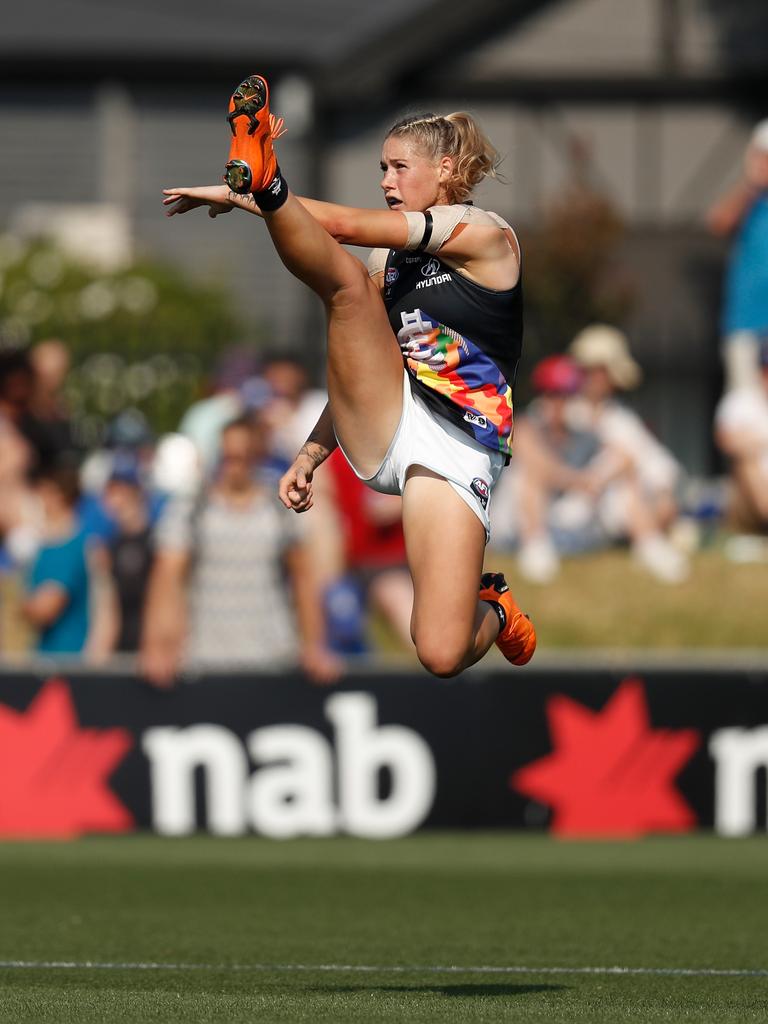 Harris called for more to be done against messages that spread hatred and suggested police should become involved.
"These people need to be called out by the AFL, yes, but also taken further," she told radio station RSN on Wednesday morning.
"Whether its Victoria police or whatever it is need to at least contact these people or some sort of warning, Facebook delete them, something needs to happen because we can talk about this as much as we want but they're not listening and they're probably smiling about it, that we're talking about it.
"So something needs to go further, I think."
She described the comments as "repulsive and it made me uncomfortable".
TV station Channel 7 published the photo of the Carlton AFLW player, which attracted offensive comments. After the offensive comments were posted, Channel 7 took the photo down from social media platform Twitter.
Channel 7 was then criticised by many for taking the photo down and put the picture back, accompanied by an apology for taking it down in the first place.
On Tuesday night Channel 7 explained its decision to remove the post.
"Recently we published an image of AFLW player Tayla Harris. The original purpose in publishing the image was to celebrate the power, athleticism* and skills on show in Carlton's thrilling win over the Western Bulldogs," the message read.
"The image attracted a number of comments, some of which were inappropriate and offensive. As a consequence we have removed the image and the comments."
Hours later the image was reinstated* with the following message:
"We're sorry. Removing the photo sent the wrong message.
"Many of the comments made on the post were reprehensible* & we'll work harder to ban trolls from our pages."
The photo was from the second AFLW Pride game between the Bulldogs and the Blues with Carlton winning 6.5 (41) to 5.8 (38).
Harris responded by posting the photo alongside the words: "Here's a pic of me at work… think about this before your derogatory* comments, animals."
Matildas soccer star Sam Kerr and ex-AFLW footballer Meg Hutchins were among many frustrated at Channel 7's decision to remove the picture.
"THE PROBLEM WAS NOT THE PHOTO", Kerr posted.
Hutchins meanwhile said: "Absolutely disgusting – 7 AFL you really should be taking a stand reporting these guys for offensive comments. Enough is enough!!!"
Fellow Carlton AFLW player Darcy Vescio said: "Deleting the post is giving in to trolls. Also, you're eliminating* all the positive conversation. Also, you're removing more content around women in sport – which there's already so little of.
"It's up to everyone to moderate* hate."
Vescio's comments echo a column she wrote in the Herald Sun newspaper recently about the impact of trolling.
"When the AFLW season is in full swing it inevitably coincides with trolling and I often get asked how I handle reading and hearing demeaning* comments," she wrote.
"Mostly, I talk about the importance of staying level — not getting caught up in the highs but also not allowing the negativity to get me down.
"It's easy to say 'don't worry about the haters, there are plenty of people who love what you're doing'.
The picture, taken by AFL photographer Michael Wilson, shows Harris in the motion of kicking and her incredible athleticism.
GLOSSARY
athleticism: strength, fitness, agility
reinstated: put back after being removed
reprehensible: deserving strong disapproval
derogatory: showing disrespect
eliminating: getting rid of
moderate: judge before allowing something (such as comments) to be included
demeaning: causing someone to lose their dignity and respect from others
EXTRA READING
Plan to pay male and female athletes equally
Hacker's good and evil tale of technology
QUICK QUIZ
Define the slang term "troll".
What was the original purpose of Channel 7's post of the photo?
Which game was the photo from? Who won and by how much?
What comment did Sam Kerr post in response to this issue? What did she mean?
What other Carlton AFLW player is quoted?
LISTEN TO THIS STORY
CLASSROOM ACTIVITIES
1. Write a letter
Write a letter to Tayla Harris or any other female athlete. The purpose of your letter is to encourage her and to explain what you admire about her. Include specific achievements if you know about them.
Time: allow 25 minutes to complete this activity
Curriculum Links: English, Personal and Social Capability
2. Extension
Create a list of Dos and Don'ts for making online comments. Create a poster that shows and explains why your rules are important.
Time: allow 30 minutes to complete this activity
Curriculum Links: Civics and Citizenship, Visual Communication Design, English
VCOP ACTIVITY
Cyber-bullying and internet safety is an important issue. A lot of people can be verbally attacked by cowards, because it is easier to write comments and not actually have to say them to people's faces. But this type of bullying is just that, bullying … and it needs to stop.
Think about an apple.
Imagine that if you physically hurt someone (maybe you hit them or push them over). When you do this, the skin of the apple gets cut or grazed and you can see the damage.
Now imagine every time you are mean using your words (spoken or written), you drop the apple. The meaner you are, the more the apple bounces on the ground.
The skin might not break, but on the inside the apple is getting more and more bruised, more and more hurt and it doesn't heal.
Words are extremely powerful, they can make some feel so proud and happy that they might just float away on a cloud. But they can also hurt someone so much that they want to hide away from the world.
Decide what you can do to help stop cyber-bullying. You can make a poster, write a letter or put a new school rule in place.
Maybe you have been bullied and you want to share, or you were a bully and you want to apologise.
Whatever you choose, you will need to use emotive language to help you express your feelings.
HAVE YOUR SAY: Do you think internet trolls should be banned from spreading messages of hatred? If not, why not?
No one-word answers. Use full sentences to explain your thinking. Comments will not show until approved by editors.