MEET the tough nuts of AFLW.
Ellie Blackburn and Brianna Davey have established themselves as two of the most no-nonsense stars of the female game in the first two weeks of the competition.
And the Western Bulldogs and Carlton players said women in the inaugural* league had been thrilled to show crowds they hit hard and put their bodies on the line.
"I think there definitely would have been a few people surprised how physical the girls are,'' Davey said.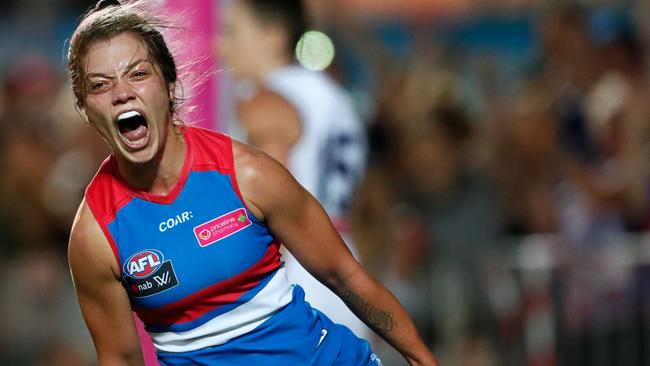 "But when I ran out for my first game I was excited to show how we play and for people to see that we're not scared of the contest.''
AFLW players have quickly won the respect of crowds with big bumps, fierce tackles and brave pack marks in every match.
Melbourne defender Meg Downie was knocked unconscious and stretchered off the ground late in the Demons' tough win against Collingwood on Saturday night.
And the AFLW tribunal was last night held for the first time to hear cases of front-on contact and rough conduct from matches at the weekend.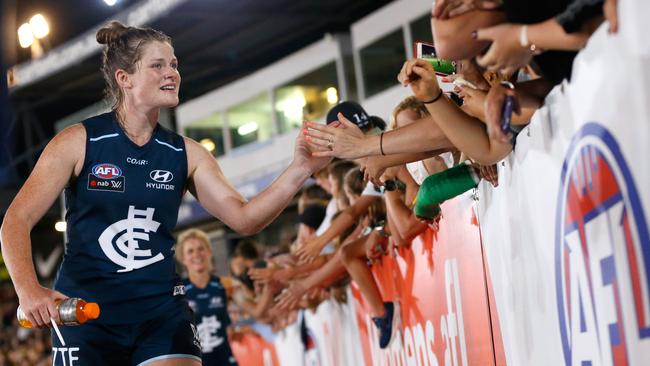 Bulldogs marquee* player Ellie Blackburn said the rough and tumble action served up so far proved women were staying true to the sport.
"I can't imagine girls shying away or not playing their natural games,'' she said.
"You can't really compare the women to blokes but we know the brand of footy we play is tough.
"I guess it's the people that haven't see us play that might be surprised.''
Blackburn and Davey's reputation as fearless competitors has even earned them ambassador* roles as "hard nuts'' in an Almond Board of Australia health campaign*.
"I guess the way we go about it is being hard nuts so it makes sense,'' Blackburn said.
"We want to go in and play hard footy and win the tight contests.''
Former Australian soccer goalkeeper Davey said tough footy was part of the women's game.
"As long as it's fair and goes with the spirit of the game it's good for footy,'' she said.
GLOSSARY
inaugural: first
marquee: a marquee is a large tent but in this instance a marquee players refers to the league's best players.
ambassador: a representative or promoter for an activity or cause
campaign: to work in an organised way towards a goal
LISTEN TO TODAY'S STORY
CLASSROOM ACTIVITIES
Activity 1: Tough Nuts
After reading the Kids News article on the AFL Women's competition (AFLW), answer the questions below in as much detail as possible, focusing on your best attempts at spelling, grammar and punctuation.
1. Which teams do Ellie and Brianna play for?
2. Has there been any serious injury in the AFLW competition so far?
3. Do you think the AFLW competition is as tough as the AFL?
4. Have you seen an AFLW match? Discuss with a partner what you liked and disliked?
5. What health campaign are these girls participating in? Why were these chosen as ambassadors for this?
6. What was Brianna's previous sport?
Extension: Write a list of pros (positives) and cons (negatives) for the new AFLW competition.
Time: Allow 30 minutes to complete this task.
Curriculum links: English, Health & Physical Education
Activity 2. Nut Logo
Design a logo for the Almond Board of Australia health campaign. It needs to incorporate the themes of women in football, the AFLW, being hard/tough and almonds being healthy. Remember a logo is just a symbol or other small design to represent the Almond Board's health campaign. Sketch your logo in black marker on a blank A4 sheet of paper.
Extension: Come up with a catchy slogan to accompany the logo for the Almond Board health campaign.
Time: Allow 40 minutes to complete this task
Curriculum links: Health & Physical Education, English, Visual Arts, Critical & Creative thinking
VCOP Activity
(Vocabulary, Connectives, Openers and Punctuation)
Activity: Shuffled Sentences
Identify a compound sentence in the article. A compound sentence is two clauses joined together with a connective. Now see if you can break that sentence up and shuffle it. Grab the connective and secondary clause and move it to the beginning. Remember to put a comma like glue to join the two sentences together.
Re-read your sentence. Did it make it sound better? If not, swap it back.
Can you find another one to try?
Example:
I couldn't go outside because it was raining.
Shuffle:
Because it was raining, I couldn't go outside.
Time: allow at least 10 minutes to complete the task
Curriculum Links: English, Big Write & VCOP
Activity provided by Andrell Education www.andrelleducation.com.au
EXTRA RESOURCES
IN A SENTENCE, SHARE YOUR THOUGHTS ON TODAY'S STORY
Kids News loves reading your best punctuation, grammar and vocabulary.