Sport is not the only priority* in the Warner household.
Star cricketer David and former ironwoman (and SAS Australia fan favourite) Candice place learning to read and write at the top of the list for their young family.
The couple, who have three daughters — Ivy, 6, Indi, 5, and Isla, 20 months — are throwing their support behind the 2021 Prime Minister's Spelling Bee.
Watch the Warner family have some fun with spelling
The Warner family backs the PM's Spelling Bee
Candice said she "really struggled" with spelling growing up, which is why she is so passionate about her girls gaining a good grasp* of it now.
"I struggled with sounding out my letters and because of that then struggled to read," she said.
"That's why I'm really on to the girls about learning their words and then being able to write them.
"I lacked confidence when I went into high school with English … so if the girls have a good understanding and they can spell, I think it sets them up for life."
The super fit mum, who is also the host of Cricket Australia's BlastCast video series for kids on the Cricket Blast YouTube channel, approaches spelling like any other training program: by breaking it down into small, measurable* goals.
"If they can sound letters out, then they can sound their words out, then they can write," she said.
"Obviously the kids learn a lot at school, but it's very important when they come home that it's not just all about sitting on their devices.
"They've got their school readers, they go to the library, they're surrounded by books and there's sight words and letters.
"It's very important as a parent to encourage your kids and try to lead by example."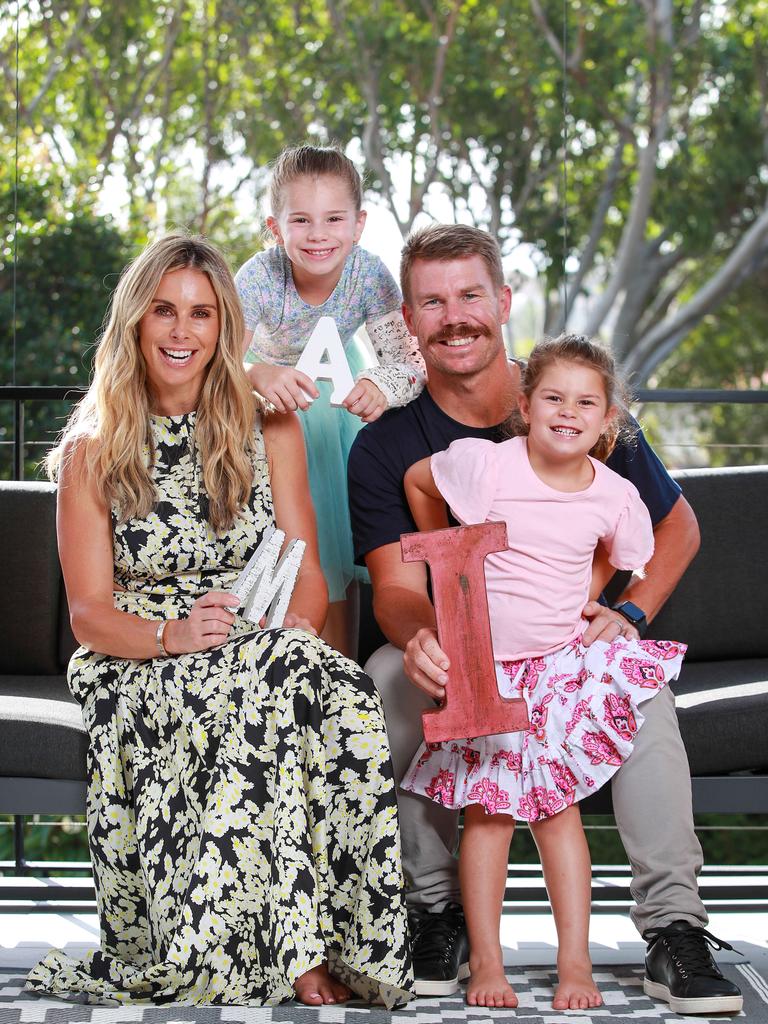 Keeping spelling fun is one of their main priorities for the kids.
During Kids News' visit, Ivy and Indi were busting to write down words to quiz their parents and the whole family was excited to find "howzat"* officially recognised in the Macquarie Dictionary.
"If you can spell, it just gives you the confidence as a child to be able to write stories and express yourself and be creative, so the girls love to write," Candice said.
With Indi joining big sister Ivy at primary school this year, their mum said each now had her own little desk full of pencils and paper to encourage those efforts.
"Obviously we're very sporty and people just assume that sport is the most important thing in our life, but for us, education and giving them the tools and confidence to learn to read and write is the most important thing," she said.
GLOSSARY
priority: treating something as more important
grasp: understanding
measurable: something that can be measured
howzat: a slang word used in cricket to ask the umpire if an opposition player is out, as in 'how is that?'
EXTRA READING
PM urges kids to sign up to Spelling Bee
Fears for spelling in the digital age
QUICK QUIZ
What are the names of Candice and David Warners' daughters?
Why is Candice passionate about her daughters learning to spell?
What is Candice's approach to learning spelling?
What word was the family excited to find in the dictionary?
Indi has joined Ivy at what this year?
LISTEN TO THIS STORY
CLASSROOM ACTIVITIES
1. Mini Spelling Bee
Create your own mini Spelling Bee with a classmate, based on words from this news story:
First, choose 10 words from the news story and carefully copy them down onto cards, making sure you spell them correctly. Try to choose words that you think your partner will find challenging.
Then, take turns reading a word out loud to your partner but don't show them the word. Your partner must try to spell the word correctly. If they can do it out loud, they score 2 points. If they are unable to do it out loud but can write the word down spelled correctly, they score 1 point. If they cannot spell the word they score 0 points.
After you have both tested your partner on all words, calculate your scores to see who wins.
Time: allow 20 minutes to complete this activity
Curriculum Links: English; Personal and Social Capability
2. Extension
Choose one of the words from the above activity that you were unable to spell correctly. Identify the spelling pattern within that word that you found difficult. (For example, if you spelled "daughters" as "dawters" then you had trouble with the spelling pattern "augh".) Use a dictionary or other texts and see how many more examples you can find of that same spelling pattern making the same sound within 10 minutes.
Time: allow 15 minutes to complete this activity
Curriculum Links: English
VCOP ACTIVITY
Proper Noun Police
A proper noun is a noun that names a particular person, place or thing. It always has a capital letter.
How many proper nouns can you find within this article? Find them all and sort them into the category of name, place, time (date/month).
Can you find any proper nouns included in your writing? What are they? Can you sort them into their categories?
HAVE YOUR SAY: Can you think of a tricky word that's used in cricket that you could ask David Warner to spell?
No one-word answers. Use full sentences to explain your thinking. No comments will be published until approved by editors.