How do you spell success? Just ask the crop of super spellers who have won their way into the National Final of the Prime Minister's Spelling Bee in perfect form.
Almost 1500 students competed in the State and Territory Finals, with the top 66 ranked spellers now headed for the national showdown* on May 27.
Of those, 11 students achieved perfect 30/30 scores, including Grade 4 student Jacob Matthews, from Derinya Primary School in the Victorian suburb of Frankston South.
Despite being "very nervous", Jacob kept a cool head to correctly spell all 30 words served up to him in the State and Territory Finals, including a couple of words he'd never heard before.
"There were some new words I did not know even existed," said Jacob, 9, who has a sound* strategy for tackling tricky words.
"I usually try and work out what the vowels are first because I usually know the consonants."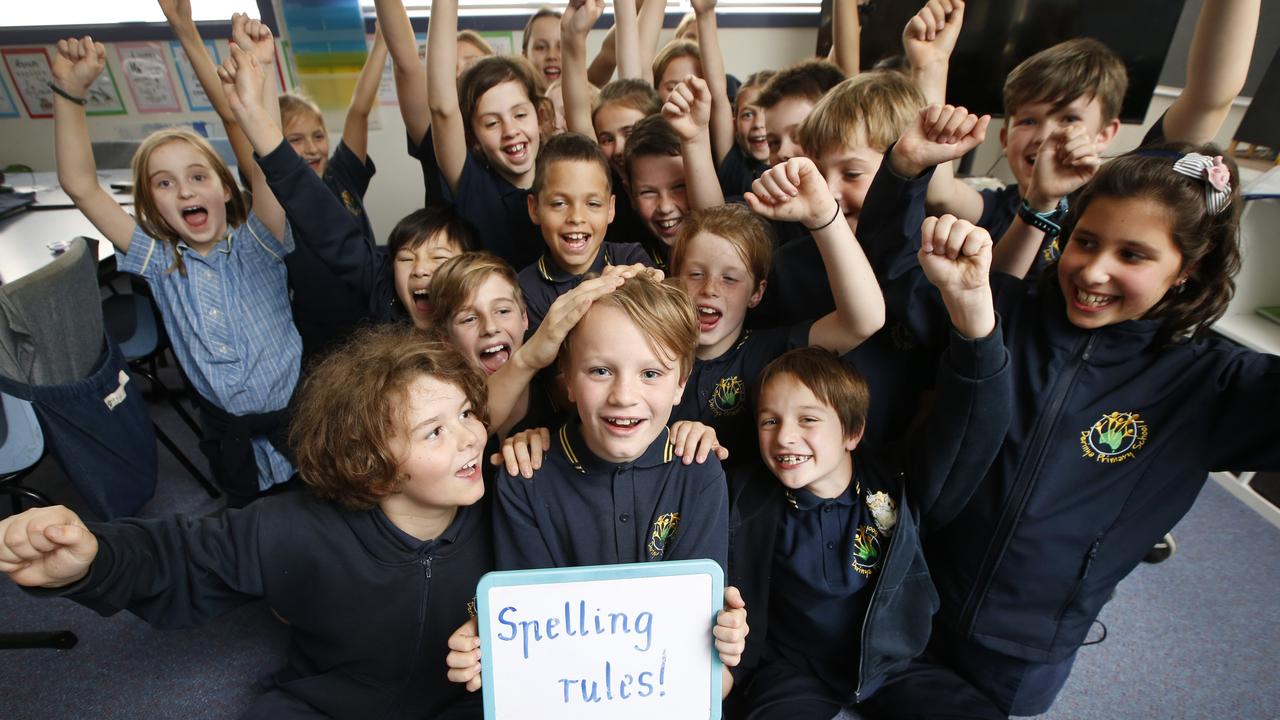 The avid reader will join fellow Victorian students including Jewel Polson, 13, and Theekshitha Karthik, 11, in the national final on May 27.
Haileybury College Grade 6 student Theekshitha not only scored 30/30 but she did it in the lightning speed of 1 minute .007 seconds.
"It's not just about the spelling, it's also about the typing and how fast you can do that. So I focused on practising my typing as well as my spelling," Theekshitha said.
She is one of four Haileybury College students to make the national final, with her perfect scorer schoolmates Sanjar Asad, Seth Oliver and Clarence Antonmeryl also competing.
Jewel, who is in Year 8 at Lighthouse Christian College Cranbourne, also notched a perfect score despite speaking only a little English when she came to Australia from India seven years ago.
"I was pretty impressed to make the national final and had a sense of accomplishment, especially seeing that English isn't my first language," she said.
"I have worked hard because I didn't really know the language when I came here, so I've maybe put in extra effort to learn and I think that has contributed to my success."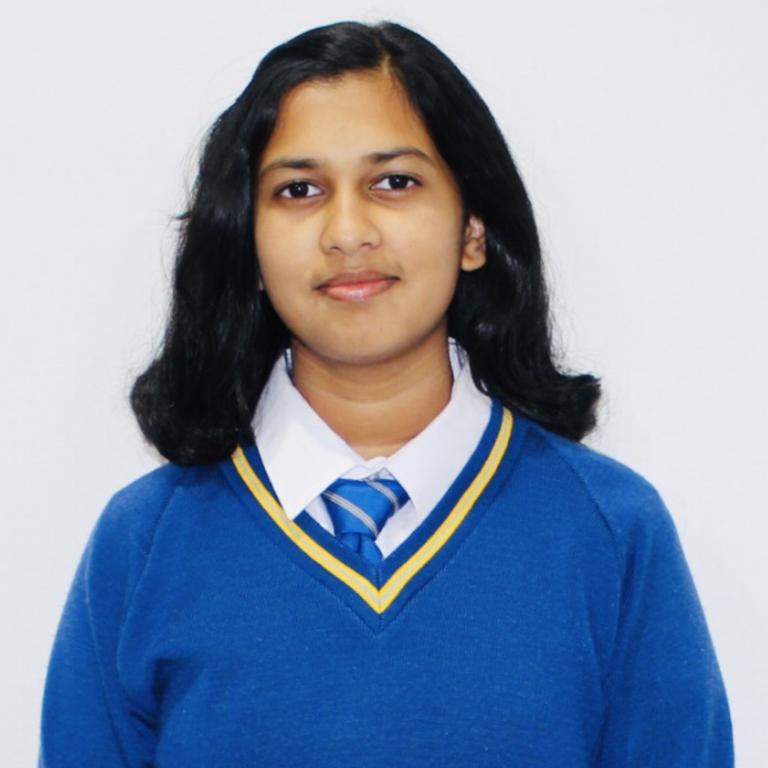 In NSW, North Rocks Public School students Grace Lin, 9, and Patricia Wu, 11, are also preparing for the National Final after perfect rounds at state level.
"I'm just going to try as hard as I can and keep reviewing the words," said Year 5 student Grace.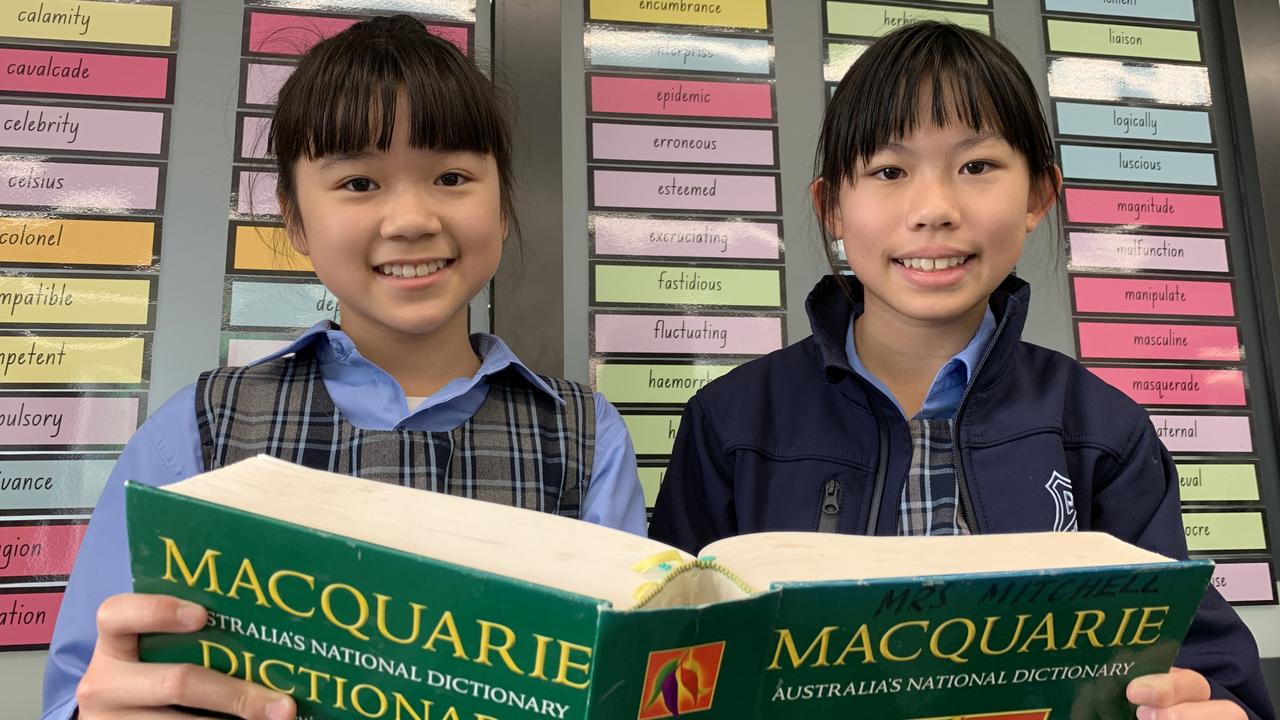 Queensland student Deona Emmanuel, from Holy Spirit Catholic School in the Townsville suburb of Cranbrook, credits her 30/30 success to her love of words.
"I like letters and writing and I love reading," the nine-year-old said. "I read a chapter book every day."
The Grade 4 student's strategy for preparing for the national final is practise — and lots of it.
"My mum has given me a folder of words for home and a folder for school, and I practise spelling in my lunch times and free times at school," she said.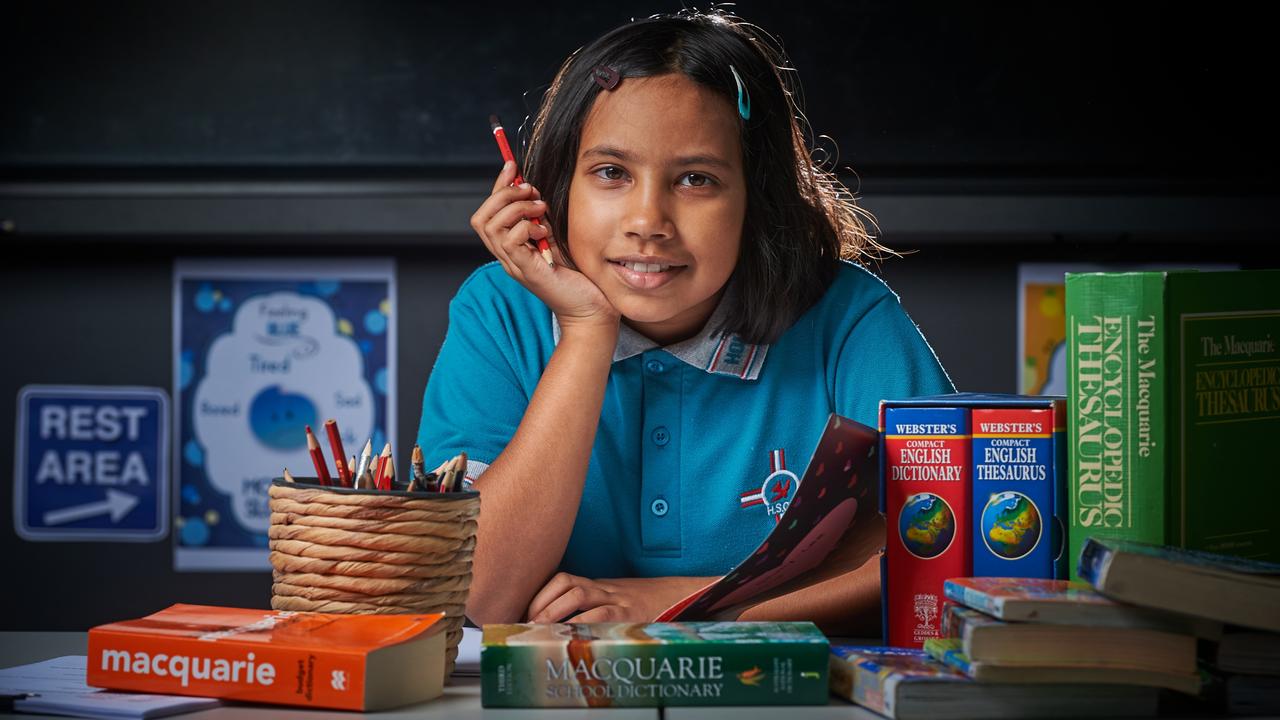 Almost 21,000 students from 490 schools originally signed up for the Spelling Bee, which is run by Kids News and News Corp Australia.
News Corp's community ambassador* and Herald and Weekly Times chairman Penny Fowler congratulated the state champs.
"The Spelling Bee is a key part of our commitment to helping boost childhood literacy and it's fantastic to see so many children embrace it with such enthusiasm and success," she said.
Federal Education Minister Alan Tudge said the Spelling Bee was a fun way for children to hone* their spelling skills.
"The competition is a great way for kids to practise their spelling skills and get them excited about learning new words," he said.
"Congratulations to all the state and territory winners who have made it through to the National Final."
The competition culminates* with the crowning of three national champions — one from each of the Year 3-4, Year 5-6 and Year 7-8 age groups.
They will win a visit to Canberra to meet the Prime Minister, an iPad and a $250 HarperCollins book pack.
The school of each national winner will also receive a $1000 gift voucher to spend on books, technology or other equipment and supplies.
It's the PM's Spelling Bee!
GLOSSARY
showdown: final test
sound: good, reliable
ambassador: person who speaks on behalf of an organisation, community or country
hone: sharpen, improve
culminates: ends, reaches its highest point
EXTRA READING
State and territory winners announced
Author Matt Stanton's top tips for spelling
Fears for spelling in the digital age
QUICK QUIZ
How many students competed in the State and Territory Finals?
How many students have qualified for the National Final?
How fast did Theekshitha Karthik correctly spell her 30 words?
How long ago did Jewel Polson move from India to Australia?
Name one of the prizes the national champions will win.
LISTEN TO THIS STORY
CLASSROOM ACTIVITIES
1. Spelling success strategies
The state and territory winners interviewed each had their own clever strategy that they had used for improving their performance in the Prime Minister's Spelling Bee. Summarise the strategy that each of these winners used to be successful:
Jacob Matthews, Derinya Primary School –
Theekshitha Karthik, Haileybury College –
Deona Emmanuel, Holy Spirit Catholic School –
Then, describe your own best spelling strategy.
Time: allow 15 minutes to complete this activity
Curriculum Links: English
2. Extension
Jacob Matthews described how he often finds the vowels to be the more difficult part of spelling words correctly. Can you figure out what these words that are missing their vowels are meant to be and correctly replace the missing letters?
m_n___vr_
hyg__n_
ph_r__h
h_ndk_rch__f
w__rd
b___t_f_l
_nst_nt_n___s
Time: allow 10 minutes to complete this activity
Curriculum Links: English
VCOP ACTIVITY
I Spy Nouns
Nouns are places, names (of people and objects), and time (months or days of the week).
How many nouns can you find in the article?
Can you sort them into places, names and time?
Pick three nouns and add an adjective (describing word) to the nouns.