Kids News Spelling Bee winners spell trouble for Prime Minister Anthony Albanese
Prime Minister Anthony Albanese has been put to the test by the nation's best young spellers. Discover if he was able to match their impressive word skills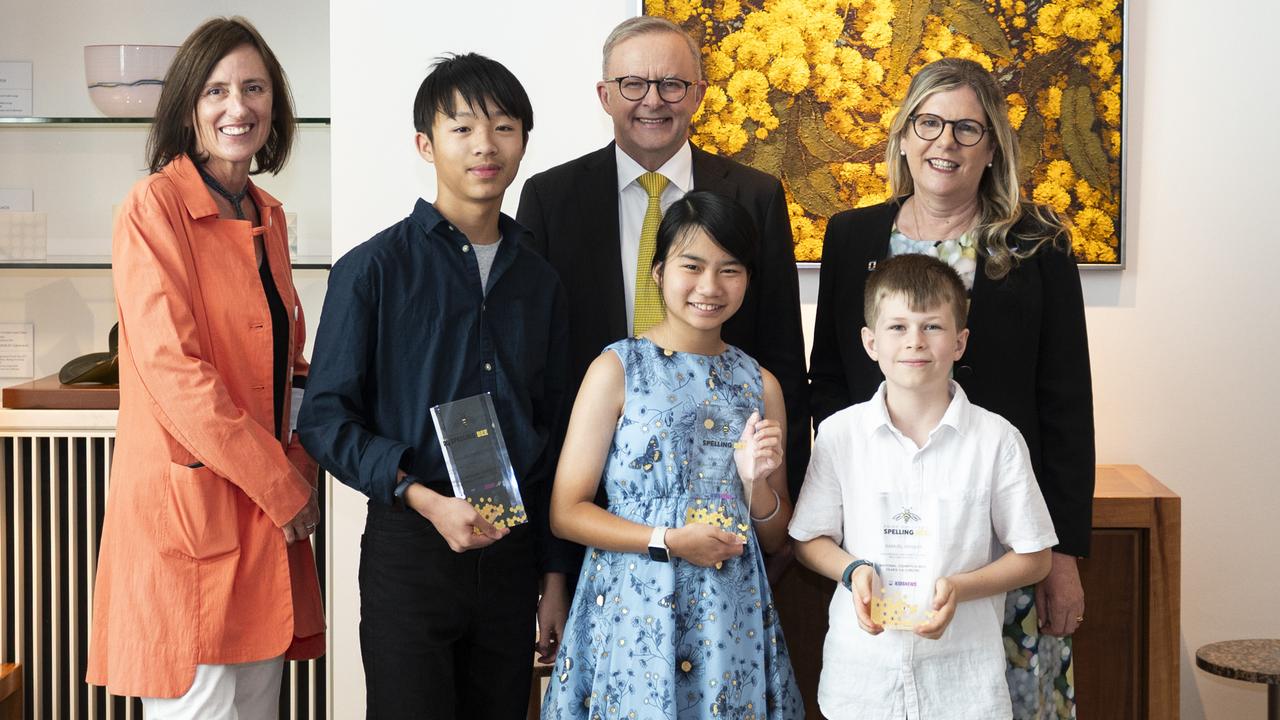 Prime Minister Anthony Albanese with the Spelling Bee national champions (from left) Zachary Cheng, 14 (Years 7-8 Red winner); Abigail Koh, 12 (Years 5-6 Orange winner) and Samuel Wright, 9 (Years 3-4 Green winner) along with Kids News editor Di Jenkins (far left) and News Corp Australia community ambassador Penny Fowler: Picture: NCA NewsWire / Martin Ollman
A chance at throwing another curveball* at Prime Minister Anthony Albanese inspired one of the nation's top spellers to claim the crown for a second year running.
Back-to-back winner Zachary Cheng, 14, returned to the Prime Minister's office in Canberra this week with a plan to catch Mr Albanese out once again.
"He's not a great speller," the Melbourne student joked.
Zachary, along with Western Australia students Abigail Koh, 12, and nine-year-old Samuel Wright were crowned* champions across three age groups in the Prime Minister's Spelling Bee this year.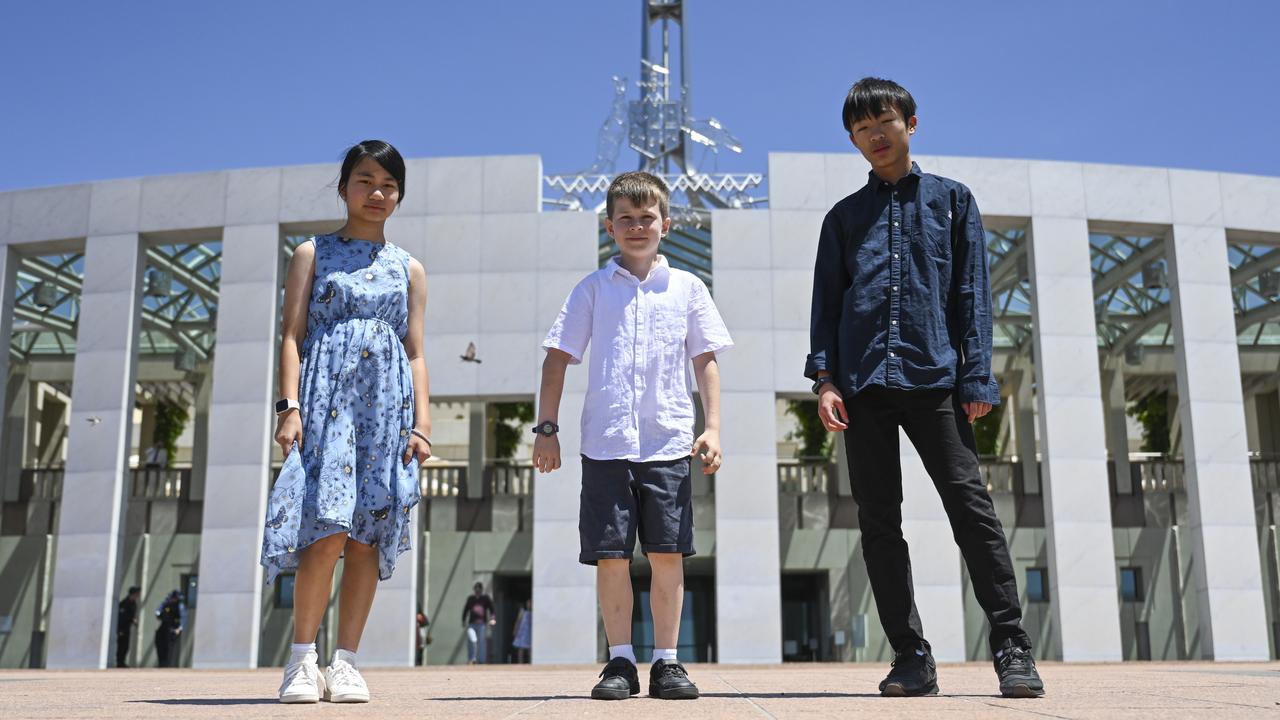 Prime Minister's Spelling Bee national champions Abigail Koh, Samuel Wright and Zachary Cheng arrive at Parliament House. Picture: NCA NewsWire/Martin Ollman
Last year, Mr Albanese didn't get four letters into "magnanimous", meaning generous* or forgiving, before Zachary jumped in to correct him.
Unfortunately things didn't get any easier this year after Zachary asked him to spell "balalaika", the word for a Russian stringed instrument.
"I don't even know what that is … how can I be expected to spell Russian?" Mr Albanese laughed, before offering to spell the word "Russian" instead.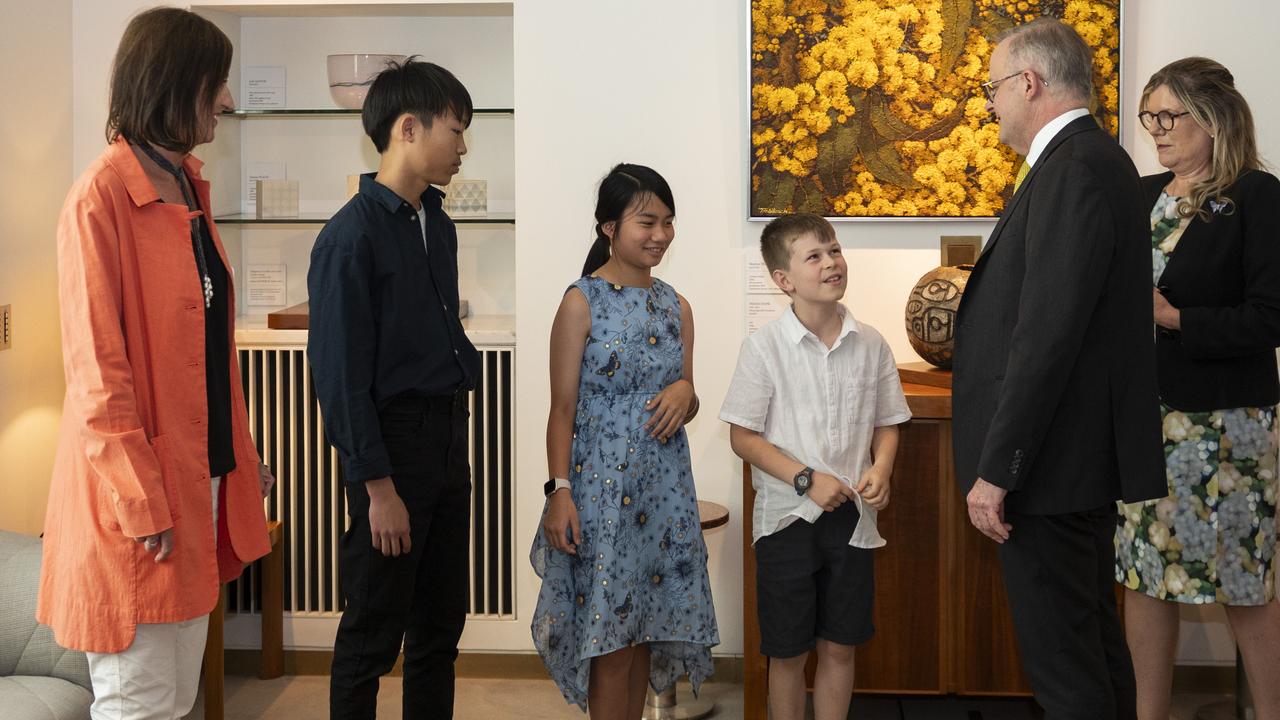 The three national Spelling Bee champions chat with Prime Minister Anthony Albanese. Picture: NCA NewsWire/Martin Ollman
Abigail and Samuel, who both live in Perth, joined in on the fun of ganging up on the Prime Minister.
Abigail, who scored a perfect 30/30 in the Years 5-6 category, said she knew she wanted to combine her love for English and music and asked him to spell ethnomusicological, meaning the study of music and its links to culture* and society*.
Despite the Prime Minister's own passion for music even he wasn't able to correctly guess how it was spelled.
"I can say it," the Prime Minister offered.
Samuel, who took home the Years 3-4 crown, asked Mr Albanese whether he knew how to spell "Caesar".
Unluckily, the Prime Minister scored 0/3, incorrectly spelling it "Caeser", before having to dash out to vote on an issue in the House of Representatives*.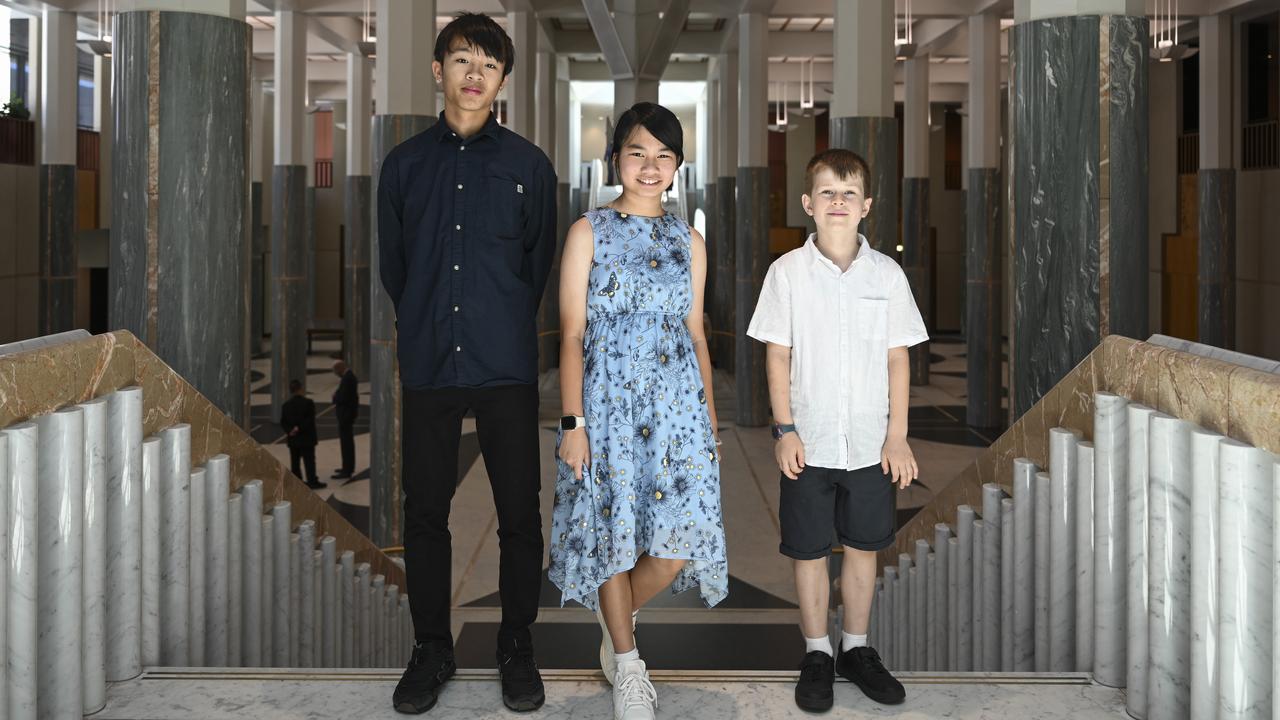 Zachary Cheng, Abigail Koh and Samuel Wright inside Parliament House. Picture: NCA NewsWire/Martin Ollman
Four of the past six Spelling Bee winners have been from WA, begging the question of what makes Perth students such good spellers.
"What is in the waters over there?" Mr Albanese asked.
The Spelling Bee, which is run by Kids News and News Corp Australia, had nearly 60,000 students from 890 schools sign up for the competition.
Part of the winners' prize was the chance to meet Mr Albanese at Parliament House in the nation's capital city.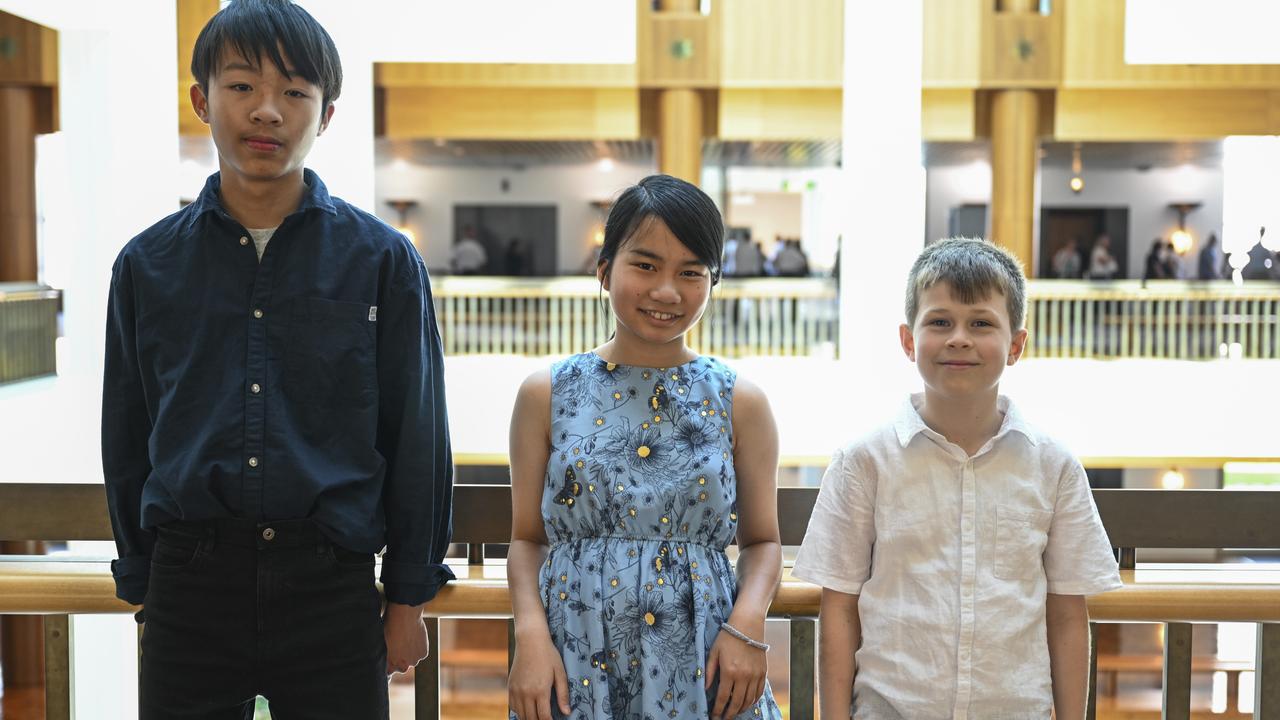 The three national champions (from left) Zachary Cheng (Years 7-8), Abigail Koh (Years 5-6) and Samuel Wright (Years 3-4) wait to see the Prime Minister in Canberra. Picture: NCA NewsWire/Martin Ollman
News Corp's community ambassador Penny Fowler said the Spelling Bee was just another example of the media organisation's "investment in our youngest generations".
"By making it fun, it helps instil* in our children a genuine, lifelong love for learning through the written word," she said.
Kids News Editor Diana Jenkins revealed the fun and free competition would be back for its fourth year in 2024.
"It's a joy connecting with school communities around the country to support literacy* for every young Australian," Ms Jenkins said.
POLL
GLOSSARY
curveball: something which is unexpected or surprising
back-to-back: two in a row
crowned: declared a champion or monarch
generous: willing to give more of something, especially money, than is strictly necessary or expected
culture: the ideas, customs, and social behaviour of a particular people
society: the aggregate of people living together in a more or less ordered community
House of Representatives: one of the two houses of the Australian Federal Parliament. Its members represent the people in 151 electoral regions across Australia.
instil: gradually but firmly make something happen
literacy: the ability to read and write
EXTRA READING
Five words that drove Ash Barty to greatness
'Offensive' Roald Dahl classic gets a rewrite
Dogs learn words as quickly as toddlers
QUICK QUIZ
1. Name the three words the Prime Minister could not spell
2. Where did the Bee winners meet Mr Albanese?
3. What did the students learn the PM has a passion for?
4. What is unusual about WA and the Spelling Bee?
5. What is Australia's capital?
LISTEN TO THIS STORY
CLASSROOM ACTIVITIES
1. Class spelling bee
Work as a small group to run your own class spelling bee. Each group needs to contribute 10 words appropriate to your class level to contribute to another group's spelling bee. To choose these words you might want to look at spelling lists, school work or the dictionary.
As a group, get a list of words and a co-ordinator from another group and run your own mini spelling bee.
The winner from each small group goes into the class Grand Final. Choose 20 words which will be a mix of all the words used in the mini spelling bees.
Run the Grand Final in front of the class and crown your class spelling bee winner.
Time: allow 50 minutes to complete this activity
Curriculum Links: English, Personal and Social, Critical and Creative Thinking
2. Extension
Do you think there is any particular reason why two of the three winners are from Perth? How do you think Zachary won the competition against so many thousands of students, two years in a row?
Would you like to participate in the Kids News Spelling Bee next year? Explain your reasons to your teacher.
Time: allow 10 minutes to complete this activity
Curriculum Links: English, Personal and Social, Critical and Creative Thinking
VCOP ACTIVITY
1. Read this!
A headline on an article – or a title on your text – should capture the attention of the audience, telling them to read this now. So choosing the perfect words for a headline or title is very important.
Create three new headlines for the events that took place in this article. Remember, what you write and how you write it will set the pace for the whole text, so make sure it matches.
Read out your headlines to a partner and discuss what the article will be about based on the headline you created. Discuss the tone and mood you set in just your few, short words. Does it do the article justice? Will it capture the audience's attention the way you hoped? Would you want to read more?