NASA astronauts have spent 6½ hours walking around in space, lubricating* part of a Canadian robotic arm on the outside of the International Space Station (ISS).
Expedition 53 commander Randy Bresnik and flight engineer Mark Vande Hei ventured out of the orbiting laboratory to check on a latching end effector (LEE) they installed on the end of the robotic arm, used to cling* on to other spacecrafts.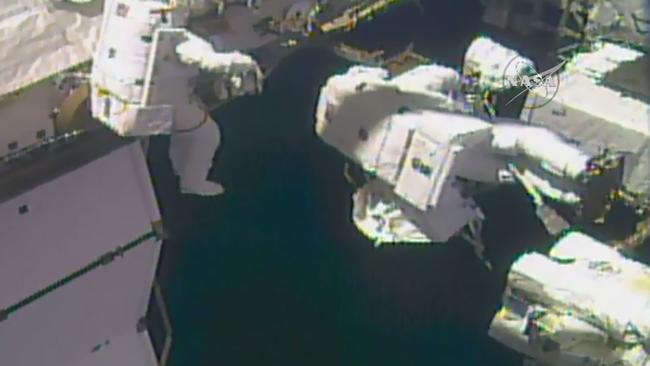 The US astronauts also removed some handrails and replaced a faulty* lens cover on a camera.
Earlier in the month, on October 5, two astronauts headed out to install the arm, replacing a faulty one.
The damaged equipment will be moved into the station next year and then taken back to Earth in a SpaceX Dragon cargo capsule.
It will return to the station after being repaired.
"All right, gentleman, we show a good arm," Mission Control said to the spacewalkers on the previous trip.
"That's great news, Houston!" Commander Bresnik said. "There is much rejoicing*."
Another voyage outside to attend to the robotic arm is planned for October 18.
Commander Bresnik will head outside again, accompanied by engineer Joe Acaba, to lubricate the LEE and replace another camera.
For more information about the ISS, visit the website: www.nasa.gov/station
GLOSSARY
lubricating: applying substance to allow smooth movement
cling: hold on
faulty: not working
rejoicing: celebrating
LISTEN TO TODAY'S STORY
CLASSROOM ACTIVITIES
Activity 1.

What do you think a LEE would look like? How would it work?
Create a detailed design or drawing of what you think the LEE on the robotic arm would look like.
Label your diagram to show each part.
Extension:
Robotics are being used on the International Space Station.
How could they be used in your life?
Design a robot or a robotic thing that could make your life easier.
Write a paragraph explaining how it works and how it would help you.
Time: allow 90 minutes to complete this activity
Curriculum links: English, Critical and Creative Thinking, Design and Technology
Activity 2.
Find out more about the ISS on their website.
Imagine you are one of the astronauts working on the ISS.
Write a journal entry on a typical day living and working in the ISS.
Extension:

Imagine you are a NASA expert.
You have been asked to give a speech to the US government. The purpose of your speech is to tell the government that they should keep supporting the ISS.
Remember to use examples to back up your argument.
Time: allow 60 minutes to complete this activity
Curriculum links: English

VCOP ACTIVITY
(Vocabulary, Connectives, Openers, Punctuation)

Story Swap
"That's great news, Houston!" Bresnik said. "There is much rejoicing."
Your challenge is to create a captivating conclusion to sum up the story that ends with the above quote.
Extension:
Now that you have written a conclusion, try a time swap story.
Use your conclusion as the start of another story, either four or five paragraphs long.
Start with the conclusion and then take the reader back in time to explain how you got to that point.
Make sure you plan the story so it makes sense.
Time: allow 30 minutes to complete this activity
Curriculum links: English, Big Write, VCOP- Vocabulary and Punctuation
EXTRA RESOURCES
CANBERRA TO CAPTURE CASSINI'S FINAL TRIP