Saturn's icy moon Enceladus has essential elements for life
Scientists have made an exciting discovery in a hidden ocean on Saturn's moon Enceladus that has them wondering if life could exist outside of Earth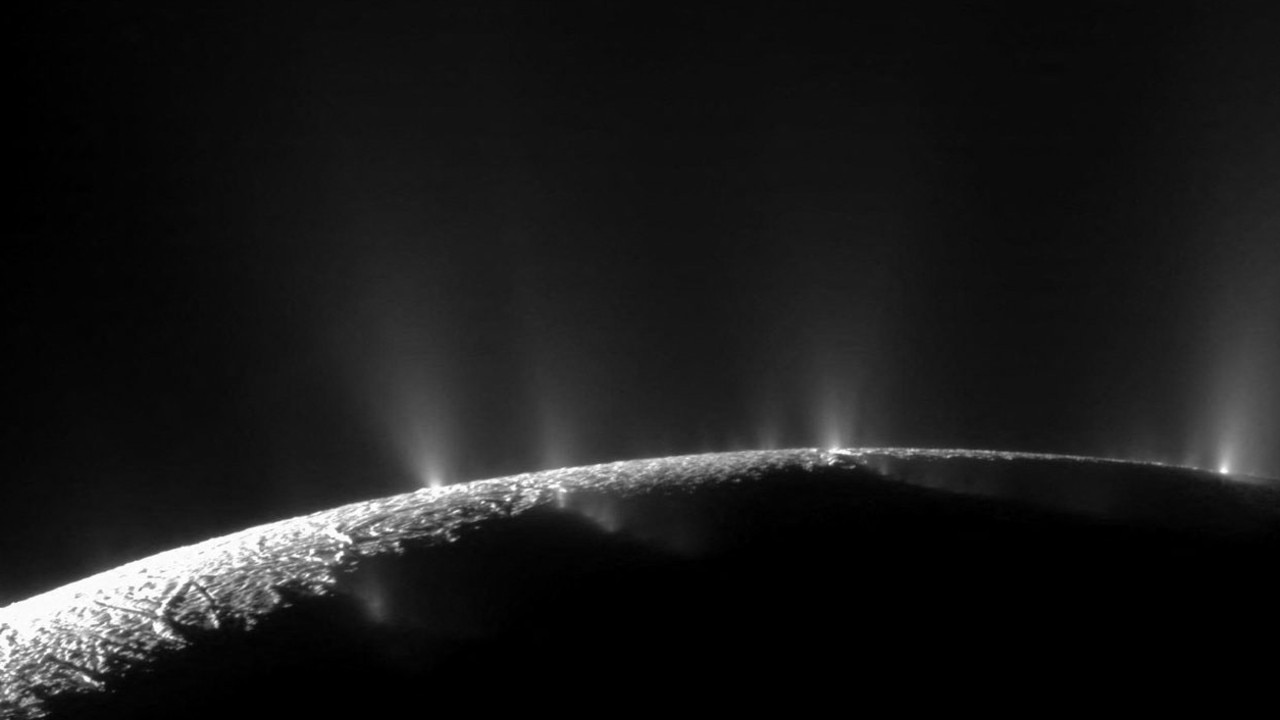 Phosphorus, an essential building block of life, was found on Saturn's moon Enceladus. Photo by NASA/AFP.
Scientists have discovered an important element that could help to sustain life on a moon far, far away.
High amounts of phosphorus, an element found in all living creatures on Earth, have been detected in ice crystals spewed from an underground ocean on Saturn's moon Enceladus.
Researchers say this means Saturn's moon could be able to sustain life.
The discovery was made during the 13 year expedition of NASA's Cassini spacecraft, which explored the ringed planet Saturn and its moons from 2004 to 2017.
Before this discovery, the same team of scientists revealed the ice grains on Enceladus contained a variety of minerals and complex organic compounds, including the ingredients for amino acids, associated with life as scientists know it.
But phosphorus, the least abundant of six chemical elements considered necessary to all living things – the others are carbon, oxygen, hydrogen, nitrogen and sulphur – was still missing from the equation until now.
Saturn has 146 known natural satellites orbiting around it. Picture: AFP/NASA/ESA/A Simon/Goddard Space Flight Center/MH Wong/University of California Berkeley
"It's the first time this essential element has been discovered in an ocean beyond Earth," said the study's lead author, Frank Postberg, a planetary scientist at the Free University in Berlin.
Phosphorus is fundamental to the structure of DNA and a vital part of cell membranes and energy-carrying molecules existing in all forms of life on Earth.
The scientists found phosphorus when Cassini flew through salt-rich ice grains ejected into space from geysers erupting from an ocean below the surface of the moon at its frozen south pole.
The spacecraft gathered its data while travelling through a plume of ice crystals and through the same material that feeds Saturn's faint "E" ring with icy particles outside the planet's brighter main rings.
The interior ocean discovered by Cassini has made Enceladus a prime option in the search for places in our solar system beyond Earth that are habitable – even if only for microbes.
It is about one-seventh the size of Earth's moon and the sixth largest among Saturn's 146 known natural satellites.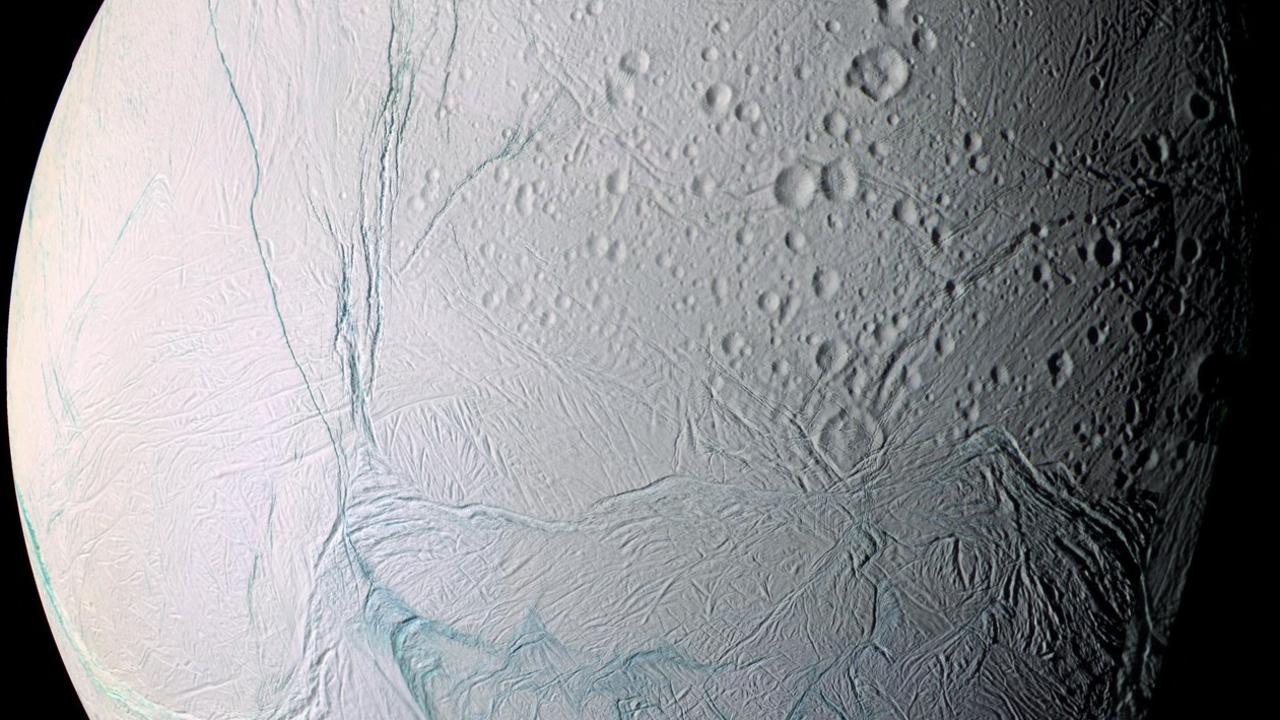 Saturn's moon Enceladus has an ocean beneath its surface. Picture: AFP/NASA.
Another is Jupiter's larger moon Europa, which also is believed to harbour an ocean of liquid water beneath its icy surface.
Still, scientists stressed that the presence of phosphorus, complex organic compounds, water and other fundamental building blocks of life are evidence only that a place such as Enceladus is potentially habitable, not that is inhabited.
Life, either past or present, has not been confirmed anywhere beyond Earth.
"Whether life could have originated in Enceladus' ocean remains an open question," Glein said.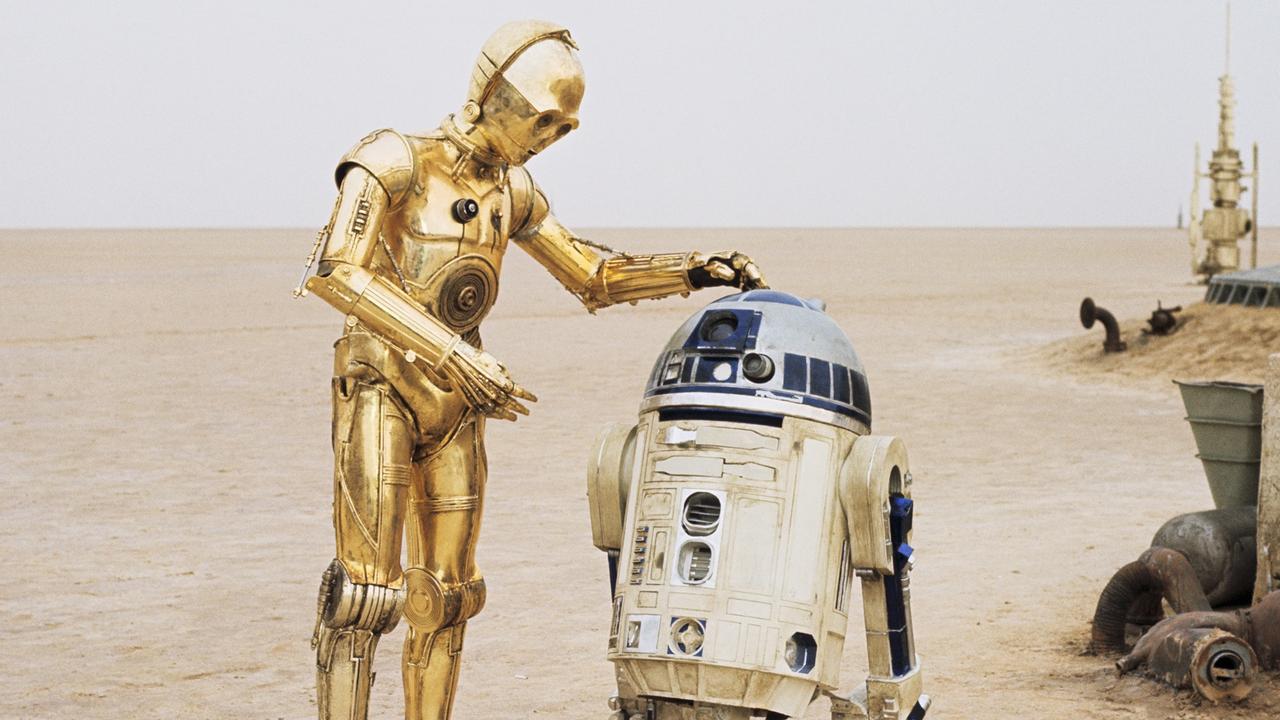 R2D2 and C3PO on Tatooine. Picture: file image
It comes after the discovery of a Tatooine-like planet, resembling Luke Skywalker's home in Star Wars.
An international team of astronomers discovered a rare new multi-planet system which is very similar to the home planet of Luke Skywalker, Tatooine.
BEBOP-1c is the second multi-planet circumbinary system to be discovered.
While our own solar system revolves around one star, the sun, this newly discovered system revolves around two stars.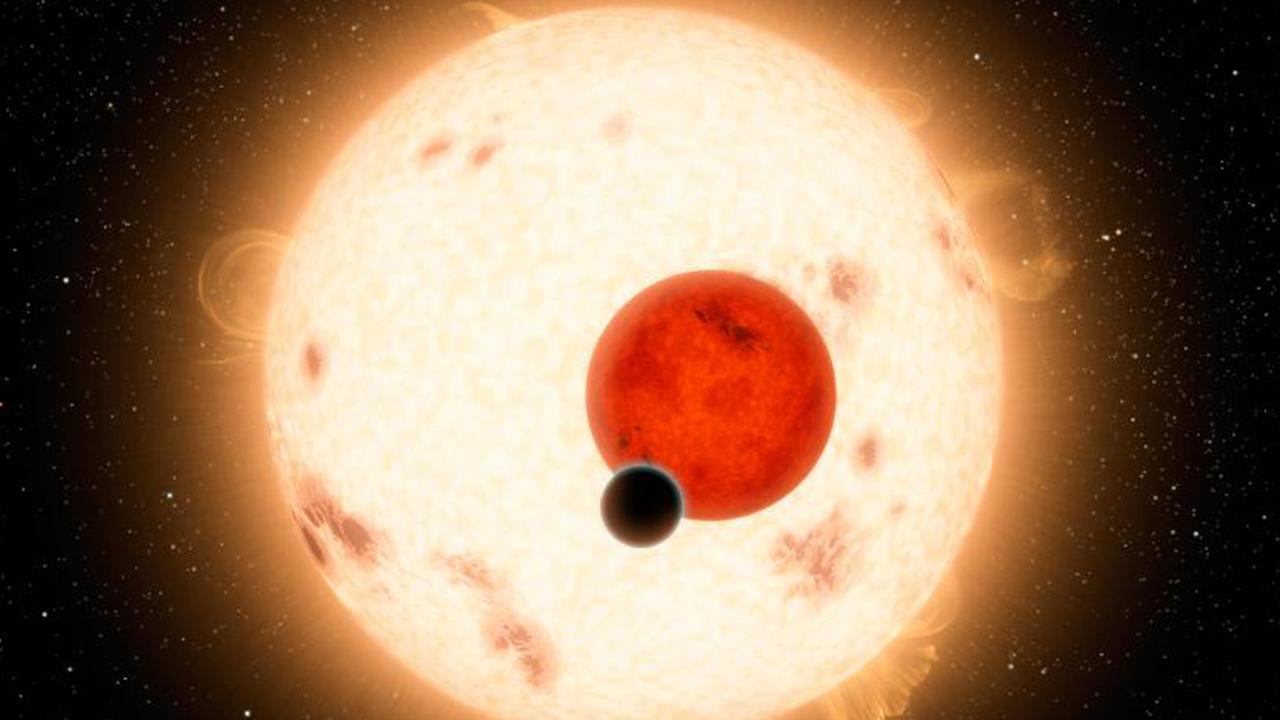 An artist's depiction of a world where two suns set over the horizon instead of just one. Picture: AP Photo/NASA
Researchers were quick to point out the planet looks like the Star Wars planet Tatooine, which is covered in harsh desert sand and orbits fictional twin suns, Tattoo I and Tattoo II.
Named after the project which discovered it – Binaries Escorted By Orbiting Planets – the planet has a mass 65 times that of Earth and an orbital period of 215 days.
While researchers are aware of 12 circumbinary systems so far, BEBOP-1, also known as TOI-1338, is just the second one with more than one planet to revolve around two stars.
Monash University School of Physics and Astronomy's Dr Rosemary Mardling, co-author of the study led by researchers at University of Birmingham, said the discovery could help scientists learn how planets form.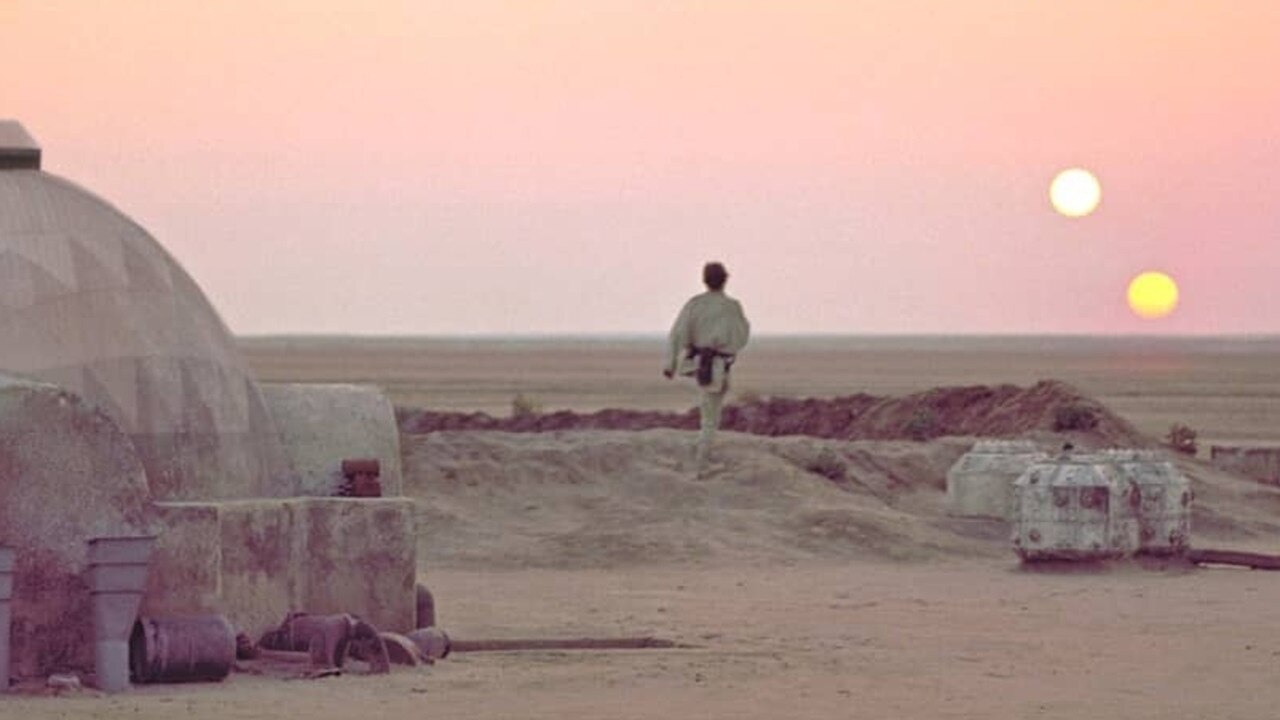 The fictional Star Wars' planet Tatooine has two suns. Picture: Instagram
A circumbinary planet in the same system named TOI-1338b was discovered using data from NASA's TESS space telescope in 2020, but researchers were unable to figure out its mass.
Researchers installed two telescopes in Chile's Atacama Desert to try to measure the mass of TOI-1338b, but instead discovered BEBOP-1c.
While they were unable to measure TOI-1338b's mass, they were able to measure the mass of BEBOP-1c.
The telescopes tracking the planet's journey around its two parent stars were shut down for six months during the Covid-19 pandemic, forcing researchers to wait until last year to observe the unrecorded section of its orbit.
Next, researchers will try to measure BEBOP-1c's size.
POLL
GLOSSARY
element: a simple substance that cannot be reduced to smaller chemical parts
phosphorus: a nonmetallic chemical element of the nitrogen family
crystals: a solid material with atoms arranged in a repeating pattern
minerals: a inorganic substance such as tin, salt, or sulphur that is formed naturally in rocks and in the earth
organic compounds: any compound that contains a significant amount of carbon
amino acids: molecules that combine to form protein, the building blocks of life
carbon: a nonmetallic element
oxygen: a colourless gas that exists in large quantities in the air and is essential for life on Earth
hydrogen: a colourless, odourless, flammable gas that combines chemically with oxygen to form water
nitrogen: a colourless element that has no smell and is usually found as a gas. It forms about 78 per cent of the earth's atmosphere
sulphur: a yellow chemical element which has a strong smell
cell membranes: a thin flexible layer around the cells of all living things
molecules: the smallest unit of a substance that has all the properties of that substance
geysers: a hot spring that spurts water
interior ocean: an ocean thought to be under the surface of the planet rather than on the surface
habitable: suitable to be lived in
microbes: tiny living things that are found all around us and are too small to be seen by the naked eye
natural satellites: a body that orbits around another body in space
international: something involving many different countries
multi-planet system: a solar system with two or more planets
circumbinary system: solar systems with planets that orbit around two stars in the centre instead of just one
mass: the amount of matter in an object
EXTRA READING
Unexplained 'smudges' found on Saturn's rings
Chinese mission with first civilian
Glowing meteor fireball lights up Australian sky
QUICK QUIZ
What is the name of Saturn's moon where phosphorus was discovered?
How many years did it take NASA's Cassini spacecraft to explore Saturn and its moons?
How many "natural satellites" are orbiting around Saturn?
What is the name of Jupiter's moon?
What is the fictional name of Luke Skywalker's home planet in the movie series Star Wars?
LISTEN TO THIS STORY
CLASSROOM ACTIVITIES
1. Chemical elements to survive
What are the six chemical elements considered necessary to all living things mentioned in the Kids News article?
1.
2.
3.
4.
5.
6.
What could this possibly mean for putting life on other planets?
Time: allow 20 minutes to complete this activity
Curriculum Links: English; Science; Personal and Social; Critical and Creative Thinking
2. Extension
Draw a diagram of the rare new multi-planetary system discovered by astronomers?
Time: allow 20 minutes to complete this activity
Curriculum Links: Science; Critical and Creative Thinking
VCOP ACTIVITY
To sum it up
After reading the article, use your comprehension skills to summarise in a maximum of three sentences what the article is about.
Think about:
What is the main topic or idea?
What is an important or interesting fact?
Who was involved (people or places)?
Use your VCOP skills to re-read your summary to make sure it is clear, specific and well punctuated.