Rare green comet to be visible in Australian skies for first time in centuries
A newly discovered green comet will be seen in our skies this month in a once-in-a-lifetime event. See how you can view it in Australia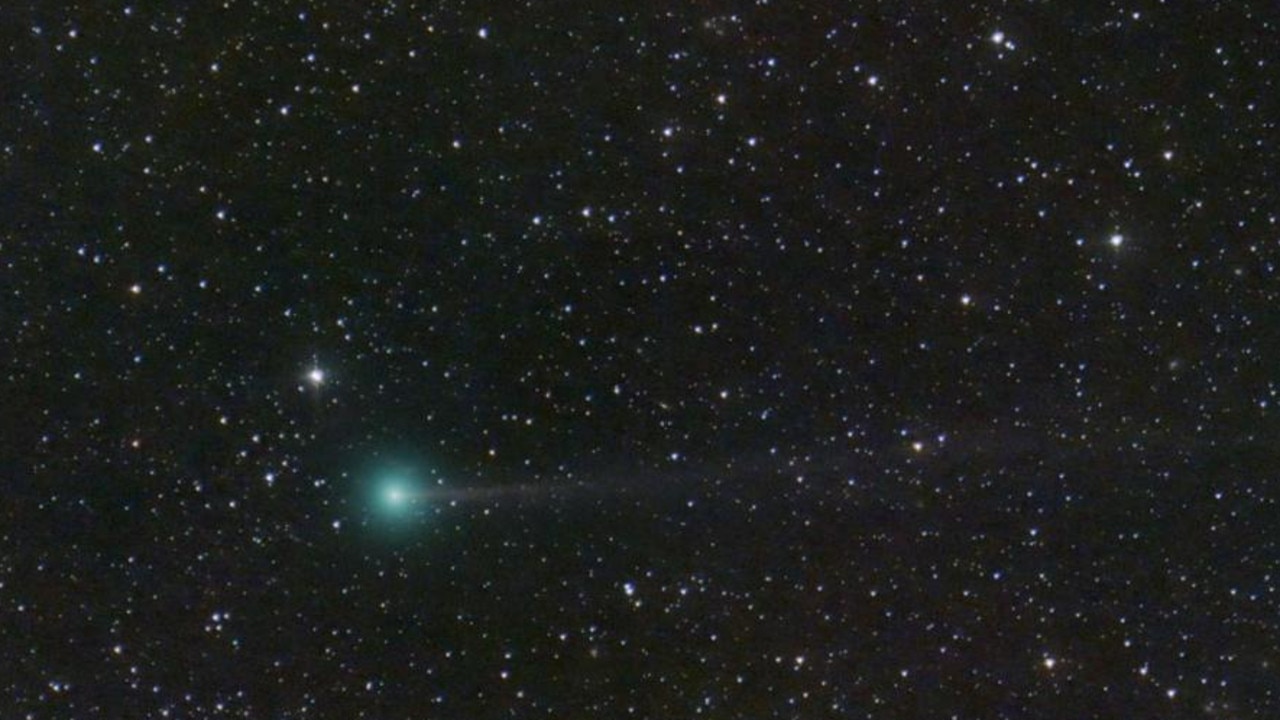 This handout image released by NASA on September 6, 2023, shows Comet Nishimura at an undisclosed location in space. Picture: Dan Bartlett / NASA / AFP
A rare green comet that hasn't been seen by humans for 437 years could be visible in Australian skies later this month.
The comet, named Nishimura after the amateur* Japanese astronomer* who discovered it on August 11, is almost a kilometre wide and made from rock and ice.
Stargazers* in the northern hemisphere* are able to view the comet this week when it will be closest to Earth — just 125 million kilometres away.
It will be moving quickly across the sky as Nishimura is travelling at a super fast 386,000kmh.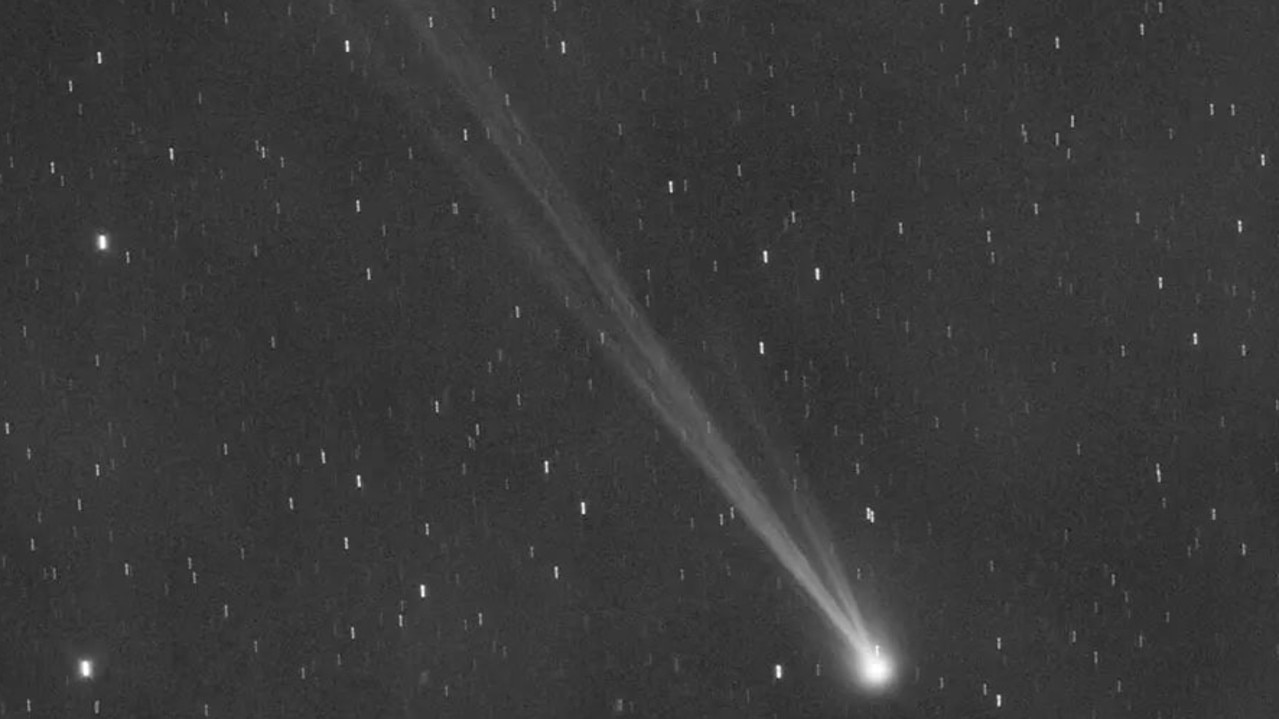 This image provided by Gianluca Masi shows the comet C/2023 P1 Nishimura and its tail as seen from Manciano, Italy, on September 5, 2023. Picture: Gianluca Masi via AP
The comet, which looks like a dirty snowball, will be closest to the Sun on September 17 and it's possible the intense* heat may destroy it.
However, Paul Chodas, manager of NASA's Centre for Near-Earth Object Studies, believes the comet is "likely to survive its passage" and, if so, would be visible to people in Australia and the rest of the southern hemisphere* around the end of September. It will appear very low in the western sky at dusk.
Nishimura, which has the scientific name C/2023 P1, won't grace our skies again until 2317, making this viewing truly a "once in a lifetime" opportunity.
"You really need a good pair of binoculars to pick it out, and you also need to know where to look," Mr Chodas said.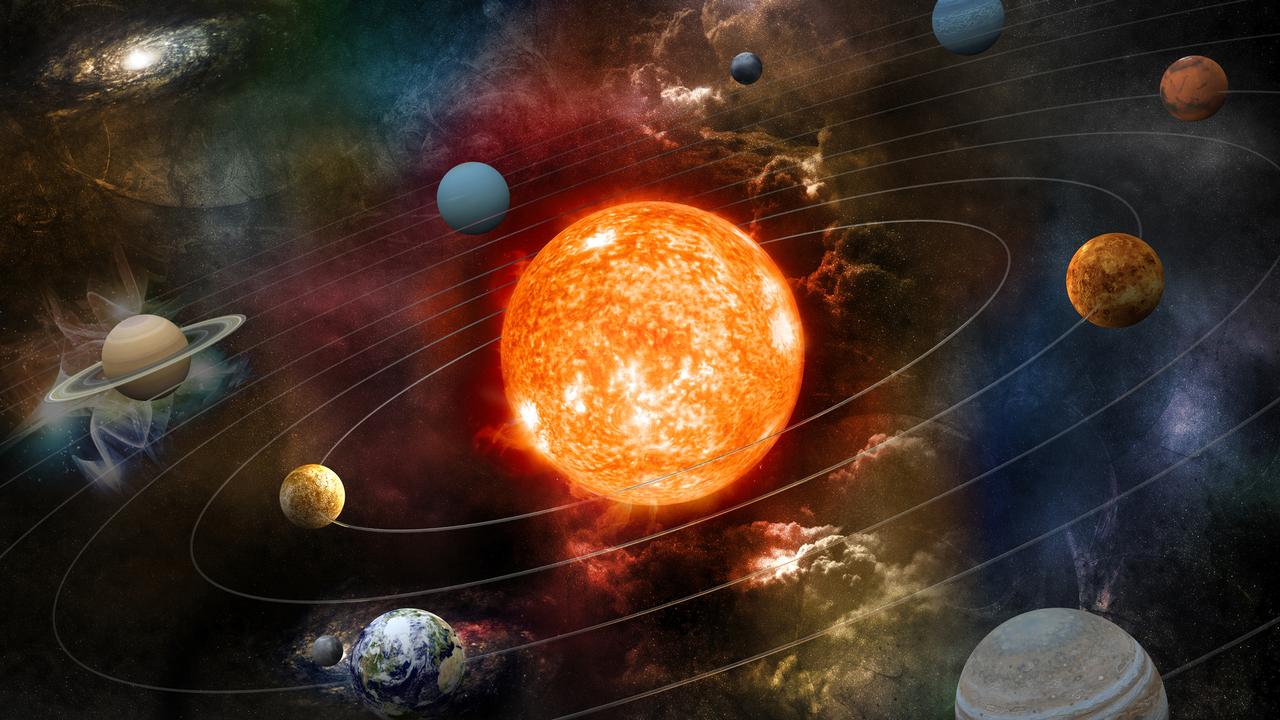 The sun and nine planets of our system orbiting. Illustration: iStock
It is rare that comets reach peak* visibility so soon after being discovered, said Nicolas Biver, an astrophysicist* at the Paris Observatory.
"Most are discovered months, even years before they pass closest to the Sun," he said.
The comet's tail is greenish because it contains "more gas than dust", Mr Biver said.
The comet only swings by the Sun every 437 years, a long orbital period which sees it spend much of its time in the freezing outer solar system.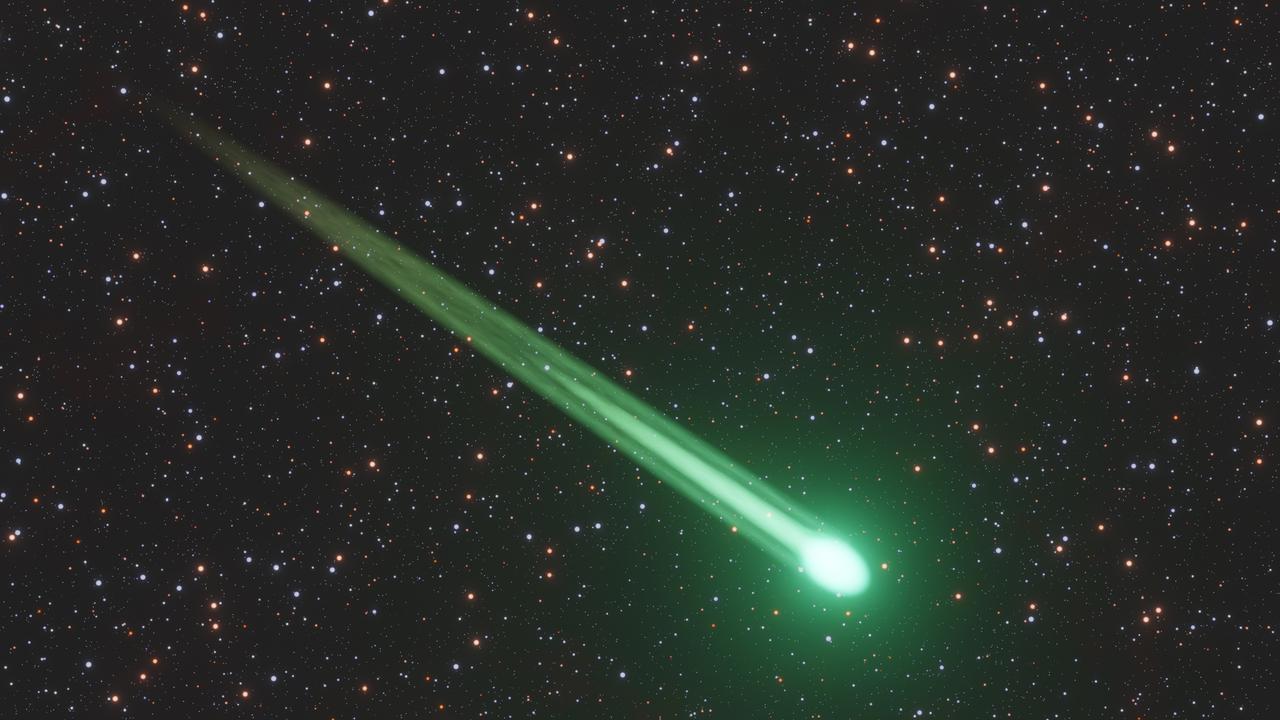 Illustration of a green comet with a glowing tail. Picture: iStock
When comets approach the Sun from the vastness* of space, the heat causes its ice core* to turn into dust and gas, which forms a long tail.
The Sun's light reflects off this tail, allowing us to view comets from Earth.
It has been a good year for amateur astronomers to witness rare events in our solar system.
Earlier this year in February, stargazers were able to view the ultra-rare green comet C/2022 E3, which is only visible in Australian skies every 50,000 years and was last viewed by the Neanderthals*.
Throughout history, many cultures regarded comets as signs of good or evil or upcoming change. Their sudden appearance and brilliant displays often caused feelings of fear or wonder.
Today, we understand that comets are just leftover pieces of the early solar system. They serve as cosmic time capsules, preserving ancient* materials in their original state.
According to NASA, as of January 2023, the current number of known comets is 3743.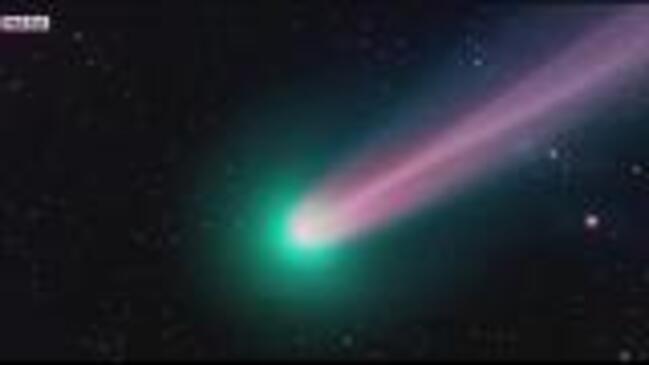 POLL
GLOSSARY
amateur: not professional
astronomer: an expert in the study of celestial objects, space, and the physical universe
stargazers: people who studies the stars or have a strong interest in them
northern hemisphere: the half of Earth that is north of the Equator and includes Europe
intense: very strong
southern hemisphere: the half of Earth that is south of the Equator and includes Australia
peak: maximum or the highest level
astrophysicist: an expert who studies the physical nature of stars and other celestial bodies and how physics affects them
vastness: massive in size
core: centre
Neanderthals: an extinct species of human that lived in ice-age Europe between 120,000 and 35,000 years ago
ancient: very old
EXTRA READING
Whirlpool galaxy picture takes us back 30 million years
Giant 'umbrella' could shield Earth from the Sun
Possible meteorite smashes into family home
QUICK QUIZ
1. What is the comet made from?
2. Why has it been named Nishimura?
3. Who were the last people on Earth to witness it?
4. Explain how we can observe comets from Earth.
5. What did ancient cultures believe comets represented?
LISTEN TO THIS STORY
CLASSROOM ACTIVITIES
1. Comet Viewing Party
Design an invitation and plan a gathering for your friends and family to get together to spot the comet Nishimura on a night towards the end of September.
Make your invitation look fun and exciting.
In your invitation include the following details;
Name of Party:
Reason for party (brief details of event):
Time:
Place:
Invite list:
Refreshments:
What to bring (eg binoculars and/or telescope):
Time: allow 30 minutes to complete this activity
Curriculum Links: English, Visual Art, Science, Personal and social, Critical and creative thinking.
2. Extension
The next time the comet Nishimura will be visible from Earth is 2317. Write five things you think might be radically different on Earth in 2317 compared to how it is now.
1.
2.
3.
4.
5.
Time: allow 10 minutes to complete this activity
Curriculum Links: English, Science, Personal and social, Critical and creative thinking.
VCOP ACTIVITY
1. Literacy Game: Comet Adventure Story
Objective: Create an imaginative adventure story using key details from the article and exploring language features.
Instructions:
Students need to sit in a circle made up of about 4-5 students. Ask them to decide the order in which each person will add a sentence to the story. (You can start with a volunteer or come up with a fun way to choose the first storyteller- paper, scissors, rock, is always a hit).
Start the story with a sentence about the night sky and introduce the rare green comet named Nishimura.
Example Story Starter: "On a magical night, as we gazed up at the starry sky, we spotted a rare green comet named Nishimura streaking across the darkness, leaving a trail of emerald light."
Then ask the students to continue their story by going around the circle, with each person adding a new sentence to build the adventure story. Challenge them to use descriptive language to make their story exciting and imaginative. Maybe they would like to create an adventure story involving the green comet, space, and maybe even some curious characters.
Next, challenge them to try and include at least two details from the article in your story. Mention the comet's speed, its tail being greenish, or the fact that it won't be visible again for 437 years. Ask them to try to use words like "comet," "astronomer", "southern hemisphere", "orbit", or any other interesting words from the article.
Finish the story with an exciting ending that relates to the rare green comet. You can end with the comet lighting up the night sky or with the characters discovering something amazing in space, or ask the students to create their own engaging ending.
Adaptation: Ask more capable or older students to add a scribe to the group that will record the story as it is told. Once the story is complete, read it aloud to the group.
Remember, the goal is to have fun and for the students to let their imaginations run wild while incorporating the details from the article into their adventure story.