NASA launches spacecraft to mysterious and rare metal asteroid in first mission of its kind
NASA has sent a spacecraft on a six-year journey to a metal asteroid deep in space in the hope of discovering how the Earth was formed and what its centre looks like
An artist's impression of the asteroid 16 Psyche. Picture: NASA/JPL-Caltech/ASU
NASA'S Psyche spacecraft has started a six-year journey to a rare metal-covered asteroid* that could explain how Earth was created.
The mysterious metal asteroid — known as 16 Psyche — is located between Mars and Jupiter and scientists believe it may be the deteriorating* leftover centre of an early planet.
Believed to be a planetary* building block from the solar system's formation 4.5 billion years ago, the asteroid can help answer questions such as how did life begin on Earth and what makes our planet habitable* for humans, according to lead scientist Lindy Elkins-Tanton of Arizona State University.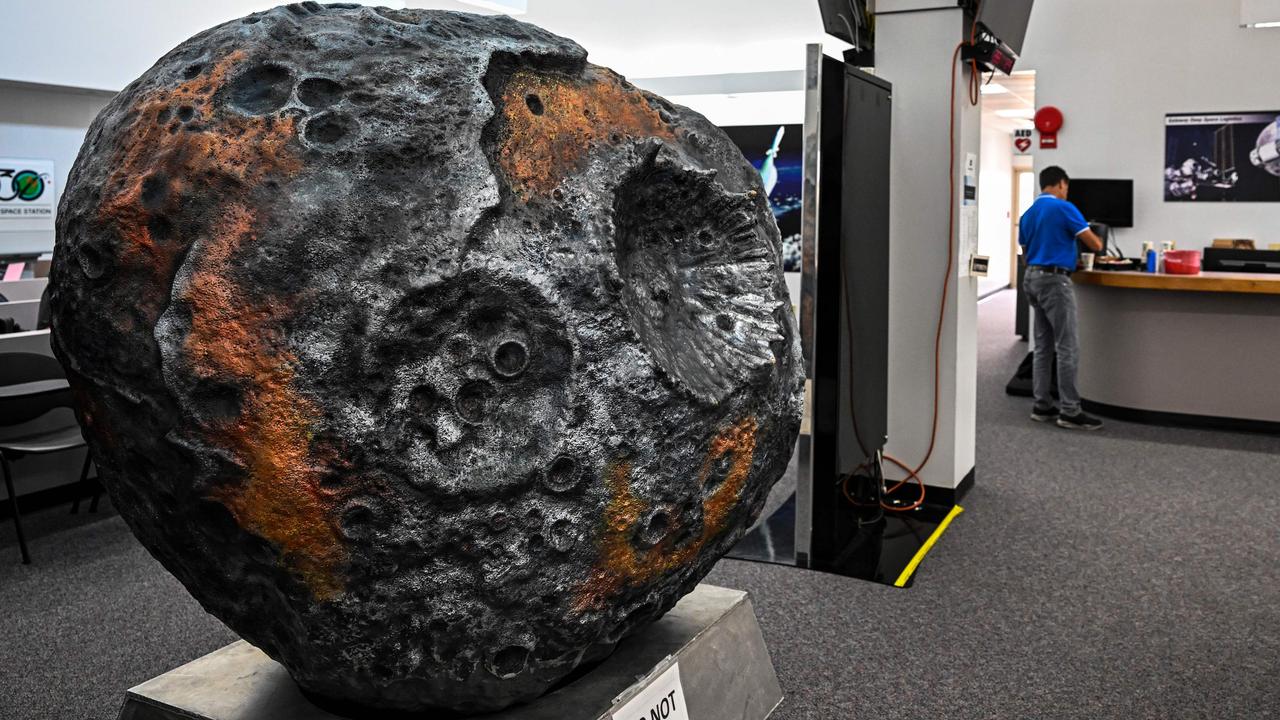 A model of the metal-rich asteroid named 16 Psyche is displayed at NASA in the US. Picture: AFP
She hopes the $1.2 billion mission can also reveal details about Earth's impossible-to-reach core*.
"It's long been humans' dream to go to the metal core of our Earth," Professor Elkins-Tanton said.
"(But) the pressure is too high. The temperature is too high. The technology is impossible," she said. "But there's one way in our solar system* that we can look at a metal core and that is by going to this asteroid."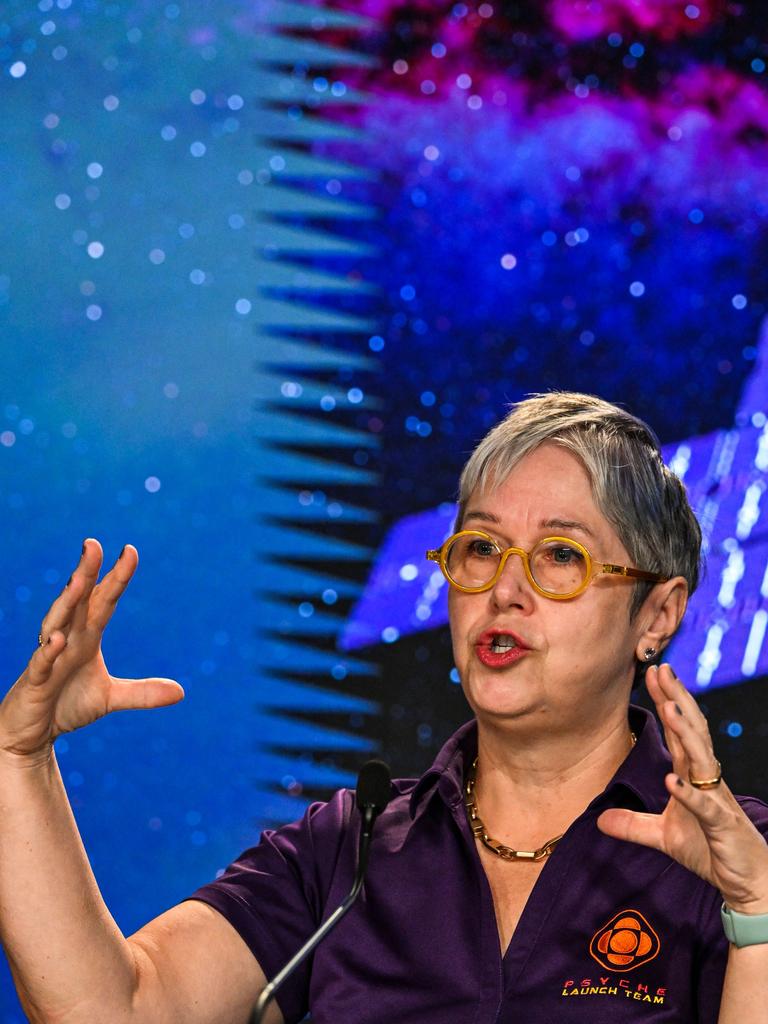 Professor Lindy Elkins-Tanton. Picture: AFP
NASA said that after decades of visiting faraway worlds of rock, ice and gas, 16 Psyche will be the first metal object that humankind* has ever visited.
Of the nine or so metal-rich asteroids discovered so far, 16 Psyche is the biggest, measuring 232km across and 280km long.
It was discovered in 1852 and named after Greek mythology's goddess of the soul.
Scientists believe it's brimming* with iron, nickel, gold, silver, platinum and other metals and could lead to the start of space mining for rare materials.
"I hope we might find diamonds and rubies on that asteroid," NASA Administrator Bill Nelson said.
An experimental communication system using lasers instead of radio waves will try to increase the flow of data from deep space to Earth.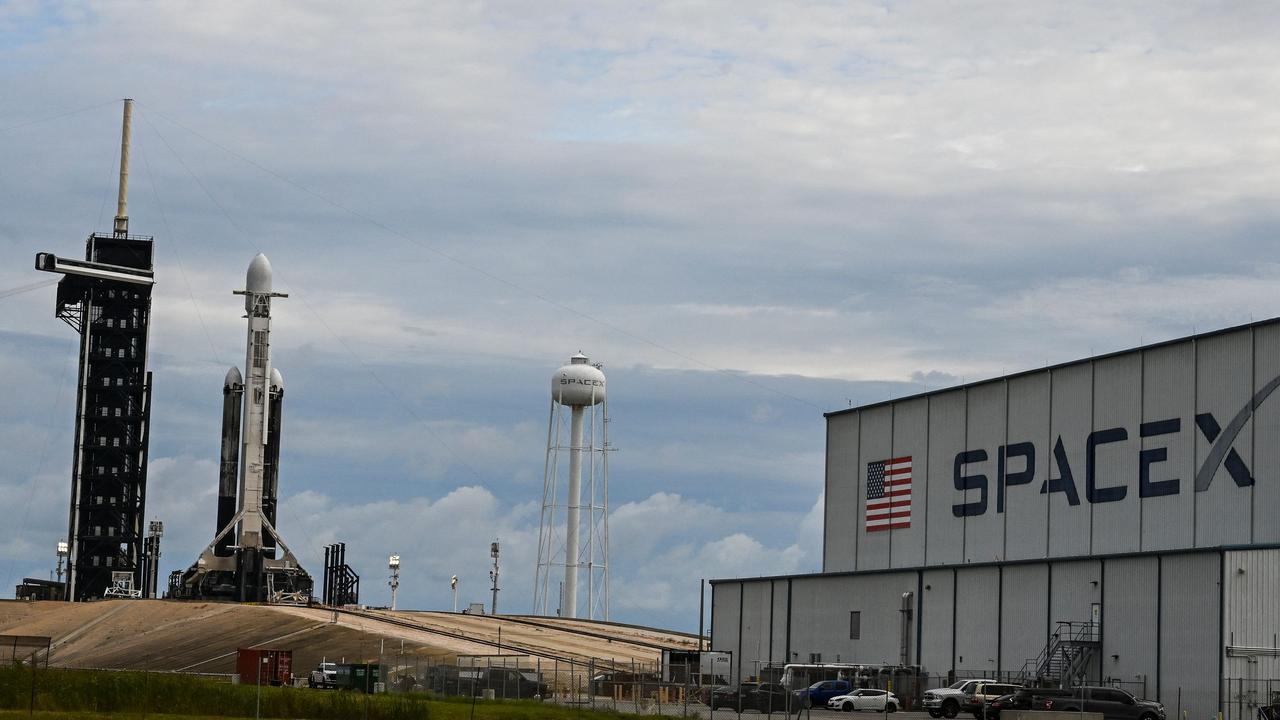 A SpaceX Falcon Heavy rocket with the Psyche spacecraft sits on the launch pad in Cape Canaveral, Florida. Picture: AFP
As to what 16 Psyche looks like, scientists imagine spiky metal craters, huge metal cliffs and metal-covered eroded* lava flows coloured greenish-yellow from sulphur*, but Professor Elkins-Tanton admitted those thoughts were "almost certain to be completely wrong".
"There's a very good chance that it's going to be outside of our imaginings, and that is my fondest hope," she said.
The mission hopes to determine three things:
1. Whether the asteroid is the centre of a planet or if it is unmelted material.
2. The relative ages of regions of 16 Psyche's surface.
3. Whether small metal bodies have the same light elements as are expected in the Earth's core.
NASA's spacecraft, which was sent into orbit by Space X, needs to travel 3.6 billion kilometres and should reach the huge, potato-shaped asteroid in late 2029 or early 2030.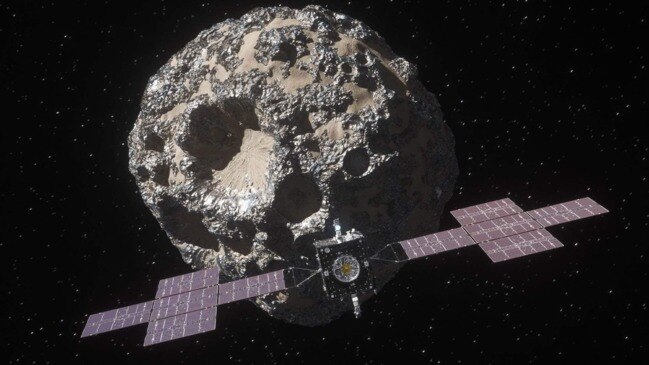 POLL
GLOSSARY
NASA: The National Aeronautics and Space Administration in the US
asteroid: a rocky body orbiting the Sun
deteriorating: becoming progressively worse or damaged
planetary: relating to planets
habitable: able to be lived in
core: centre
solar system: the collection of eight planets and their moons in orbit round the sun, together with smaller bodies in the form of asteroids, meteoroids, and comets
humankind: collective word for the human race
brimming: full
eroded: gradually destroyed
sulphur: a yellow combustible non-metal element
EXTRA READING
Rare green comet visible for first time in 437 years
Question mark spotted hanging in space
Claims US collected UFOs and aliens in secret program
QUICK QUIZ
1. What is 16 Psyche thought to be a building block of?
2. Why can't humans visit Earth's core?
3. How big is 16 Psyche and how far from Earth is it?
4. Name three metals scientists hope could be mined from the asteroid.
5. What three questions do scientists hope to answer from the mission?
LISTEN TO THIS STORY
CLASSROOM ACTIVITIES
1. Space mining
If this Psyche 16 asteroid is brimming with rare metals as scientists believe, who will regulate how any space mining will occur and who has access to it?
What might these rare metals such as iron, nickel, gold, silver, rubies, diamonds and platinum be used for if we gain access to them in the future?
What would you design using one of these metals? Draw your design below.
Time: allow 15 minutes to complete this activity
Curriculum Links: English, Science, Critical and Creative Thinking
2. Extension
If this spacecraft had astronauts on-board, and they could pack three personal things each to take with them, what three things would you take?
1.
2.
3.
Time: allow 15 minutes to complete this activity
Curriculum Links: English, Science, Personal and Social, Critical and Creative Thinking
VCOP ACTIVITY
1. To sum it up
After reading the article, use your comprehension skills to summarise in a maximum of three sentences what the article is about.
Think about:
What is the main topic or idea?
What is an important or interesting fact?
Who was involved (people or places)?
Use your VCOP skills to re-read your summary to make sure it is clear, specific, and well punctuated.