NASA has challenged everyday people to help it design a better robot to dig on the Moon.
Digging on the lunar surface is a difficult job for a robot as it has to be able to collect and move soil (also called regolith) but it cannot be too heavy.
Normal machines use their weight and traction* to dig on Earth but this is not possible on the Moon.
NASA already has a part of a solution but is looking for ideas to improve it.
Engineers have tested various configurations* of a robot called RASSOR – short for Regolith Advanced Surface Systems Operations Robot – in a large sandbox at NASA's Kennedy Space Centre in Florida.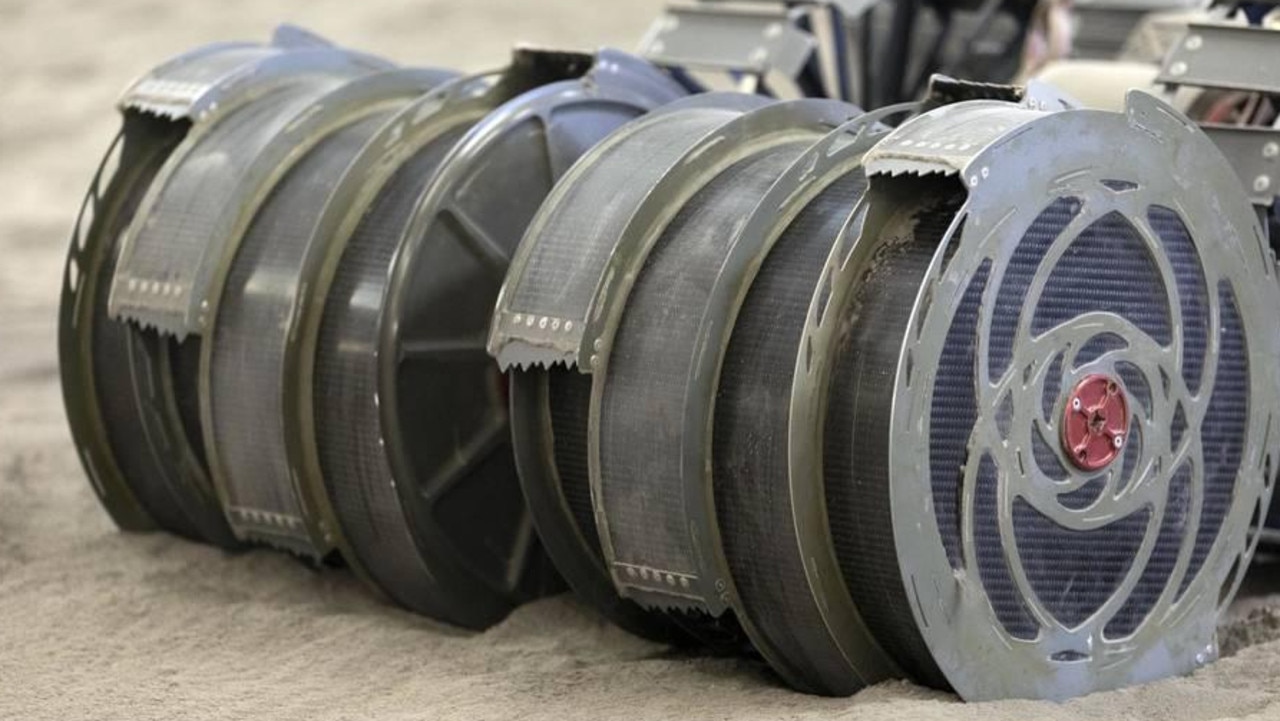 Now, NASA is asking the public to help design a new bucket drum, the part of the robot that captures the soil and keeps it from falling out.
RASSOR's current bucket drums are hollow* cylinders positioned on either end of the robot, with scoops around the circumference* of the cylinders. The robot digs in opposing ends toward the other, which balances the digging forces and makes it easier to dig.
"With RASSOR, we're no longer relying on the traction or the weight of the robot. It is possible to excavate* on the moon or Mars with a really lightweight robot," NASA's Jason Schuler said.
The secret space race: A battle for the Moon
Mr Schuler said robotic diggers could help NASA establish a sustainable presence on the Moon under the Artemis lunar exploration program, a few years after landing astronauts on the surface.
The Artemis program includes sending a range of new science instruments and technology demonstrations to study the Moon, landing the first woman and next man on the lunar surface by 2024, and exploring the entire surface of the Moon with human and robotic explorers by 2028.
The RASSOR challenge is open until April 20, 2020 and a total of $7000 will be awarded for the top five submissions. For more details visit:
https://grabcad.com/challenges/nasa-regolith-advanced-surface-systems-operations-robot-rassor-bucket-drum-design-challenge
GLOSSARY
traction: the action of drawing or pulling something over a surface
configurations: designs
hollow: empty
circumference: the boundary or edge of something
excavate: dig
EXTRA READING
Astronomers find 20 new Saturn moons
QUICK QUIZ
What is the name of NASA's digging robot?
What is the other name for moon soil?
Where is NASA testing the robot?
What normal elements can the robot not rely on?
When does NASA hope to land a woman on the Moon?

LISTEN TO THIS STORY

CLASSROOM ACTIVITIES
1. Innovative ideas
The purpose of NASA's challenge is to improve an existing product by applying new ideas. This is called being "innovative".
Identify an existing product in your home or classroom that you think could be improved. Write a couple of sentences explaining what product you chose and what you think the problem or weakness with it is. Then sketch a blueprint for your innovative idea to improve the product, adding captions to show how the new version will work.
Time: allow 30 minutes to complete this activity
Curriculum Links: English; Design and Technologies
2. Extension
Create an advertisement for your newly innovated product that emphasises the way that it has been improved.
Time: allow 30 minutes to complete this activity
Curriculum Links: English; Visual Arts
VCOP ACTIVITY
After reading the article, with a partner, highlight as many connectives as you can find in pink. Discuss if these are being used as conjunctions, or to join ideas and create flow.
HAVE YOUR SAY: If you were given the chance to fly to the Moon, would you do it? Why or why not?
No one-word answers. Use full sentences to explain your thinking. No comments will show until approved by editors.