James Webb telescope captures question mark suspended in space
An image captured in space by the powerful James Webb telescope shows an object shaped like a giant red question mark suspended in the sky and it has scientists baffled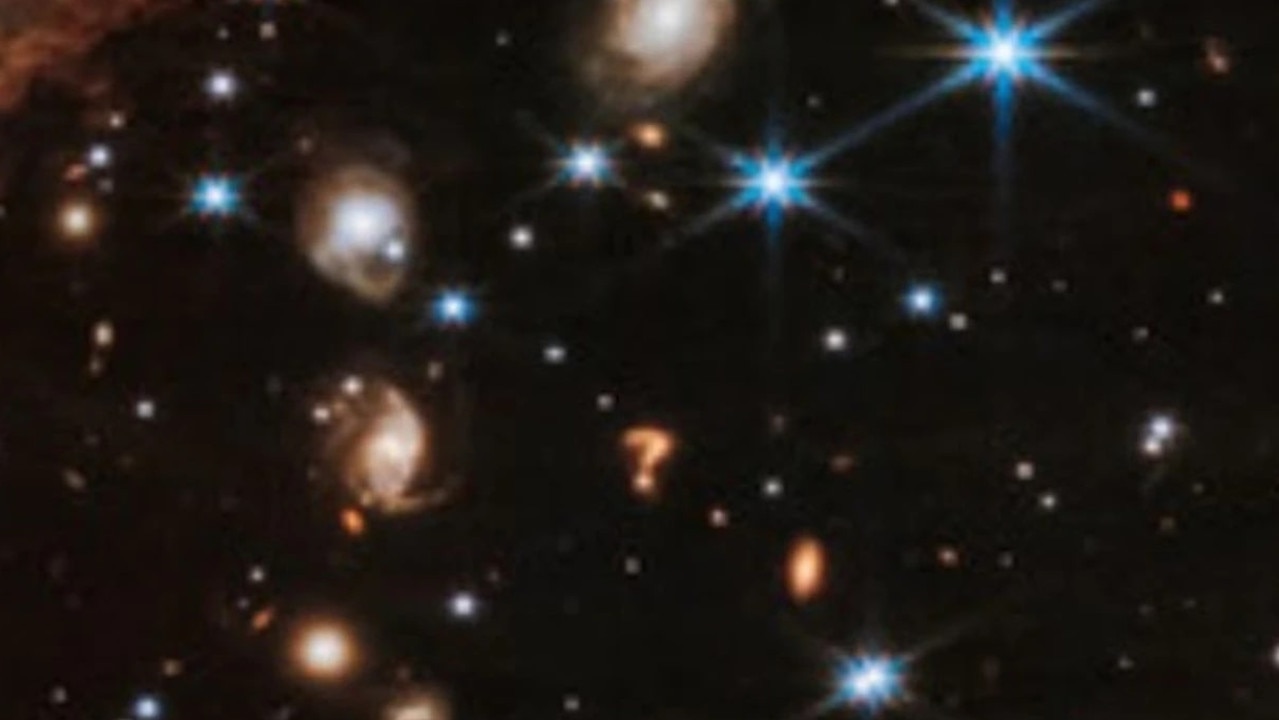 In the background of the James Webb Space Telescope image, a question mark-shaped object surprised researchers. Picture: ESA
The James Webb Space Telescope has discovered a giant red question mark in space that has baffled* scientists.
The team operating the telescope at the European Space Agency released an image this week providing the most detailed look yet at two actively forming young stars located about 1470 light-years* from Earth in the Vela Constellation, which is a group of stars in our southern sky.
The two dazzling stars, named Herbig-Haro 46/47, were surrounded by a disc of material that "feeds" them as they grow for millions of years.
But just below them, in the background of the stunning deep-space image, was an object that resembled a big question mark floating in the sky.
Space experts are trying to determine what the strange object might be.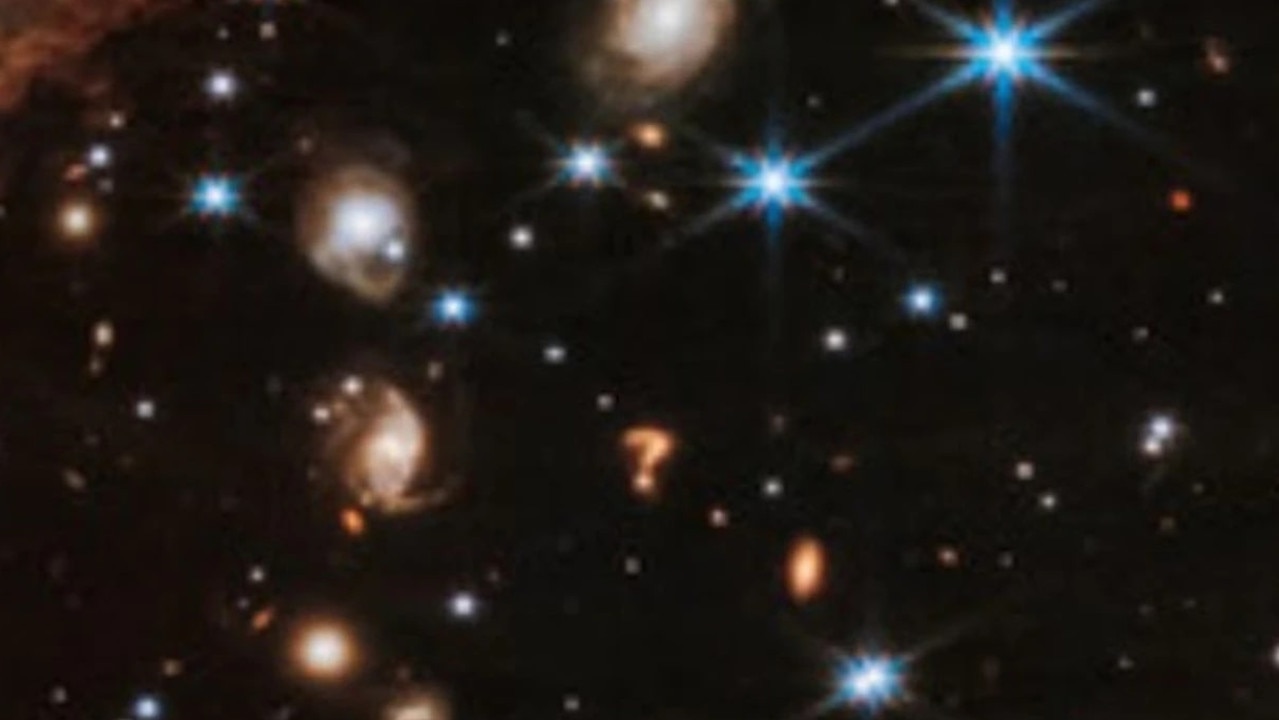 In the background of the James Webb Space Telescope image, a question mark-shaped object surprised researchers. Picture: ESA
Staff at the Space Telescope Science Institute in Baltimore, which operates the telescope, told website Space.com: "It is probably a distant galaxy*, or potentially interacting* galaxies. Their interactions may have caused the distorted* question mark-shape."
They said the red colour indicated that whatever the object is, it is probably very distant and it may even be the first time the object has been seen by humans.
"Additional follow-up would be required to figure out what it is with any certainty. Webb is showing us many new, distant galaxies, so there's a lot of new science to be done," they said.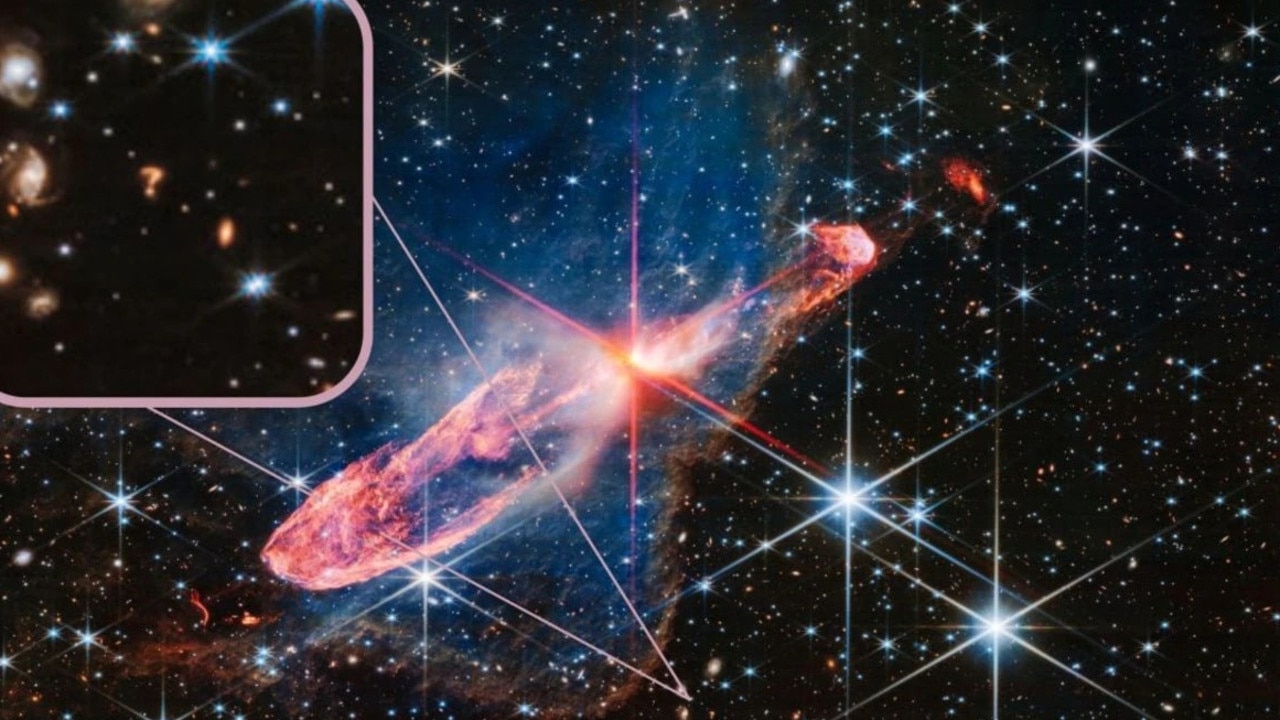 The James Webb Space Telescope provided the closest view yet of two actively forming stars. Picture: ESA.
The James Webb Telescope has incredible powers that can show objects at astonishing distances. Its high-resolution near-infra-red* imaging allows it to look into the far corners of the universe, spotting galaxies 13.4 million light-years away.
It has been described as being like a time machine because it allows scientists to look back at the faint light of early stars and galaxies created after the Big Bang* some 250 million years ago.
An assistant professor of physics* at Illinois State University in Chicago in the US, Dr Matt Caplan told Space.com the object might be two galaxies merging.
The James Webb Space Telescope. Picture: NASA
"The two distinct features could easily be merging galaxies in the background, with the upper part of the question mark being part of a larger galaxy getting tidally* disrupted," Dr Caplan said.
"Given the colour of some of the other background galaxies, this doesn't seem like the worst explanation. Despite how chaotic mergers are, double-lobed* objects with curvy tails extending away from them are very typical."
VIRGIN GALACTIC FLIES ITS FIRST TOURISTS TO SPACE
The mind-boggling find comes as Virgin Galactic took its first tourist passengers to the edge of space on Thursday.
The lucky passengers were a former British Olympian who bought his ticket 18 years ago and a mother and daughter from the Caribbean.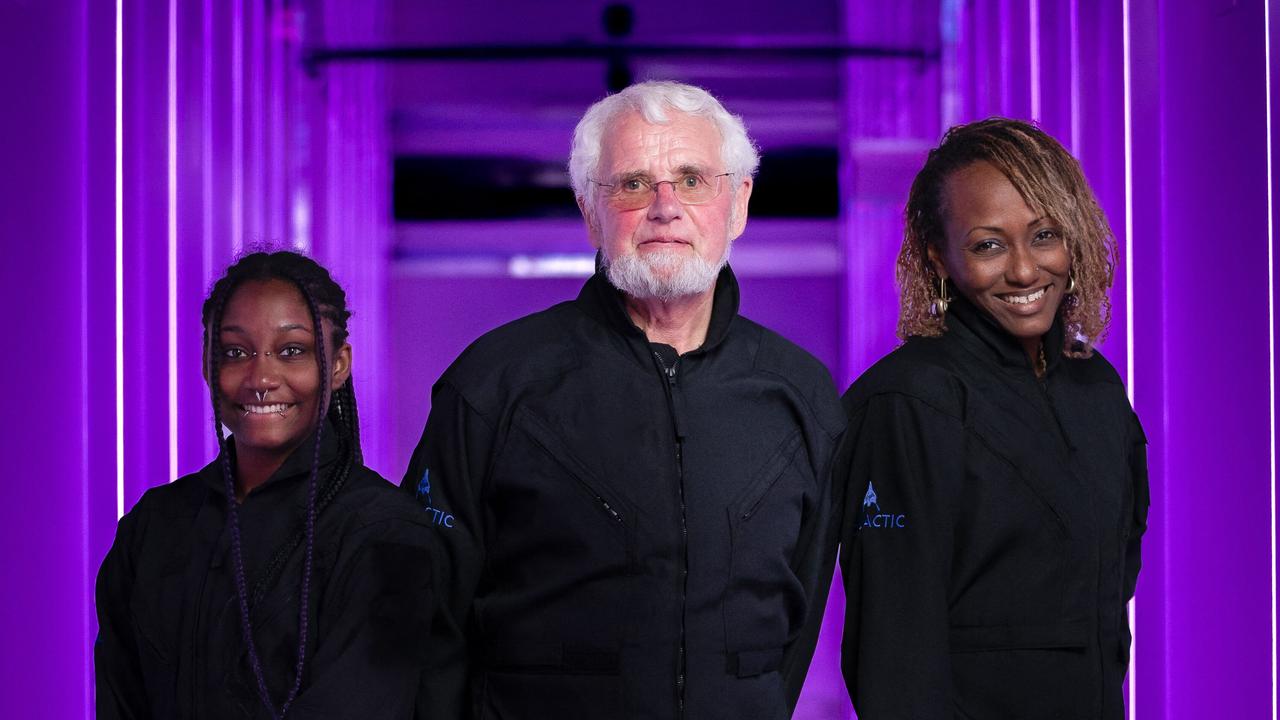 Virgin Galactic's three passengers (left) Anastatia Mayers, 18, (centre) Jon Goodwin, 80, and (right) Keisha Schahaff, 46. Picture: Virgin Galactic/AFP
The space plane glided back to a runway landing at Spaceport America in the New Mexico desert, after a brief flight that gave passengers a few minutes of weightlessness.
Following Jeff Bezos' Blue Origin and Elon Musk's SpaceX, Richard Branson's Virgin Galactic is the third company to operate in the space tourism business.
"That was by far the most awesome thing I've ever done in my life," said 80 year old passenger Jon Goodwin, who competed in canoeing in the 1972 Olympics and now has Parkinson's disease.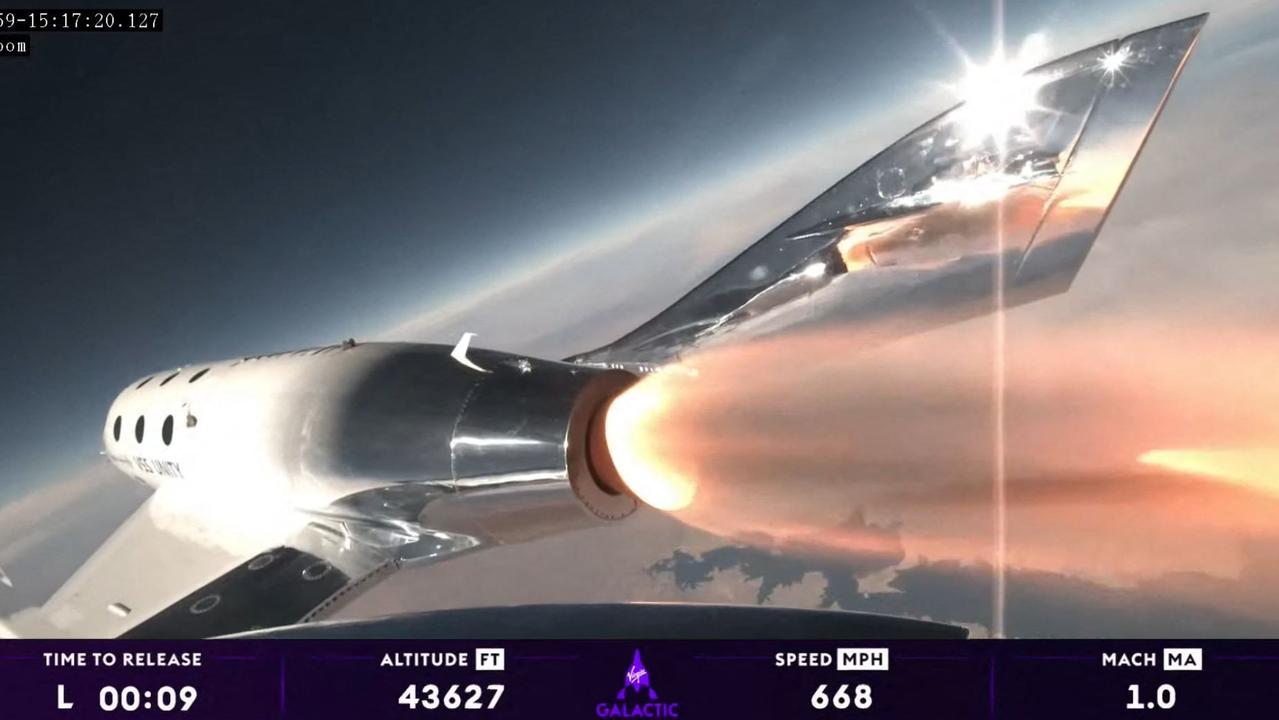 An amazing view from the spacecraft. Picture: Virgin Galactic / AFP
He was one of the first to buy a Virgin Galactic ticket in 2005, when ticket prices were about $200,000. Since then, ticket prices have more than doubled to $450,000.
Several months ago, Branson held a virtual lottery to decide the order in which his first 50 ticket holders would go. Virgin Galactic said the group agreed Goodwin would go first, given his age and his Parkinson's.
He was joined on the flight by Keisha Schahaff, 46, a health coach from Antigua, and her daughter, Anastatia Mayers, 18.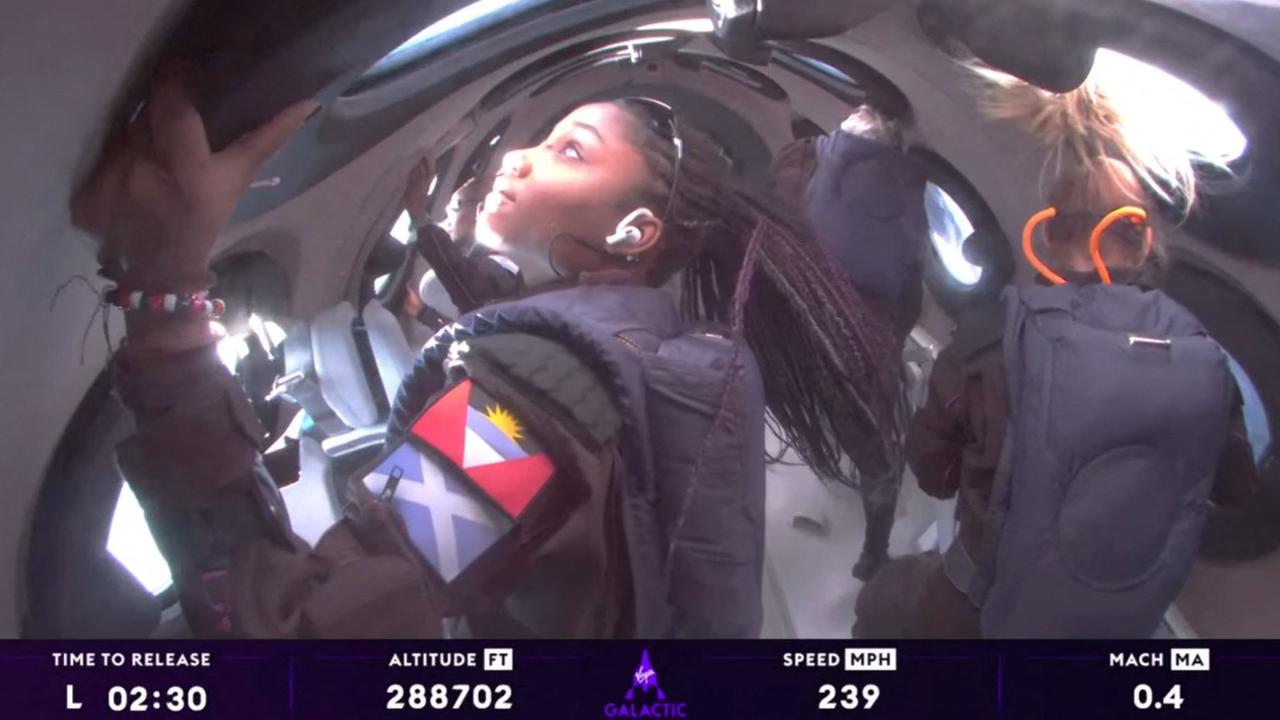 The passengers experienced the weightlessness of space. Picture: Virgin Galactic / AFP
Families and friends watching below cheered when the craft's rocket motor fired after it was released from the aircraft that had carried it for the first part of the journey. The rocket ship then soared about 15 minutes, going 88km high.
It was Virgin Galactic's seventh trip to space since 2018, but the first with ticketholders. About 800 people are currently on Virgin Galactic's waiting list.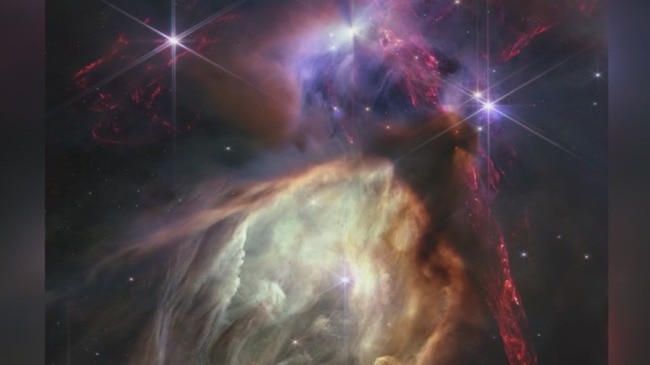 POLL
GLOSSARY
baffled: confused
light-years: a unit of astronomical distance equal to the distance that light travels in one year
galaxy: a system of millions or billions of stars along with gas and dust
interacting: communicating and reacting to something
near-infra-red: a type of light that is invisible to the human eye
Big Bang: astronomical theory that a cosmic explosion marked the start of the universe
physics: the study of matter and motion including electricity, astronomy, waves, sound, and light.
tidal: to do with waves
double-lobed: having two rounded parts
weightlessness: when gravity doesn't weigh you down and you float
Parkinson's disease: a disorder of the central nervous system that affects movement and often includes tremors
space tourism: ordinary people travelling to space
EXTRA READING
Fireball soars across southern sky
Hearing told US collected UFOs and aliens in secret project
QUICK QUIZ
1. Which constellation was the James Webb telescope taking photos of?
2. What distant object do scientists think the question mark could be?
3. What does the red colour tell scientists about the object?
4. The telescope can see galaxies how many light-years away?
5. When was the Big Bang?
LISTEN TO THIS STORY
CLASSROOM ACTIVITIES
1. Space tourists
On the off chance you were given the opportunity to go on the next space flight as a tourist, what would you need to consider before you accepted or declined the offer?
Write a list of your considerations below that you could take to your parents to help them decide if they agree or disagree with your decision.
SPACE FLIGHT CONSIDERATIONS
POINTS FOR GOING:
–
–
–
–
POINTS AGAINST GOING:
–
–
–
–
Time: allow 20 minutes to complete this activity
Curriculum Links: English, Science, Personal and Social, Critical and Creative Thinking
2. Extension
This new James Webb space telescope is opening up more of the universe than ever before.
What does this mean for the scientists of the future?
How might distant galaxies affect us here on Earth?
What do you think this strange question mark-like image in space may be?
Time: allow 15 minutes to complete this activity
Curriculum Links: English, Science, Critical and Creative Thinking
VCOP ACTIVITY
Read this!
A headline on an article – or a title on your text – should capture the attention of the audience, telling them to read this now. So choosing the perfect words for a headline or title is very important.
Create three new headlines for the events that took place in this article. Remember, what you write and how you write it will set the pace for the whole text, so make sure it matches.
Read out your headlines to a partner and discuss what the article will be about based on the headline you created. Discuss the tone and mood you set in just your few, short words. Does it do the article justice? Will it capture the audience's attention the way you hoped? Would you want to read more?
Consider how a headline or title is similar to using short, sharp sentences throughout your text. They can be just as important as complex ones. Go through the last text you wrote and highlight any short, sharp sentences that capture the audience.