India celebrates as Chandrayaan-3 spacecraft lands on the moon
India is a superpower in space, landing its Chandrayaan-3 mission safely on the moon's south pole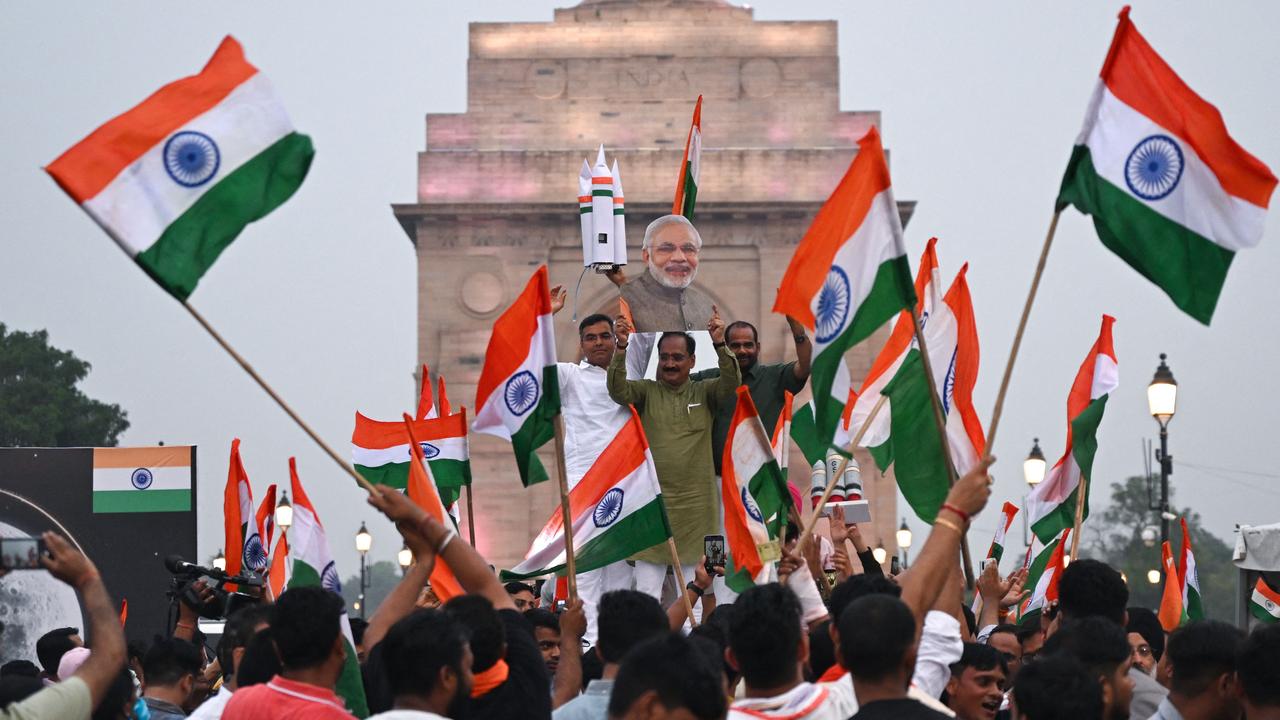 Indians in New Delhi celebrate the successful lunar landing of Chandrayaan-3 spacecraft on the south pole of the moon on August 23. Picture: Arun Sankar/AFP
An Indian spacecraft has landed on the rugged,* unexplored south pole of the moon in a mission seen as crucial to lunar exploration* and India's standing as a space power*, just days after a similar Russian lander* crashed.
"This moment is unforgettable. It is phenomenal*. India is now on the moon. This is a victory cry of a new India," said Prime Minister Narendra Modi.
"This is the heartbeat of 1.4 billion people. This is the new India, the new beginning, the new thinking of the new efforts.
"This is a feature of the shine of India – we made a promise and we made it true on the surface of the moon.
"This is a historic moment, and for every Indian, we are all very proud."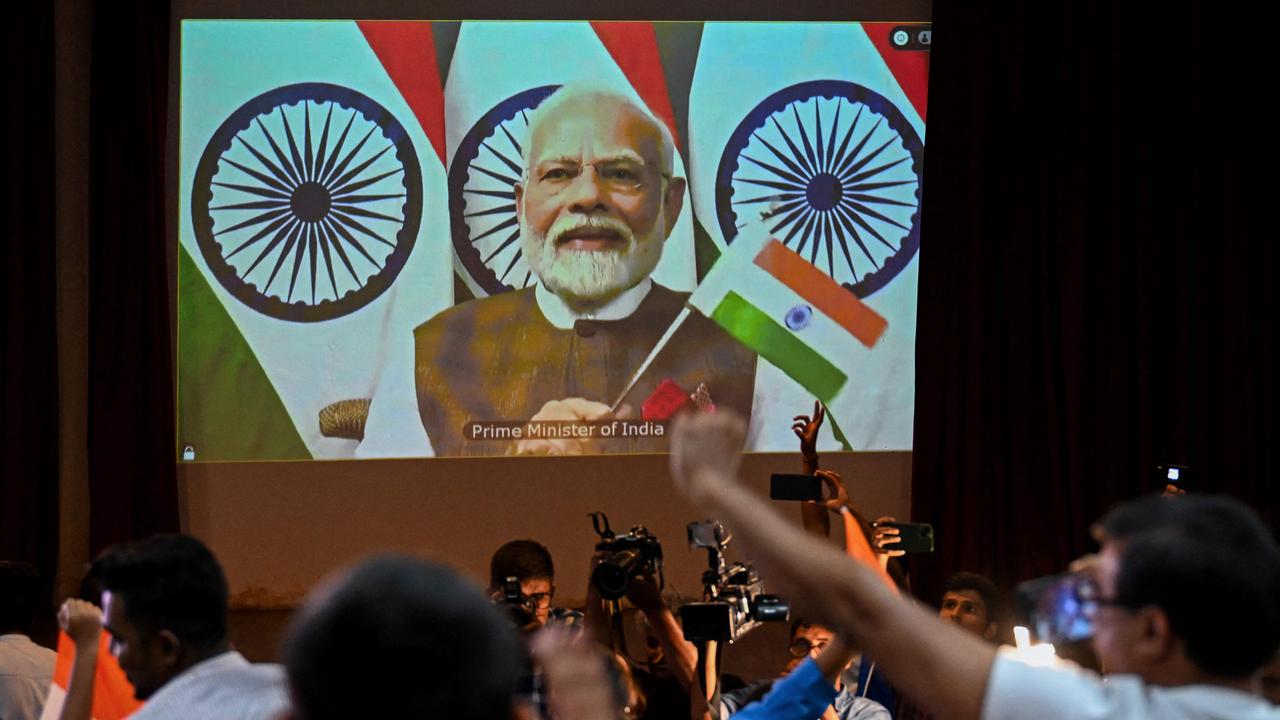 People wave India's national flag as Prime Minister Narendra Modi congratulates the Indian Space Research Organisation (ISRO) for the successful lunar landing of the Chandrayaan-3 spacecraft on the south pole of the moon. Picture: Punit Paranjpe/AFP
India made history by becoming the first nation to land near the moon's South Pole with its Chandrayaan-3 craft.
Scientists and officials clapped, cheered and hugged each other as the spacecraft landed and people across India broke out in celebration, setting off firecrackers and dancing in the streets.
"India is on the moon," said S. Somanath, chief of the Indian Space Research Organisation (ISRO) as the Chandrayaan-3 spacecraft landed, making India the fourth nation to successfully land a spacecraft on the moon after the United States, China and Russia.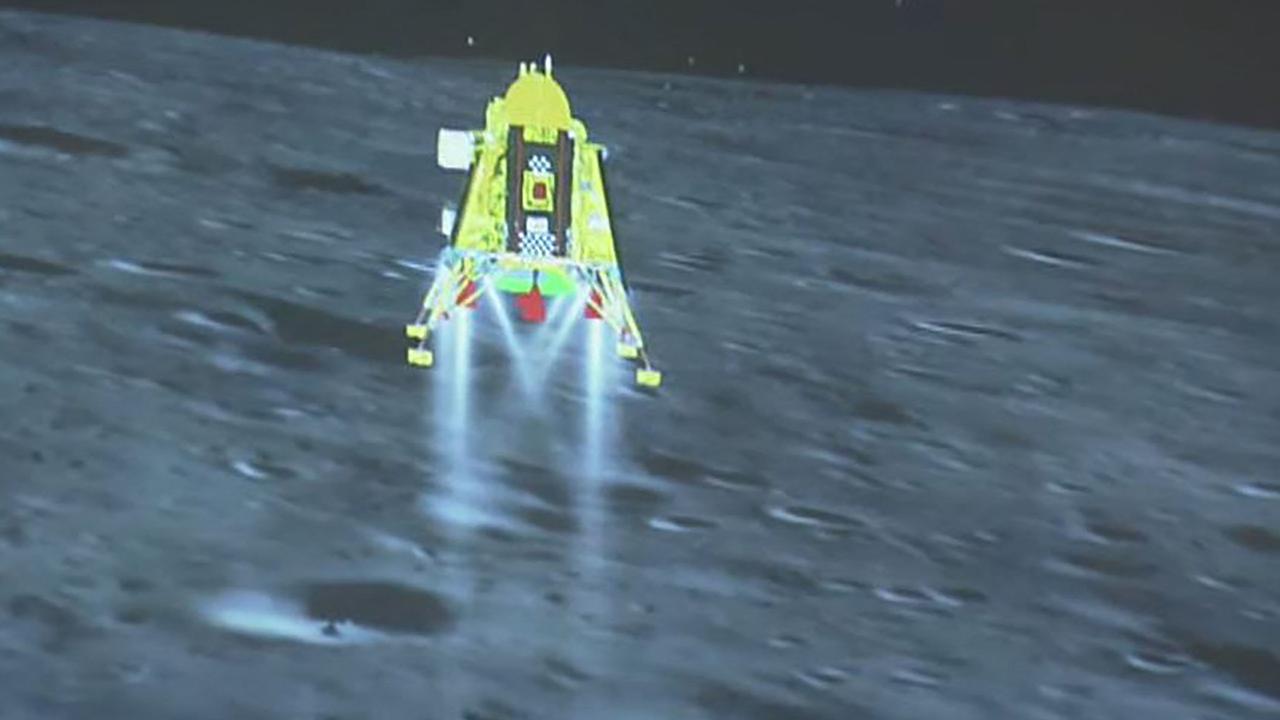 The Chandrayaan-3 spacecraft pictured seconds before its successful lunar landing on the south pole of the Moon. Picture: ISRO/AFP
But none of those countries have led successful missions to the lunar south pole.
This was India's second attempt to land a spacecraft on the moon and comes less than a week after Russia's Luna-25 mission failed. People across the country were glued to television screens and said prayers as the spacecraft approached the surface.
Nearly seven million watched the YouTube live stream.
The Chandrayaan-3, which means "mooncraft" in Sanskrit*, launched on July 14 and entered lunar orbit* on August 5 carrying the Vikram lander*.
School students look at a model of Chandrayaan-3's Lander Module (LM) at a technical museum in Kolkata. Picture: Dibyangshu Sarkar/AFP
Russia's space agency Roskosmos* congratulated India on the landing.
"Roskosmos congratulates Indian colleagues on the successful landing of the Chandrayaan-3 spacecraft," it said in a post on its Telegram channel.
"Exploration of the moon is important for all mankind. In the future it may become a platform for deep space exploration."
Scientists said the landing will allow India to become a bigger player on cooperative missions* going forward.
The Chandrayaan-3 is expected to remain functional for two weeks, running a series of experiments on the lunar surface.
POLL
GLOSSARY
rugged: having a rough and uneven surface
lunar exploration: the act of exploring or studying the moon
space power: a country with significant capabilities and achievements in space technology
lander: a spacecraft designed to land on the surface of a celestial body like the moon
phenomenal: extraordinary, remarkable
lunar orbit: the path that a spacecraft takes around the moon
Vikram lander: Chandrayaan-3's lander has been named after Vikram Sarabhai, an Indian physicist and astronomer
Sanskrit: an ancient Indian language
Roskosmos: Russia's space agency
cooperative missions: joint projects or tasks involving multiple countries or organisations
EXTRA READING
Russian spacecraft crashes into moon
Aussie Dish to support Moon landings
Surprise! Seeds grow in moon soil
QUICK QUIZ
What significant achievement did India's Chandrayaan-3 craft accomplish recently?
What does the term "space power" refer to in the context of the story?
What did Prime Minister Narendra Modi say about India's successful moon landing?
How did people in India react to the Chandrayaan-3 spacecraft's successful landing?
What special experiments is the Chandrayaan-3 expected to conduct after its successful landing on the moon?
LISTEN TO THIS STORY
CLASSROOM ACTIVITIES
1. Name an Aussie spacecraft!
If Australia launched a spacecraft on a moon mission, what do you think it should be called? Write the perfect name and a paragraph explaining your choice.
Time: allow 20 minutes for this activity
Curriculum Links: English, Science
2. Extension
What is a spectrometer and what does it do? Use the clues in the story to write a description of what you think the answer to this question might be. Then, use your research skills to check your answer.
Time: allow 20 minutes to complete this activity
Curriculum Links: English, Science
VCOP ACTIVITY
Down-level it
When you up-level a sentence, you do things to it to improve it: make it more interesting, or more complex.
But sometimes, when we read something it can be too complex and we don't understand it very well. You ask someone to explain it to you, they do (in a simpler way) and you think, well why didn't they just say that?
Go through the article and find a sentence or two that is complex, or hard to read.
Ask an adult what it means, or try and look some of the words up in the glossary.
Once you know what it means, see if you can re-write it in a simpler way- down-level it.
Make sure you don't change the meaning of the sentence in any way though.