Former intelligence officer claims US collected and dismantled UFOs in secret to learn how they work
A hearing into whether America is hiding evidence of alien life has heard the US has dismantled UFOs in secret to see how they work and 'non-human' pilots have been found. WATCH THE VIDEO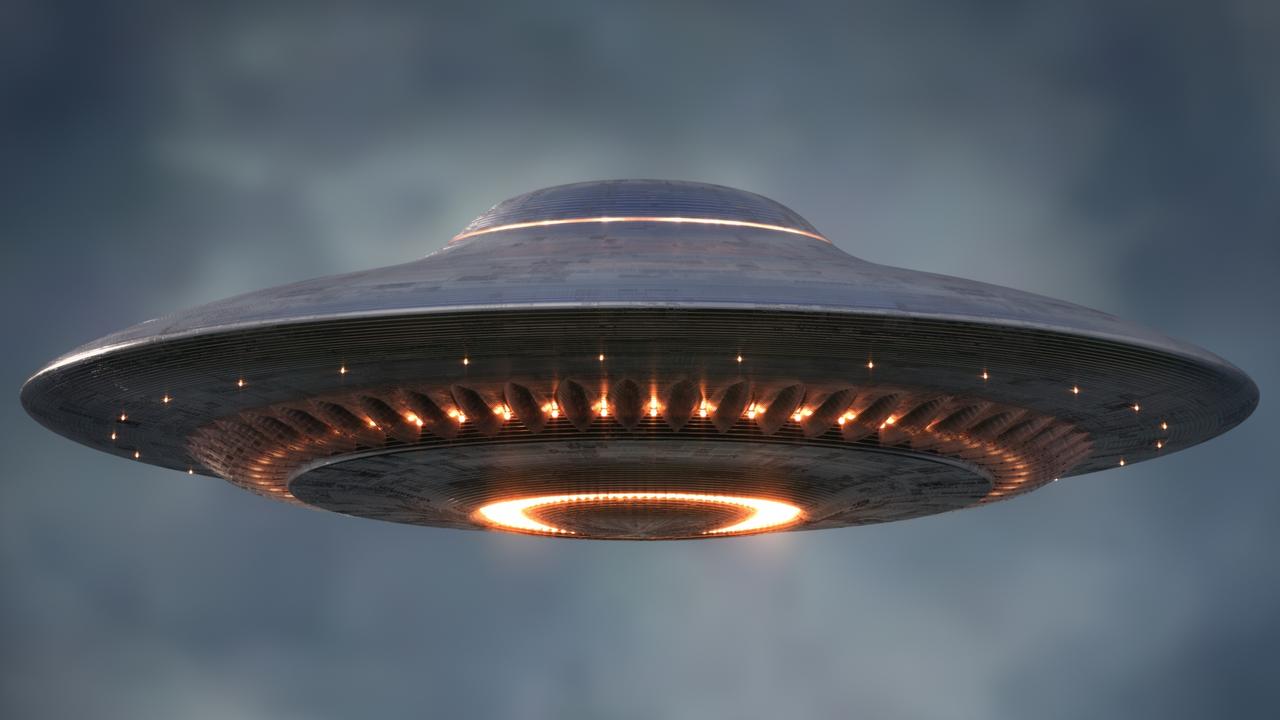 An artist's impression of what a UFO might look like. Picture: Istock
The United States is hiding a decades-long program that collects and dismantles* Unidentified Flying Objects (UFOs)* to see how they work, a former US Air Force intelligence officer* told a government hearing this week.
Retired Major David Grusch who worked on a UFO taskforce said he was told about a "crash retrieval and reverse engineering* program" but when he tried to learn more about it, he was blocked.
When asked if the American government had made contact with intelligent aliens*, Mr Grusch claimed the US possessed a very large alien aircraft and the bodies of crashed UFO pilots had been collected.
He said the US had probably been aware of "non-human" pilots since the 1930s, but admitted it was "not something I have witnessed myself".
David Grusch, a former US intelligence agent, takes his seat at the UFO hearing. Picture: Getty Images via AFP
Mr Grusch said he had come under attack for becoming a whistleblower, which is someone who reveals secret work information because they think the public has a right to know. He gave his evidence under oath* and risks five years in jail if he is found to be lying.
The Pentagon — which is the defence headquarters of the US Army, Navy and Air Force — denied it was hiding any information about extraterrestrial* beings or technology.
UFOs — or unidentified anomalous* phenomena* (UAP), as they're now called — have been receiving more attention from the US Government in recent years because of well-known stories from trustworthy witnesses.
Former Navy pilots David Fravor and Ryan Graves told this week's hearing about contact with a UFO off the coast of California in 2004 and their fears about alien technology.
"All four of us saw a white 'tic-tac' object … moving very abruptly over the water, like a ping-pong ball," Mr Fravor said.
"The technology we faced is far superior* to anything we have," he said.
NASA's first UFO public meeting revealed up to 5 per cent of sightings have never been explained.
While the study of mysterious objects often raises talk of creatures like ET in the movie, US politicians have asked for more research because of security concerns. They fear the objects may be enemy aircraft from other countries.
Republican* politician Tim Burchett, who is co-leading the investigation, has previously claimed the US had evidence of technology that "defies* all of our laws of physics*", but said this week's hearing would not reveal proof of aliens or UFOs.
"We're not bringing little green men or flying saucers into the hearing. Sorry to disappoint. We're just going to get to the facts."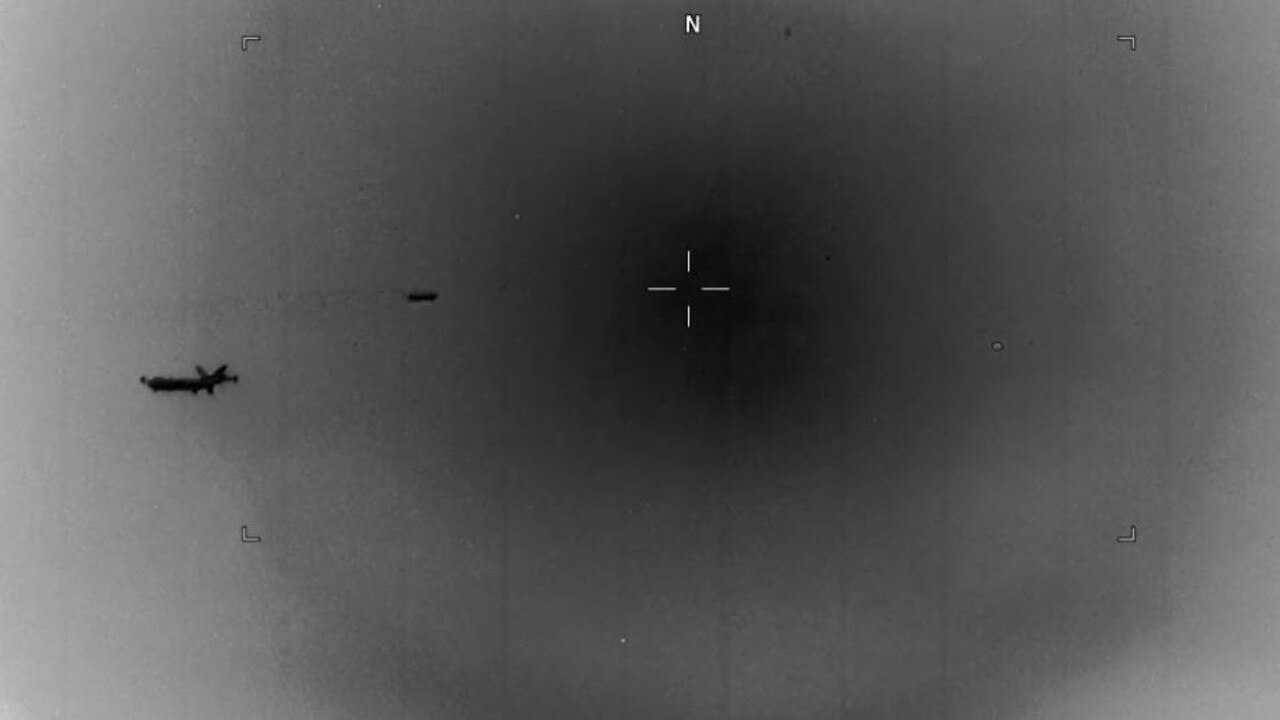 A UFO incident the Pentagon said occurred over South Asia on January 15, 2023. Picture: Supplied.
Republican politician Robert Garcia said it was important to use science to find answers and not hide facts from anyone.
He said he understands why the Defense Department is hesitant to share information that could affect America's safety, but said if the public thinks information is being hidden, then "that is dangerous also".
"The sheer number of reports, whistleblowers and stories of UAP should raise real questions and warrant investigation and oversight," he said.
"We live in a vast* galaxy. (There are) a lot of unanswered questions."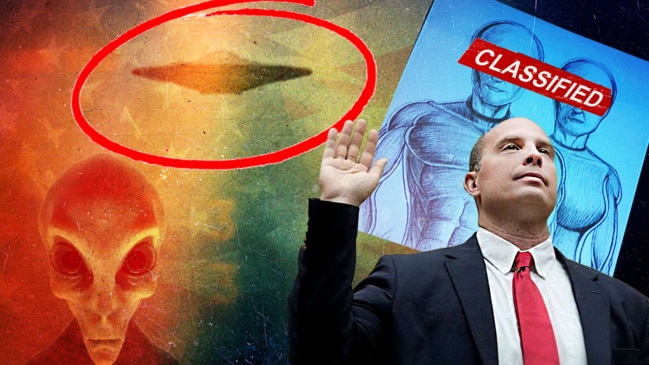 POLL
GLOSSARY
dismantles: pulls apart
UFOs: objects that can fly but experts don't know what they are
intelligence: the collection of information of military or political value
reverse engineering: pulling something apart to see how it works
aliens: beings not belonging to Earth
oath: a promise
extraterrestrial: something from outside Earth
anomalous: not normal
phenomena: a fact or situation that is observed to exist or happen
superior: far better or more powerful than something else
Republican: belonging to the US Republican political party
defies: resists or refuses
physics: branch of science that deals with includes mechanics, heat, light and other radiation, sound, electricity, magnetism, and the structure of atoms
vast: very big
EXTRA READING
Hundreds of UFO sightings confirmed
Police investigate mystery object on WA beach
US military releases UFO videos to prove they're real
QUICK QUIZ
1. What does David Grusch believe the US Government is hiding?
2. How many decades does he believe the US has known about non-human pilots?
3. What does Mr Grusch risk if it turns out he is lying about UFOs?
4. What is the new name being used for UFOs?
5. Why does the US fear the objects could hurt national security?
LISTEN TO THIS STORY
CLASSROOM ACTIVITIES
1. It's not aliens?
"Just because it is a UFO does not mean it is an alien spaceship!"
Use information in the story and possibly from your research skills to write a list of points that supports, or backs up, this statement.
Time: allow 45 minutes to complete this activity
Curriculum Links: English, Science
2. Extension
What is an "unanswered question" that you would like to know the answer to? Write it down. Then write sentences explaining how you would go about trying to find the answer.
Time: allow 20 minutes to complete this activity
Curriculum Links: English, Science
VCOP ACTIVITY
1. Wow word recycle
There are plenty of wow words (ambitious pieces of vocabulary) being used in the article. Some are in the glossary, but there might be extra ones from the article that you think are exceptional as well.
Identify all the words in the article that you think are not common words, and particularly good choices for the writer to have chosen.
Select three words you have highlighted to recycle into your own sentences.
If any of the words you identified are not in the glossary, write up your own glossary for them.