Fireball of space junk soars across southern Australian sky
Stunned onlookers in three Australian states have captured the moment a huge piece of space junk lit up the sky as it entered the Earth's atmosphere with a boom
The burning space junk was seen over Melbourne. Picture: @peachteagamer/ Twitter X
A mysterious light was seen flying across the southern Australian sky on Monday night.
The "huge fireball" crossed the night sky for about a minute on Monday, followed by a thunderous boom.
Sightings were reported across the country's southern states, with videos captured in Victoria, South Australia and Tasmania.
Onlookers shared videos of the light show, which looked like a large comet or meteor, on social media.
Astronomer at Swinburne University Professor Alan Duffy said the shooting fireball was space junk burning up as it entered the atmosphere.
He said it was a "heck of a way to launch National Science Week."
"What we're seeing is a large flash of light extended and it burns up, you can see in the videos it is really quite extraordinary," Professor Duffy told radio station 3AW.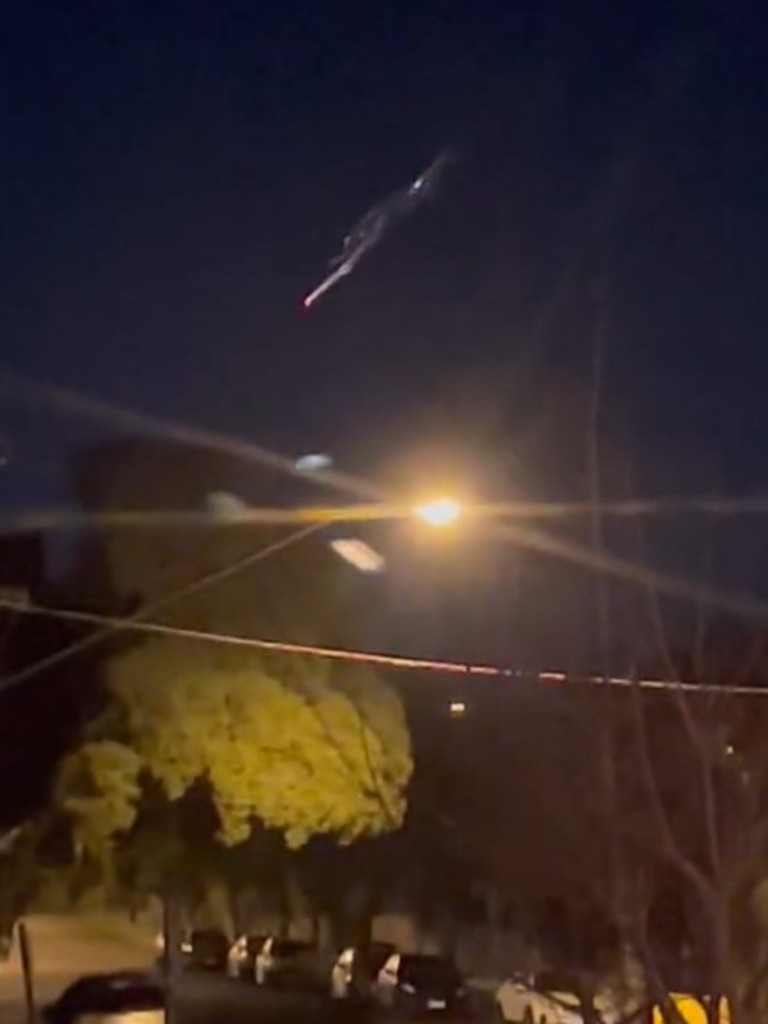 A huge fireball was spotted zooming across the Melbourne sky.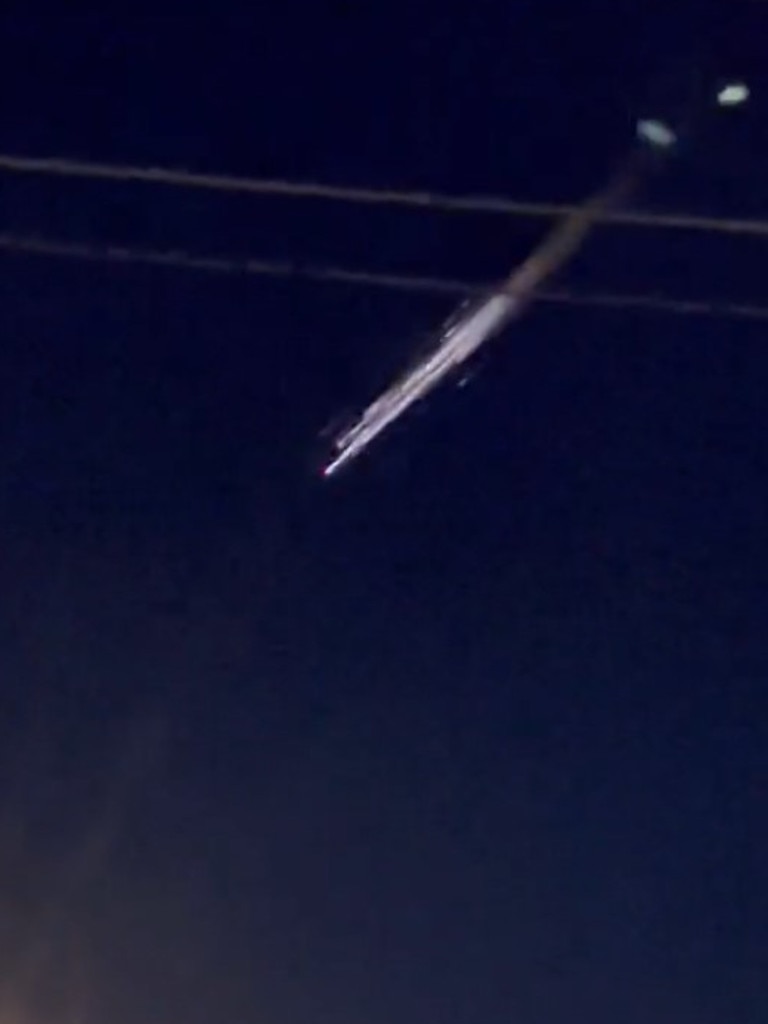 Experts believe it to be space junk.
"You can see it's breaking up – all of that is telling me it is space junk, it is not a small piece of naturally occurring rock in space.
"The fact that you can see something as bright for as long, that breaks up and even the pieces that are breaking up are themselves burning up brightly – all of that means that it is something very large, probably a couple of tonnes."
He said even though it looked like it was very close to us, the space junk was tens of kilometres above us even at its lowest point.
Some onlookers said they heard a loud bang as the fireball soared across the sky.
Professor Duffy said space junk posed a risk to aircraft but it would be "unbelievably unlucky" if it hit a plane.
"When you get pieces of junk re-entering or even rockets launching, they have a hold on all aircraft in the area.
"This was an unexpected re-entry and no-one would have been able to be warned."
Professor Duffy said onlookers could log their sightings in the "Fireballs in the Sky" application to help scientists find the debris.
POLL
GLOSSARY
space junk: pieces of satellites or rockets that aren't being used anymore but are still in space
onlookers: people watching
atmosphere: layers of gas surrounding our planet that make up the air we breathe
extended: drawn out
extraordinary: remarkable or amazing
re-entry: when space junk enters the Earth's atmosphere
debris: scattered pieces left after something is destroyed
EXTRA READING
Glowing meteor fireball lights up Australian sky
Possible meteorite smashes into family home
Saturn's icy moon may support life
QUICK QUIZ
1. In which three Australian states was the fireball visible?
2. How large was the space junk?
3. What are two signs that the fireball was space junk?
4. What is the name of the app in which onlookers can log their sightings?
5. How far up in the sky was the space junk?
LISTEN TO THIS STORY
CLASSROOM ACTIVITIES
1. What is space junk?
Work with a partner and discuss the following questions and see what answers you can come up with. Compare your answers with other groups to get the most popular answers.
What exactly is space junk?
Why is it falling from the sky unexpectedly?!
What happens if this falling debris hits a populated city or town?
Do people find evidence of space junk on the ground?
What is the 'boom' sound associated with the space junk sighting?
Time: allow 20 minutes to complete this activity
Curriculum Links: English, Science, Personal and Social, Critical and Creative Thinking
2. Extension
If you or your family saw this amazing sight on Monday night, what would you think it might be?
Would it scare you a little, or fascinate you?
Time: allow 10 minutes to complete this activity
Curriculum Links: English, Science, Personal and Social, Critical and Creative Thinking
VCOP ACTIVITY
Read with Kung Fu punctuation
Pair up with the article between you and stand up to make it easy to demonstrate your Kung Fu punctuation.
Practise reading one sentence at a time. Now read it again, while acting out the punctuation as you read.
Read and act three sentences before swapping with your partner.
Take two turns each.
Now ask your partner to read a sentence out loud while you try and act out the punctuation. Can you keep up? Swap over?
Try acting out two sentences – are you laughing yet?