Elon Musk's SpaceX rocket ship explodes minutes after launch from Texas base
Elon Musk's SpaceX Starship made it to space before two explosions destroyed it minutes into the test flight. But Musk doesn't see this as a setback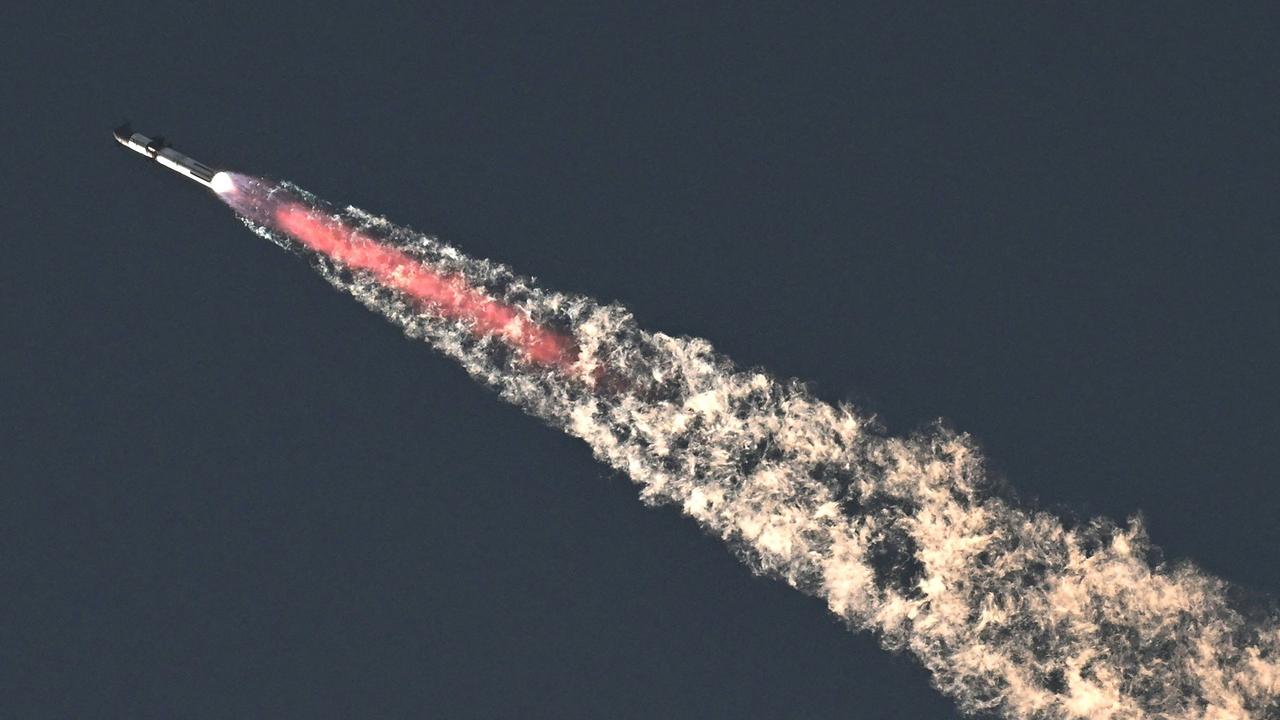 On November 18, SpaceX carried out the second test launch of Starship, the largest rocket ever built that Elon Musk hopes will one day colonise Mars. Picture: Timothy A Clary/AFP
SpaceX* launched its mega rocket Starship* but lost both the booster and the spacecraft in a pair of explosions minutes into Saturday's test flight.
The rocket ship reached space following lift-off from South Texas before communication was suddenly lost.
SpaceX officials said it appeared the ship's self-destruct system* blew it up over the Gulf of Mexico.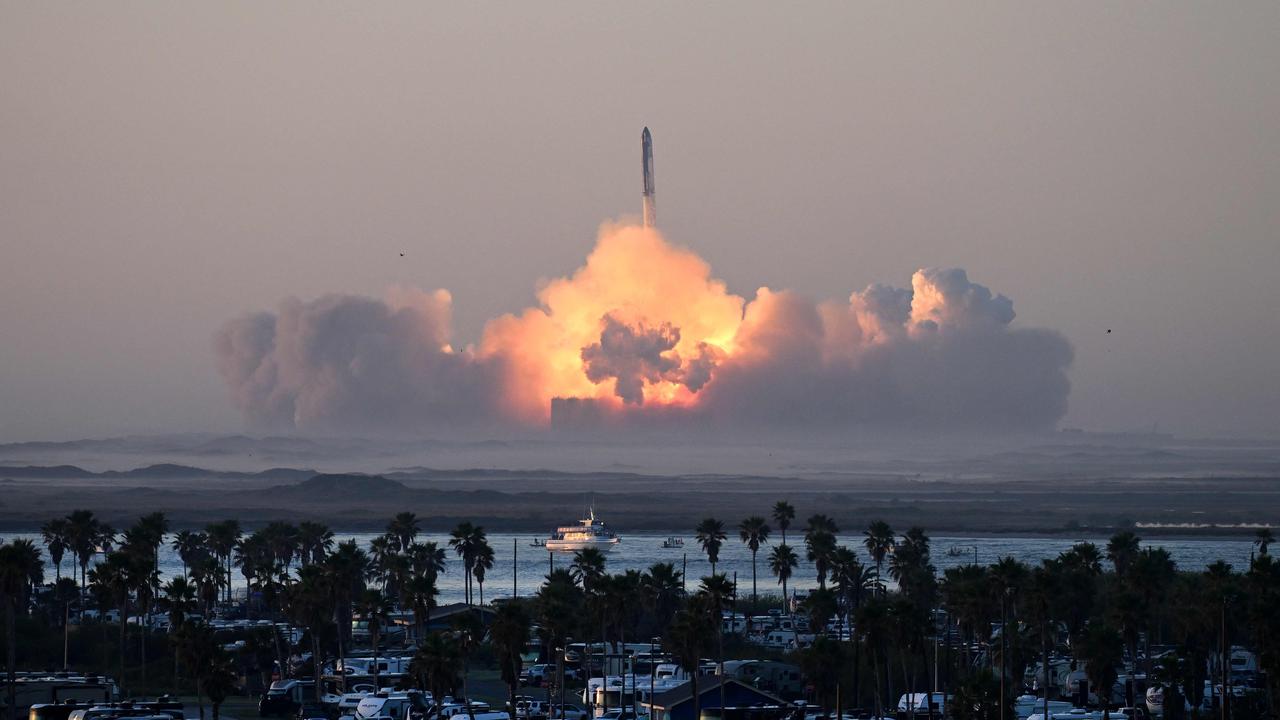 SpaceX's Starship rocket made it to space before exploding. Picture: Timothy A Clary/AFP
Minutes earlier, the separated booster* had exploded over the gulf. By then, though, its job was done.
"What we did will provide invaluable data to continue rapidly developing Starship," Elon Musk's company announced Saturday after the early morning event drew crowds of spectators to nearby beaches. Musk watched from behind controllers at the base.
"With a test like this, success comes from what we learn, and today's test will help us improve Starship's reliability* as SpaceX seeks to make life multiplanetary*," SpaceX added.
Saturday's demo lasted eight or so minutes, about twice as long as the first test in April, which also ended in an explosion.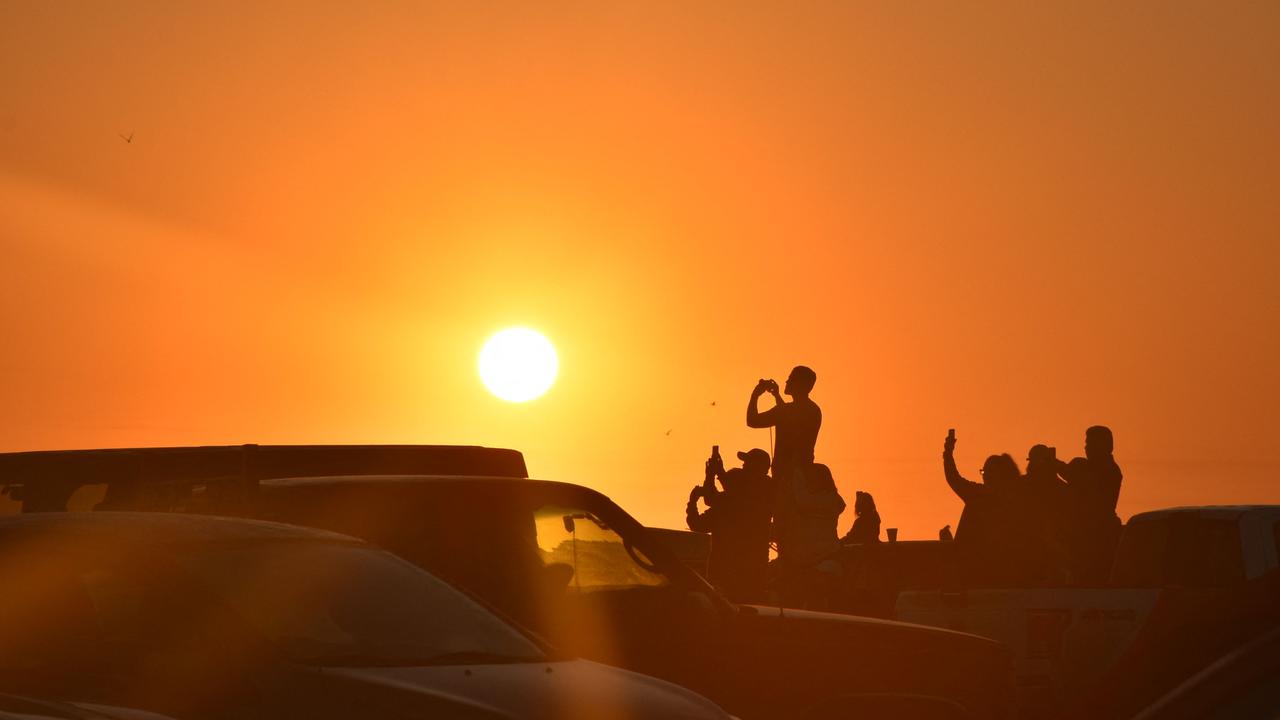 People gathered at a nearby beach in Matamoros, Mexico, to watch the launch. Picture: Diego Cruz/AFP
Musk posted to X at the time: "Congrats @SpaceX team on an exciting test launch of Starship! Learned a lot for next test launch in a few months."
The latest flight came to an end as the ship's six engines were almost done firing to put it on an around-the-world path.
At nearly 121m, Starship is the biggest and most powerful rocket ever built, with the goal of ferrying* people to the moon and Mars.
"The real topping on the cake today, that successful lift-off," said SpaceX commentator John Insprucker, noting that all 33 booster engines fired as designed, unlike last time.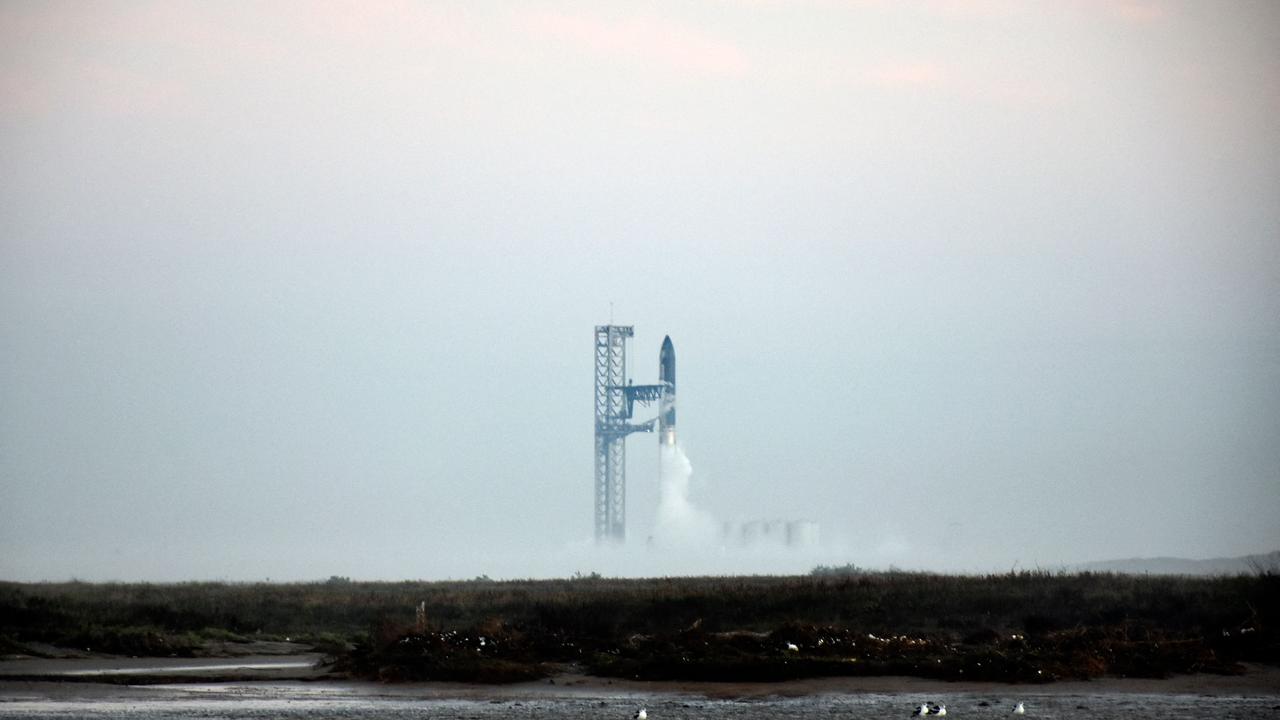 View from Boca Del Río de la Playa Bagdad, in Matamoros, Tamaulipas State, Mexico, of the launch of SpaceX's Starship rocket. Picture: Diego Cruz/AFP
The booster also separated seamlessly from the spaceship, which reached an altitude* of 148km.
Added commentator Kate Tice: "We got so much data, and that will all help us to improve for our next flight."
At company headquarters in Hawthorne, California, employees cheered as Starship soared at daybreak.
The room grew quiet once it was clear that the spaceship had been destroyed.
SpaceX had been aiming for an altitude of 240km, just high enough to send the bullet-shaped spacecraft around the globe before ditching into the Pacific near Hawaii about one-and-a-half hours after lift-off, short of a full orbit*.
Following April's flight demo, SpaceX made dozens of improvements to the rocket as well as the launch pad.
Huge crowds gathered to watch the launch. Picture: Diego Cruz/AFP
The Federal Aviation Administration (FAA) cleared the rocket for flight on Wednesday, after confirming that all safety and environmental concerns had been met.
After Saturday's launch, the FAA said no injuries or public damage had been reported and that an investigation was underway to determine what went wrong.
SpaceX cannot launch another Starship until the review is complete and corrections made, the FAA added.
NASA is counting on Starship to land astronauts on the moon by the end of 2025 or shortly thereafter.
The space agency awarded SpaceX a $3 billion contract* to make it happen, by transferring astronauts from its Orion capsule to Starship in lunar orbit before heading down to the surface.
Like before, nothing of value was aboard Starship for the trial run.
Once Starship is proven, Musk plans to use the fully reusable mega rockets to launch satellites* into orbit around Earth and equipment and people to the moon, and eventually, to Mars.
Part of this story was originally published by NY Post and is reproduced here with permission.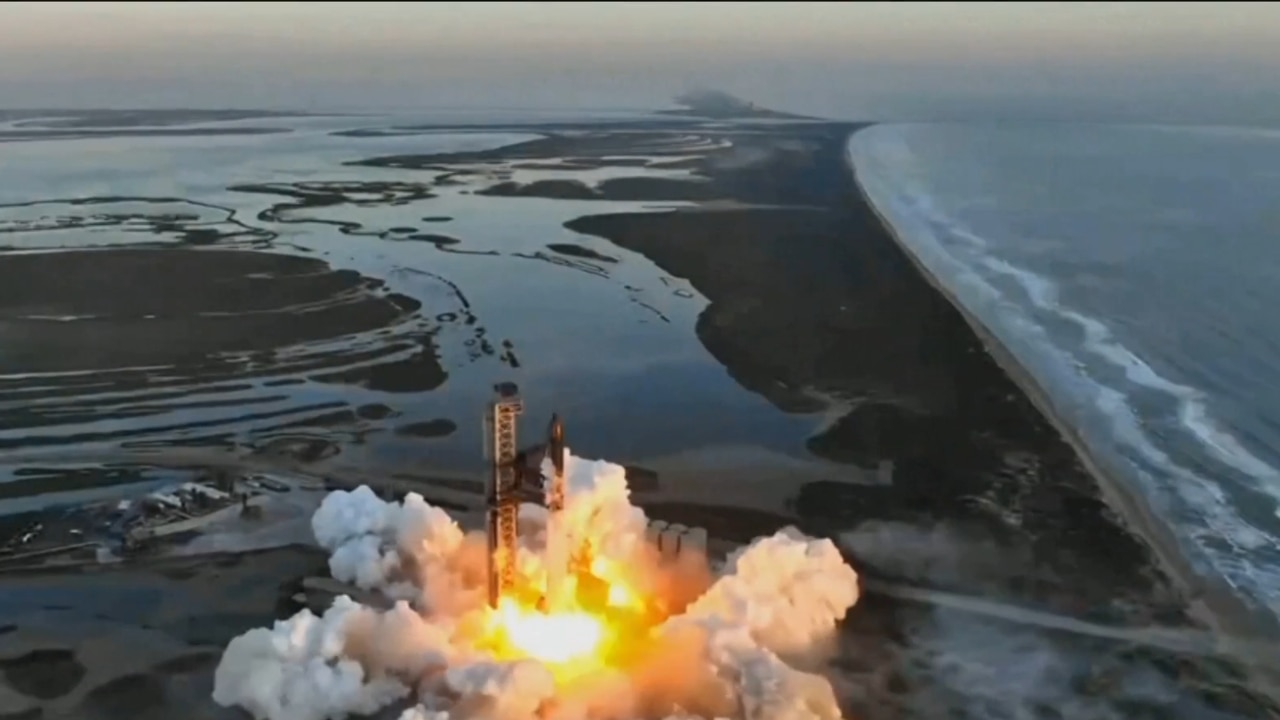 GLOSSARY
SpaceX: a private aerospace manufacturer and space transportation company founded by Elon Musk that builds and launches rockets
Starship: a state-of-the-art spacecraft designed for interplanetary travel, capable of carrying passengers, cargo, or scientific equipment to destinations like the moon or mars
self-destruct system: a mechanism that intentionally destroys something
booster: part of the rocket that helps it launch
reliability: how dependable or trustworthy something is
multiplanetary: existing or operating on multiple planets, signifying the ability to live, work, or travel between different planets within a solar system, such as Earth and Mars
ferrying: transporting people or goods from one place to another
altitude: the height above the ground or sea level
orbit: the path a spacecraft takes around a planet or other celestial body
contract: an agreement between two or more parties
satellites: objects sent into space to orbit the earth for various purposes
EXTRA READING
Elon Musk's SpaceX Starship explodes
Aussie plan to beat Elon Musk's Space X rocket launch
SpaceX tourists orbit without astronauts
QUICK QUIZ
How long did the latest flight of the Starship last?
Where did SpaceX aim for the Starship's altitude to be?
What did SpaceX founder Elon Musk say about the test launch?
What are some future goals for the Starship according to Elon Musk?
What contract did NASA award SpaceX and for what purpose?
LISTEN TO THIS STORY
CLASSROOM ACTIVITIES
1. Elon Musk
SpaceX Founder Elon Musk is a billionaire entrepreneur. According to Forbes.com, this is what Musk is worth:
Elon Musk co-founded six companies, including electric car maker Tesla, rocket producer SpaceX and tunnelling start-up Boring Company.
He owns about 21 per cent of Tesla between stock and options, but has pledged more than half his shares as collateral for personal loans of up to $3.5 billion.
SpaceX, founded in 2002, is worth nearly $150 billion after a $750 million tender offer in June 2023; it nearly quintupled its value in four years.
Boring Company, which aims to defeat traffic, raised $675 million in April 2022 at a $5.7 billion valuation.
Twitter's board agreed to sell the company to Musk for $44 billion in April 2022, after he disclosed a 9.1 per cent stake and threatened a hostile takeover. Musk owns an estimated 74 per cent of the company, which is now called X.
Can you see where Elon Musk's passion lies after looking at all his companies?
What do you think might make him such a successful businessman and entrepreneur?
Time: allow 15 minutes to complete this activity
Curriculum Links: English, Personal and Social, Critical and Creative Thinking
2. Extension
How will the SpaceX rockets help improve the environmental impact space exploration has on Earth?
What improvements is it hoping to make before making it to the moon in 2025?
Time: allow 10 minutes to complete this activity
Curriculum Links: English, Science, Personal and Social, Critical and Creative Thinking
VCOP ACTIVITY
Oral language game: sentence opener challenge
Objective: To explore different sentence opener features used in the article and improve oral language skills.
Instructions:
As a class, read a text and list some of the varied openers used by the author
Divide the students into small groups


Explain to the students that they will play a sentence opener challenge game based on the openers you have collected from the text


Provide each group with a set of sentence openers (these can be pre-prepared cards with different sentence openers written on them from the text)


Ask one student from each group to pick a sentence opener card and read it aloud to the group


Give each group a time limit (for example one minute) to come up with as many sentences as they can using the sentence opener. Encourage them to use their imagination and add interesting details to their sentences


After the time limit, each group takes turns sharing their sentences with the rest of the class


The other groups can listen and give feedback on the sentences, suggesting improvements or sharing their own creative ideas


Repeat the process with different sentence starter cards, allowing each student in the group to take turns selecting and reading the sentence starter
Note: Remind the students to listen attentively to each other's sentences and be respectful during the game. Encourage them to use their vocabulary, sentence structure, and storytelling skills to create engaging sentences