Chinese mission with first civilian reaches space station
China sent three astronauts to its Tiangong space station on Tuesday, putting a civilian into orbit for the first time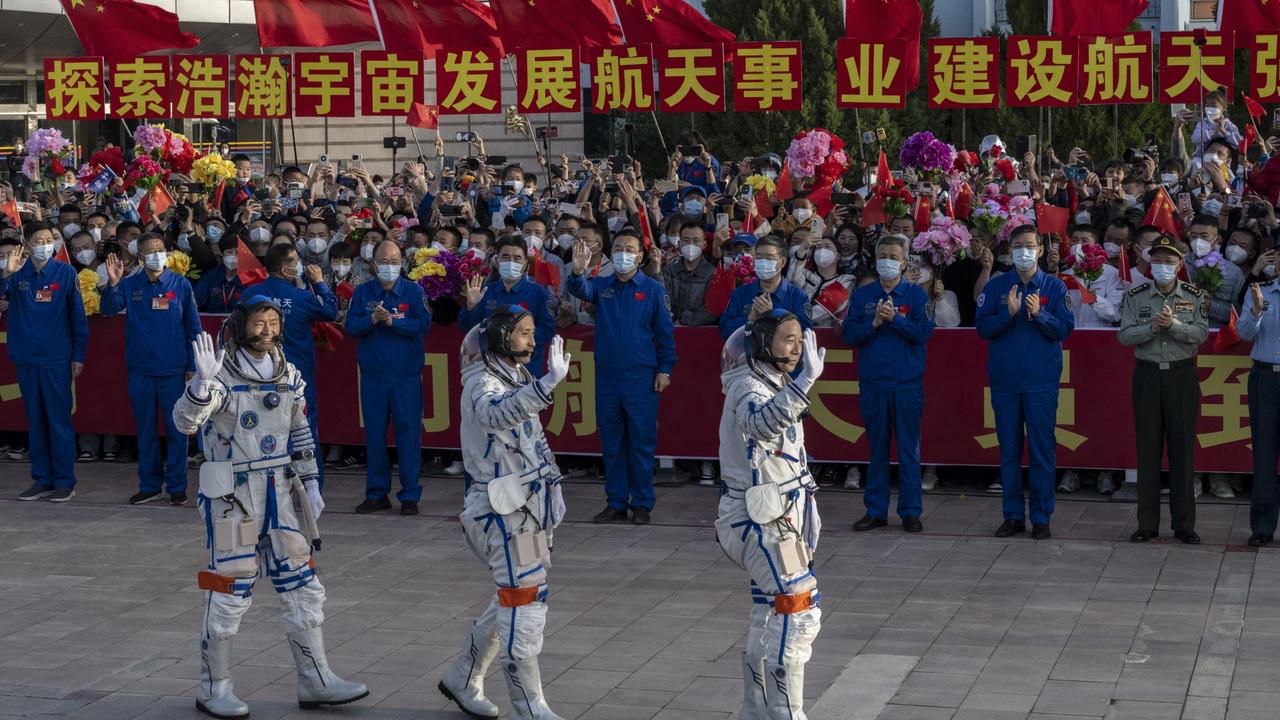 (L-R) Chinese astronauts and crew of the Shenzhou-16 Gui Haichao, Zhu Yangzhu and mission leader Jing Haipeng from China's Manned Space Agency wave to wellwishers at a pre-launch departure ceremony on May 30, 2023. (Photo by Kevin Frayer/Getty Images)
China sent three astronauts to its Tiangong space station on Tuesday, putting a civilian* into orbit for the first time as the country pursues plans to send a crewed* mission to the moon by 2030.
The world's second-largest economy has invested billions of dollars in its military-run* space program in a push to catch up with the United States and Russia.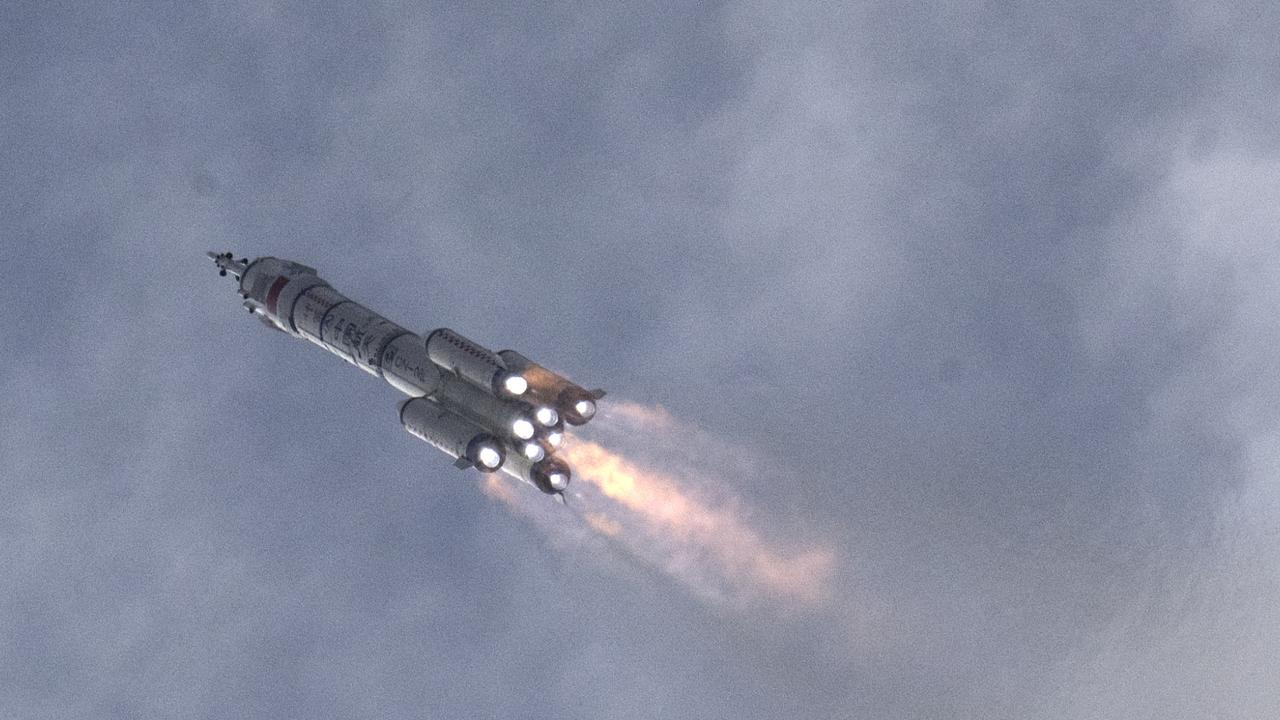 The Shenzhou-16 spacecraft on-board the Long March-2F rocket of China Manned Space Agency flies in the air as it takes off at the Jiuquan Satellite Launch Center on May 30, 2023. Picture: Kevin Frayer/Getty Images
The Shenzhou-16 crew took off atop a Long March 2F rocket from the Jiuquan Satellite* Launch Centre in northwest China.
They docked* at the space station's Tianhe core module* on Tuesday afternoon, more than six hours after taking off.
The launch was a "complete success" and the "astronauts are in good condition", said Zou Lipeng, director* of the Jiuquan Satellite Launch Center.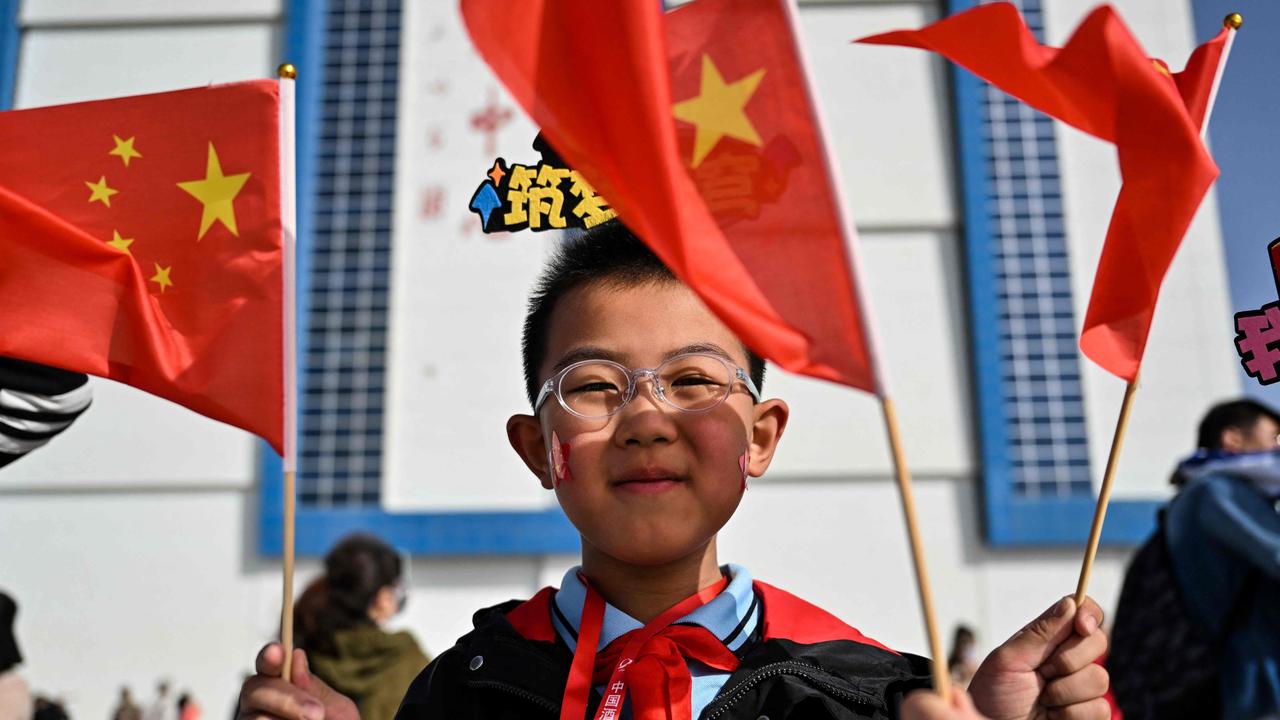 Children lined the streets to cheer on the Long March-2F rocket which was carrying the Shenzhou-16 Manned Space Flight Mission. Picture: Hector RETAMAL/AFP
Dozens of employees from the space program, many of whom live year-round on the huge site, attended the launch, snapping selfies with the rocket in the background.
Children played as they waited for the launch, some waving Chinese flags as they sat on their parents' shoulders.
Spectators let out a loud "wow", shouting "good luck" and waving as the rocket took off in a cloud of smoke.
Leading its crew is commander Jing Haipeng on his fourth mission, as well as engineer Zhu Yangzhu and Beihang University professor Gui Haichao, the first Chinese civilian in space.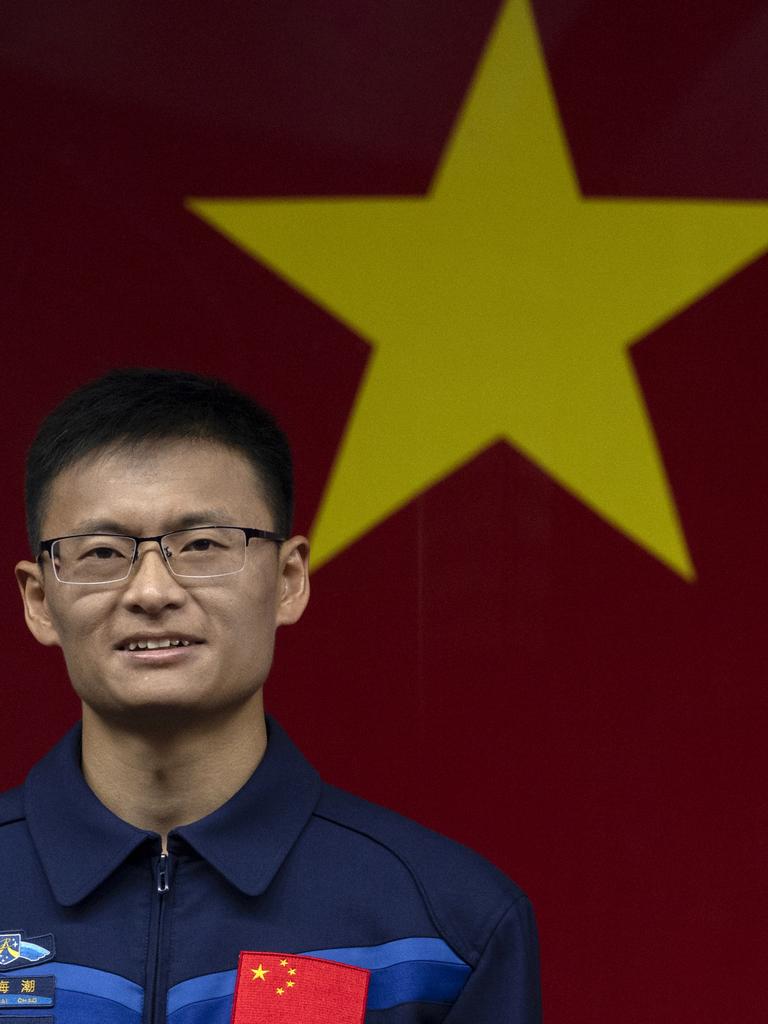 Gui Haichao, seen at a pre-launch press conference has become China's first civilian in space. on May 29, 2023 in Jiuquan, China. Picture: Kevin Frayer/Getty Images
China was the third country to put humans in orbit and Tiangong is the crown jewel* of its space program, which has also landed robotic rovers on Mars and the moon.
The crew will meet their three colleagues from the Shenzhou-15 flight, who have been at the station for six months and who will return to Earth in the coming days.
Shenzhou-16's crew will carry out a number of experiments during the mission.
The space station was resupplied with drinking water, clothing, food and propellant* this month in preparation for Shenzhou-16's arrival.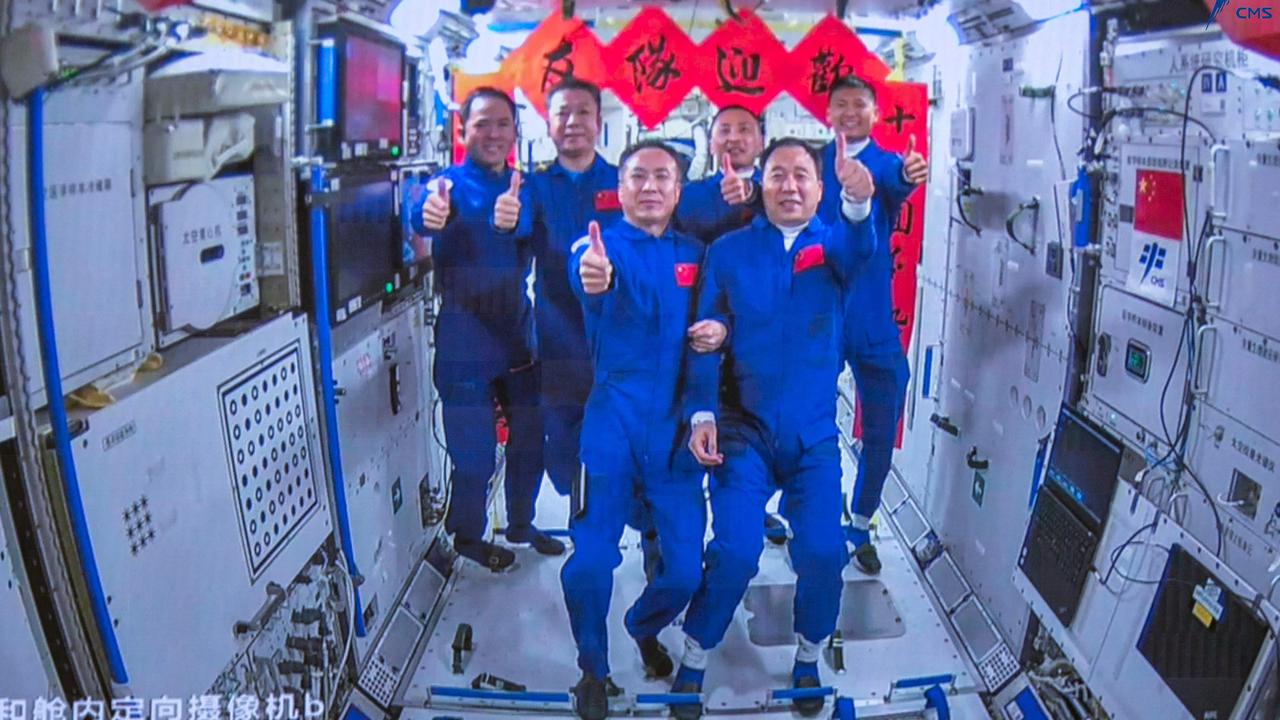 Crew of the Shenzhou-15 spaceflight mission will now be returning home. Picture: CNS/AFP/China OUT
China's "space dream" has been put into overdrive under President Xi Jinping, and the construction of a moon base is planned.
"The overall goal is to achieve China's first crewed landing on the moon by 2030 and carry out lunar* scientific exploration* and related technological experiments," the CMSA's Lin said.
GLOSSARY
civilian: in this case, a person who is not in the military. It could also mean a member of the general public
crewed: involving people on board
military-run: controlled or operated by the military
satellite: an object that is sent into space to orbit around a planet
module: a part or section of a larger structure
docked: connected or joined together
director: the person in charge or responsible for managing an organisation or project
crown jewel: the most valuable or important part of something
propellant: a substance used to power a rocket
lunar: relating to the moon
exploration: the act of travelling to new or unknown places for discovery or investigation
EXTRA READING
China's Mars rover keeps roaming
China lands probe and rover on Mars
Water found in tiny beads of glass on the moon
QUICK QUIZ
Who were the three astronauts sent by China to the Tiangong space station?
What is the overall goal of China's space program under President Xi Jinping?
What does the term "civilian" mean in the context of the space mission?
Where did the Shenzhou-16 crew take off from?
What are some of the supplies that were recently resupplied to the space station in preparation for Shenzhou-16's arrival?
LISTEN TO THIS STORY
CLASSROOM ACTIVITIES
1. What would you need?
If you were on a mission to a space station like Tiangong, what would you need to take with you? Write your packing list for the mission!
Time: allow 20 minutes to complete this activity
Curriculum Links: English; Science; Health and Physical Education
2. Extension
What kinds of experiments do you think the crews could carry out on the moon? List as many as you can think of. Next to each item on your list, write a sentence explaining why this would be important, or what we could use it for back on Earth.
Time: allow 25 minutes for this activity
Curriculum Links: English; Science
VCOP ACTIVITY
I spy nouns
Nouns are places, names (of people and objects), and time (months or days of the week).
How many nouns can you find in the article?
Can you sort them into places, names and time?
Pick three nouns and add an adjective (describing word) to the nouns.