Thrill-seeking billionaire Sir Richard Branson has reached space aboard his Virgin Galactic spacecraft.
The British entrepreneur*, 70, took off from a base in New Mexico, in the US, aboard the winged space plane named VSS Unity.
"The whole thing, it was just magical," a jubilant* Sir Richard said after the trip.
The Virgin Galactic spacecraft carrying Sir Richard, two pilots and three other passengers reached space in the early hours of July 12 AEST*.
A massive carrier plane made a horizontal* takeoff from Spaceport, New Mexico, and climbed for about an hour to an altitude* of 15km.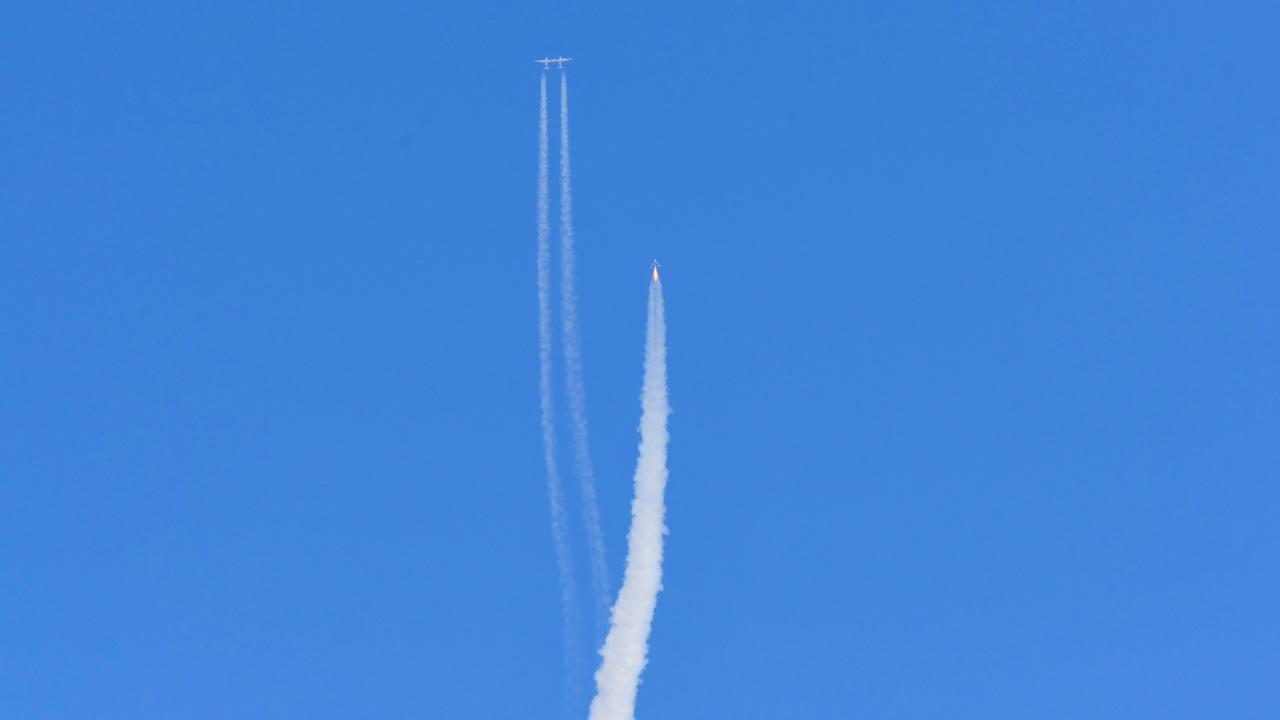 The mothership* then dropped the rocket-powered VSS Unity space plane, which ignited its engine and ascended* at Mach 3* beyond 80km of altitude.
The boundary of space is defined as above 80km in altitude, according to the US.
Sir Richard described his space voyage as the "experience of a lifetime".
It is also one he hopes will usher in* an era of lucrative* space tourism.
'Imagine What You Can Do': Richard Branson Gives Message From Edge of Space
The mission's success allowed Sir Richard to jump past fellow billionaire and rival Jeff Bezos, who owns space company Blue Origin and is planning to fly to space in a craft of his own on July 20.
"I have dreamt of this moment since I was a kid, but honestly nothing could prepare you for the view of Earth from space," Sir Richard said, grinning during a post-flight ceremony where he and crewmates received their astronaut wings, before popping open champagne to celebrate.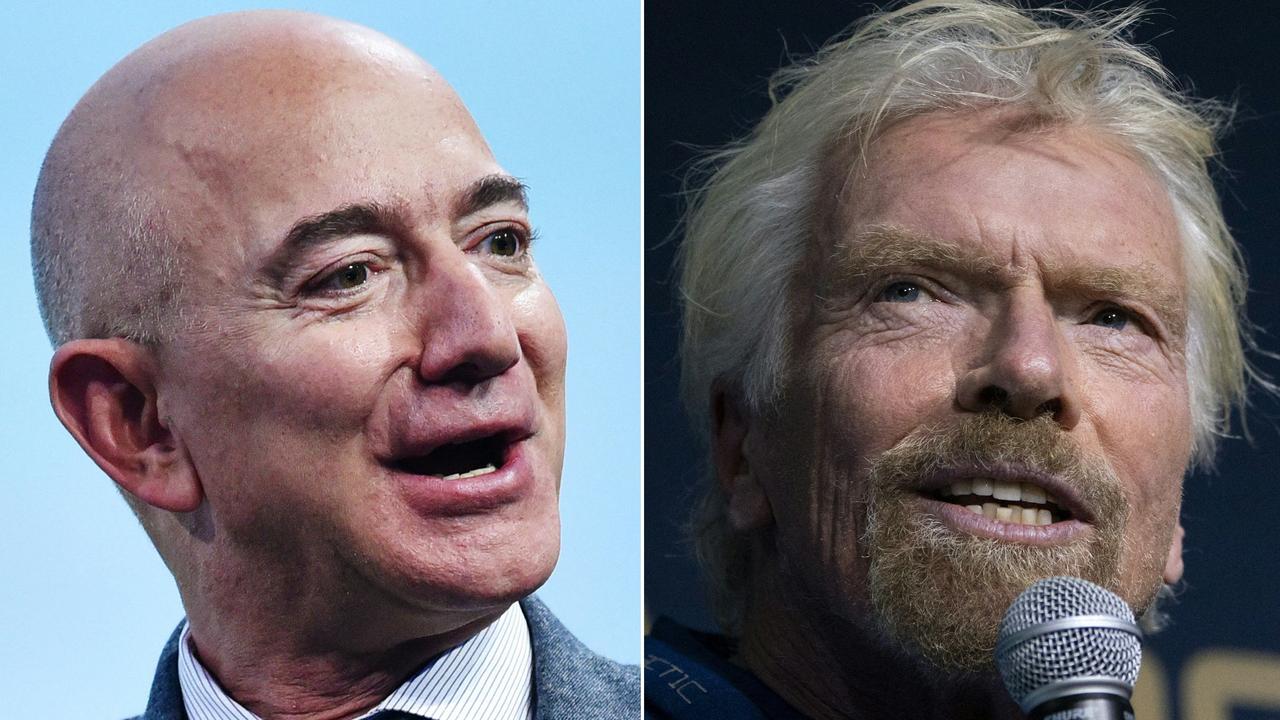 Sir Richard and the passengers and pilots (all Virgin employees) experienced a few minutes of weightlessness aboard the VSS Unity, before the space plane lowered its wings and glided down to the ground about an hour after it had taken off attached to the belly of the massive carrier plane.
"Congratulations to all our wonderful team at Virgin Galactic for 17 years of hard, hard work to get us this far," Sir Richard said during an intermittent* live feed as VSS Unity descended*.
The patchy video transmission was the only blemish* on an otherwise drama-free flight.
'Experience of a lifetime': Branson soars to space
Virgin Galactic plans two further flights before starting regular flights for paying passengers from early 2022.
The ultimate goal is to conduct 400 flights a year.
About 600 tickets have already been sold to people from 60 different countries – including Hollywood celebrities.
Bezos, the richest person in the world, posted a photo of VSS Unity on his Instagram page after Branson's trip, offering his congratulations.
"Can't wait to join the club!" he wrote.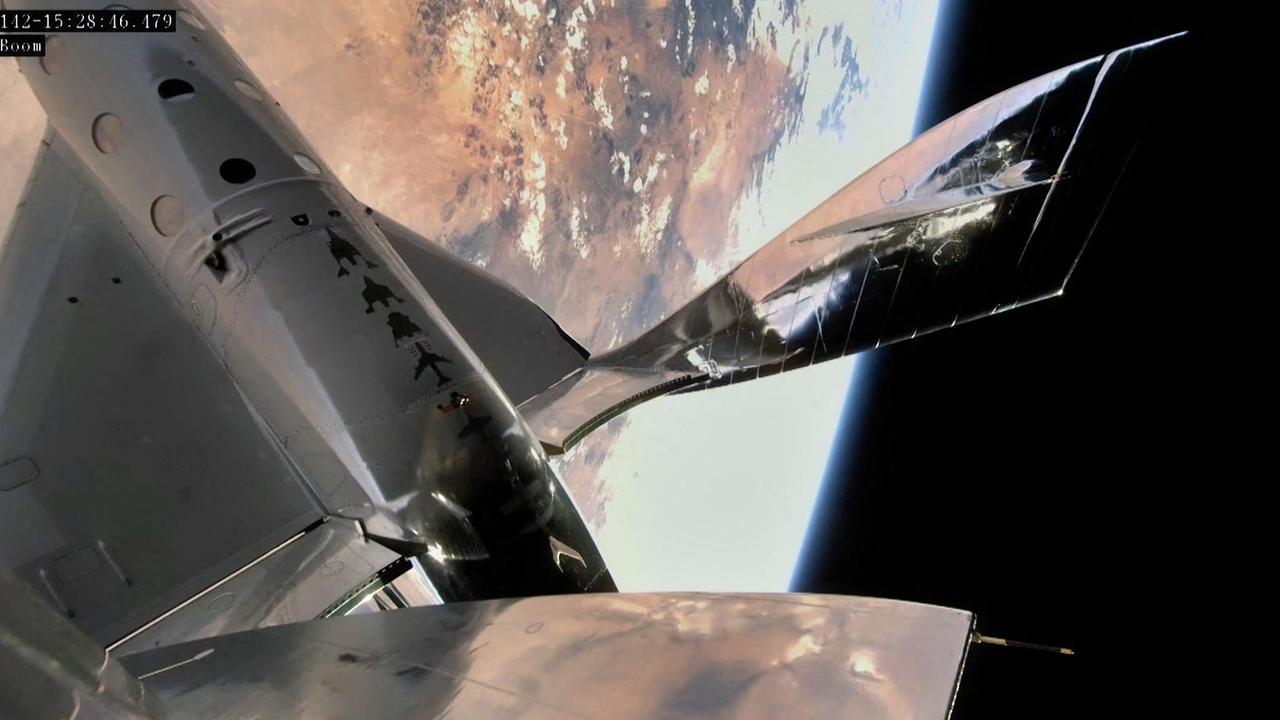 AUSSIE SPACE DAD
The successful Virgin Galactic flight brought a Melbourne dad's dream of rocketing into space a giant step closer.
Templestowe father-of-three Scott Copeland has been waiting for his time in orbit since he won a seat on a flight to space in Virgin Australia's ultimate flight upgrade competition in 2014.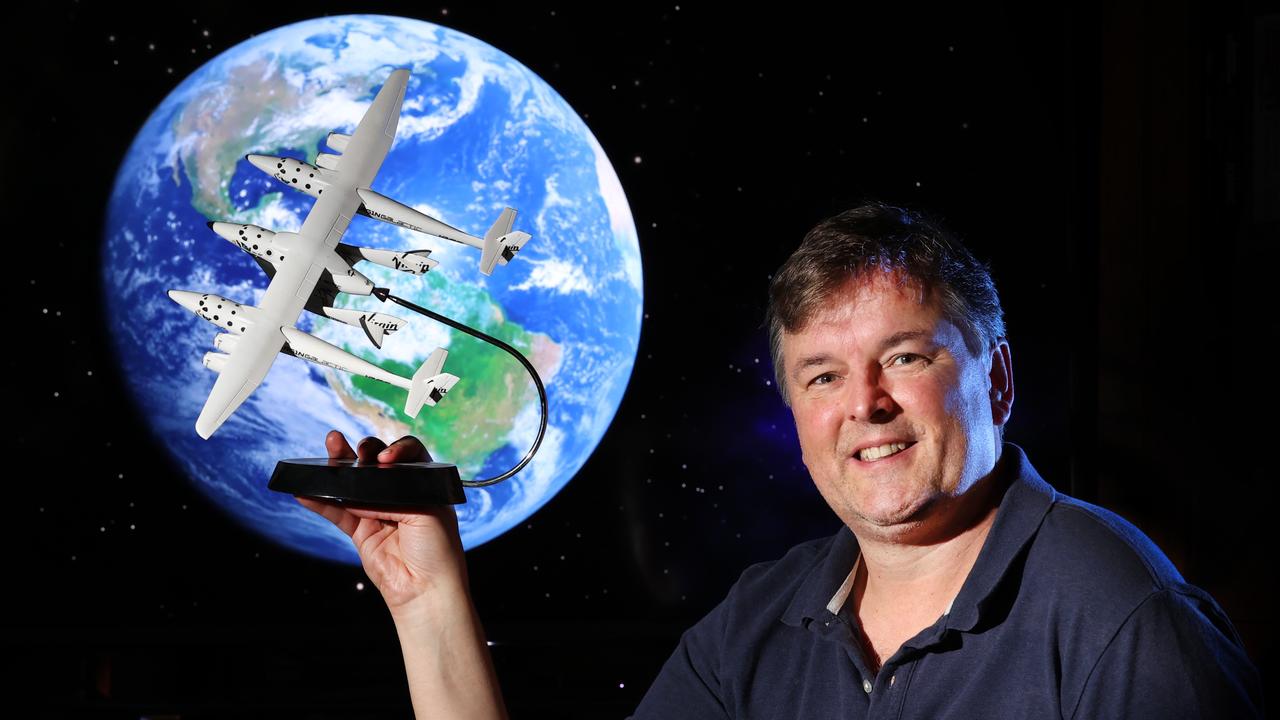 The banker and soon-to-be "astronaut" admits he has been "super obsessed" with space since he was just 10 years old.
"It brings out the kid in all of us. It's quite an exciting time," Mr Copeland said.
"Think of how just a suburban dad from Melbourne could be one of the next ordinary people going into space."
GLOSSARY
entrepreneur: a person who sets up businesses
jubilant: feeling great happiness and success
AEST: Australian Eastern Standard Time, the time in the eastern states of Queensland, NSW, Victoria and Tasmania
horizontal: parallel to the ground
altitude: the height above sea level or ground level
mothership: large spacecraft from which a smaller craft is launched
ascended: went up or climbed
Mach 3: when an object moves at three times the speed of sound
usher in: to bring into being
lucrative: producing a big profit
intermittent: happening now and then, not continuous or steady
descended: travelled downwards
blemish: small problem or mark that spoils something
EXTRA READING
Virgin Galactic reveals space cabin design
Mystery person buys ticket to space
Space tourists to go into super-high orbit in 2021
Billionaire reveals space cities to house a trillion people
QUICK QUIZ
What is the name of the space plane that took Richard Branson to the edge of space?
At what altitude did the carrier plane drop the space plane?
How fast did the space plane travel after being released from the carrier plane?
What altitude is considered the boundary of space?
Who is Scott Copeland?
LISTEN TO THIS STORY
CLASSROOM ACTIVITIES
1. Space Preparation
If you were told tomorrow that you'd won a worldwide competition for a child to travel on the next Virgin Galactic space flight, what preparation would you need to do?
Create a three column table and list all the preparations you would need to do under the headings: Health considerations; Legal considerations; and Emotional considerations.
Time: allow 20 minutes to complete this activity
Curriculum Links: English, Science, Critical and creative thinking, Personal and social
2. Extension
Use as many descriptive adjectives as you can to describe what you might see out the window of the spaceship looking back at Earth. Read your description to a classmate and see if they can visualise and draw the scene from your description.
Time: allow 20 minutes to complete this activity
Curriculum Links: English, Visual Arts, Personal and social
VCOP ACTIVITY
A Ticket To Space
Wow! What an experience for Sir Richard Branson and his crew. But can you imagine how Scott Copeland is also feeling as he has already been waiting 7 years for his seat to become available.
Write a letter to Sir Richard Branson to try and persuade him to run another competition like the 'Ultimate Flight Upgrade' but as the Ultimate School Camp or Excursion, where a class could win a seat on the next flight.
Remember to use persuasive language and reasons why your school should be involved in the competition.