The world's richest person has unveiled his plans to colonise* space.
The colonies would include huge, sustainable*, floating habitats* holding cities, farmland and even national parks.
They would be positioned close to Earth so that people can hop back and forth.
Amazon boss Jeff Bezos showed off the drawings for the permanent space settlements during a talk in Washington DC in the US and plans for his own space company, called Blue Origin, to lead the project.
He explained that each habitat would house "a million people or more each".
"If we're out in the solar system, we can have a trillion* humans in the solar system," Mr Bezos said.
Having this many humans "means we'd have thousands of Mozarts and a thousand Einsteins. This would be an incredible civilisation*," he said.
VIDEO: Jeff Bezos explains how space habitats could work
Billionaire reveals space cities to house a trillion people
Mr Bezos founded Blue Origin in 2000, in the beginning focusing on suborbital* flights that let tourists pay for short trips to the edge of space.
There are still flight tests to be done before these trips gets off the ground, but Mr Bezos has already set his sights on bigger things.
Just last week he unveiled a new lunar* lander that he hopes will take humans back to the moon in 2024.
And now, these floating space habitats.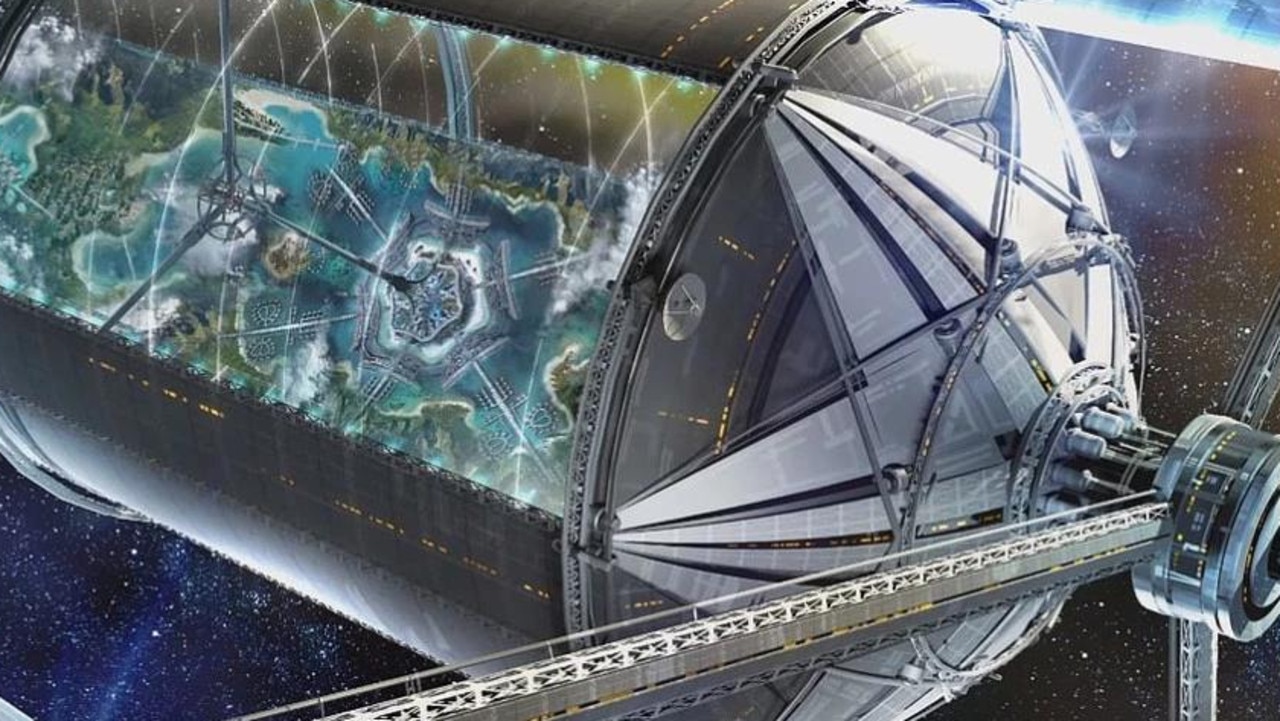 During his presentation, Mr Bezos said the habitats would create artificial gravity by constantly rotating — an idea first put forward by physicist* Gerard O'Neill, who Mr Bezos studied under during his time at Princeton University in the US.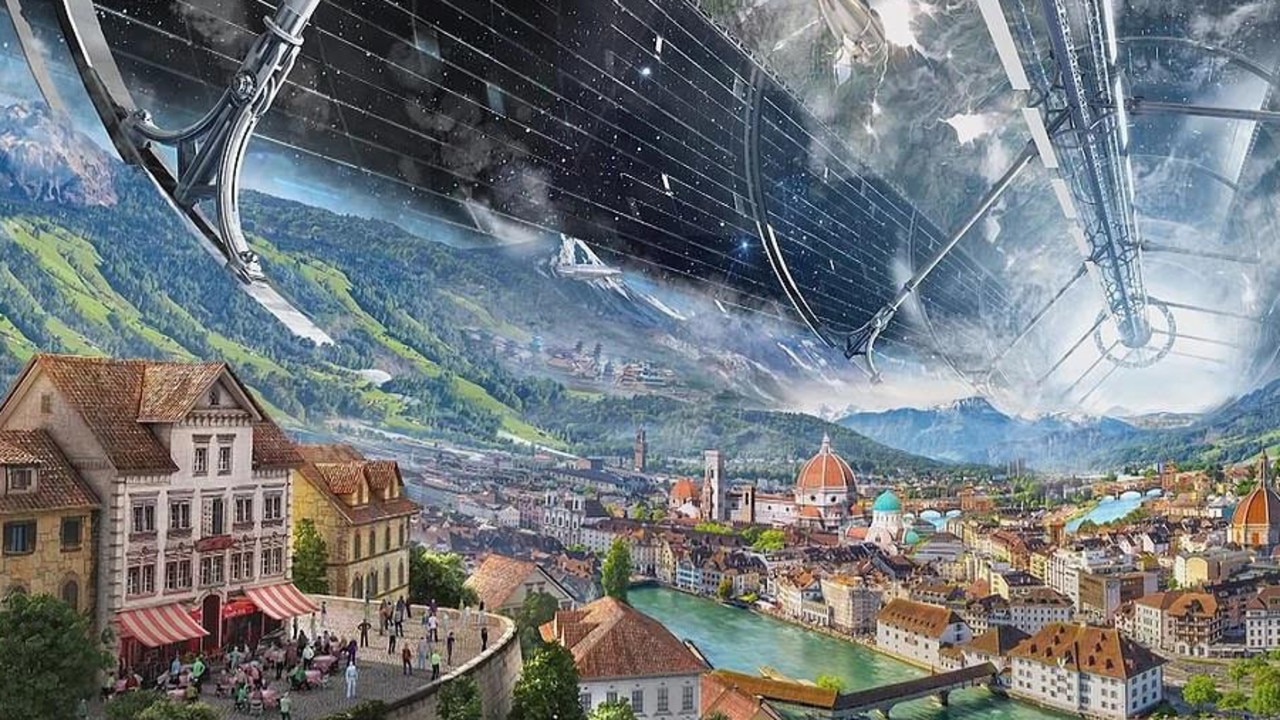 "These are very large structures, miles on end, and they hold a million people or more each," Mr Bezos said.
"Some of them would be more recreational — they don't all have to have the same gravity — they can have a recreational one that keeps it zero-g so you can go flying with your own wings."
He added that they'll have the "ideal climate" at all times, "like Maui* on its best day, all year long."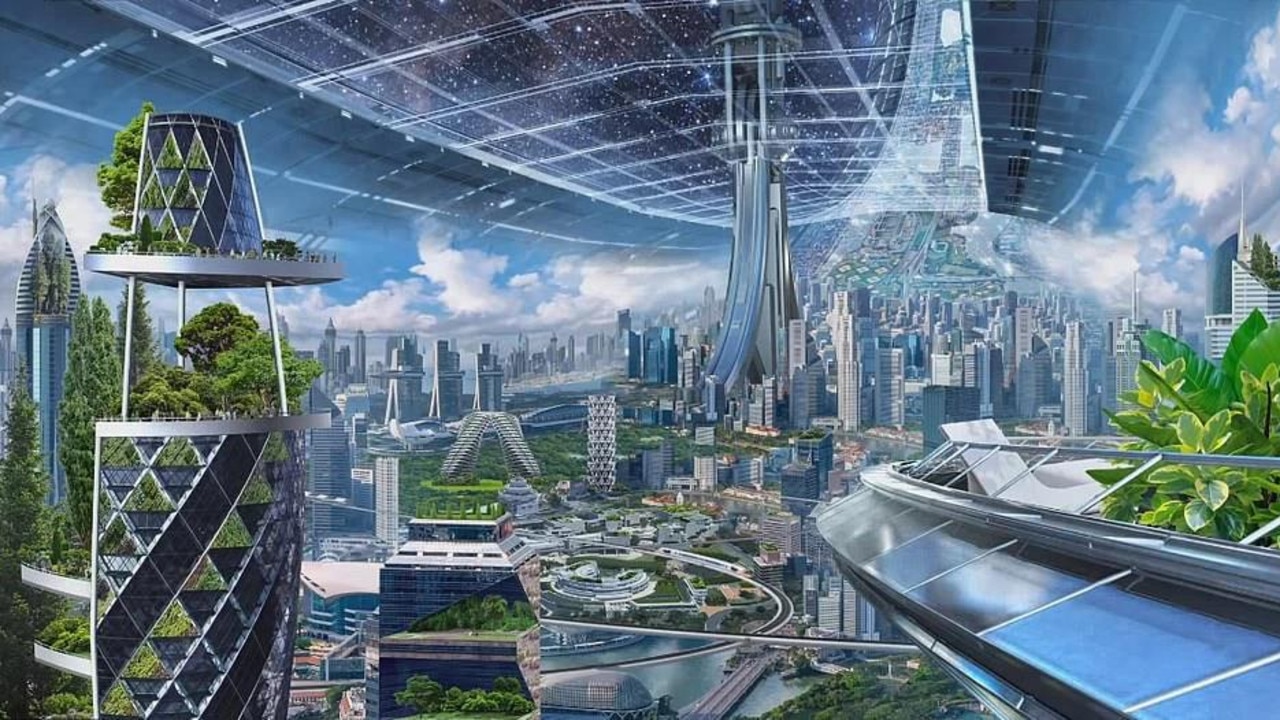 The habitats are still a long way off, but Mr Bezos believes they'll help humans escape Earth as resources on the planet dwindle*.
"This is going to take a long time, this is a big vision," he said.
Mr Bezos also unveiled Blue Origin's moon mission plans last week.
He showed off a life-size model of a robotic ship the size of a small house that he boldly claims will touch down on the moon within five years.
The company is aiming to bring people to the moon along the same time frame as NASA's proposed 2024 mission.
Mr Bezos said: "It's time to go back to the moon. This time to stay."
He didn't share details such as launch dates or who would travel on his rockets.
Blue Origin is in a space race with other private rocket firms SpaceX and Virgin Galactic.
This is an edited version of a story originally published in The Sun and is reproduced with permission.
GLOSSARY
colonise: take over and live in
sustainable: able to support itself forever
habitats: natural home or environment a species lives in
trillion: one thousand billion
civilisation: advanced, developed human settlement
lunar: to do with the moon
physicist: scientist who studies physics, which is about energy and matter
Maui: Hawaiian island
dwindle: reduce to not much or nothing
EXTRA READING
Passenger rocket space test a success
Great ideas that started in garages
Trump sending astronauts back to the moon
QUICK QUIZ
Will there be plants in the habitats?
Will people be able to come back to Earth from these habitats?
What other Blue Origin space projects are in progress?
When does NASA plan to have people back on the moon?
What are two other companies mentioned that are racing to space?
LISTEN TO THIS STORY
CLASSROOM ACTIVITIES
1. What would you do?
If you were the richest person in the world, what would your 'big vision' project be? Jeff Bezos wants to build space colonies. What would you do? Outline your plan and write an explanation of why this is so important. Create some designs for it or design an advertisement encouraging people to support your plan.
Time: allow 45 minutes to complete this activity
Curriculum Links: English, Design and Technologies, Visual Communication Design, Critical and Creative Thinking
2. Extension
Jeff Bezos talks about the benefits of having a trillion humans in the solar system. What do you think some of the problems might be? List as many as you can. For each problem, write a possible solution.
Time: allow 30 minutes to complete this activity
Curriculum Links: English, Geography, Science, Critical and Creative Thinking
VCOP ACTIVITY
After reading the article, with a partner, highlight as many wow words or ambitious pieces of vocabulary that you can find in yellow. Discuss the meanings of these words and see if you can use them orally in another sentence.
HAVE YOUR SAY: Would you live in a space habitat?
No one-word answers. Use full sentences to explain your thinking. No comments will be published until approved by editors.