Year 7 students successfully push Education Minister to overturn ocean swim ban
School swimming lessons in the sea are back on in South Australia after the Education Department reversed a snap ban prompted by a spate of shark attacks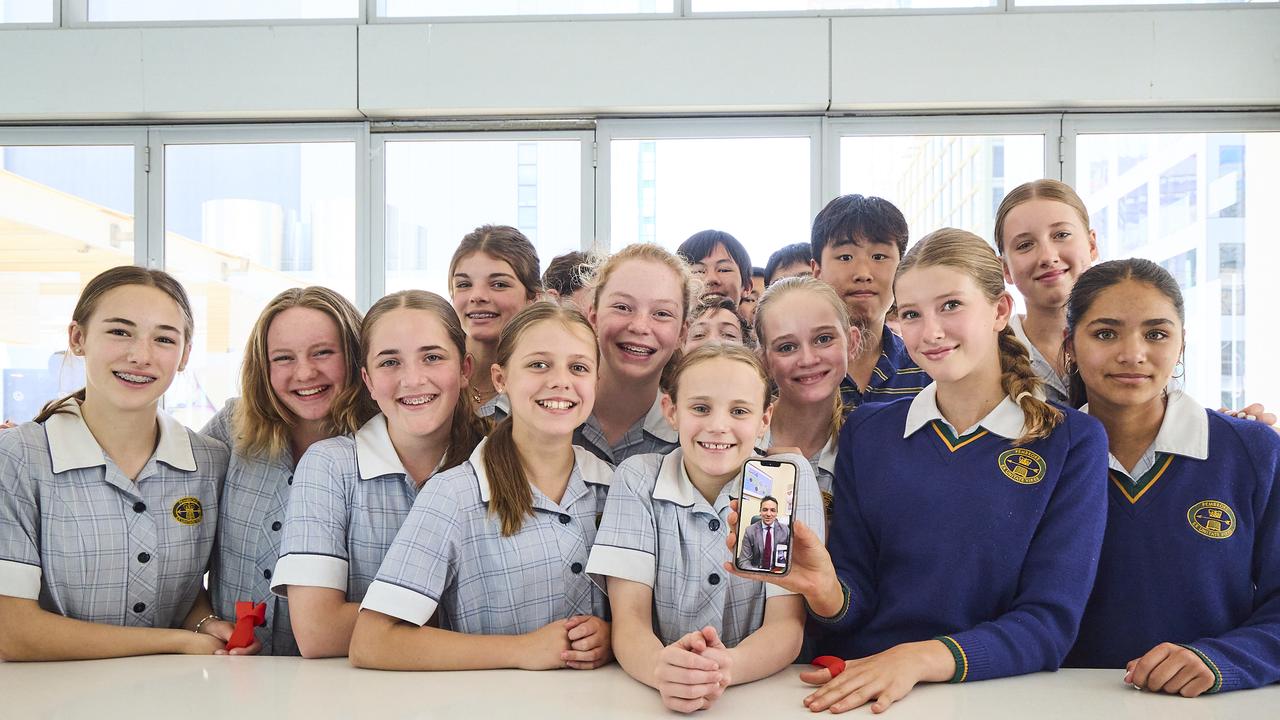 Pembroke students visited The Advertiser on Wednesday and interviewed him on the recent decision to ban kids from ocean-based surfing and swimming lessons. Picture: Matt Loxton
School swimming lessons are back on in South Australia after the Education Department reversed a ban prompted by a spate of shark attacks.
All public school ocean-based aquatic programs will resume from Monday, but organisers will be required to do a new risk assessment and consider increasing supervision.
The decision to ban ocean-based activities for public school students, including swimming, snorkelling and surfing, came days after a 32-year-old woman was bitten on her face by a shark on a popular beach.
Year 7 students from Pembroke School successfully pushed for the ban to be reversed when they visited The Advertiser* newspaper on Wednesday. They got the chance to be journalists for the day, interviewing Education Minister* Blair Boyer about the recent decision to ban* kids from ocean-based surfing and swimming lessons.
The Pembroke School children asked the tough questions* forcing Mr Boyer to reveal he wasn't consulted* by the Education Department on the ban.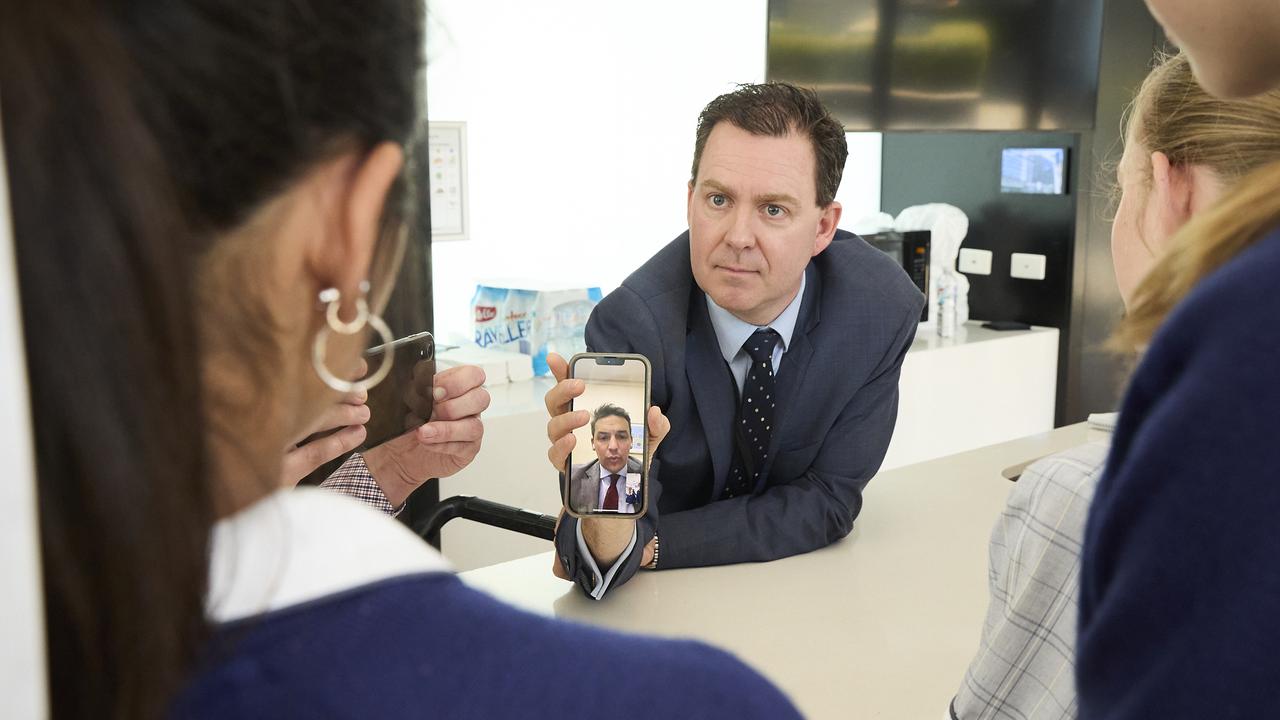 The Advertiser's investigations editor Andrew Hough assists Pembroke students to interview Education Minister Blair Boyer on Wednesday. Picture: Matt Loxton
Gabby was first to grill the minister* and asked him why she and her classmates were not allowed to swim in the ocean.
"That's a very good question and we are currently doing what I hope will be a very quick review that is going to give us some advice around whether or not we can get kids in the public system* back into the water," Mr Boyer replied.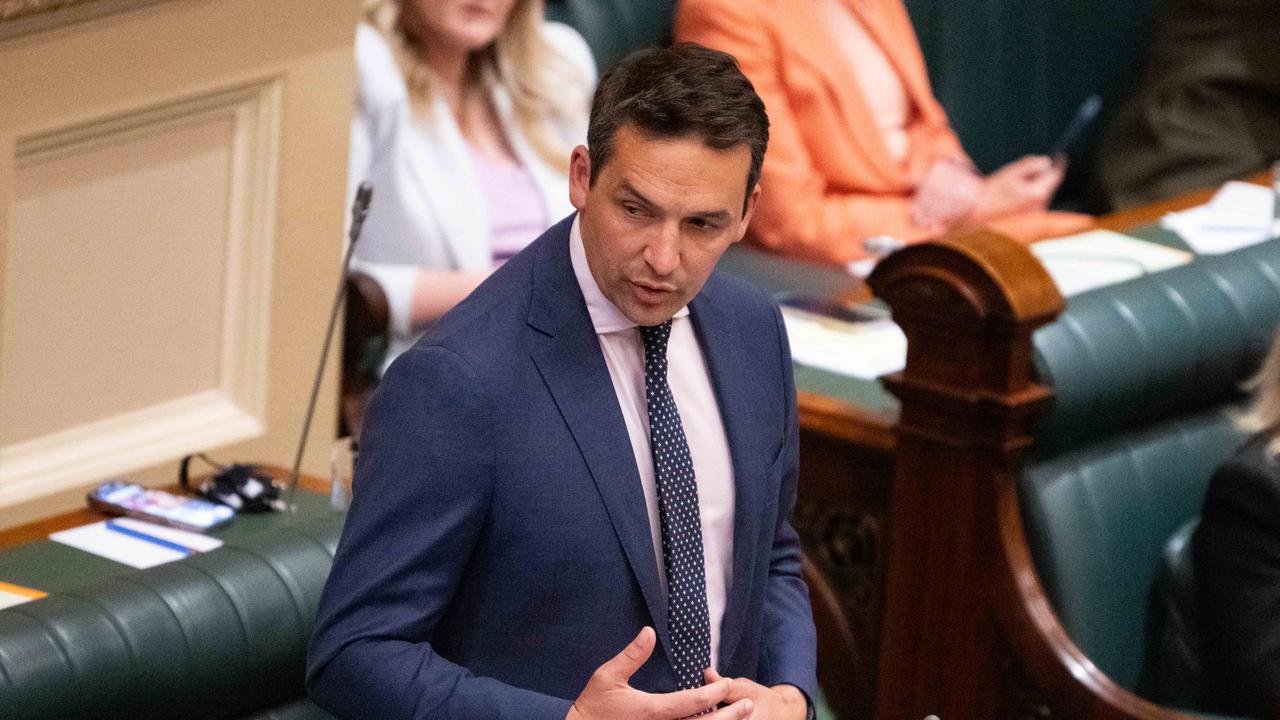 Minister for Education, Blair Boyer, during Question Time in SA parliament. Picture: NCA NewsWire / Morgan Sette
"Which is what I'd like to see and the Premier (Peter Malinauskas) said he would like to see."
Mr Boyer said he was feeling "positive and hopeful" the decision would be overturned* and kids could get back on the beach as soon as possible.
Pembroke School students visiting the Advertiser in Adelaide. Picture: Matt Loxton
Maggie asked Mr Boyer how soon they would be able to get back in the sea.
"Very soon is my hope, it could be as soon as next week," he said.
"We're trying to have access as quickly and swiftly as we can to make sure things are in place to get kids back in the water because I think we can all agree, you've got to have that practice particularly in South Australia because we all spend a hell of a lot of time at the beach.
"Hopefully this summer will be a hot one and we're going to spend time at the beach and we all get the skills we need to do it safely."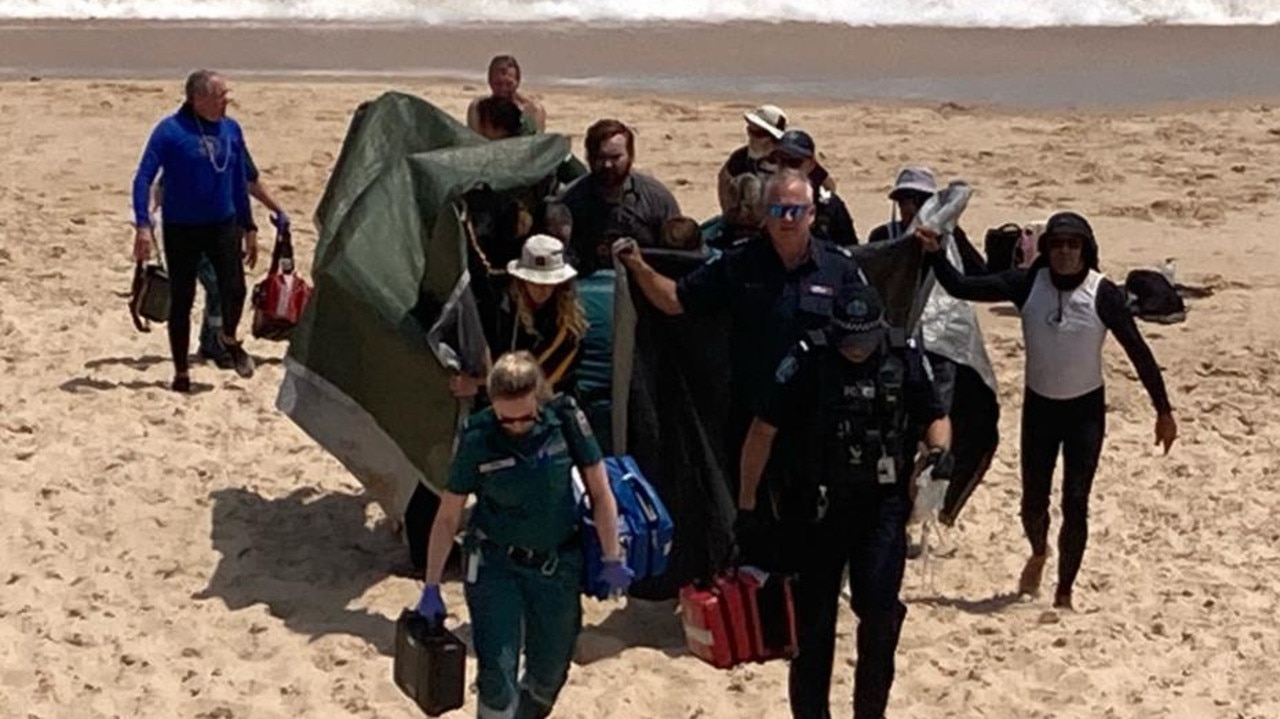 Being aware of the dangers will help students be responsible ocean swimmers. A woman was rushed to hospital with facial injuries after a shark attack near the Port Noarlunga jetty. Picture: 7NEWS
Following the ban reversal, the state government has now pledged to bring forward aeroplane patrols of popular beaches by two weeks, starting now.
Surf Life Saving SA had almost 4000 students from 47 schools booked in for its aquatic programs, which typically run across five sessions, for the rest of term four.
POLL
GLOSSARY
The Advertiser: newspaper in South Australia
education minister: a person responsible for overseeing education policies and decisions in the government
ban: to prohibit or disallow something
asked the tough questions: posing challenging or difficult inquiries that require careful consideration
consulted: asked for advice or opinions before making a decision
grill the minister: to ask the minister challenging or pressing questions
public system: referring to schools that are available for the general public
overturned: to reverse or cancel a decision
input: sharing one's thoughts or suggestions
EXTRA READING
Ancient 'sea slayer' identified from Jurassic seas
Secret world revealed in startling ocean images
Schoolkids thank the fireys fighting bushfires
QUICK QUIZ
Why did Year 7 students from Pembroke School visit The Advertiser, and what opportunity did they get?
What tough questions did the Pembroke School children ask Education Minister Blair Boyer, and what surprising revelation did he make during the interview?
What was Gabby's question to Mr Boyer, and how did he respond regarding the ban on ocean-based surfing and swimming lessons?
According to Mr Boyer, what is the current status of the decision to ban students from ocean-based activities, and what actions is he hoping to take?
How did Mr Boyer respond to Ruby's question about whether he agreed with the department's decision to ban students from swimming, and what steps did he mention they took to address the situation?
LISTEN TO THIS STORY
CLASSROOM ACTIVITIES
1. Ask the tough questions
If you could interview the Education Minister from your state about anything to do with school, what would you ask them? Think about a topic or issue that you think is important. Then, write five questions that you would ask in your interview. Be inspired by the kids from Pembroke School and ask the tough questions!
Time: allow at least 15 minutes to complete this activity
Curriculum Links: English, Civics and Citizenship
2. Extension
Why do you think swimming and surfing in the ocean was banned in South Australian schools? Write a list of reasons, problems or issues that might have caused the ban. Then, next to each reason, write a solution or an action that would help to solve the problem or issue so that ocean swimming and surf lessons can be allowed.
Time: allow at least 20 minutes to complete this activity
Curriculum Links: English, Health and Physical Education
VCOP ACTIVITY
Up-level it
Scan through the article and see if you can locate three words that you consider to be basic, or low level. These are words we use all the time and that can be replaced by more sophisticated words. Words like "good" and "said" are examples of overused words.
Once you have found them, see if you can up-level them. Think of synonyms you could use instead of these basic words, but make sure they still fit into the context of the article.
Re-read the article with your new words. Did it make it better? Why/why not?