US President Joe Biden kicks off holiday season with Thanksgiving turkey pardons on his 81st birthday
Two turkeys stole the show as the American President turned 81 - but what is Thanksgiving and what have turkeys got to do with it?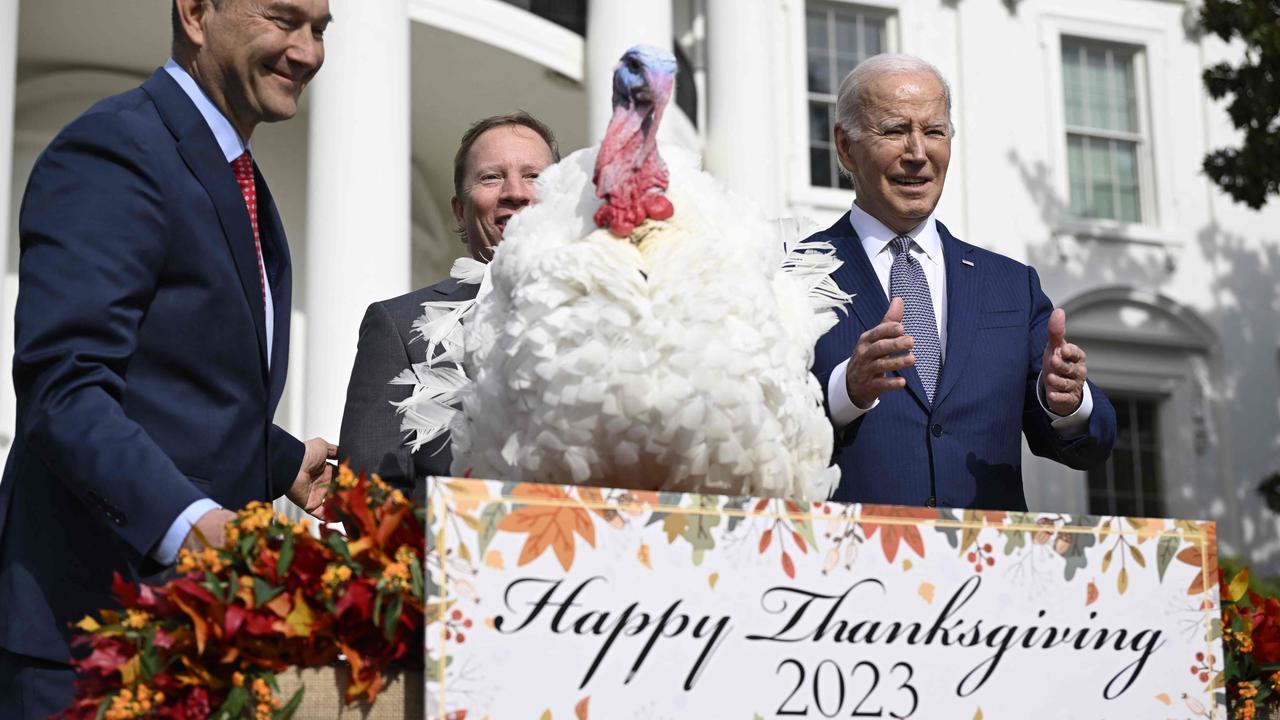 US President Joe Biden pardons the national Thanksgiving turkey, Liberty, during a pardoning ceremony at the White House in Washington November 20. Picture: Andrew Caballero-Reynolds/AFP
Two turkeys, Liberty and Bell, have had a special pardon* by US President Joe Biden at the White House as part of an American Thanksgiving tradition*.
Every year, the President pardons a pair of turkeys to save them from becoming a holiday dinner.
This year, the annual* event coincided* with President Biden's 81st birthday.
At the event, Biden — the oldest president in US history — wanted to make light of his age.
"By the way, it's my birthday today," he said, "I just want you to know, it's difficult turning 60. Difficult."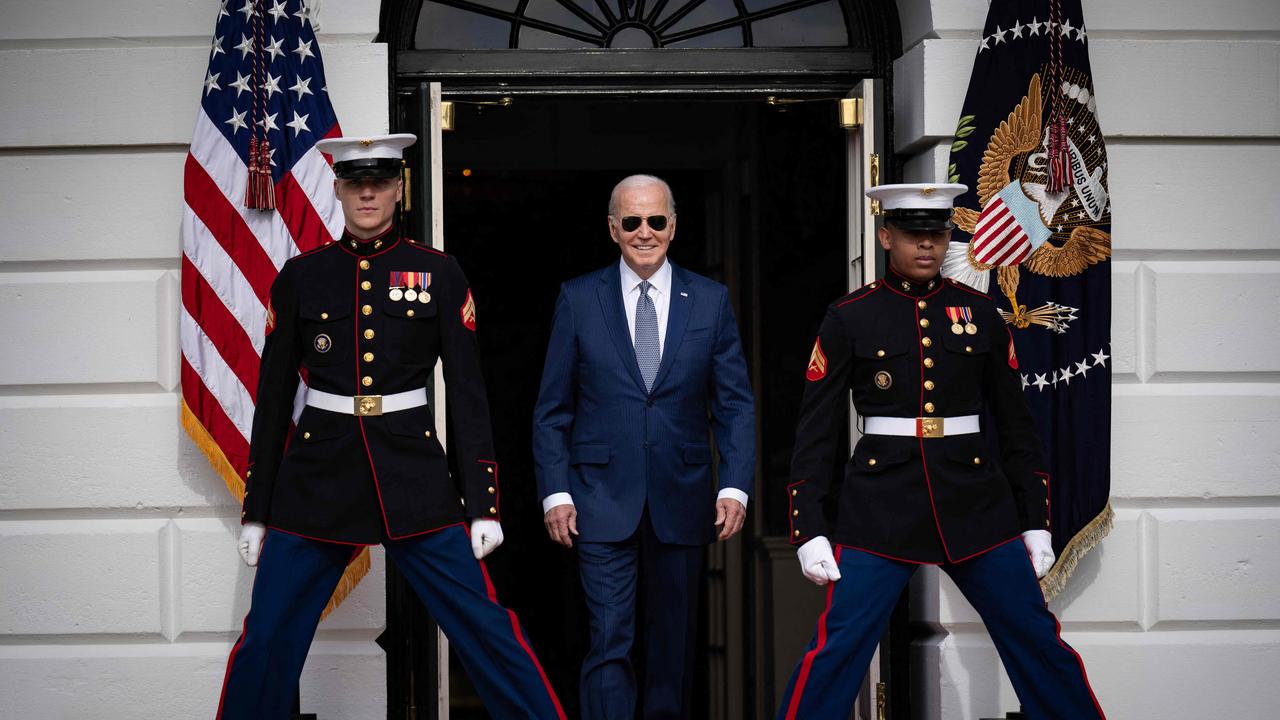 The birthday boy, US President Joe Biden, ready to pardon the National Thanksgiving turkeys. Picture: Drew Angerer/Getty/AFP
He also noted that the presentation of a National Thanksgiving Turkey to the White House has been a tradition for more than seven decades.
"This is the 76th anniversary* of this event, and I want you to know I wasn't there … for the first one," Biden said.
The Democrat's age has become an issue as he seeks re-election next year.
The President said that even though Liberty and Bell are from Minnesota, they were named after the Liberty Bell* in Philadelphia.
The national Thanksgiving turkeys, Liberty and Bell, were stars of the show on the South Lawn of the White House. Picture: Andrew Caballero-Reynolds/AFP
"These birds have a new appreciation of the (phrase), 'let freedom ring*'," he said, adding that they love Honeycrisp apples, ice hockey, a thousand lakes and the Mall of America — all things the Midwest state is famous for.
They overcame "some tough odds" to make it to the White House, Biden said.
"Look folks, based on their commitment to being productive members of society as they head to their new home at the University of Minnesota … I hereby pardon Liberty and Bell. Congratulations, birds!" Biden declared.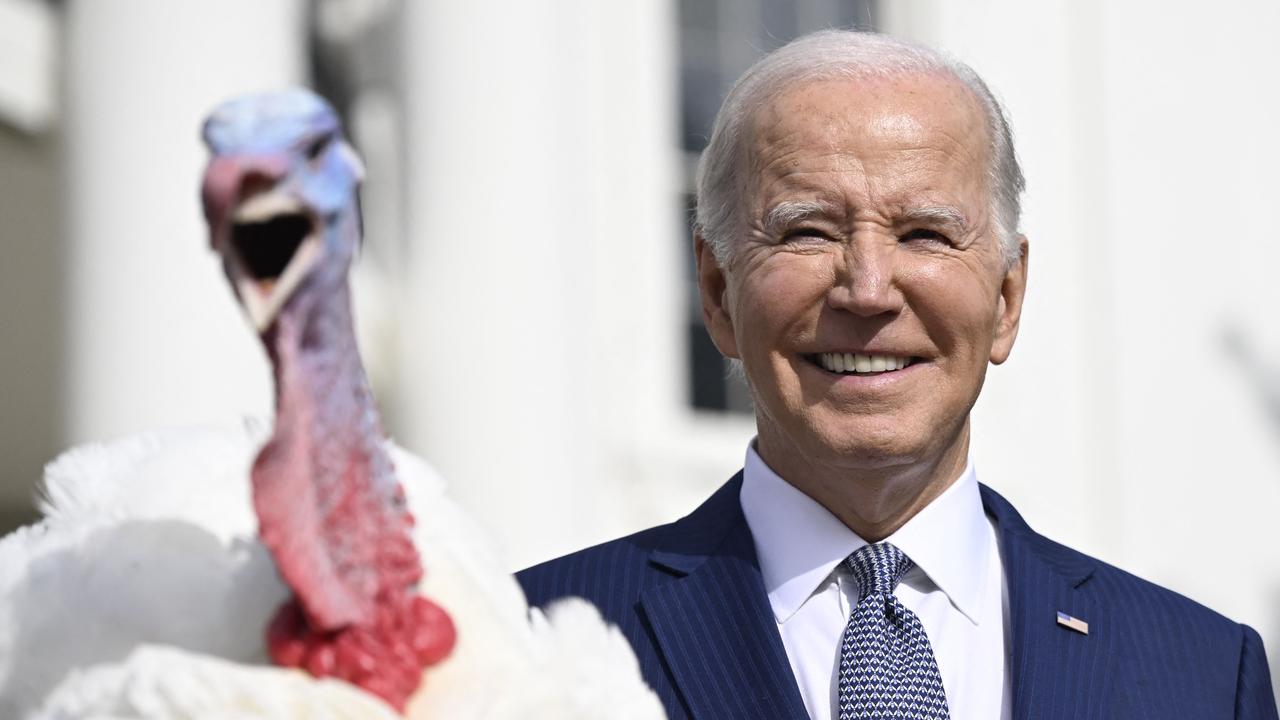 That'll do, turkey. That'll do. Picture: Andrew Caballero-Reynolds/AFP
The event marked the start of the holiday season in Washington.
National Turkey Federation chairman Steve Lykken explained how this tradition began in 1947 and has evolved* into a heartwarming ceremony to give the turkeys a second chance at life.
The turkeys were even treated to a stay in the Willard Intercontinental, a luxury* hotel near the White House.
"They were raised like all of our turkeys, protected, of course, from weather extremes and predators, free to walk about with constant access to water and feed," Mr Lykken said Sunday as Liberty and Bell strutted around the Willard's newly renovated Crystal Room on plastic sheeting laid over the carpet.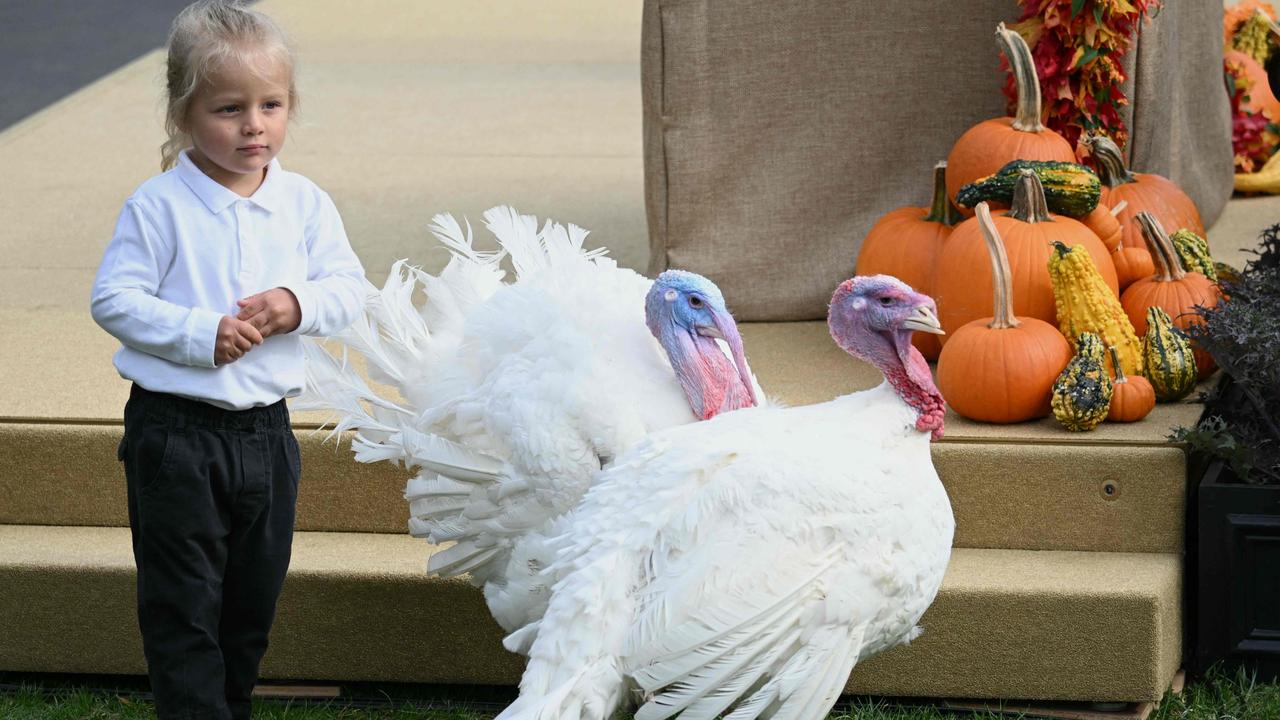 President Biden's grandson Beau Biden, son of Hunter Biden, meeting Liberty and Bell. Picture: Mandel Ngan/AFP
The male turkeys, both about 20 weeks old and about 19kg, were hatched in July in Willmar, Minnesota as part of the "presidential flock," Mr Lykken said.
They listened to music and other sounds to prepare them for Monday's hoopla* at the White House.
Now spared from becoming Thanksgiving dinner, Liberty and Bell will be cared for by the University of Minnesota's College of Food, Agricultural and Natural Resource Sciences.
WATCH THE VIDEO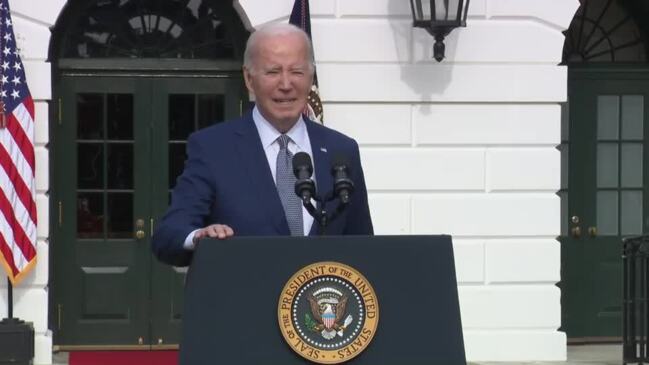 What is Thanksgiving?
Thanksgiving is a special holiday celebrated primarily in the United States on the fourth Thursday of November and Canada on the second Monday in October.
It's a time when people come together to give thanks for the good things in their lives.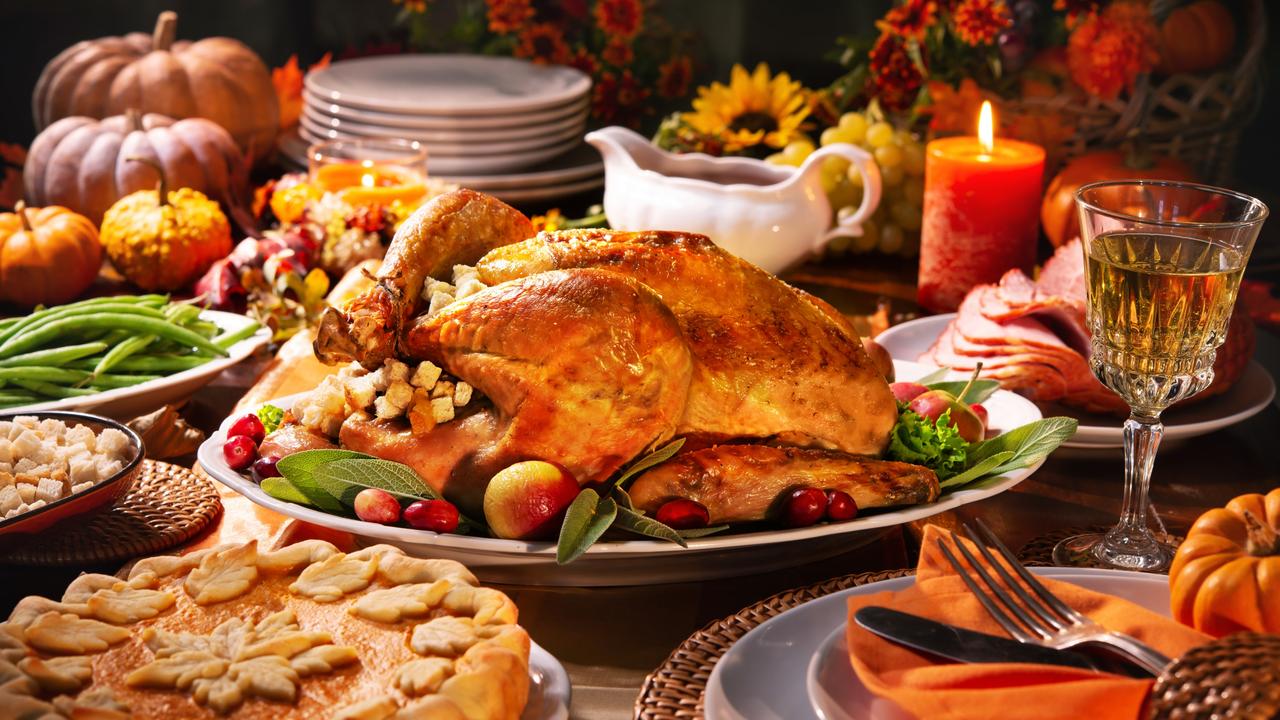 Roast turkey is a major player in traditional Thanksgiving dinners. Picture: iStock
Why is it celebrated?
The holiday traces its origins* back to a feast shared by the Pilgrims and Native Americans to celebrate a successful harvest in 1621.
Now, it's a national holiday where people gather to share a special meal – usually including roast turkey, stuffing, cranberry sauce, and pumpkin pie – and express gratitude for the good things in their lives.
It's a time for family, thankfulness, and giving back to the community.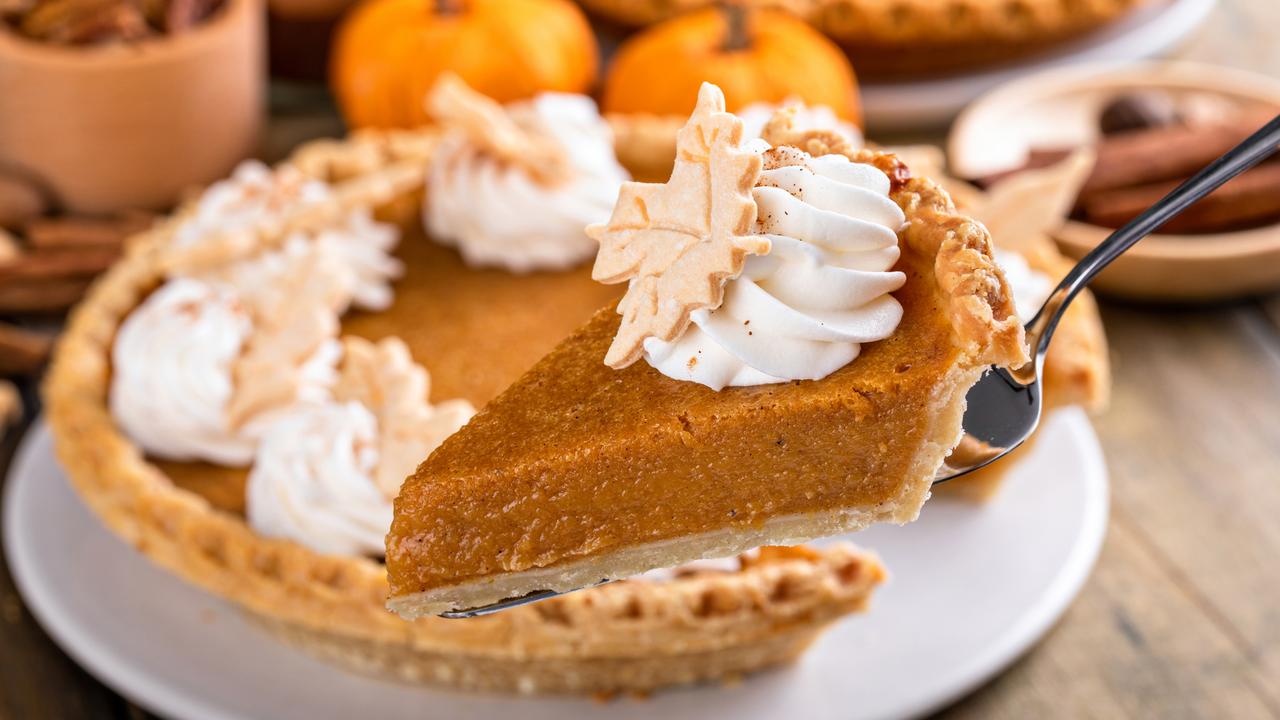 A slice of tradition Thanksgiving pumpkin pie with whipped cream on top. Picture: iStock
Thanksgiving in Australia
In Australia, Thanksgiving isn't as widely celebrated as it is in the United States.
While some people may acknowledge it, it's not a public holiday and its observance is not as common.
Australians might participate in Thanksgiving events hosted by expatriate communities* or may recognise the day as a time to appreciate the concept of gratitude.
Why the annual turkey pardon?
The tradition of the turkey pardon began formally in 1947 when the National Turkey Federation gifted a live turkey to President Harry Truman.
Initially, these turkeys were intended for the President's Thanksgiving meal.
But by the late 1980s, the tradition had evolved into an often humorous ceremony in which the birds are given a second chance at life.
In 1989, as animal rights activists* picketed* nearby, President George H.W. Bush offered a public assurance*, saying, "This fine tom turkey … he will not end up on anyone's dinner table."
GLOSSARY
pardon: to officially forgive or excuse someone from a punishment or a particular situation
tradition: something that is done repeatedly over time, often as part of a cultural or historical practice
annual: something that happens every year
coincided: happened at the same time or occurred simultaneously
anniversary: the yearly celebration or recognition of an event that took place in a past year
Liberty Bell: a historic bell located in Philadelphia, Pennsylvania, known as a symbol of American independence and freedom
evolved: changed or developed over time into something different or more complex
let freedom ring: a phrase symbolising the call for freedom and equality, often associated with the idea of liberty and independence
luxury: something that is very comfortable, expensive, and often not a necessity
hoopla: a big event or celebration, often involving a lot of excitement or attention
origins: the starting point or beginning of something
expatriate communities: groups of people living outside their native country
animal rights activists: people who work to protect the welfare and rights of animals
picketed: the act of protesting or demonstrating by standing or marching outside a place of work or other venue to express a particular viewpoint or grievance
public assurance: a statement made openly to promise or guarantee something to the public
EXTRA READING
Diwali sets Guinness World Record
Young royals banned from the Christmas table
Swimming cassowary stuns at beach
QUICK QUIZ
What is the event at the White House that happens every year for Thanksgiving?
Why did President Biden mention his age during the event?
Where were Liberty and Bell from, and what were they named after?
How were Liberty and Bell prepared for their visit to the White House?
What is the significance of the turkey pardon tradition that began in 1947?
LISTEN TO THIS STORY
CLASSROOM ACTIVITIES
1. Presidential humour
US President Joe Biden shows that he has quite a sense of humour in his White House Turkey Pardoning speech.
List the one liner jokes the President made and beside it, note what he is referring to.
How do you think the 81-year-old President keeps up to date with current culture and fads to keep in touch with the American people?
Time: allow 15 minutes to complete this activity
Curriculum Links: English, History, Personal and Social, Critical and Creative Thinking
2. Extension
If you were a turkey, write a list of why other birds or animals make a better Thanksgiving dinner than them!
Time: allow 10 minutes to complete this activity
Curriculum Links: English, Personal and Social, Critical and Creative Thinking
VCOP ACTIVITY
Explicit Lesson Plan: The Presidential Turkey Pardon
This activity aims to familiarise the children with the presidential turkey pardon tradition, encourage creative thinking, and enable them to reflect on the humane gesture during the holiday season.
Objective: Explore the tradition of the presidential turkey pardon and understand its significance during Thanksgiving.
Instructions: Frontload by explaining to the students that Thanksgiving is an American holiday. Provide a brief outline of the holiday. Explain what a tradition is and give some examples of some traditions they might celebrate or that you celebrate with your family.
Next share the concept of the presidential turkey pardon. Discuss why it is done and its significance during the Thanksgiving holiday.
Engage the students in a group discussion using these questions:
What is a tradition?
What is the presidential turkey pardon? Why is it done?
Why were the turkeys, Liberty and Bell, pardoned by President Joe Biden?
What did President Biden mention about the birds and their new home?
Why was this event significant for the start of the holiday season in Washington?
Storytelling Activity: Encourage the students to create a short story or draw a comic strip about Liberty and Bell's journey from Minnesota to the White House and their ultimate pardon.
Role Play: Divide the students into two groups. One group acts as the president delivering the pardon, while the other group pretends to be the turkeys. Have them enact the scene of the pardon in a lighthearted manner.
Creative Drawing: Provide materials for a creative drawing session. Ask the students to draw a picture of how they imagine Liberty and Bell's life after being pardoned. They can draw their new home at the University of Minnesota or show how the turkeys celebrate Thanksgiving.
Reflective Writing: Ask students to write a short paragraph about how they felt knowing that Liberty and Bell were pardoned. Encourage them to express their thoughts about this tradition.
Or, ask the students to write about a tradition they celebrate at home and why it's important to them.
Discussion Conclusion: Conclude the session by summarising the main points discussed, emphasising the tradition of pardoning turkeys and the spirit of Thanksgiving.