Millions of Indians set world record celebrating light over darkness
The annual Hindu Festival of Lights celebrates the triumph over darkness and this year's burning lamps broke the record – but air pollution levels in India highlight fireworks and smoke impacts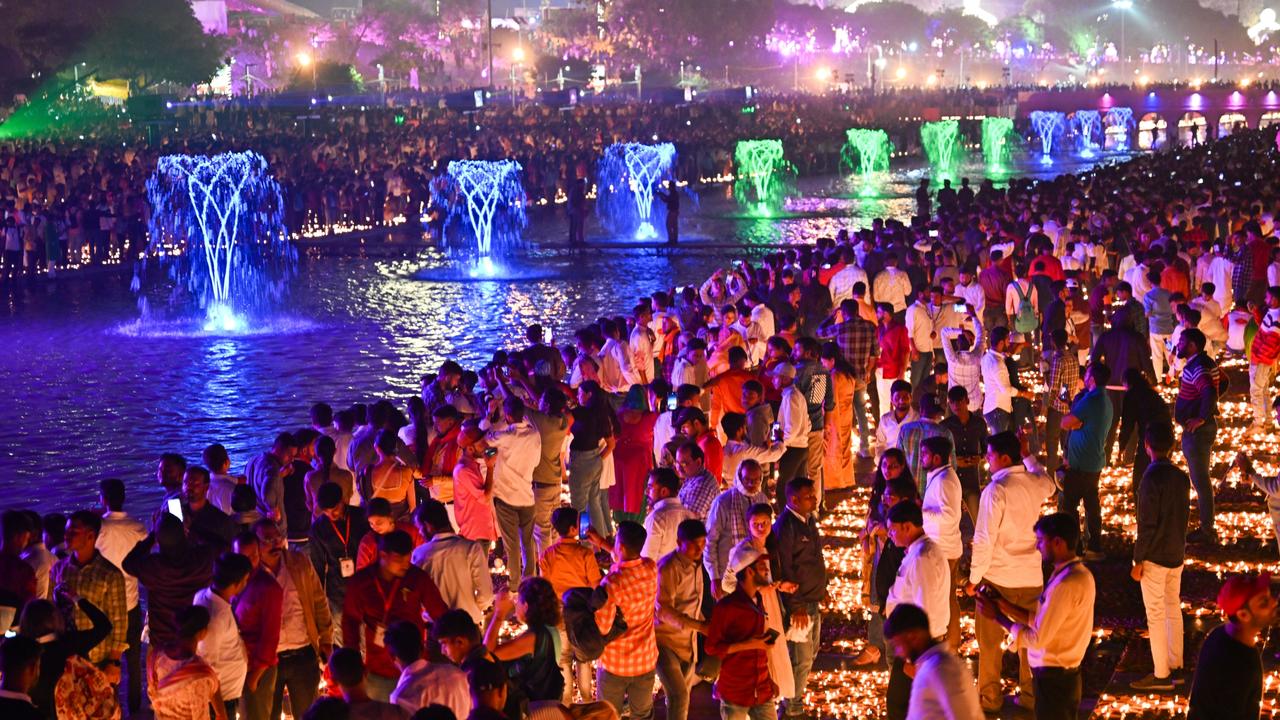 Earthen lamps lit on the banks of Saryu River to celebrate Diwali claimed a new Guinness Book of World Records title on November 11, when representatives presented officials with a certificate confirming the record after more than 2.22 million lamps were lit and kept alight for 45 minutes. Picture: Ritesh Shukla/Getty Images
Millions of Indians have celebrated Diwali* this past week, with a Guinness World Record number of bright earthen oil lamps burning in India.
Across the country, dazzling multi-coloured lights decked homes and streets over the weekend, as devotees celebrated the annual Hindu* Festival of Lights, symbolising* the victory of light over darkness.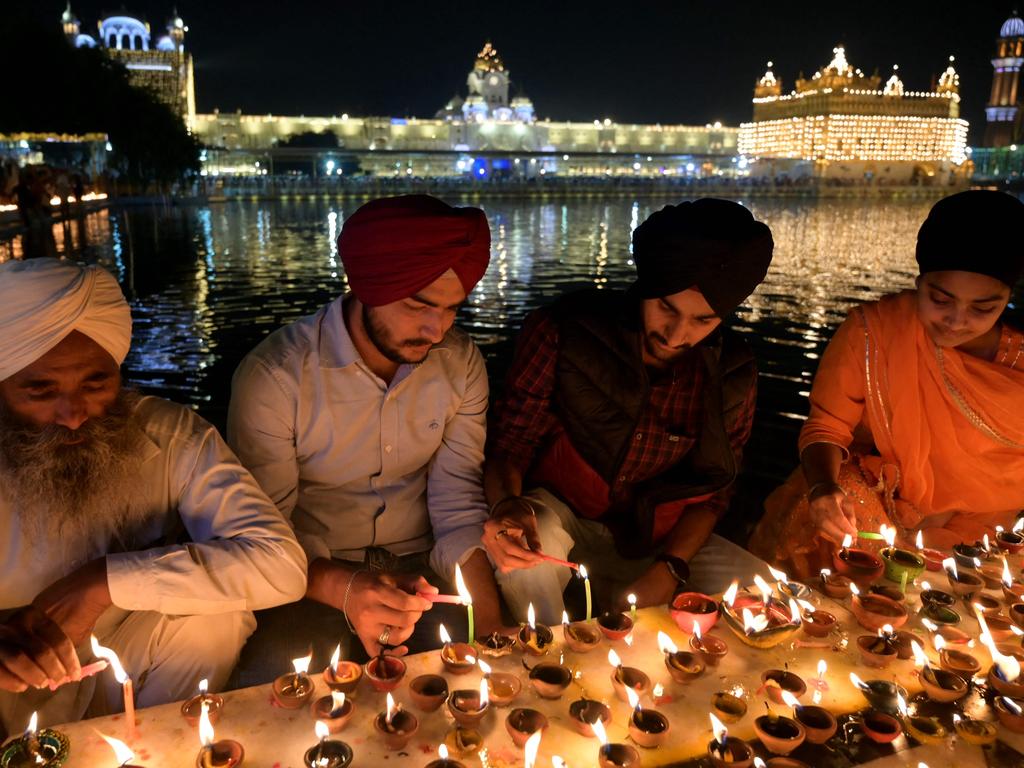 Diwali is a national holiday across India, celebrated by millions of Indians who gather with friends and family, as seen here at the Golden Temple in Amritsar on November 12. Picture: Narinder Nanu/AFP
The spectacular and eagerly-awaited massive lighting of the oil lamps took place at Saryu River, in Ayodhya in Uttar Pradesh state, the birthplace of Hinduism's most revered* deity*, the god Ram.
At dusk on Sunday, devotees* lit over 2.22 million lamps and kept them burning for 45 minutes, setting a new world record as Hindu religious hymns* filled the air at the banks of the river. Last year, over 1.5 million earthen lamps were lit.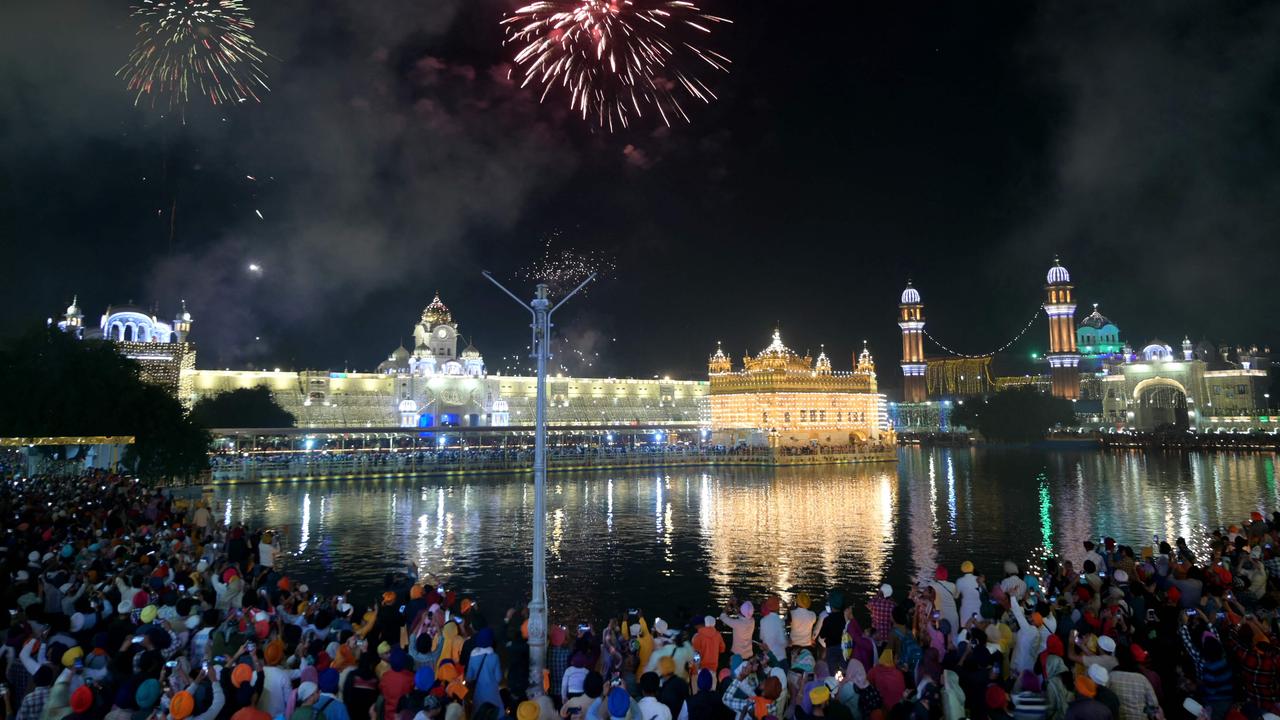 Sikh devotees watch the spectacular display as fireworks explode over the illuminated Golden Temple on November 12, 2023. Picture: Narinder Nanu/AFP
After counting the lamps, Guinness Book of World Records representatives presented a certificate to the state's top elected official, Yogi Adityanath.
Diwali, a national holiday across India, is celebrated by socialising and exchanging gifts with family and friends.
Many light earthen oil lamps or candles, and fireworks are set off as part of the celebrations. In the evening, a special prayer is dedicated to the Hindu goddess Lakshmi, who is believed to bring luck and prosperity*.
Authorities ran extra trains across the weekend to transport huge numbers of people trying to reach their hometowns to join family celebrations.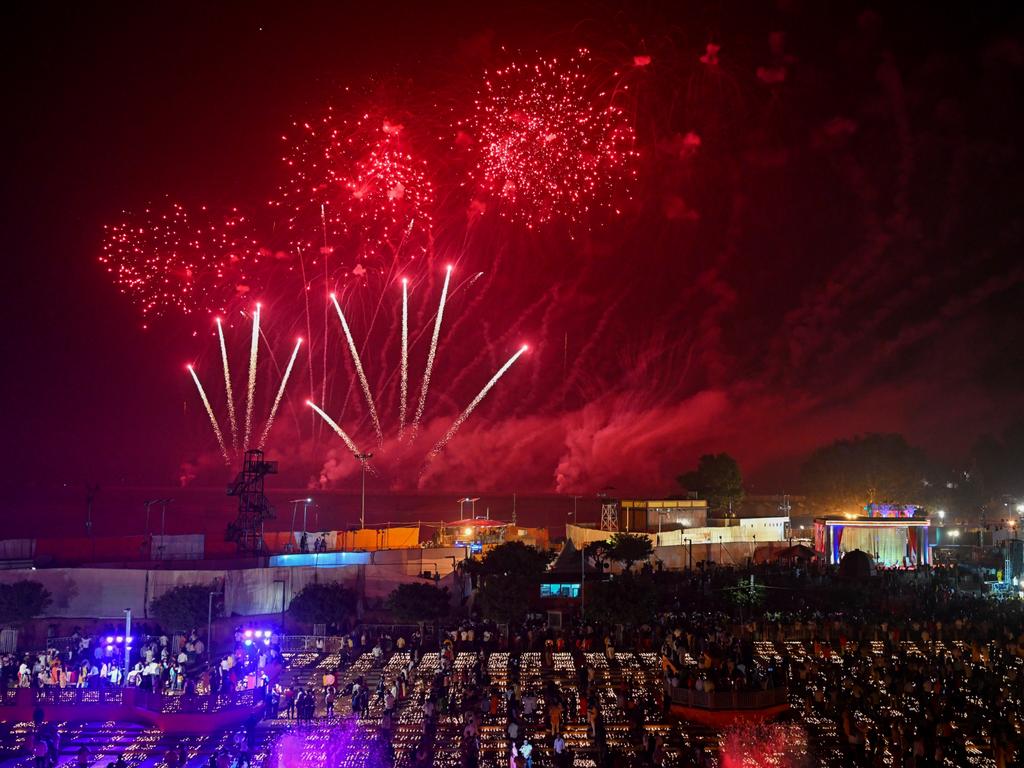 Fireworks have traditionally played a prominent role in Diwali celebrations, as seen here at Ayodhya on Saturday 11 November but authorities have urged residents to use "green crackers" with fewer pollutants. Picture: Ritesh Shukla/Getty Images)
But the festival – and the successful world record bid – came as worries about air quality in India rose.
A "hazardous*" 400-500 level was recorded on the air quality index last week, more than 10 times the global safety threshold*, which can cause acute and chronic bronchitis and asthma attacks.
On Saturday, unexpected rain and a strong wind improved the levels to 220, according to the government-run Central Pollution Control Board.
Air pollution levels were expected to soar again after the celebrations ended on Sunday night because of the fireworks used.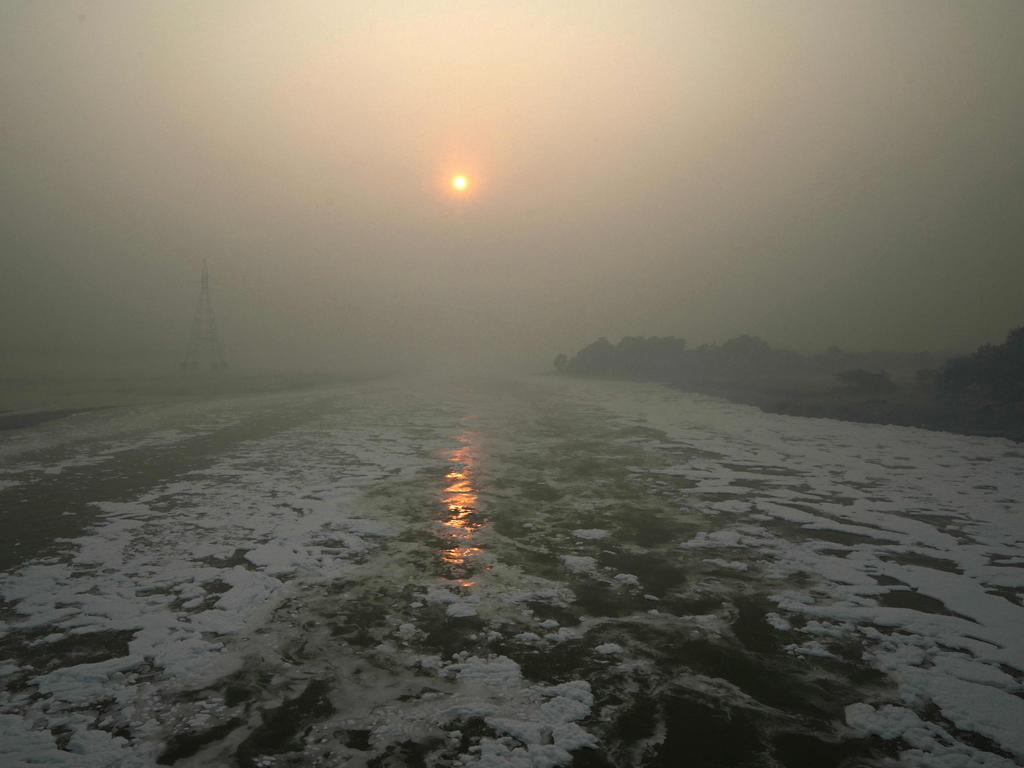 The sun breaks through the smog above the polluted waters of the Yamuna River on Monday. Delhi regularly ranks among the most polluted major cities on the planet. Picture: Money Sharma/AFP
Last week, officials in New Delhi shut down primary schools and banned polluting vehicles and construction work in an attempt to reduce the worst haze and smog of the season, which has caused respiratory* problems for people and enveloped monuments and high-rise buildings in and around India's capital.
Authorities deployed water sprinklers and anti-smog guns to control the haze and many people used masks to escape the air pollution.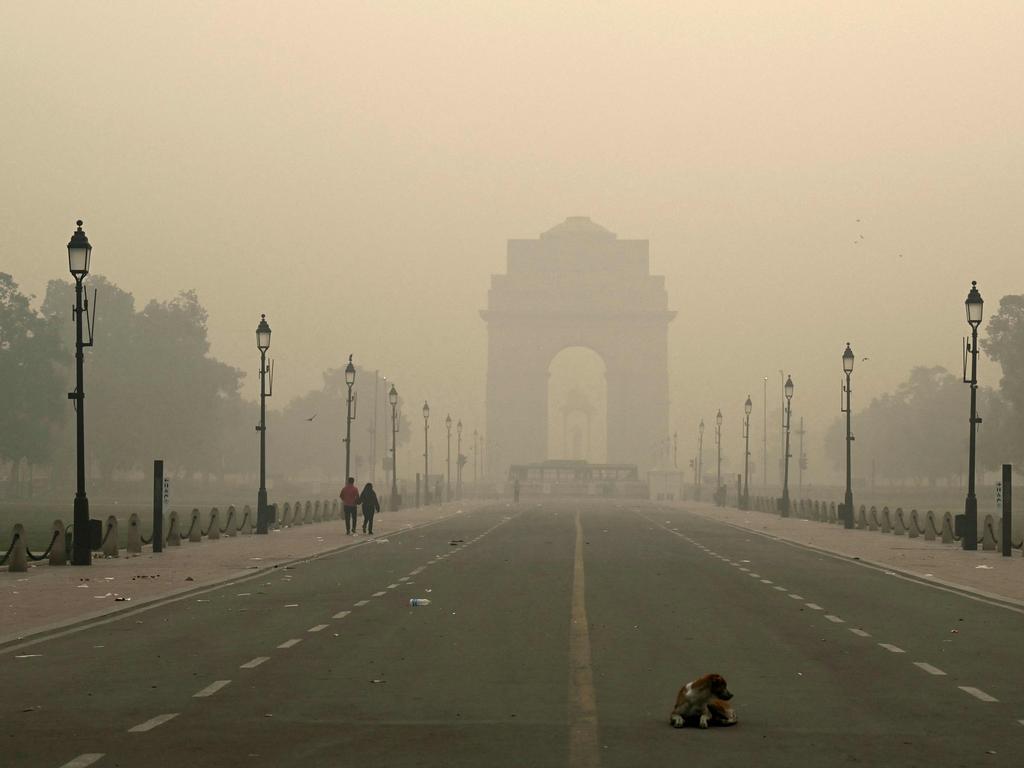 The Kartavya Path in front of the India Gate in New Delhi was obscured by smog on November 13. Picture: Money Sharma/AFP
New Delhi tops the list almost every year among the many Indian cities with poor air quality, particularly in the winter, when the burning of crop residues* in neighbouring states coincides with cooler temperatures that trap poisonous* smoke.
Some Indian states have banned the sale of fireworks and imposed other restrictions to reduce pollution but similar bans have often been ignored in the past. Authorities have also urged residents to light "green crackers" that emit* less pollutants* than normal firecrackers.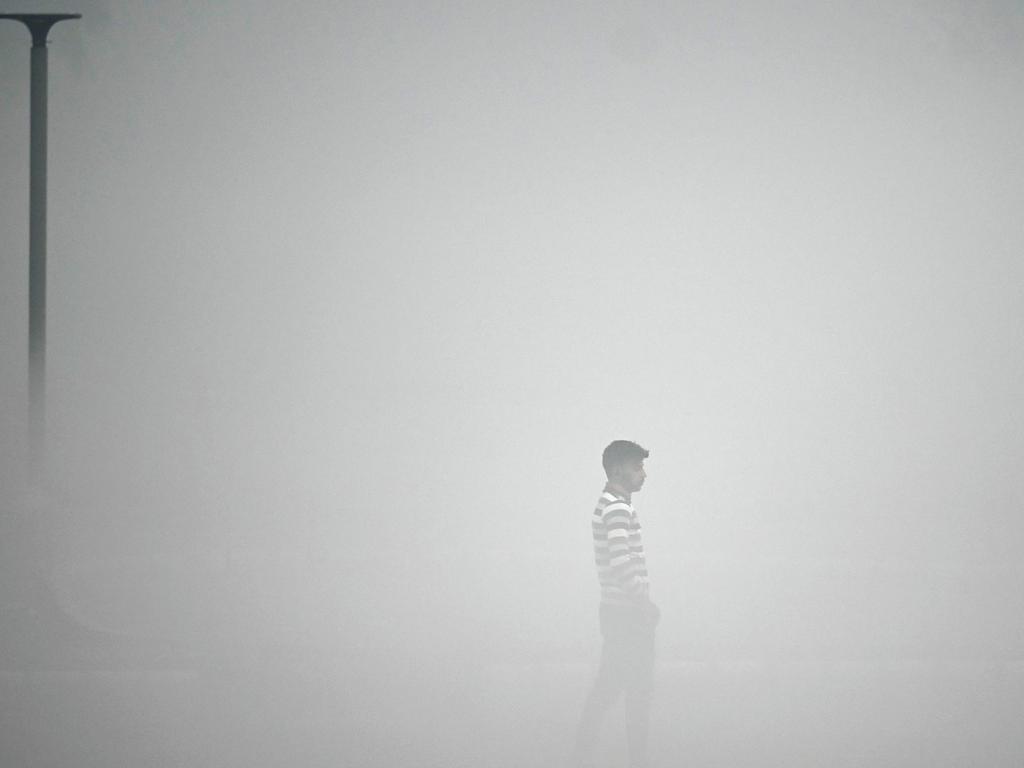 A pedestrian walks along the roadside amid heavy smog in New Delhi on Monday 13 November 13, the day after major Diwali celebrations featured fireworks, oil lamps and candles across India. Picture: Money Sharma/AFP
POLL
GLOSSARY
Diwali: Hindu Festival of Lights, India's biggest and most important holiday of the year
Hindu: a person who believes in Hinduism, the main religion of India
symbolising: representing, using one thing as a symbol of another thing
revered: deeply respected and admired, regarded as worthy of great honour
deity: a god, goddess or some other type of divinity
devotees: followers, believers, those who are deeply committed to something they believe
hymns: religious songs that praise or honour God and other non-Christian gods
hazardous: dangerous, something that poses a risk to health and safety
threshold: an amount, level, or limit as measured on a scale
respiratory: relating to breathing
residues: the part that is left after the main part has gone or been taken away
poisonous: toxic, dangerous, able to cause illness and death
emit: throw out, give off, send forth
pollutants: any substance that pollutes
EXTRA READING
Rock star welcome for Indian PM
India overtakes China to have biggest population
QUICK QUIZ
Who is the most revered deity in the Hindu religion?
What does Diwali celebrate?
How many lamps were lit at Saryu River and how long did they burn?
India's air quality level recorded last week is how many times above the global safety threshold?
What are some conditions caused by hazardous air quality?
LISTEN TO THIS STORY
CLASSROOM ACTIVITIES
1. Create a logo
Create a design, artwork or story inspired by the idea of the victory of light over darkness.
Time: allow at least 25 minutes to complete this activity
Curriculum Links: English, Visual Arts
2. Extension
Write a program of activities for a day of special Diwali celebrations at your school. Use information in the story to help you to think of fun activities that will help everyone understand and celebrate this very special event.
Time: allow at least 30 minutes to complete this activity
Curriculum Links: English, Geography
VCOP ACTIVITY
Explicit lesson plan: Diwali celebration and pollution awareness
This activity aims to deepen the children's understanding of Diwali, encourage critical thinking about pollution and promote eco-friendly celebration ideas during festivals.
Objective: Explore the festival of Diwali, discuss its celebrations and understand the environmental concerns associated with it.
Instructions:
Frontload by explaining what Diwali is, its significance and how it's celebrated by millions of people in India.
Read the article to the students or play the recording.
Conclude the introduction by summarising the main points discussed, emphasising the importance of celebrating festivals joyfully while being mindful of environmental concerns, especially air pollution.
Engage the students in discussion in pairs or threes using these questions or some of your own:
a. What is Diwali? Why is it celebrated?
b. What are the activities and traditions people follow during Diwali?
c. What happened in Ayodhya, Uttar Pradesh, during Diwali this year?
d. Why did they set a Guinness World Record?
e. What are some concerns about air pollution during Diwali? Why is air pollution a problem?
Based on the age and ability of the students, choose an appropriate activity from below:
Role-play activity: Divide the students into two groups. One group can pretend to be people celebrating Diwali, while the other group acts as concerned environmentalists. Encourage them to discuss how they can celebrate Diwali joyfully while being mindful of reducing air pollution.
Create a poster: Provide materials for a creative poster-making session. Ask the students to design a poster that highlights the celebrations of Diwali while also promoting ways to celebrate it in an eco-friendly manner. They can draw symbols of Diwali celebrations and write tips for reducing pollution during the festivities.
Debate activity: Divide the class into two teams. One team supports celebrating Diwali with fireworks, while the other team advocates for a quieter, pollution-free celebration. Encourage them to present their arguments respectfully.
Reflective writing: Ask students to write a short paragraph about how they would like to celebrate Diwali in a way that doesn't harm the environment. Encourage them to express their thoughts on enjoying the festival responsibly.
Allow the children to share their activity and encourage discussions about what they included and why they made those choices. Introduce peer or personal feedback as a way of reflecting on their learning.