50 years in 50 photos: A visual history of Sydney Opera House
As the Sydney Opera House reaches its 50th anniversary, we take a look back at some highlights since its opening in 1973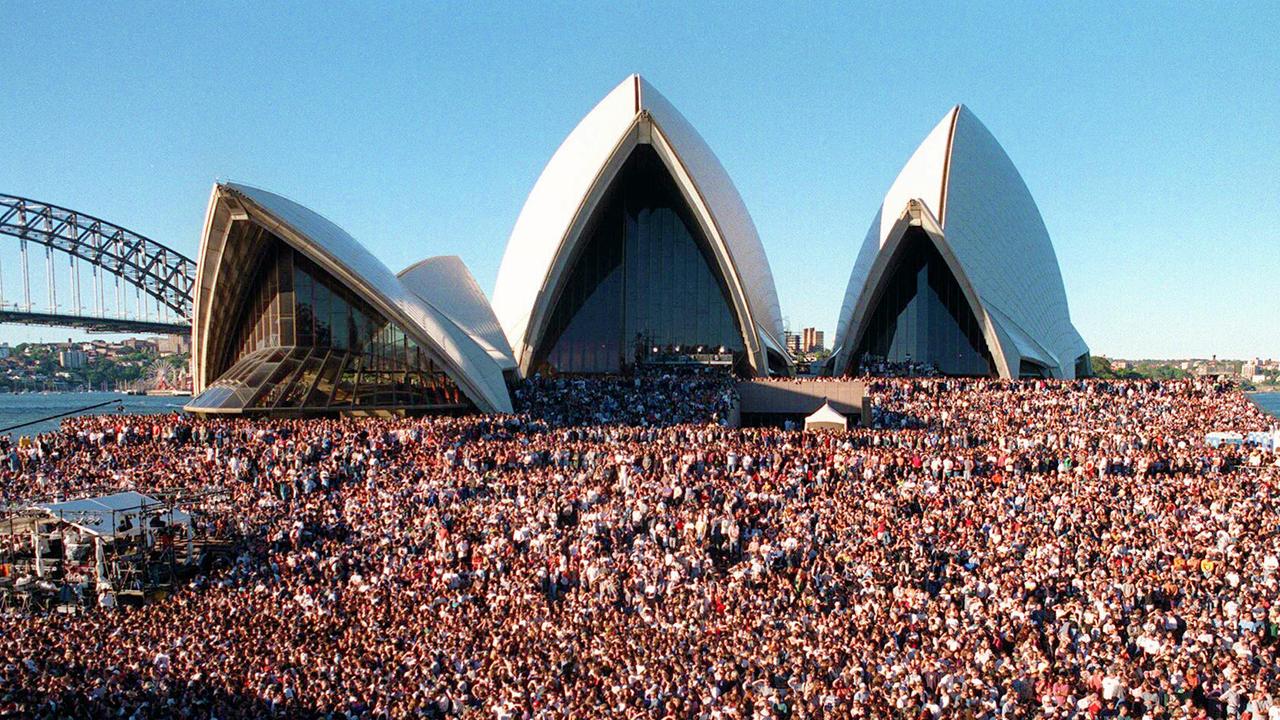 The huge crowd outside Sydney Opera House for band Crowded House's final farewell concert is just one of 50 images that help tell the special story of the first 50 years of arguably Australia's foremost architectural masterpiece.
Historic performances, royal visits and an Olympic Games — the Sydney Opera House has seen it all. As this UNESCO World Heritage site celebrates its 50th birthday, we take a journey through the photo albums to revisit some of its most iconic moments.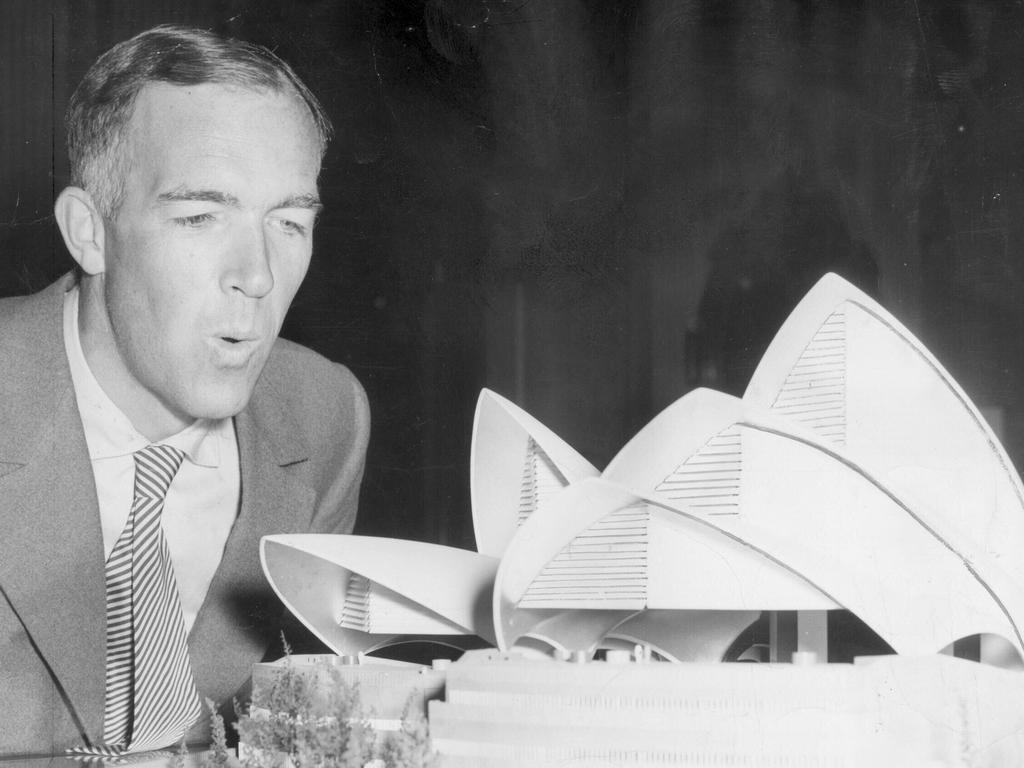 1. Danish architect* Joern Utzon in 1962 with his model of the Sydney Opera House. Utzon won a 1956 design competition for the Opera House out of 223 entries from 28 countries. Picture: News Corp Australia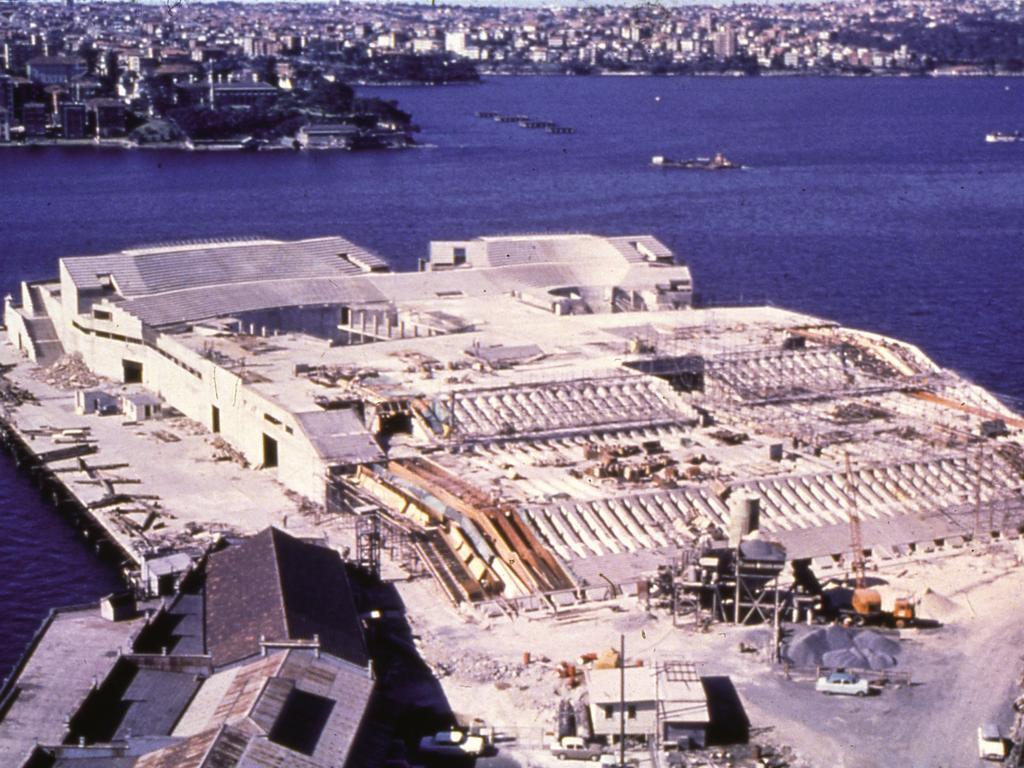 2. Bennelong Point in 1962, the site earmarked* for the Opera House. The project was expected to take four years, but took 10,000 workers 14 years to complete the ambitious* design. Picture: Sydney Opera House Trust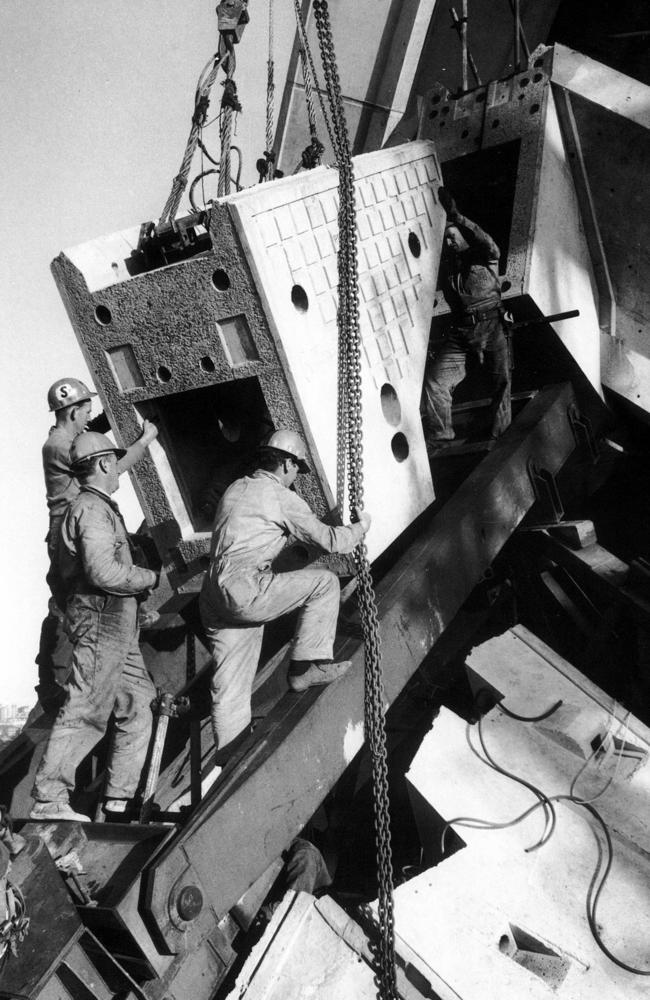 3. Construction gets underway at the Sydney Opera House. The design features 1 million Swedish roof tiles and could comfortably sit seven A380s wing-to-wing on the site. Picture: Supplied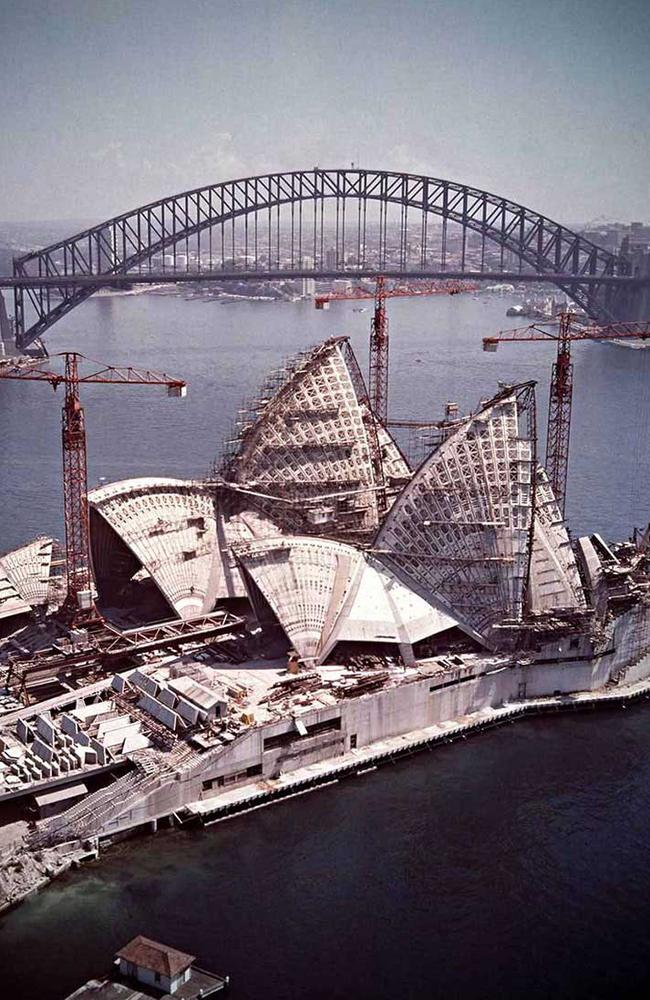 4. Construction in 1966. The original cost was estimated at around $7 million, but blew out to $102 million and was mainly funded by a State Lottery. Picture: National Archives* of Australia
5. In 1960, Paul Robeson became the first person to perform at the Sydney Opera House, climbing the scaffolding* and singing Ol' Man River* to the workers as they ate lunch. Picture: Sydney Opera House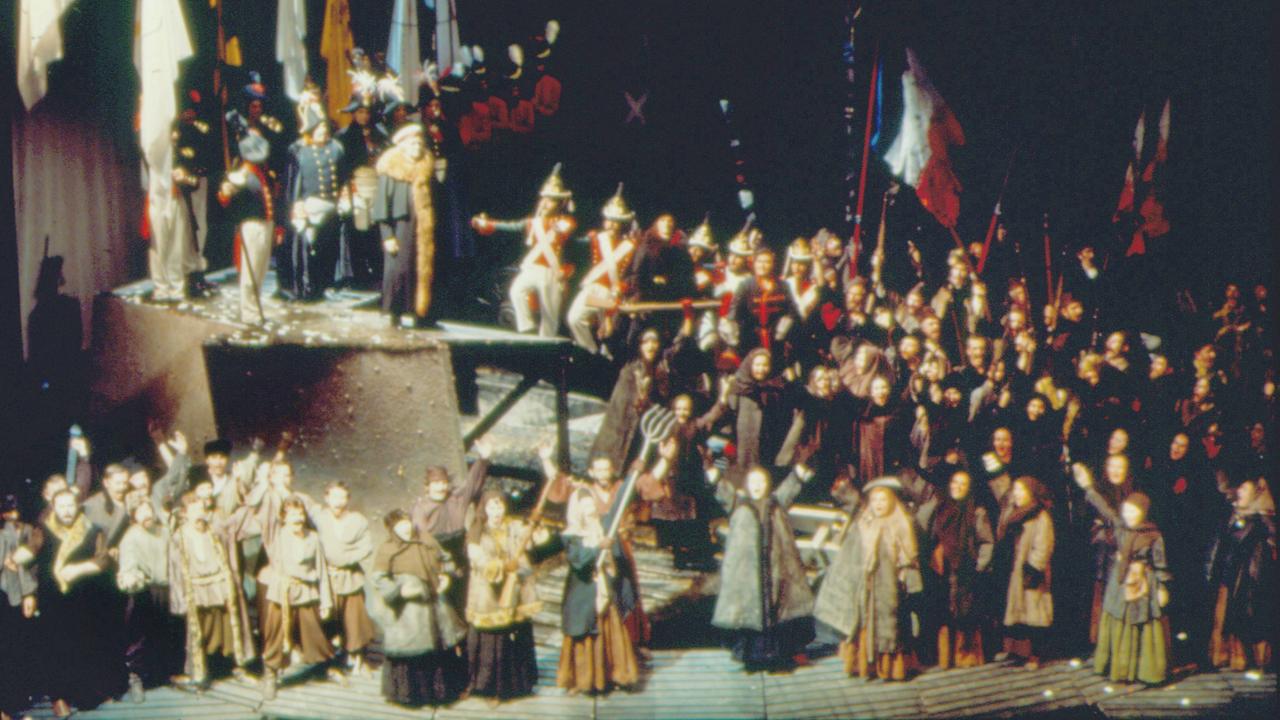 6. Almost a month before the Opera House was declared officially open, the Australian Opera performed its first production of Sergei Prokofiev's War and Peace* on the brand new stage. Picture: Opera Australia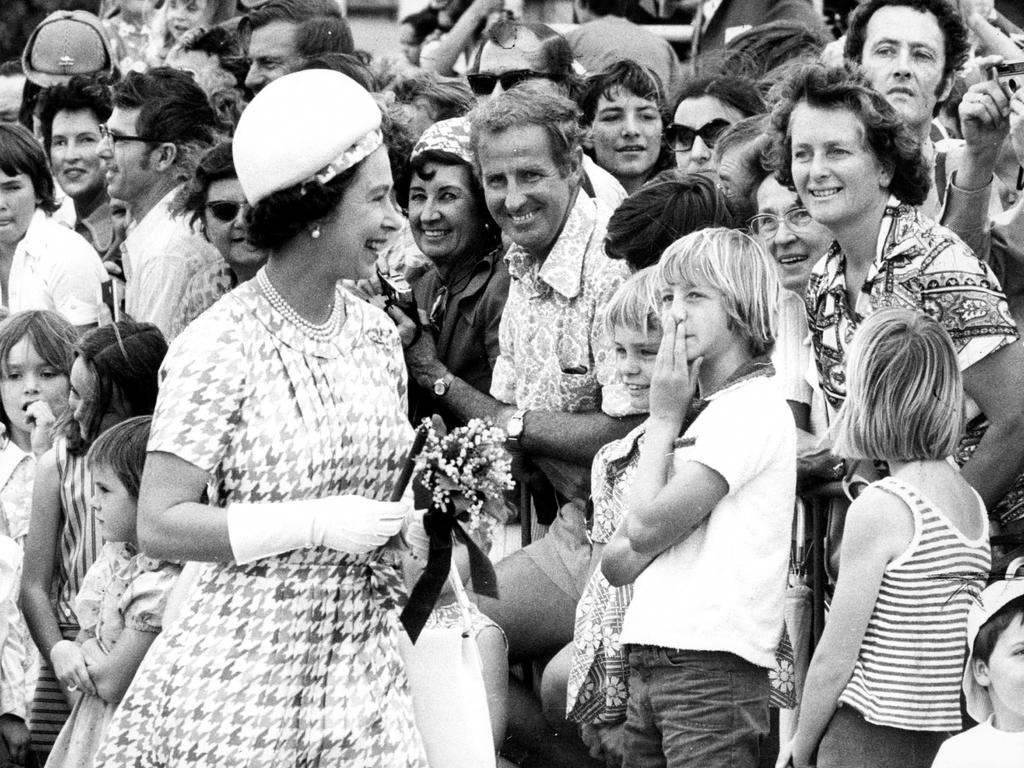 7. On October 20 1973, Queen Elizabeth II* was greeted by huge crowds to commemorate* the official opening of the Sydney Opera House. Picture: News Corp Australia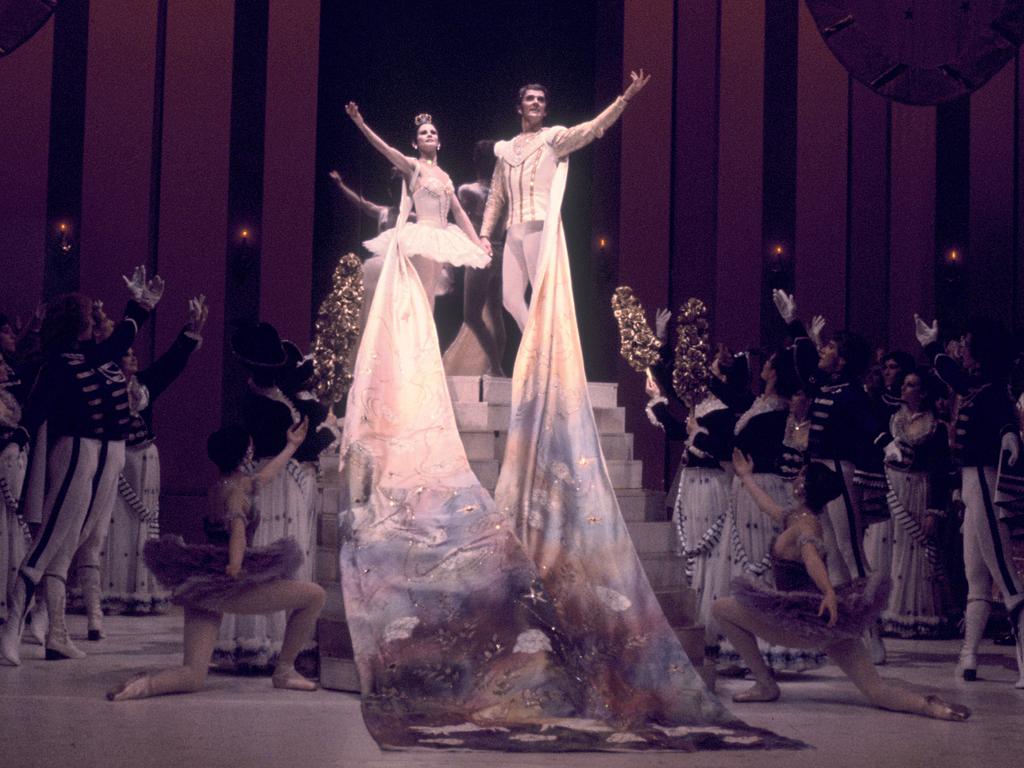 8. Later that year, The Australian Ballet made their debut on the Opera House stage with Peggy van Praagh's production of The Sleeping Beauty. Picture: The Australian Ballet Archives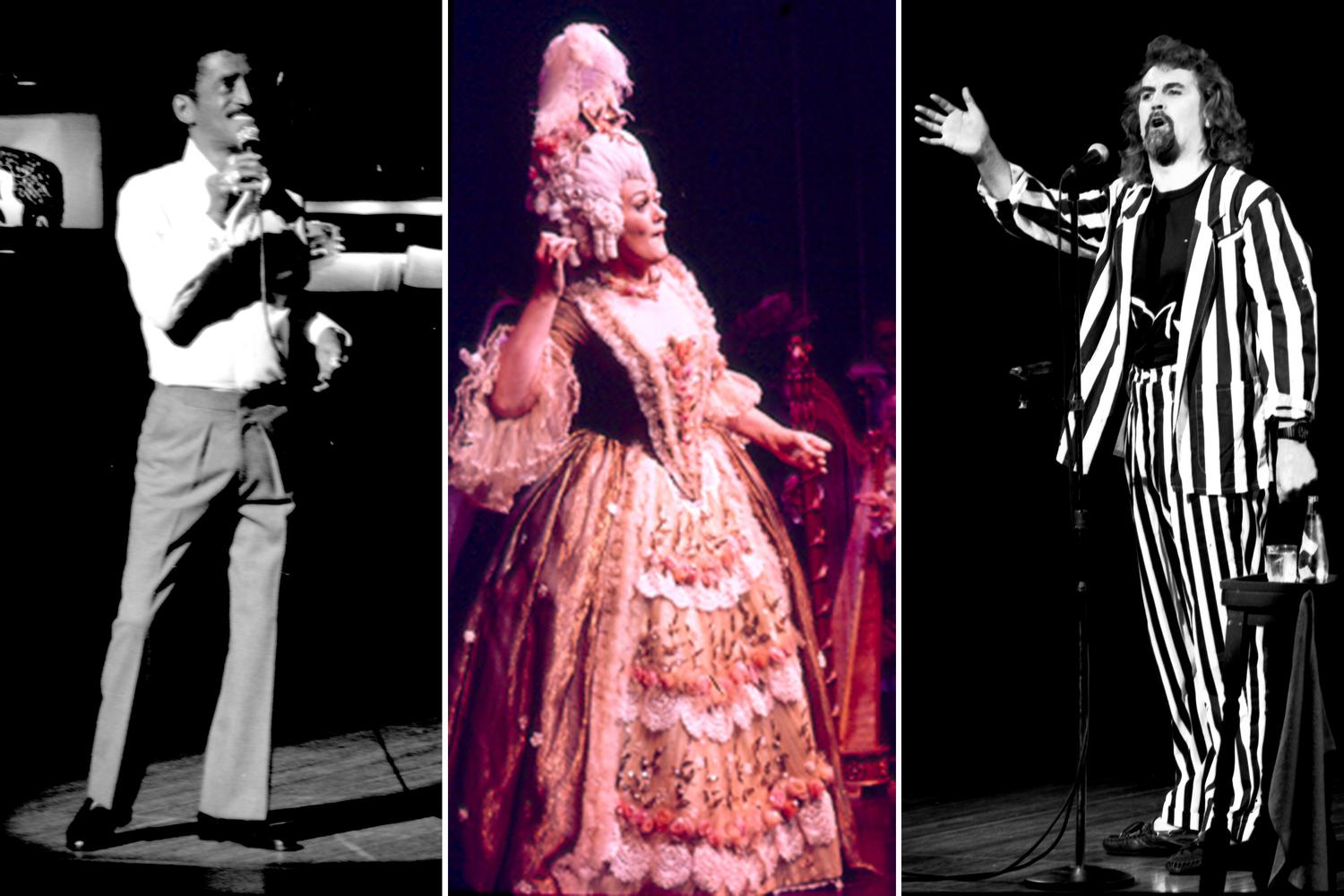 9. American performer Sammy Davis Jr., Australia's greatest opera star Joan Sutherland and Scottish comedian Billy Connolly were just some of the early stars to grace the stage. Picture: Sydney Opera House Trust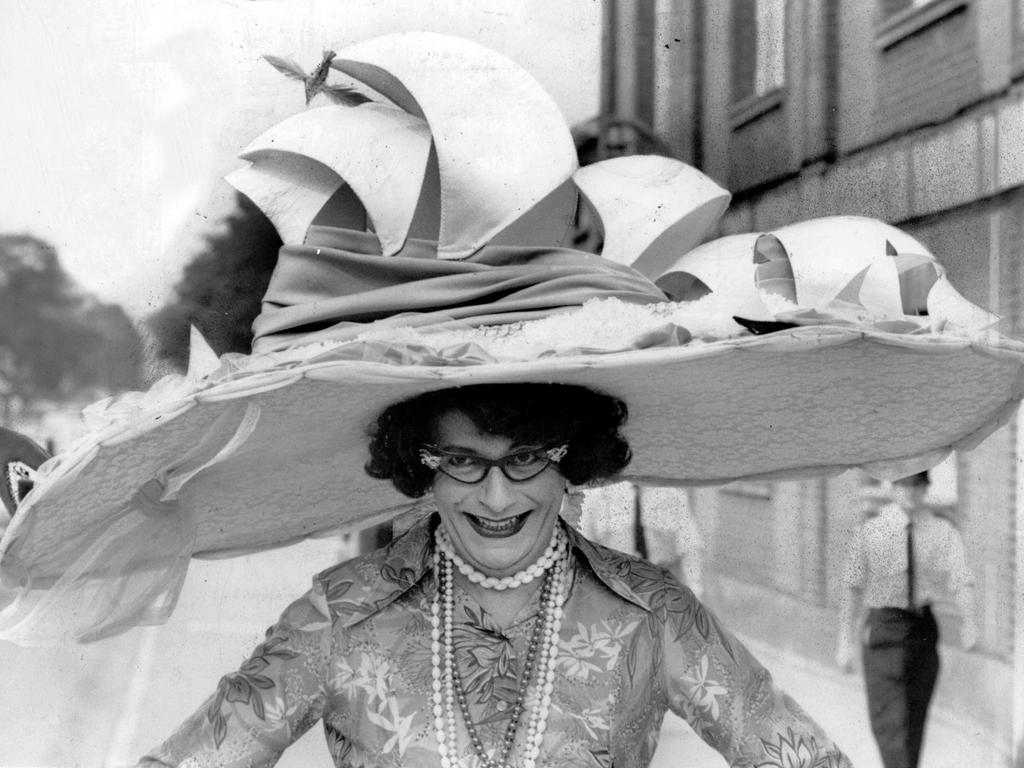 10. Comedian and actor Barry Humphries wears a hat featuring the Opera House at Royal Ascot* in England, 1976. Picture: News Corp Australia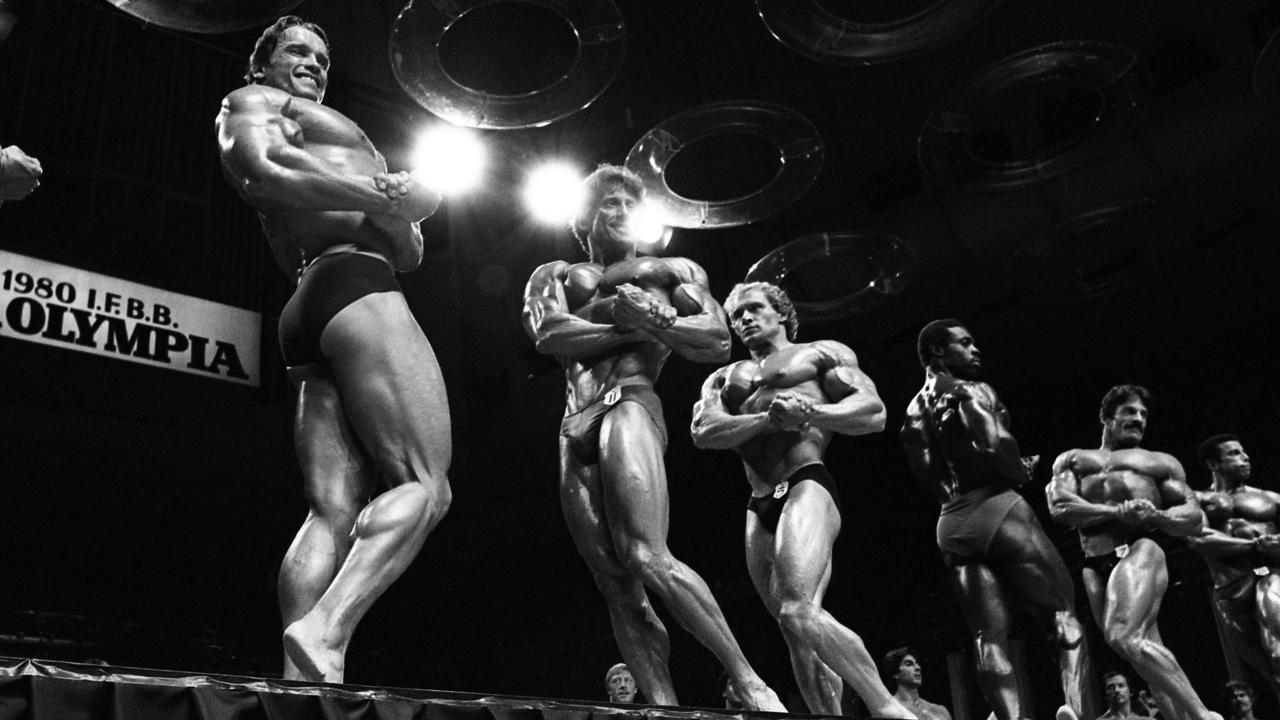 11. Arnold Schwarzenegger*, left, competes on stage during the Mr Olympia professional bodybuilding competition at the Sydney Opera House in 1980, in which he won his last title. Picture: Bob Finlayson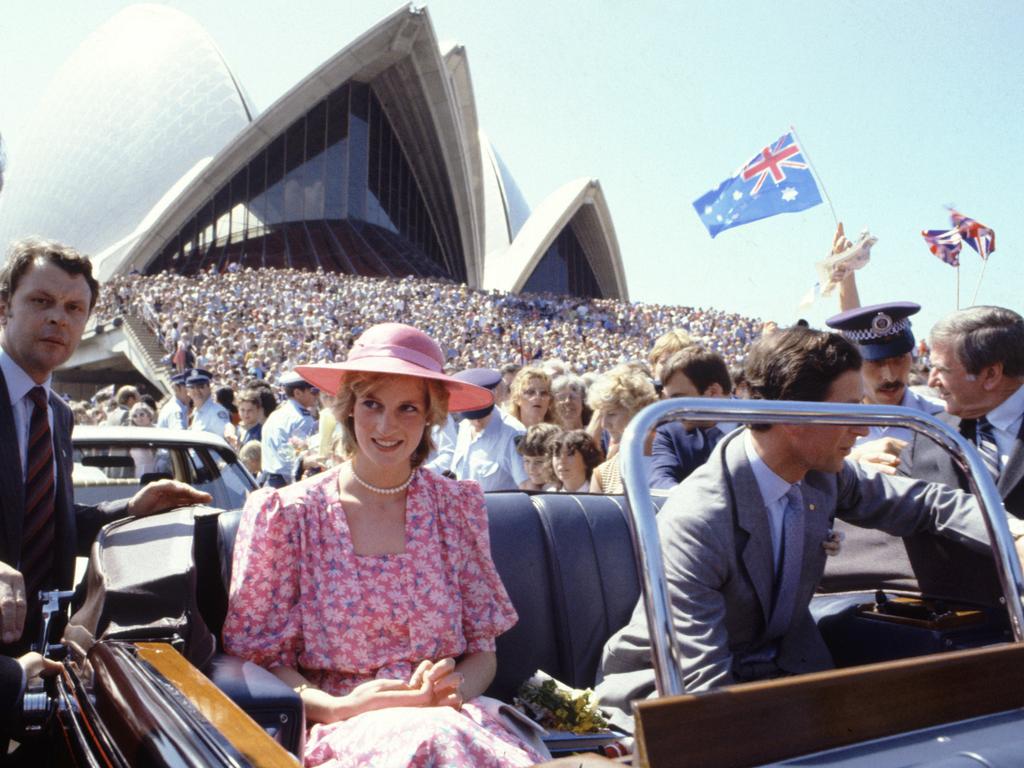 12. Prince Charles* and Diana, Princess of Wales*, visited hoards of people packed on the steps of the Opera House during their royal tour in 1983. Picture: Tim Graham/Getty Images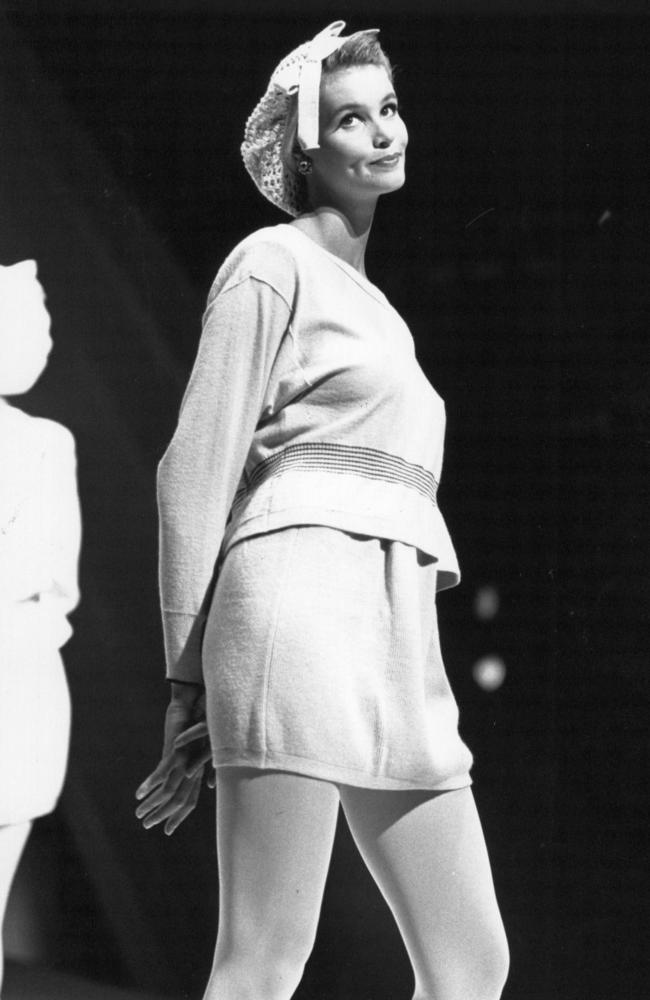 13. Model and actor, Elle Macpherson, on the catwalk at the Wool Spectacular Fashion Show at the Sydney Opera House in the 1980s. Picture: News Corp Australia
14. Pope John Paul II* gets a view from the water on Sydney Harbour during his Australian tour in 1986. Picture: supplied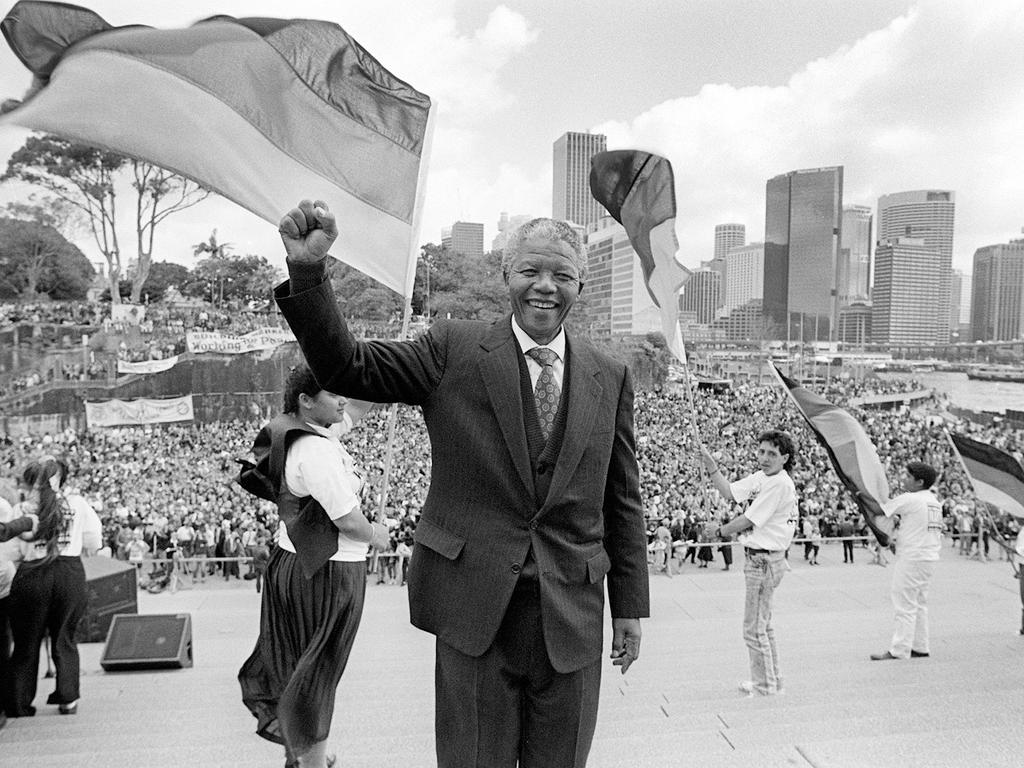 15. In 1990, South African leader Nelson Mandela* – recently freed after 27 years in prison – gave a speech of forgiveness to a crowd of 40,000 on the Opera House's Monumental Steps. Picture: Barry McKinnon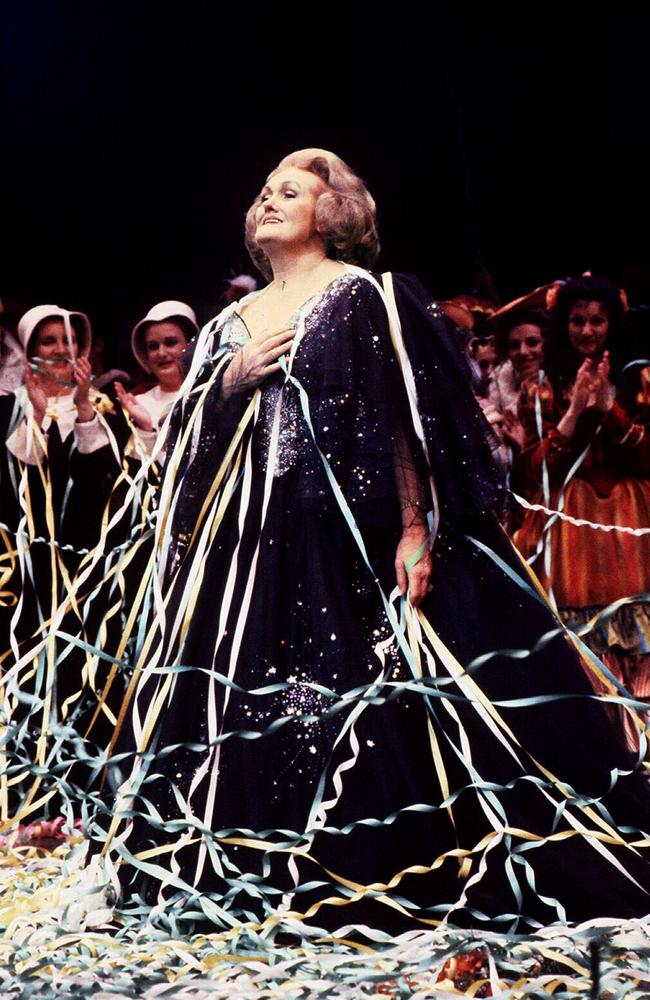 16. Opera singer Dame Joan Sutherland* at her final concert at the Sydney Opera House. Picture: supplied
17. 1996 saw 100,000 people cram onto the forecourt for rock group Crowded House's* final farewell concert. Picture: Matthew Munro
18. From crowds to cows as the Royal Easter Show gave VIP* access to its animal guests. Picture: Jeff Darmanin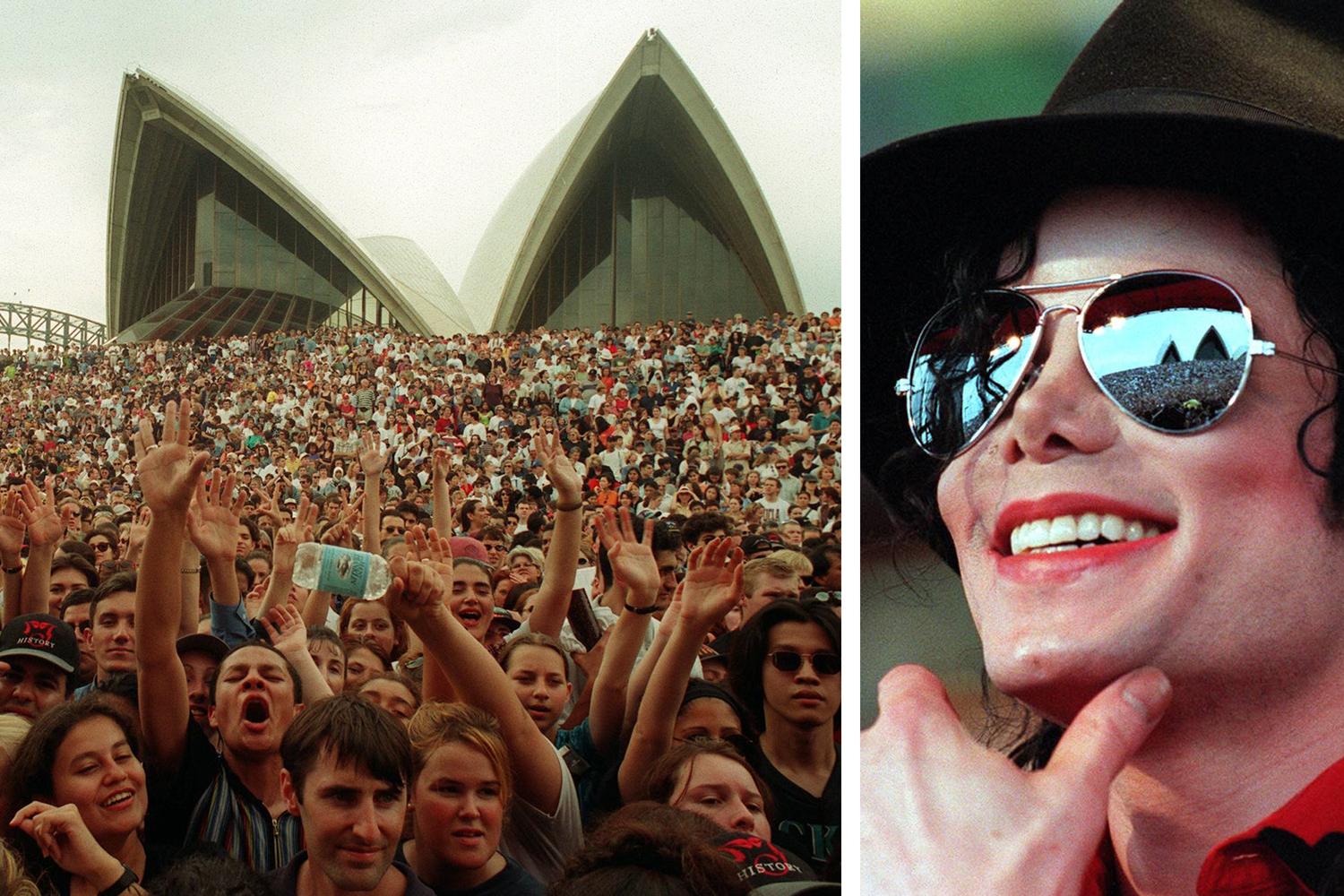 19. Pop legend Michael Jackson* attracted huge crowds during his 1996 Australian tour. Picture: Grant Turner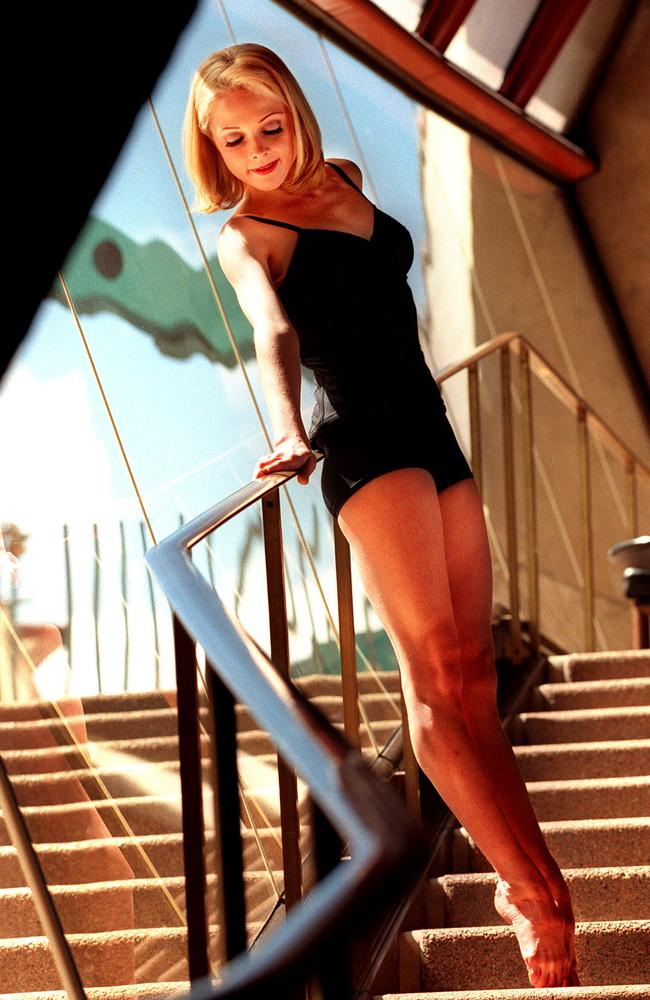 20. Dancer Justine Summers, principal ballerina* with the Australian Ballet, during a break in rehearsals at the Sydney Opera House in 1999. Picture: Pip Blackwood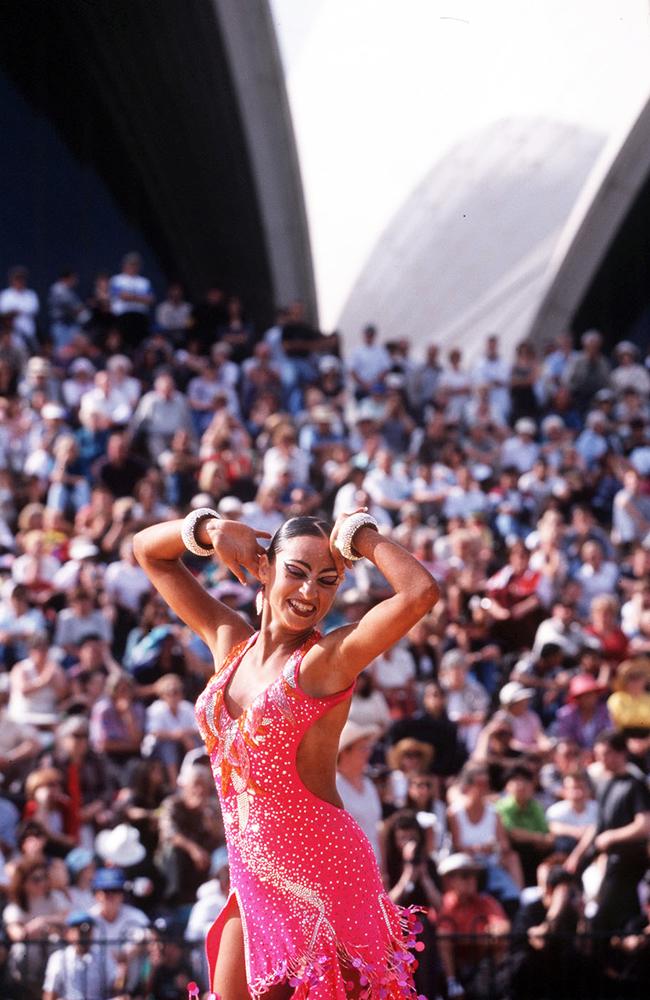 21. Dancers competing during the 1999 NSW Dancesport Championships held outdoors at the Sydney Opera House. Picture: supplied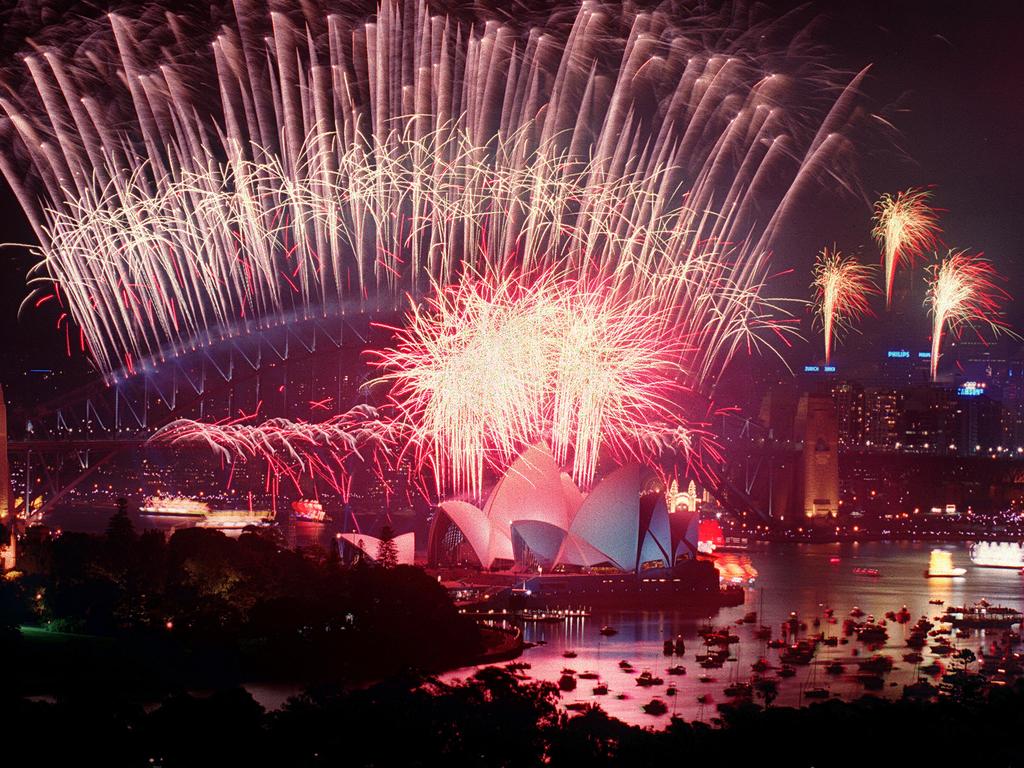 22. Happy New Millennium*! Sydney Opera House and the Harbour Bridge light up with their iconic fireworks to welcome in the new era. Picture: Nick Cubbin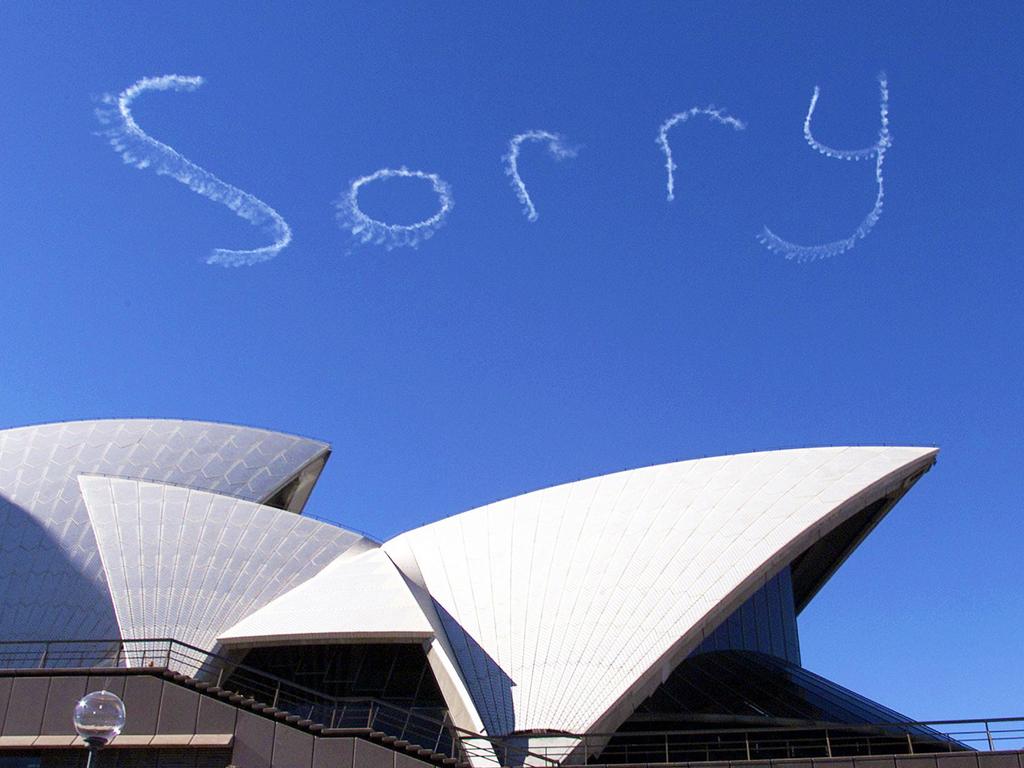 23. During the Corroboree* 2000 celebrations, on a day where more than 150,000 people marched across the Sydney Harbour Bridge in support of Reconciliation, the word "Sorry" appeared in the sky above the sails. Picture: Rob Griffith/AP
24. Olympic swimmer Samantha Riley* holds the Olympic torch* at the top of the Opera House in September 2000. Picture: Mark Williams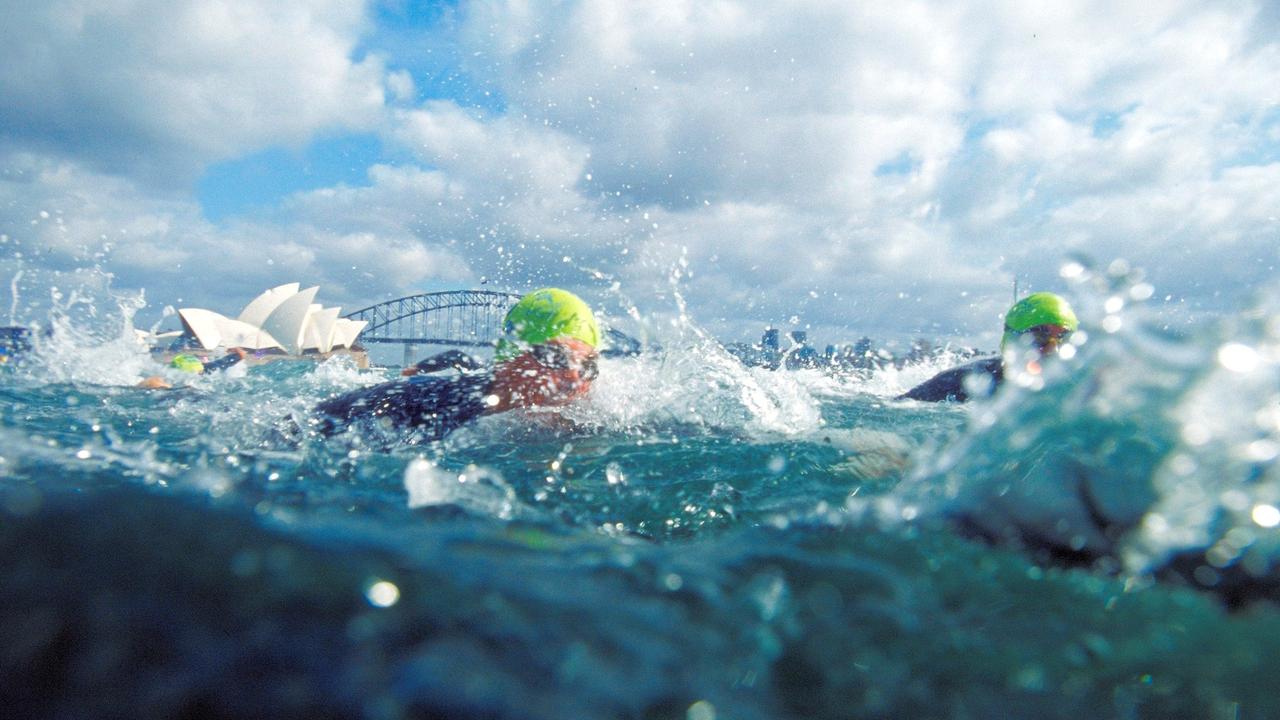 25. Competitors in action in the swim section of the Women's Triathlon, with the Opera House in the background during the Sydney 2000 Olympic Games. Picture: Adam Pretty/Allsport
26. Dancers Amber Scott and Patrick Thaiday dance atop the sails of the Opera House as the Australian Ballet heralds its 50th anniversary year in 2012. Picture: Jess Bialek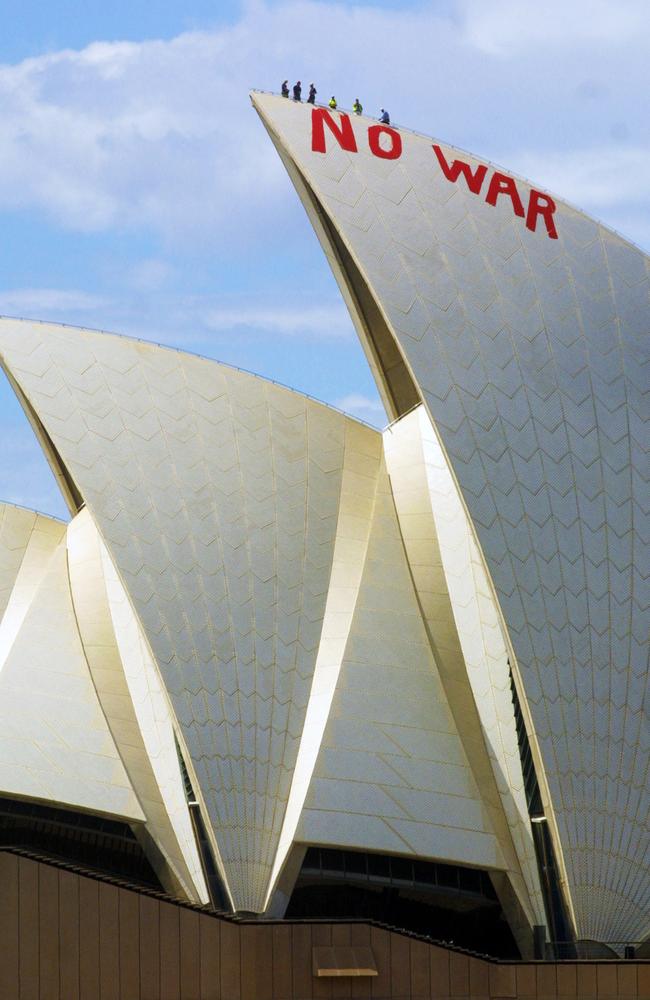 27. Protesters painted "NO WAR" on the sails of the Opera House shortly before the announcement that Australian troops would join any US-led military strike to disarm Iraq* in March 2003. Picture: Dan Peled/AP
28. Queen Elizabeth II and Australian Prime Minister John Howard* pose for a photograph on the front lawn of Admiralty House after a Commonwealth Day reception in 2006. Picture: Will Burgess/Getty Images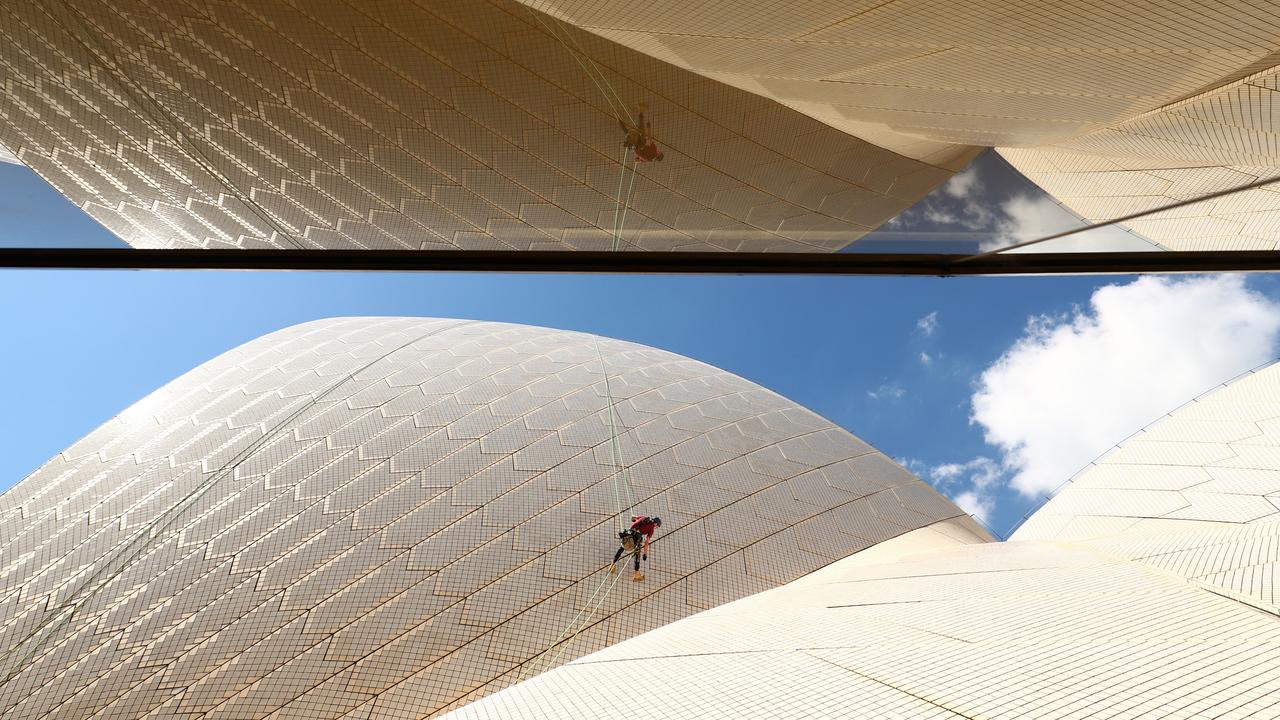 29. In June 2007, the Sydney Opera House was included on the UNESCO* World Heritage* List as a "masterpiece* of human creativity, not only in the 20th century but in the history of humankind." Picture: Mark Metcalfe/Getty Images
30. Pope Benedict XVI* waves to the huge crowds lining the streets of Sydney as his motorcade* passes the Sydney Opera House in 2008. Picture: Dean Lewis/AAP
31. In 2009, the Opera House looked like it had landed on Mars as red dust from Central Australia was carried by high winds, causing chaos and confusion across Sydney. Picture: James D. Morgan/Getty Images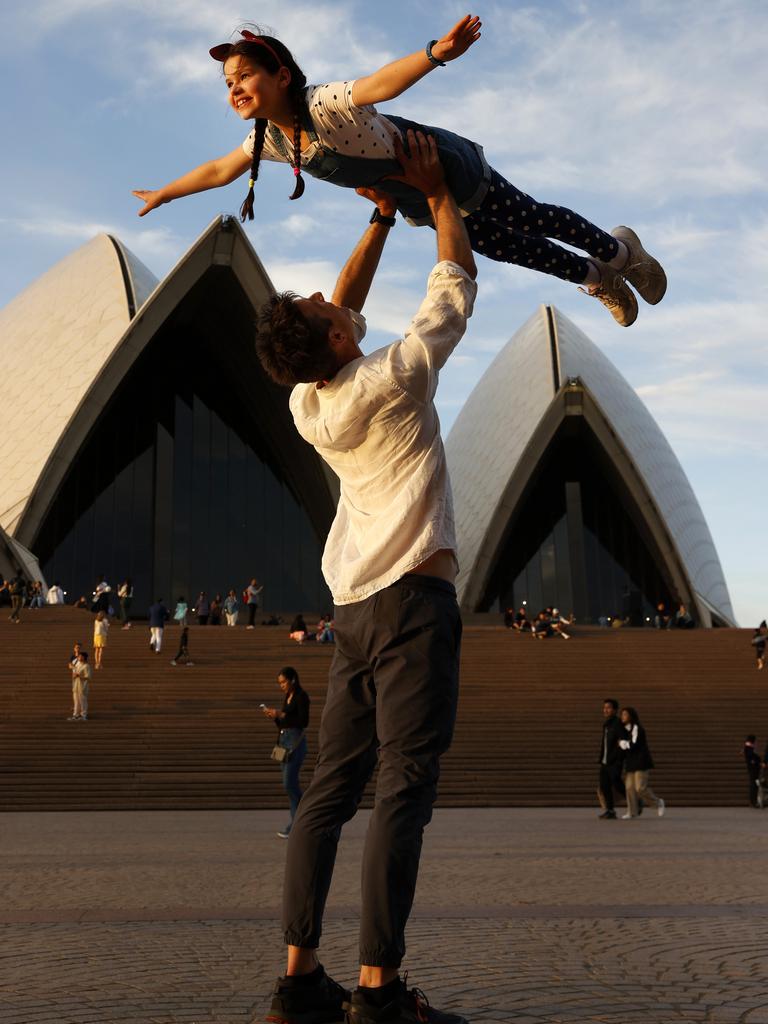 32. Christopher Hall and his daughter Alexis Arnold-Hall, 9, have perfected the lift in the famous scene from the 1980s hit film Dirty Dancing. They performed it as part of the 50th celebrations at the Sydney Opera House. Picture: Jonathan Ng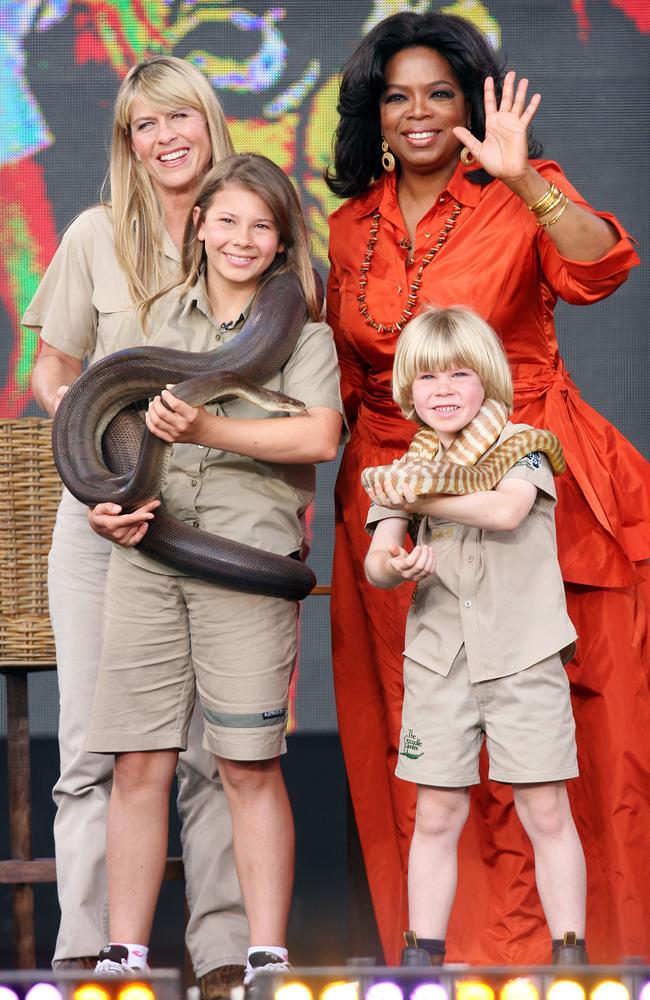 33. US talk show TV host Oprah Winfrey used the forecourt to film an episode of her show, featuring Terri Irwin and children Bindi and Robert, with snakes from Australia Zoo. Picture: Adam Taylor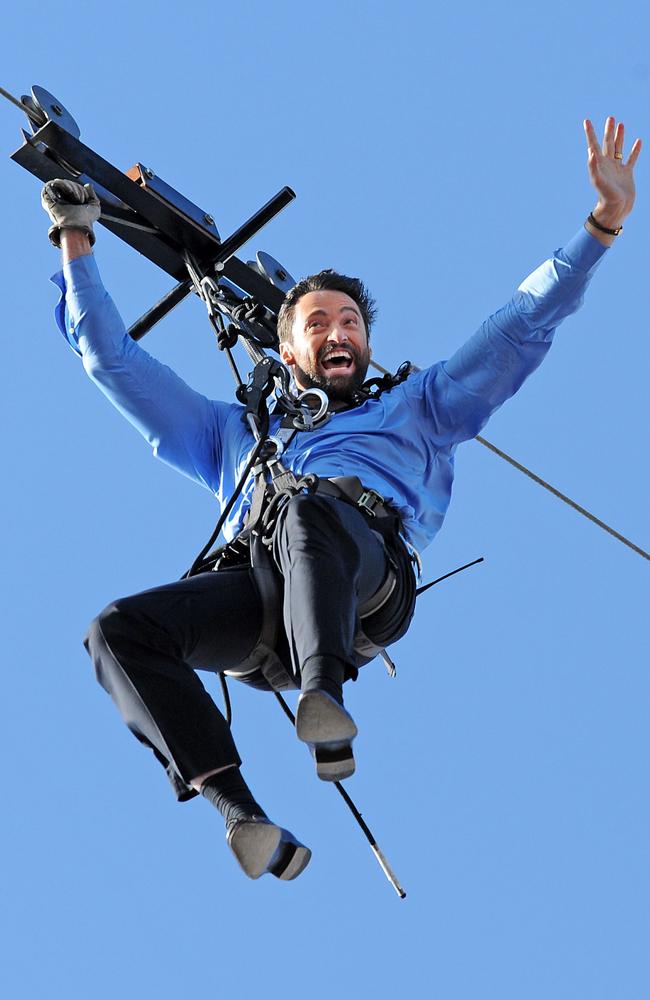 34. Actor Hugh Jackman also made a flying visit for Oprah's event, alongside fellow Aussie stars Nicole Kidman, Keith Urban, Russell Crowe and Olivia Newton-John. Picture: Torsten Blackwood/AFP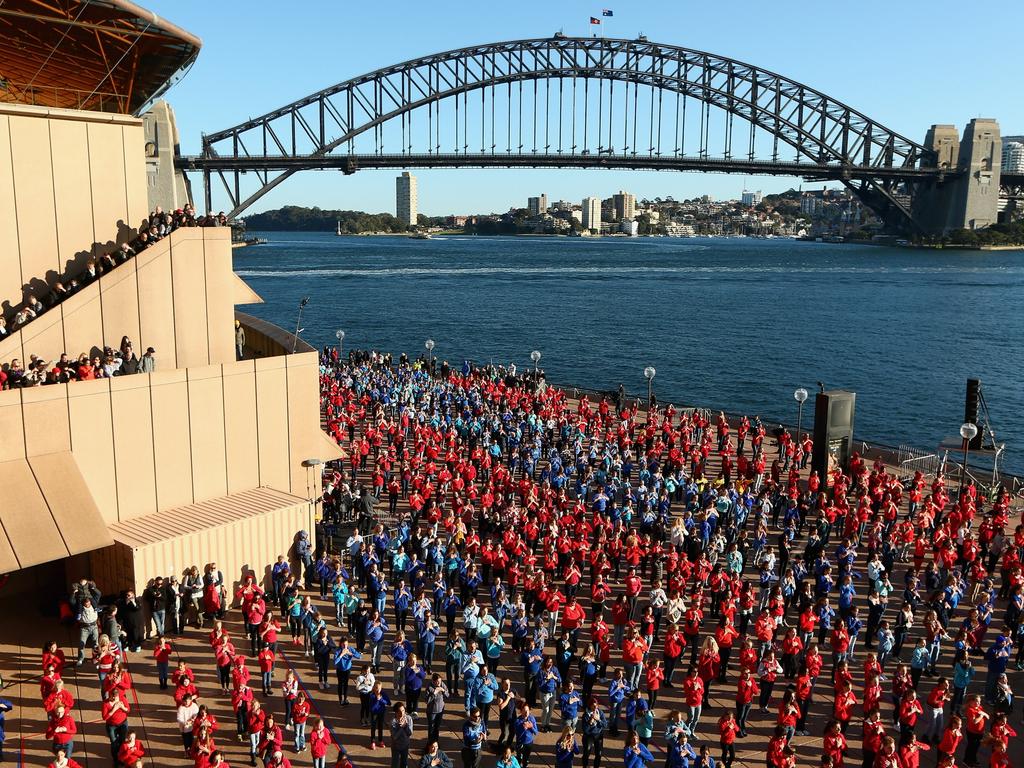 35. Over 2000 participants in Sydney performed a choreographed* dance simultaneously with participants in London and Glasgow during the Big Dance 2014. Picture: Cameron Spencer/Getty Images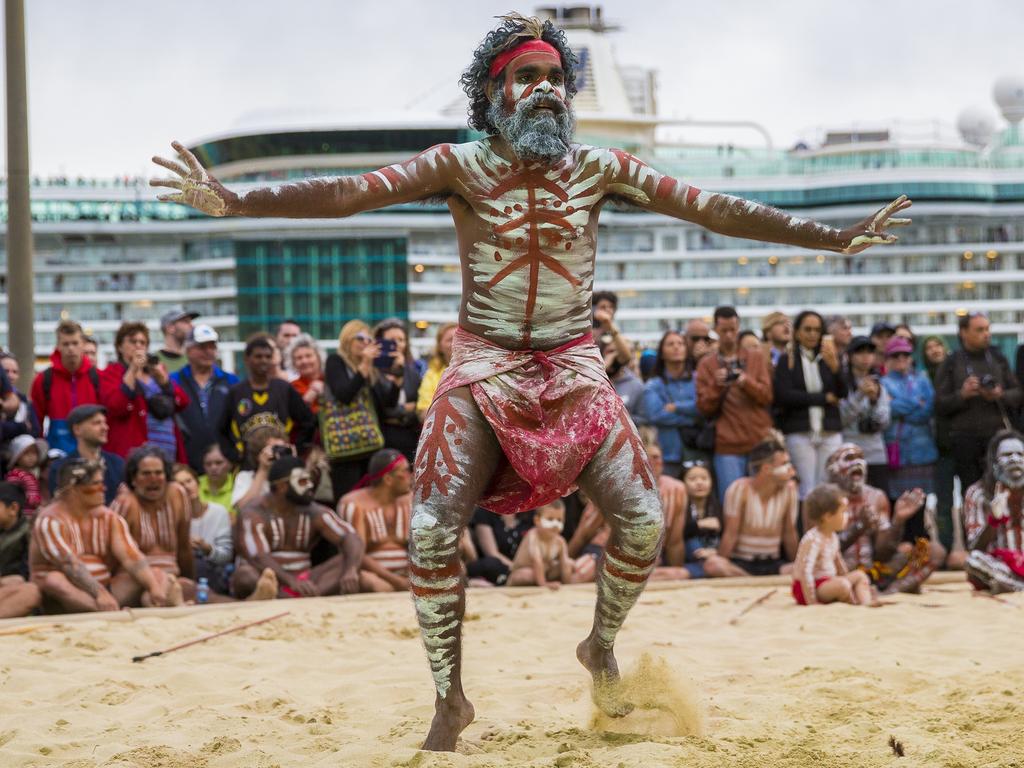 36. In 2015, DanceRites was premiered at the Homeground Festival as a new national Indigenous dance competition. Picture: Joseph Mayers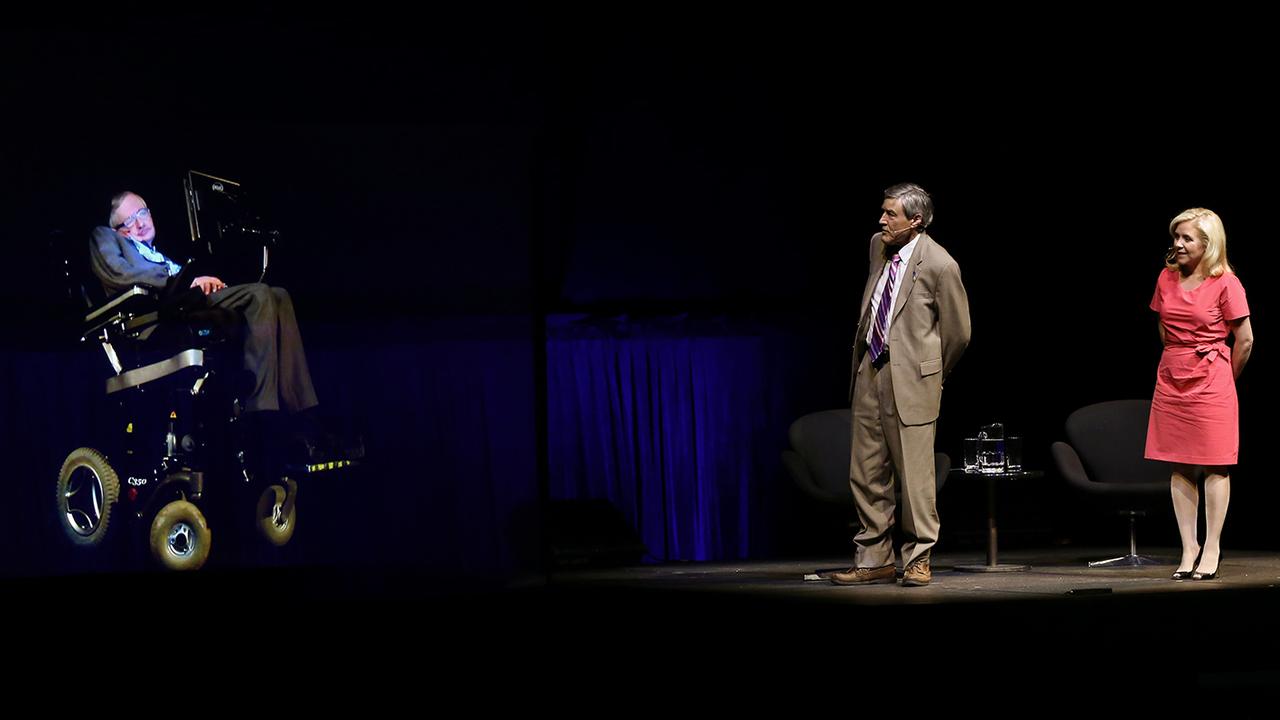 37. 2015 saw renowned cosmologist Stephen Hawking* appear on the stage as a hologram*, presenting on theoretical physics* to a packed audience. Picture: Prudence Upton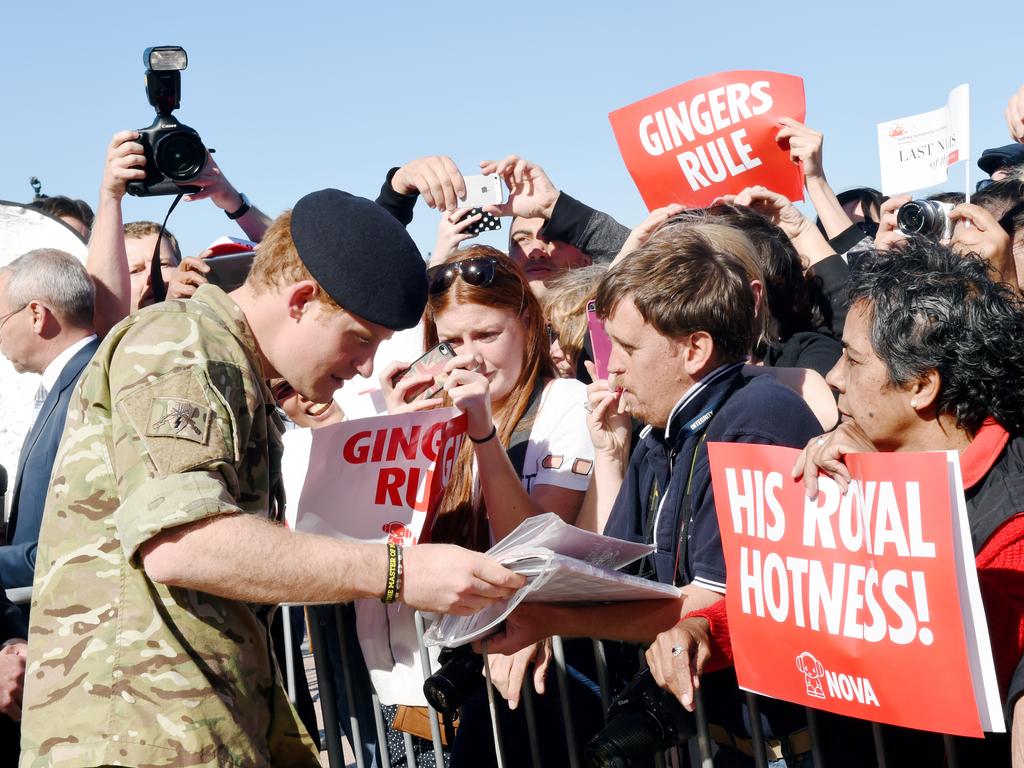 38. After a secondment* with the Australian Army, Prince Harry speaks with keen members of the public during a visit to the Sydney Opera House in 2015. Picture: Dean Lewins/AAP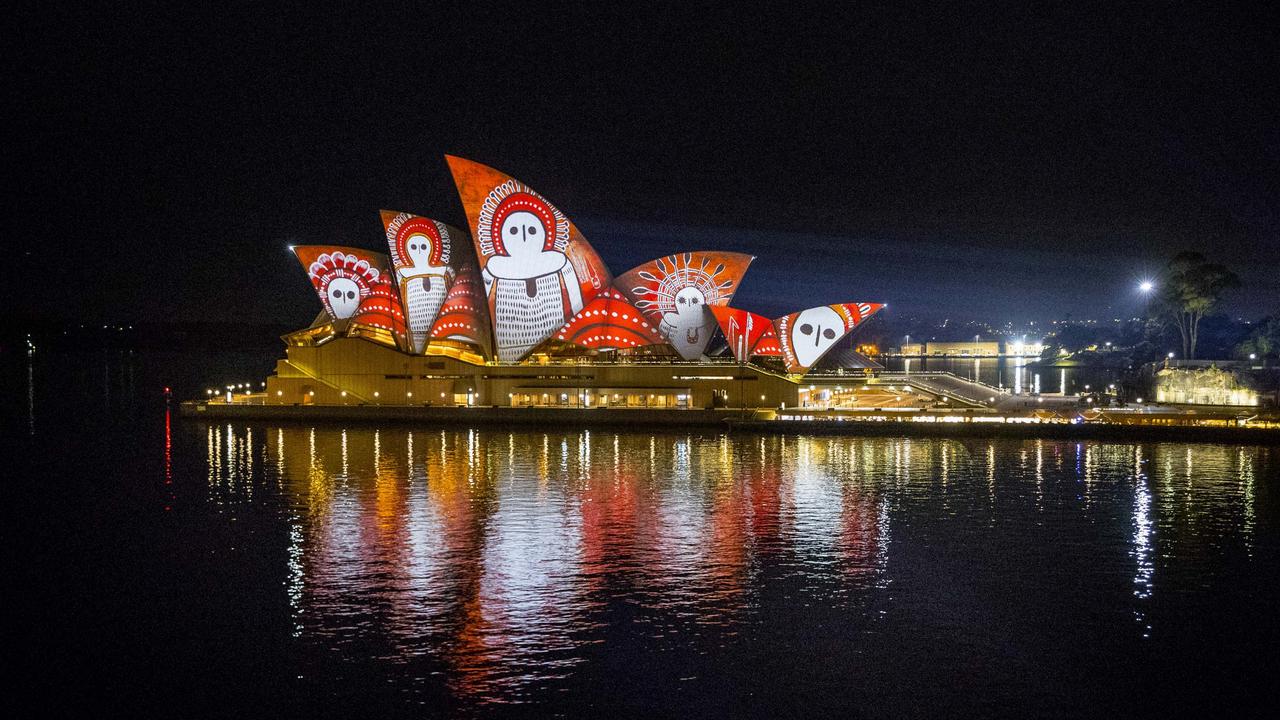 39. Songlines 2016 was a project that, for the first time, illuminated the Opera House sails with artworks by six Indigenous artists. Picture: Destinations NSW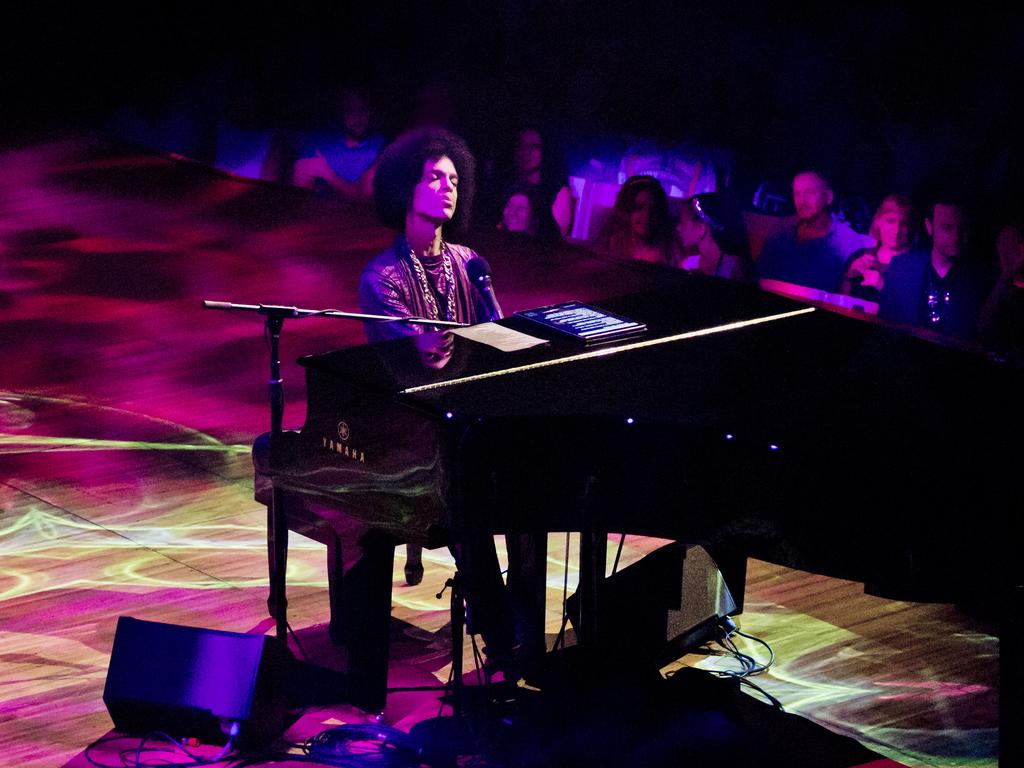 40. A lucky audience was treated to an intimate solo performance by Prince in the Concert Hall as part of his Piano and Microphone Tour of Australia. The singer died two months later. Picture: Justine Walpole
41. The Australian Ballet takes to the stage for their iconic* performance of Swan Lake. Picture: Brendon Thorne/Getty Images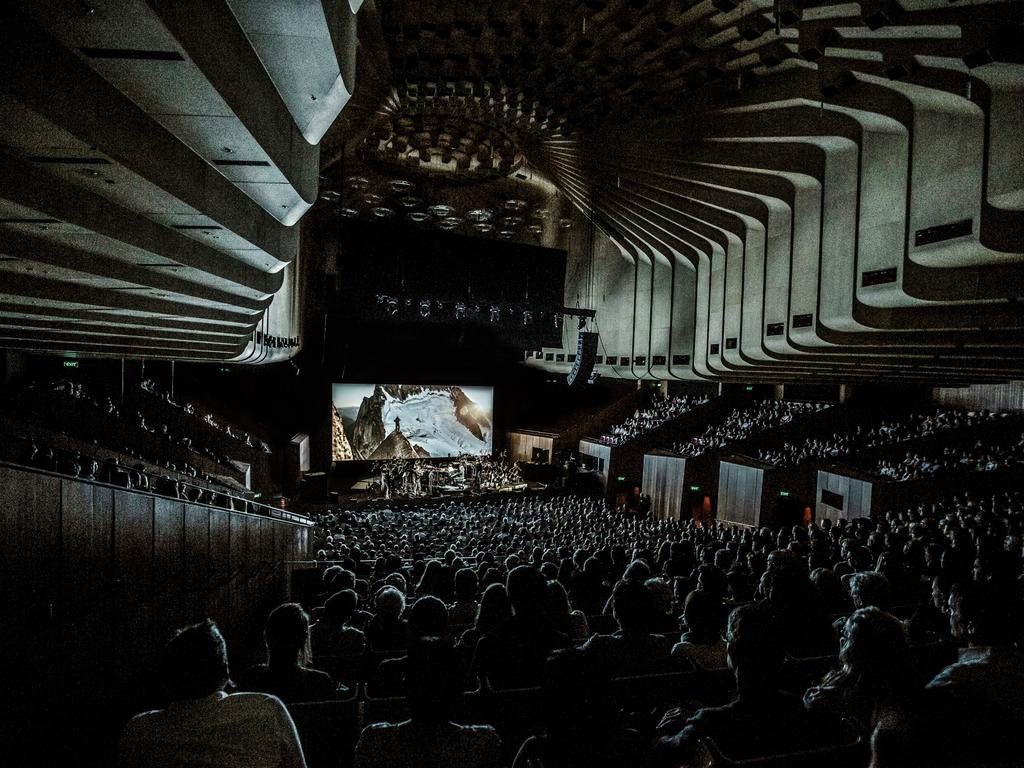 42. In 2017, The Australian Chamber Orchestra performed the world premiere of its live cinematic production, Mountain. It went on to become the highest-ever-grossing homegrown documentary in Australian cinemas. Picture: Maria Boyadgis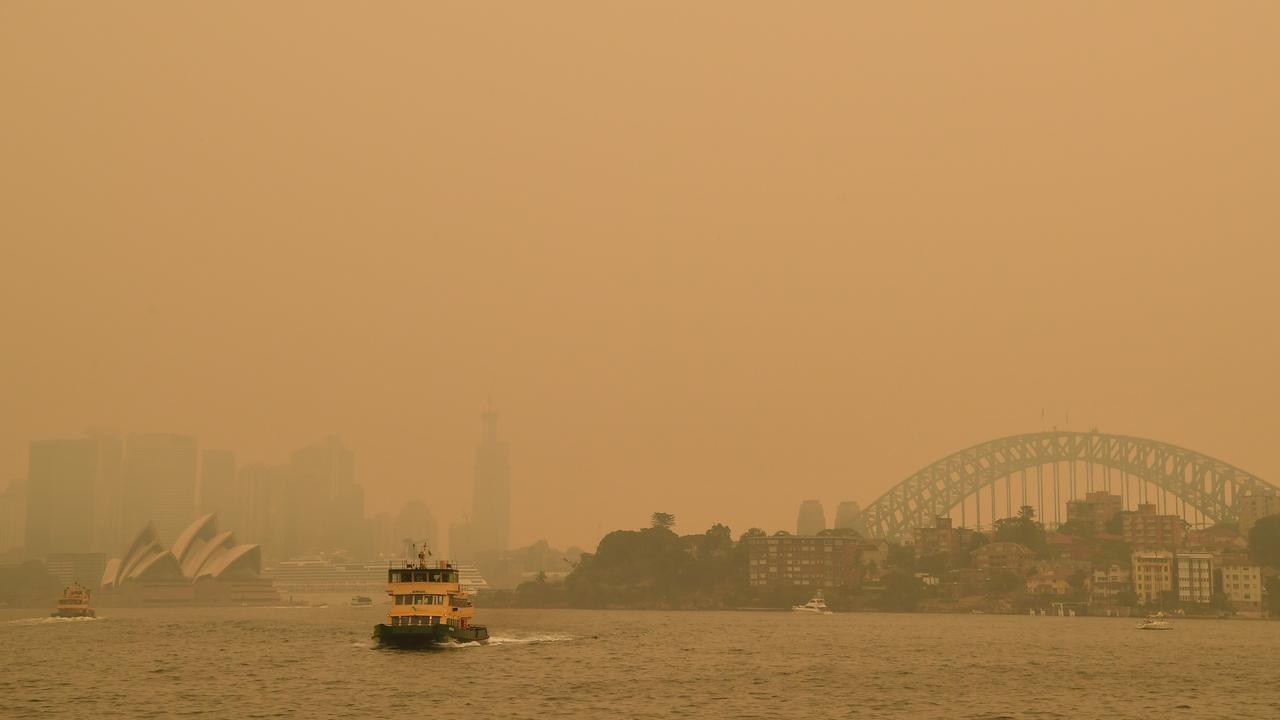 43. The Black Summer fires of 2019-2020 saw a blanket of smoke haze descend on Sydney Harbour, enveloping the Bridge and Opera House. Picture: Joel Carrett/AAP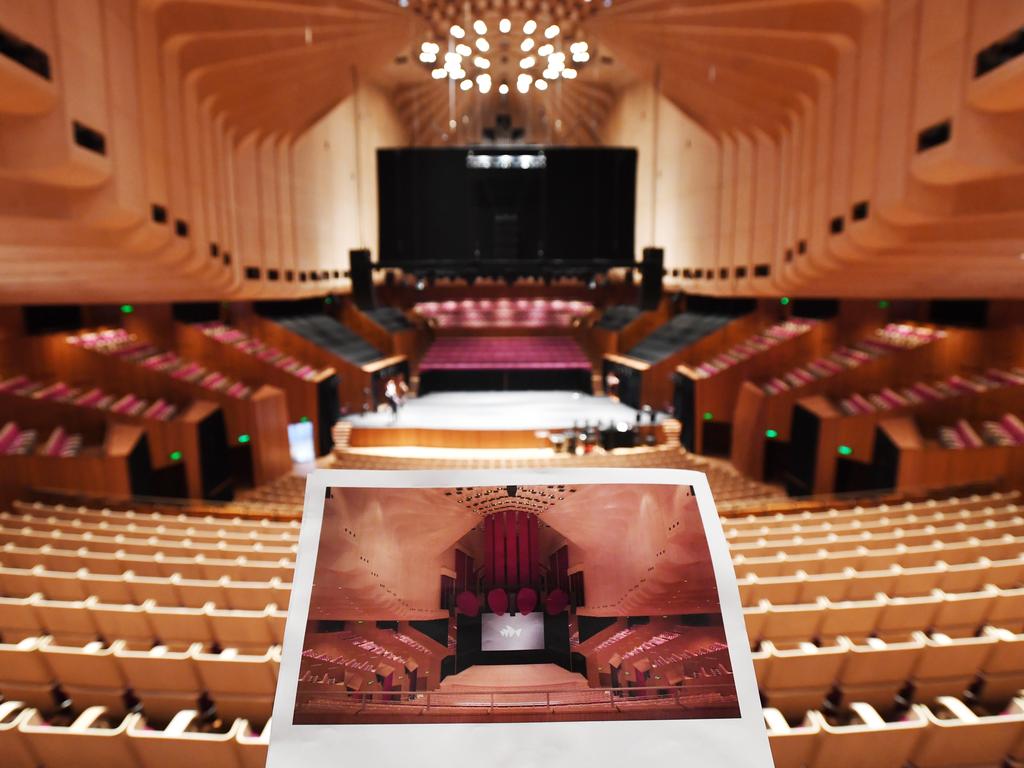 44. A 2020 rendered image shows what the new Concert Hall of the Sydney Opera House will look like after the biggest upgrade in its 46-year history, an upgrade that started in January that year. Picture: Dean Lewis/AAP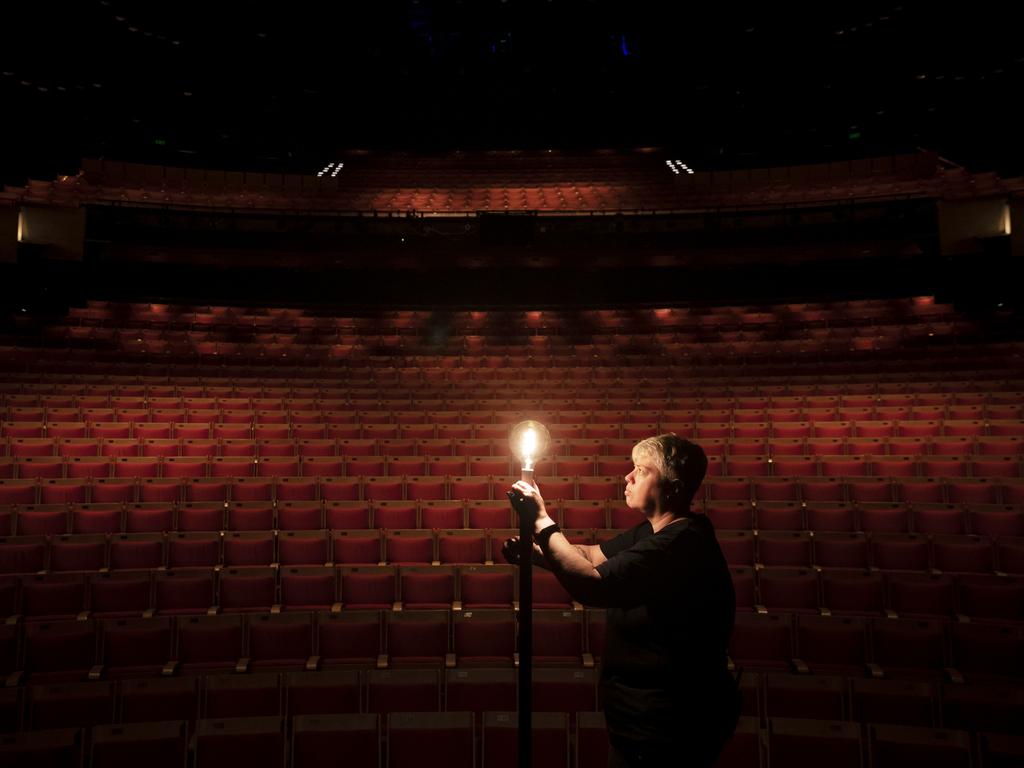 45. Just two months later, in March 2020 the Opera House was forced to shut for the global Covid-19 pandemic. In keeping with theatre tradition, "ghost lights" were installed. Not just for practical reasons, these lights ensure any resident ghosts are able to play on stage without disturbing props. Picture: Daniel James Boud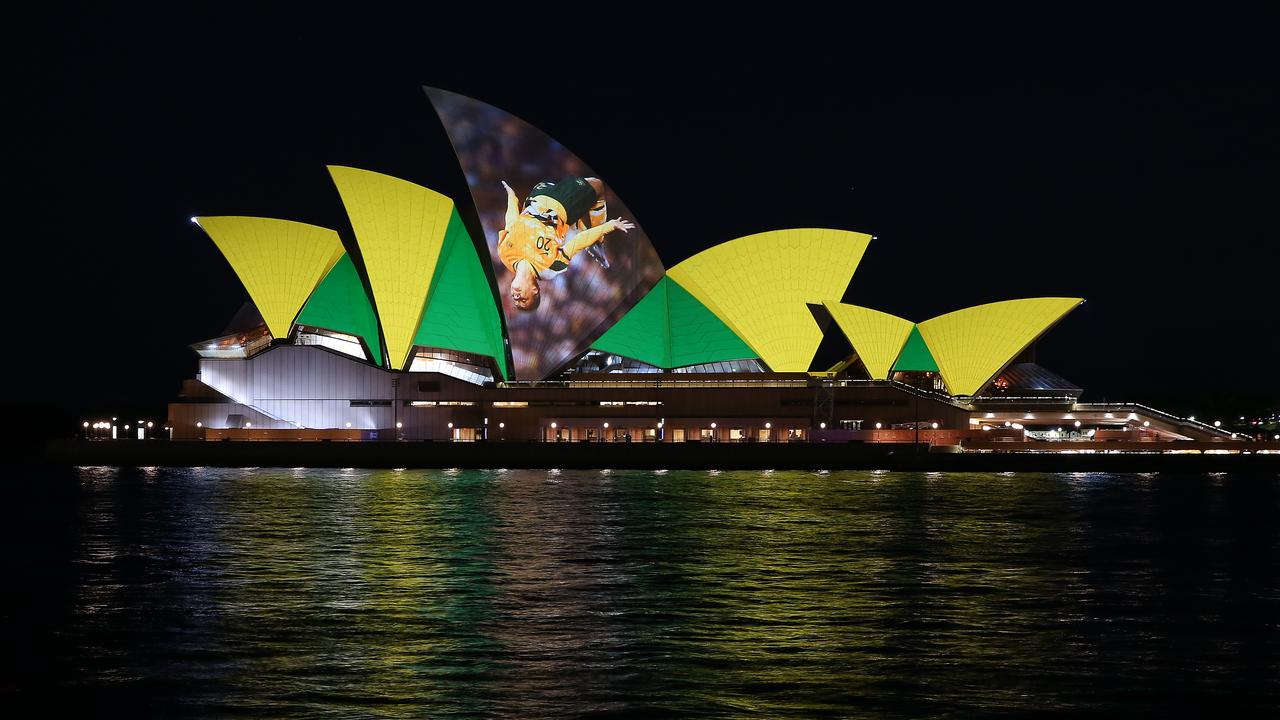 46. The sails are lit up with Sam Kerr in anticipation of hosting the 2023 FIFA Women's World Cup. Picture: Jason McCawley/Getty Images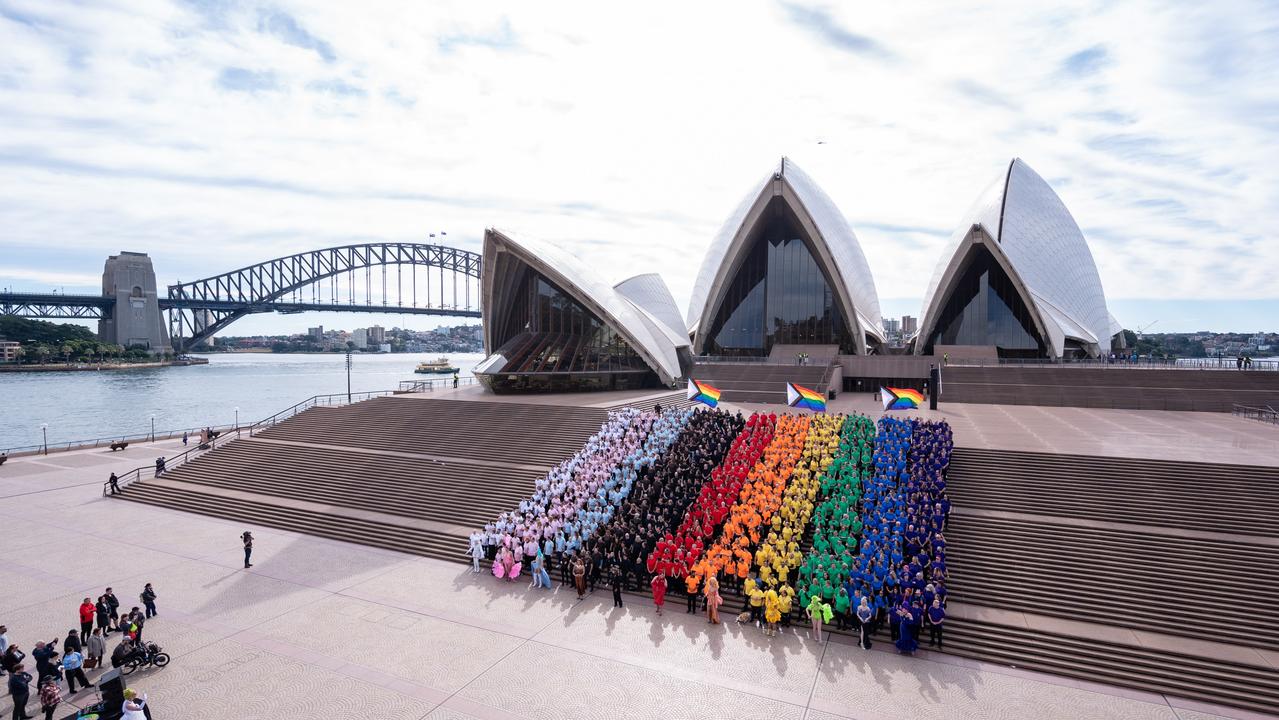 47. 1000 Sydneysiders united on the steps of the Sydney Opera House to form a giant Progress Flag to launch Sydney WorldPride 2023 and commemorate the 44th anniversary of the first Sydney Mardi Gras. Picture: James D. Morgan/Getty Images
48. A Sydney Symphony Orchestra concert on July 20, 2022, marks the reopening of the newly-refurbished Concert Hall. Picture: Daniel Boud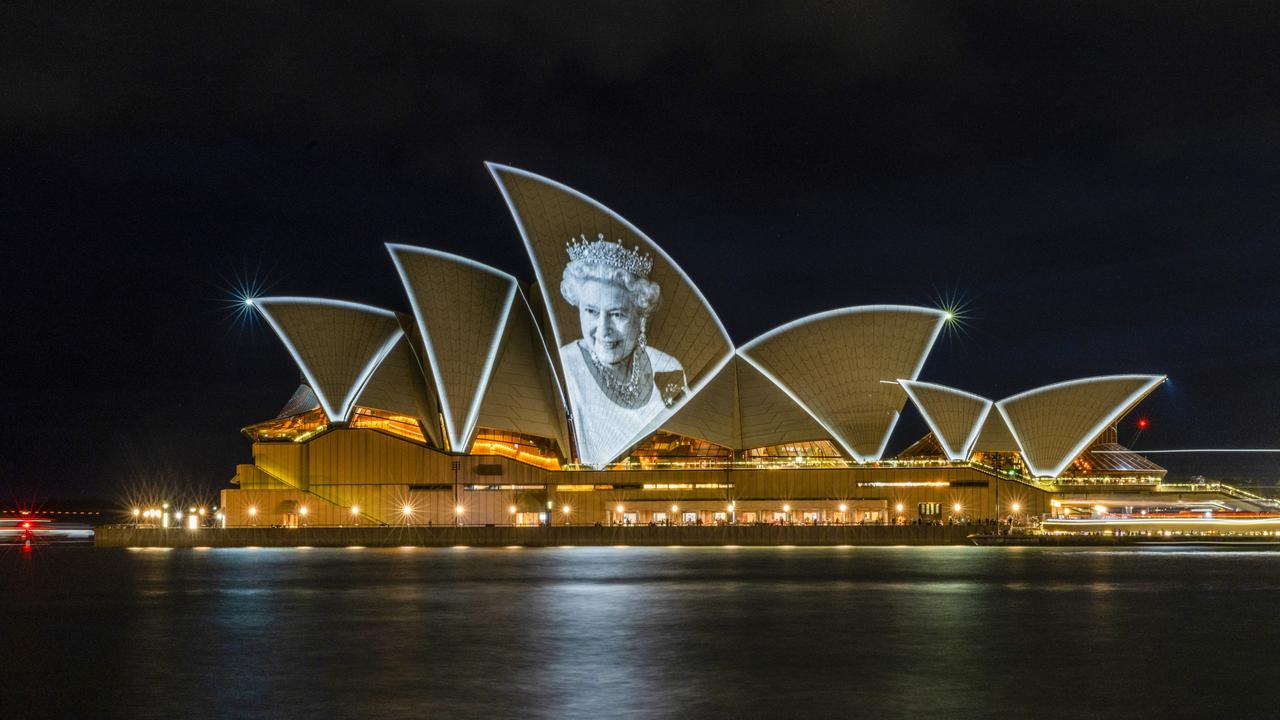 49. An image of the late Queen Elizabeth II is projected onto the sails of the Sydney Opera House on September 10, 2022, following the monarch's death at the age of 96. She made six visits to the Opera House in her lifetime, the last in 2006. Picture: Jenny Evans/Getty Images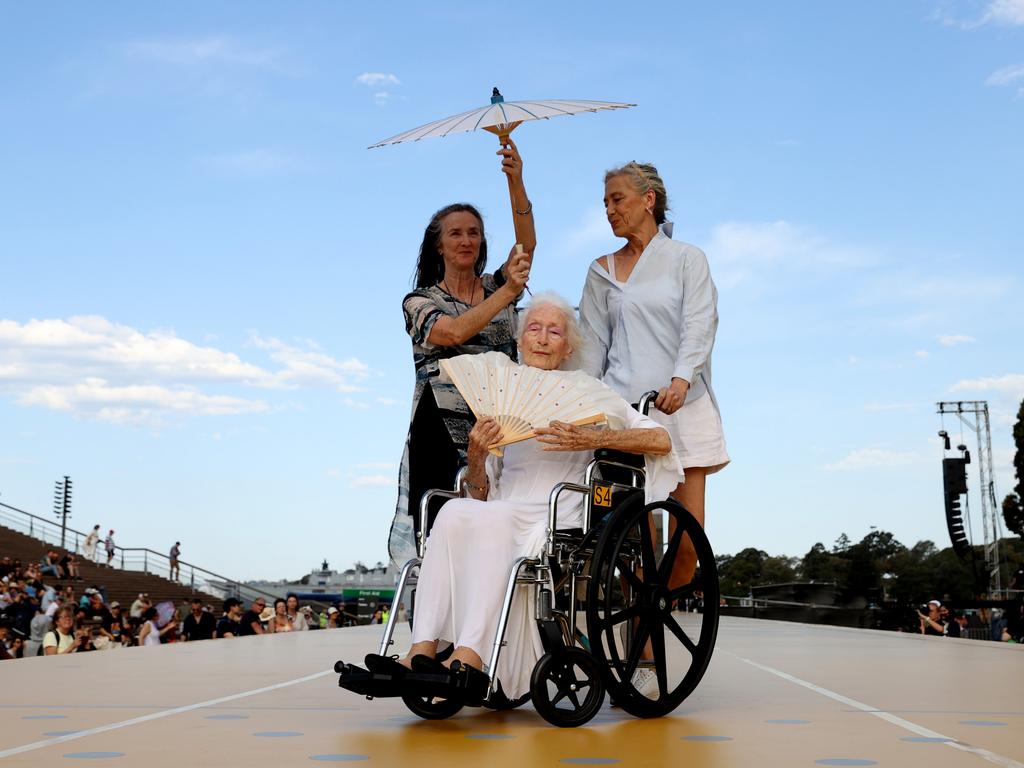 50. Eileen Kramer, 108, a former Australian Ballet dancer and choreographer*, takes part in the 50th anniversary celebrations. The Sydney Opera House is celebrating five decades with a month-long program of music, dance, theatre and art. Picture: Don Arnold/WireImage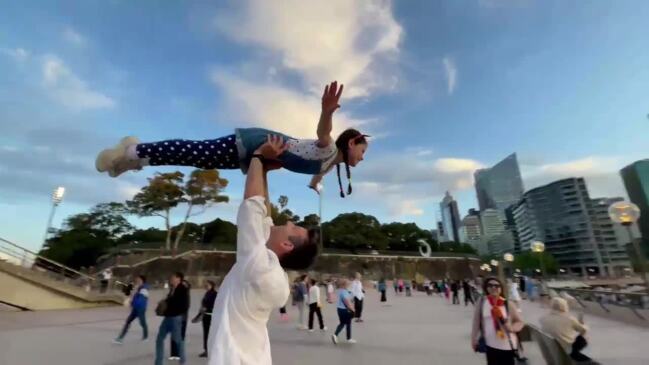 POLL
GLOSSARY
architect: person who designs new buildings and is responsible for how they are built
earmarked: reserved, set aside, identified, kept for a particular purpose
ambitious: difficult, demanding, challenging, hard
construction: building or making something
archives: both the place that holds records and the collections of historic information themselves
scaffolding: the raised structure that supports workers and materials during work on a building
Ol' Man River: a show tune from the 1927 musical Show Boat with music by Jerome Kern and lyrics by Oscar Hammerstein II – the musical was made into a film on 1936
Sergei Prokofiev: Russian composer, pianist and conductor (1891-1953)
War and Peace: Prokofiev's opera is based on Russian novelist Leo Tolstoy's iconic 1869 novel of the same name
Queen Elizabeth II: Elizabeth II was Britain's longest reigning monarch, assuming the title of Queen in 1952 and serving until her death on September 8, 2022, at the age of 96
commemorate: officially remember an important event or individual by holding a special event or ceremony
Royal Ascot: a major social and sporting event for Britain's upper-class, Royal Ascot began with the Gold Cup in 1807, Ascot's oldest surviving race
Arnold Schwarzenegger: Austrian-born American bodybuilder, Hollywood actor and politician
Prince Charles: formerly the Prince of Wales, Charles ascended the British throne and was crowned King Charles II on May 5, 2023, following the death of his mother Queen Elizabeth II the previous September
Diana, Princess of Wales: Charles' first wife and the mother of his sons, Prince William and Prince Harry, Diana died in a car accident in Paris on August 31, 1997, the year after she and Charles divorced
Elle Macpherson: arguably Australia's first global supermodel, she became a household name in the 1980s
Pope John Paul II: Born in Poland, he was head of the Roman Catholic Church from 1978 until his death in 2005 and the first non-Italian pope in 455 years
Nelson Mandela: South African anti-apartheid activist and politician who served as president of South Africa from 1994-99 and died in 2013 at the age of 95
Dame Joan Sutherland: highly decorated, renowned Sydney-born operatic soprano (1926-2010)
Crowded House: a very popular 1980s rock band formed in Melbourne and whose original members were New Zealand singer-songwriter Neil Finn and Australians drummer Paul Hester and bassist Nick Seymour
VIP: stands for very important person but is used to describe anyone or anything given special star treatment
Michael Jackson: known as the King of Pop, the singer, dancer and songwriter was an iconic figure of popular culture during his lifetime (1958-2009)
principal ballerina: highest ranked ballerina within a professional ballet company
millennium: a period of 1000 years, so the year 2000 was the start of the new millennium
Corroboree: a meeting of Indigenous Australians that usually includes traditional music and dancing
Olympic torch: the torch relay heralds the start of the Olympic Games and symbolises the positive, peaceful values of the Games
Samantha Riley: the champion swimmer won three Olympic medals across the 1992 and 1996 Olympic Games
war in Iraq: also known as the second Gulf War, the Iraq War (2003-2011) began when a US-led coalition of armed forces including Australia's invaded Iraq to overthrow Saddam Hussein
John Howard: Australia's 25th and second-longest serving prime minister between 1996-2007
UNESCO: United Nations Educational, Scientific and Cultural Organization, a UN agency promoting international co-operation in education, sciences, culture, communication and information
heritage: the history, traditions and practices of a particular country, society or group
masterpiece: a creation of great skill and significance, an important work of art in any field
Pope Benedict XVI: the German-born head of the Roman Catholic Church from 2005 until his resignation in 2013 and died in the Vatican City in 2022
motorcade: slow-moving formal procession of cars and other vehicles carrying dignitaries and other VIPs
choreographed: planned, composed, arranged combination of movements to be performed in a dance
Stephen Hawking: the brilliant British theoretical physicist, cosmologist and author whose work influenced ideas about the origin of the universe (1942-2018)
hologram: special type of photograph or image made with a laser so that the subject looks solid and three-dimensional
theoretical physics: field of physics dedicated to coming up with mathematical explanations for natural events
secondment: a temporary assignment, when someone works somewhere else instead of in their usual role
Prince: American singer, songwriter, musician and producer (1958-2016)
choreographer: someone who invents the movements for a ballet or other dance and tells the dancers how to perform them
EXTRA READING
World-famous Sydney Opera House celebrates 50 years
How the Opera House could have looked
How rising sea levels could impact landmarks
QUICK QUIZ
How many times did Queen Elizabeth II visit the Sydney Opera House?
Who performed an intimate concert at the Opera House just two months before his death?
Who was Nelson Mandela?
Which non-native animal is the only one that appears in this gallery of iconic moments at the Opera House?
When and why were "ghost lights" installed at the Opera House?
LISTEN TO THIS STORY
CLASSROOM ACTIVITIES
1. Iconic moments in history
As you can see in the gallery of photos included in this Kids News story, there have been some amazing moments in time that involve this spectacular piece of architecture.
Choose your favourite photo in the fifty year history of the Opera House and answer the following questions:
1. Who is in the photo?
2. What year was it taken?
3. What moment was being celebrated?
4. How does the Sydney Opera House feature?
5. Why is it significant to you?
6. What do you like about this photo the most?
Time: allow 25 minutes to complete this activity
Curriculum Links: English, History, Visual Arts, Personal and Social, Critical and Creative Thinking
2. Extension
Thinking of current world events and imagining things happening in the future, what would you like to see happen next involving the Sydney Opera House? It could be a concert, a famous person visiting, a projection or something else you can come up with.
Write the caption to appear below the image that you are wanting to portray.
Time: allow 15 minutes to complete this activity
Curriculum Links: English, Visual Arts, Personal and Social, Critical and Creative Thinking
VCOP ACTIVITY
Imaginative dialogue
Imagine you were there for one of the 50 events pictured in the gallery.
Create a conversation between two of the people in your chosen photo – you may need or want to include yourself as one of them. Don't forget to try to use facts and details from the picture's caption and the extra information in the glossary to help make your dialogue as realistic as possible.
Go through your writing and highlight any punctuation you have used in green. Make sure you carefully check the punctuation used for the dialogue and ensure you have opened and closed the speaking in the correct places.