Most students could think of nothing worse than extra homework over summer — but Hannah Black isn't most students.
The Year 8 student from Brighton Secondary College spent her Christmas money and most of her holidays building a fully functional* bionic* hand from scratch.
With a 3D-printed shell and a custom-built electrical circuit, the brainy Victorian teen had her work cut out for her.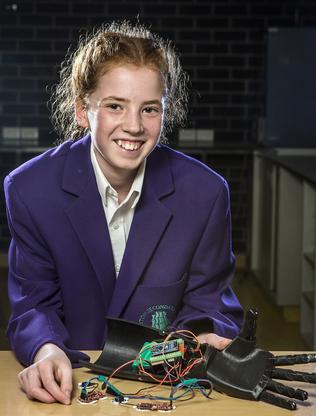 "We got to choose a topic for an English project and I thought a bionic hand would be interesting to research … I didn't really know what to expect," Hannah said.
"The biggest challenge was designing an electrical circuit and doing the coding — I looked at a lot of other peoples' open source projects and combined ideas from those."
Hannah, 13, taught herself to code and spent hours of holiday time tinkering* with her invention.
She is fascinated by the possibility of helping those with a disability.
"I'd love to one day in the future get someone to wear an improved model, to see how it impacts them," she said.
Hannah is already planning a second prototype*, which would feature "haptic technology" to let the user feel what they are touching.
"Little sensors go at the end of your fingers, so you can give the temperature, force and feeling," she said.
English teacher Karen Boyd said Hannah was an inspiring student.
"I am just so impressed with her curiosity, determination and generosity of spirit," Ms Boyd said.
"We often hear about a teacher who has had a big impact on a student, or inspired them in some way, but this definitely goes both ways and teaching Hannah brings such a positive energy to the classroom."
GLOSSARY
functional: designed to be useful
bionic: electromechanical body part
tinkering: casually improve
prototype: first version of a device
LISTEN TO TODAY'S STORY
CLASSROOM ACTIVITIES
1. Hi-tech vocab
Based on how they are used in the article, write a one sentence definition of what you think each of these terms mean. Then look each one up and edit your definition if required.
— electrical circuit
— open source
— haptic technology
— coding
Extension: Write a quick summary of what Hannah Black did over the Christmas holidays that includes the four tech terms you defined above.
Time: Allow 30 minutes
Curriculum links: English, Technologies, Science
2. Medical inventions
Perform your own research about one of these medical inventions and create an information poster with a diagram and a minimum of four facts.
– bionic hand
– bionic ear
– pacemaker
– artificial knee
Extension: Describe how the medical invention you chose improves recipients' lives and the types of things it allows them to do that they may not otherwise have been able to.
Time: Allow 40 minutes
Curriculum links: English, Technologies, Science
VCOP ACTIVITY
After reading the article, with a partner, highlight all the openers you can find in blue. Discuss if they are powerful and varied openers or not. Why do you think the journalists has used a mix of simple and power openers? Would you change any, and why?
IN ONE SENTENCE, TELL US WHAT YOU THINK ABOUT TODAY'S STORY
Please do not use one-word answers. Explain what you enjoyed or found interesting about the article. Use lots of adjectives.