A set of three-fingered "mummies"* recently discovered in Peru are not human and could be aliens, a scientist has claimed.
Professor Konstantin Korotkov, from the Russian National Research University, said the supposedly ancient remains had human-like features but were not homo sapiens*.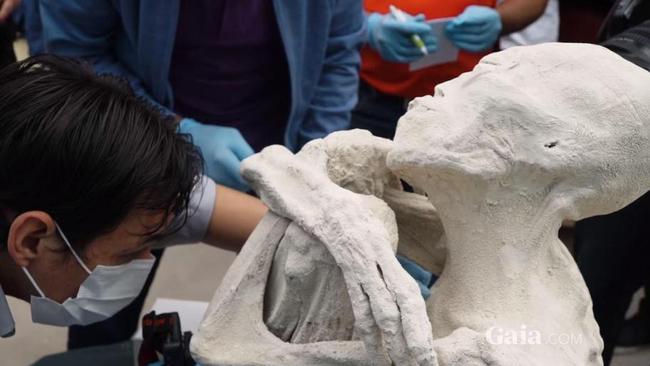 Prof Korotkov has examined mummies found by researchers in Nazca, Peru, which date back as far as 6500 years.
He told Sputnik News: "Each of the little mummies has two arms, two legs, a head, a pair of eyes and a mouth.
"Their DNA features 23 pairs of chromosomes*, just like we have.
"All the four of them are males, each with a Y-chromosome.
"They appear human but they are not."
Another skeletal* specialist, Dr Edson Vivanco, has also concluded the remains are of "non-human beings", the Daily Express reported.
While the strange three-fingered and three-toed corpses have been branded fake by other scientists, Dr Vivanco said: "There are lots of details that indicate that the bodies are real.
"To recreate a skull with these characteristics is a very difficult task."
The scientist insists if they were fake, he would be the "first to say and report it".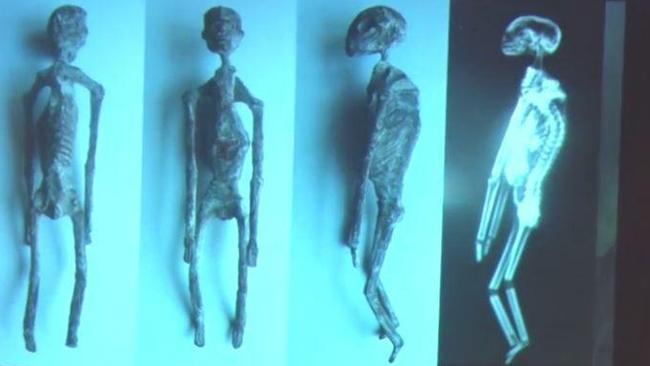 Footage of a so-called mummified alien was released in June last year in the ancient city of Nazca, Peru.
The video was posted by website Gaia.com which charged curious users money to view it.
The site claims the body was dug up during an excavation of mysterious caves.
Sceptical* viewers pointed out the "corpse" looks like it is a half-finished cardboard creation.
One viewer commented: "Something seems off. The corpse looks like it was made of plaster."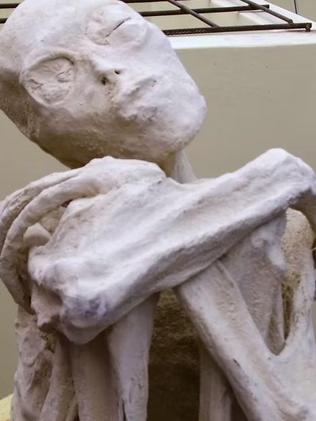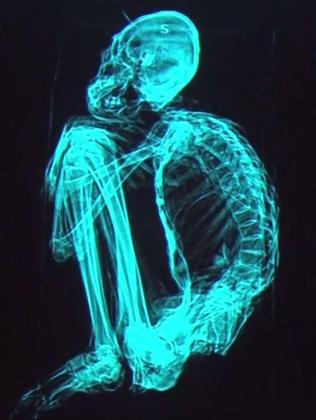 Dr Vivanco rejected the non-believers saying: "Right now, we are studying the evidence. And so far, we haven't found anything to say it is a fraud*, or that the bodies have been modified or altered in any way.
"We have lots of evidence that sets us on the path to prove that this is real."
This article originally appeared in The Sun and is republished here with permission.
GLOSSARY
mummies: a body that has dried up and been preserved over time
homo sapien: scientific name for a human being
chromosomes: they carry all of the information (DNA) used to help a body cell grow, thrive, and reproduce
skeletal: relating to the skeleton
fraud: tricking someone to make or steal money
sceptical: having doubts
LISTEN TO TODAY'S ARTICLE
QUICK QUIZ
1. Where were the mummies found?
2. What is the scientific name for humans?
3. How many toes do the mummies have?
4. How many pairs of chromosomes do the bodies have?
5. What gender are they?
CLASSROOM ACTIVITIES
1. Pick a side
This article is written in a way that presents both the possibility of the mummies being real or of them being fake. However some 'news' sources could choose to present the story from only one side — either using only information that claimed that the mummies are truly aliens or presenting the find as an elaborate hoax. Choose one side and re-write your own version of the news that only presents one side of the story. Make sure you have an attention-grabbing headline for your article too.
Extension: Create a table that lists the similarities and differences between humans and the mummies.
Time: Allow 30 minutes
Curriculum links: English, Critical and Creative Thinking
2. I wonder …
The mummies that are the subject of this article are extremely mysterious. So much is unknown about them, including if they are even real. Set a timer for 15 minutes and brainstorm as many questions as you can think of that you would like to see answered about these mummies.
Extension: Sort your questions into two categories — ones that could potentially be answered and ones that you believe will remain a mystery.
Time: Allow 15 minutes
Curriculum links: English, Critical and Creative Thinking
VOP ACTIVITY
After reading the article, with a partner, highlight as many connectives as you can find in pink. Discuss if these are being used as conjunctions, or to join ideas and create flow.
IN ONE SENTENCE, TELL US WHAT YOU LIKE ABOUT TODAY'S STORY
Please do not use one-word answers as they will not be published. Explain what you enjoyed or found interesting about today's article. Use lots of adjectives.