Sir Ian Wilmut, creator of the world's first cloned mammal — Dolly the Sheep — has died
Sir Ian Wilmut, the scientist behind the creation of the world's first cloned mammal — Dolly the Sheep — has died. Discover how his work changed the world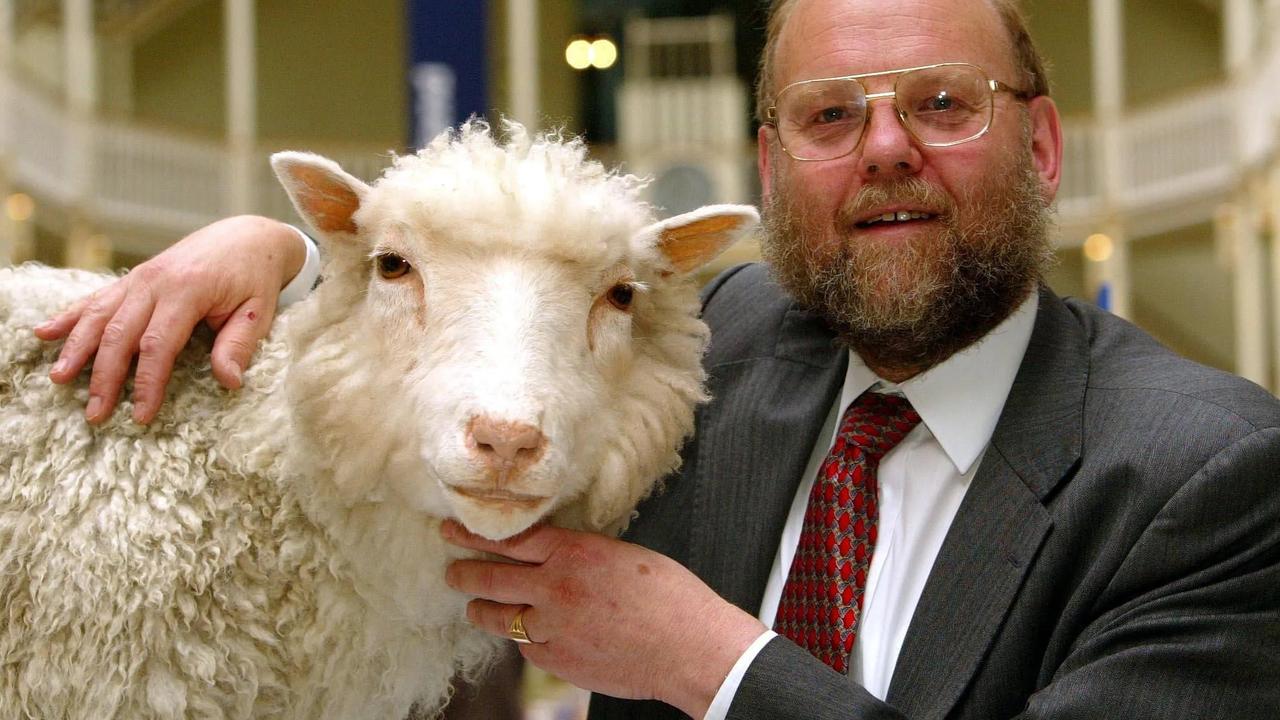 Cloning pioneer Sir Ian Wilmut with Dolly the Sheep, the world's first cloned mammal. Picture: The Sun
Sir Ian Wilmut, the scientific pioneer* whose work was critical to the creation of the world's first cloned* mammal — Dolly the Sheep — has died at age 79.
The University of Edinburgh in Scotland said Sir Wilmut died at the weekend after a long illness with Parkinson's disease*.
Sir Wilmut started a global discussion about the rights and wrongs of cloning when he announced in 1996 that his team at the university's Roslin Institute for animal biosciences* had created a lamb using the nucleus* of a cell from an adult sheep.
Initially referred to as "6LL3" in the paper describing the work, the Finnish-Dorset crossbreed* lamb was later named Dolly, after the country singer Dolly Parton.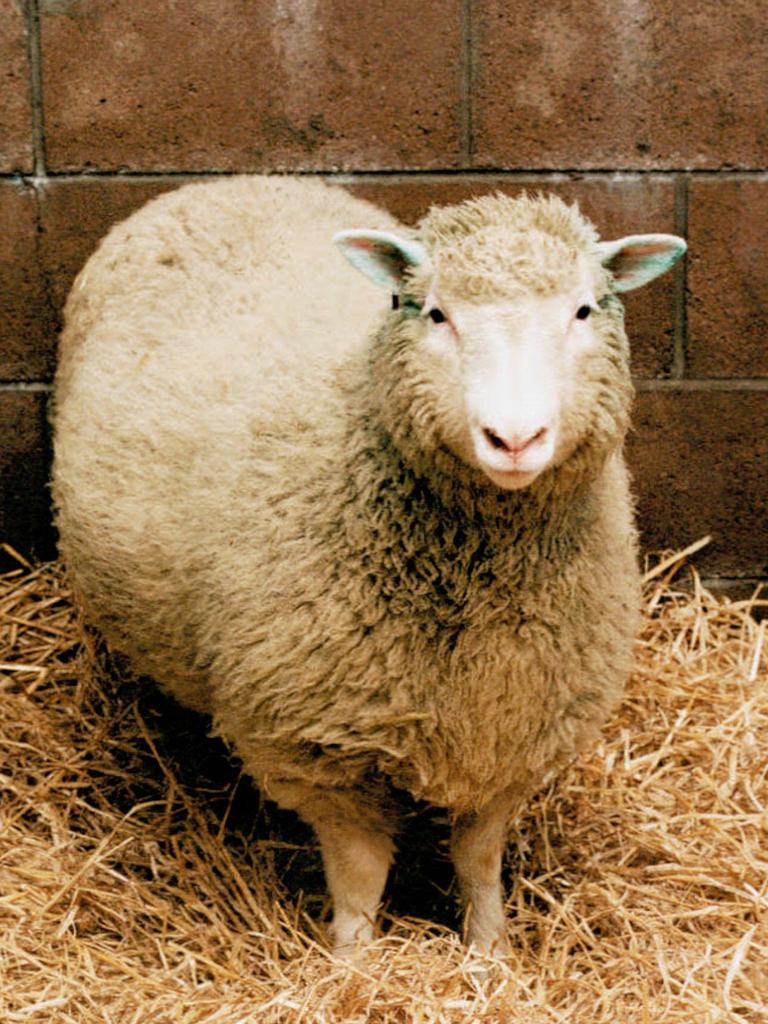 Dolly, the world's first clone of an adult mammal in her pen. Picture: AP/PA
A WORLD FIRST
Dolly's cloning was the first time scientists were able to make a mature adult cell behave like a cell from a newly fertilised* embryo* to create an exact copy of the animal they came from.
Dolly had three mothers: her DNA was taken from one ewe and then injected into the egg of another with a third carrying the embryo and giving birth.
She quickly became world famous and sparked a public debate about the benefits and dangers of cloning.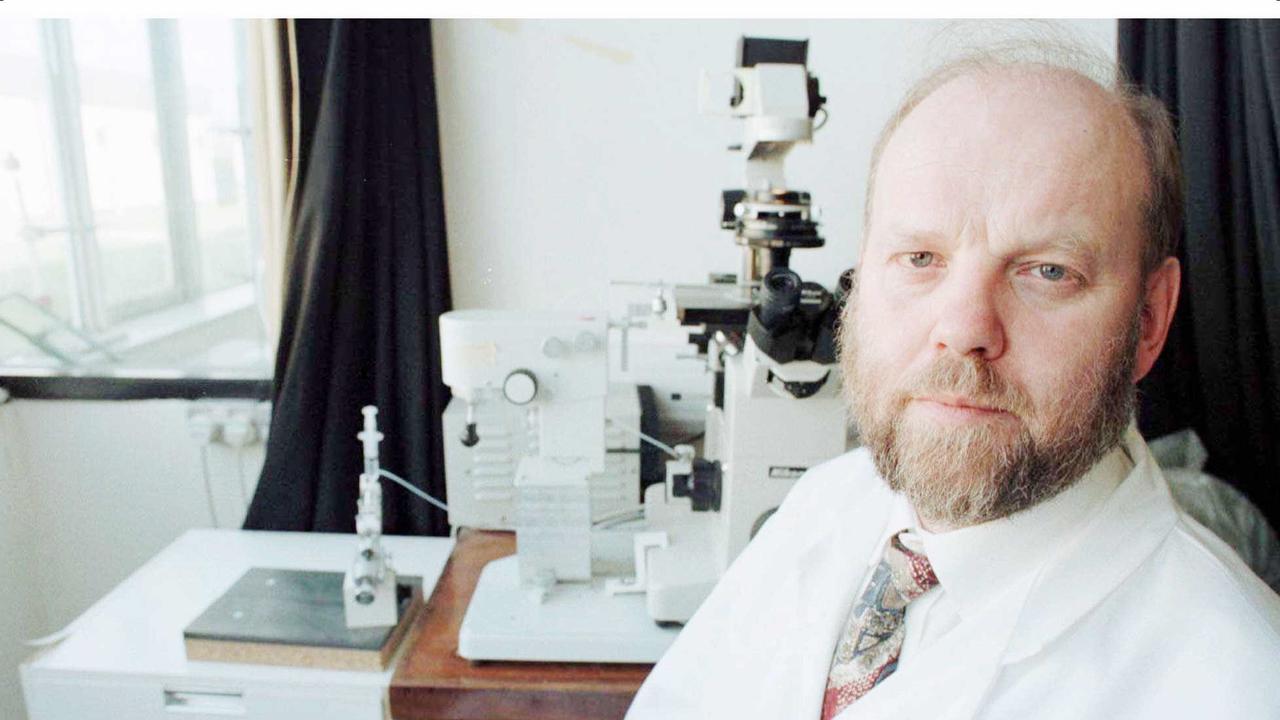 Scientist Dr Ian Wilmut at Roslin Institute in Edinburgh, Scotland.
Dolly's creation led to questions about the potential cloning of humans and extinct* species.
The year after Dolly's birth, then US President Bill Clinton imposed a ban on the use of federal funds for human cloning but stopped short of banning all cloning research.
Other scientists went on to clone animals including dogs, cats, horses, monkeys and bulls.
In 2000, scientists at the South Australian Research and Development Institute cloned Matilda the merino sheep using a technique similar to the one that created Dolly.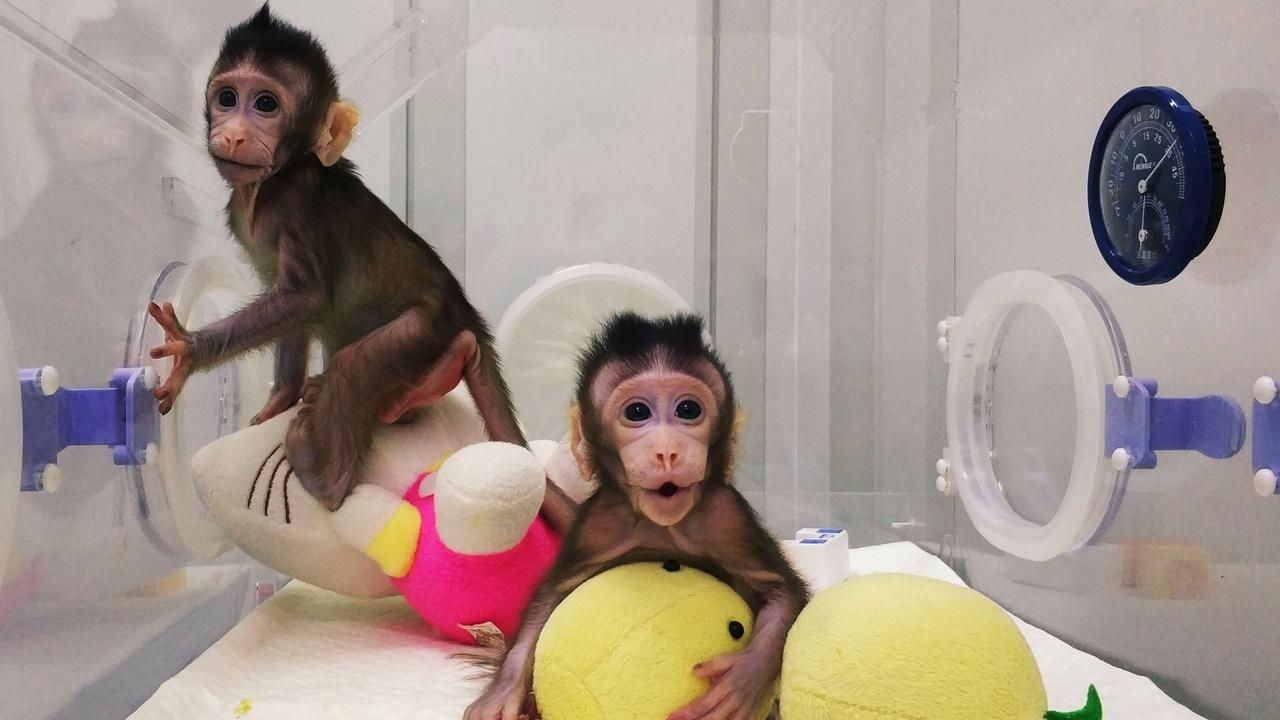 Monkey clones Zhong Zhong (left) and Hua Hua who were created using the same technique as Dolly the Sheep. Picture: AFP / Chinese Academy Of Sciences
Matilda later gave birth to healthy triplets, who themselves have gone on to have lambs.
In recent years, scientists have proposed bringing back the woolly mammoth from the Ice Age by using a mix of gene* editing and cloning.
WHAT HAPPENED TO DOLLY?
When Dolly was one year old, analysis of her DNA showed she was "older" than her actual age, most likely because adult sheep cells were used to create her.
However, health screens on Dolly at the time did not find any conditions related to premature or accelerated ageing.
Dolly spent her life at The Roslin Institute and, apart from the occasional media appearance, led a normal life with the other sheep there. She gave birth naturally to six lambs with a Welsh Mountain ram called David.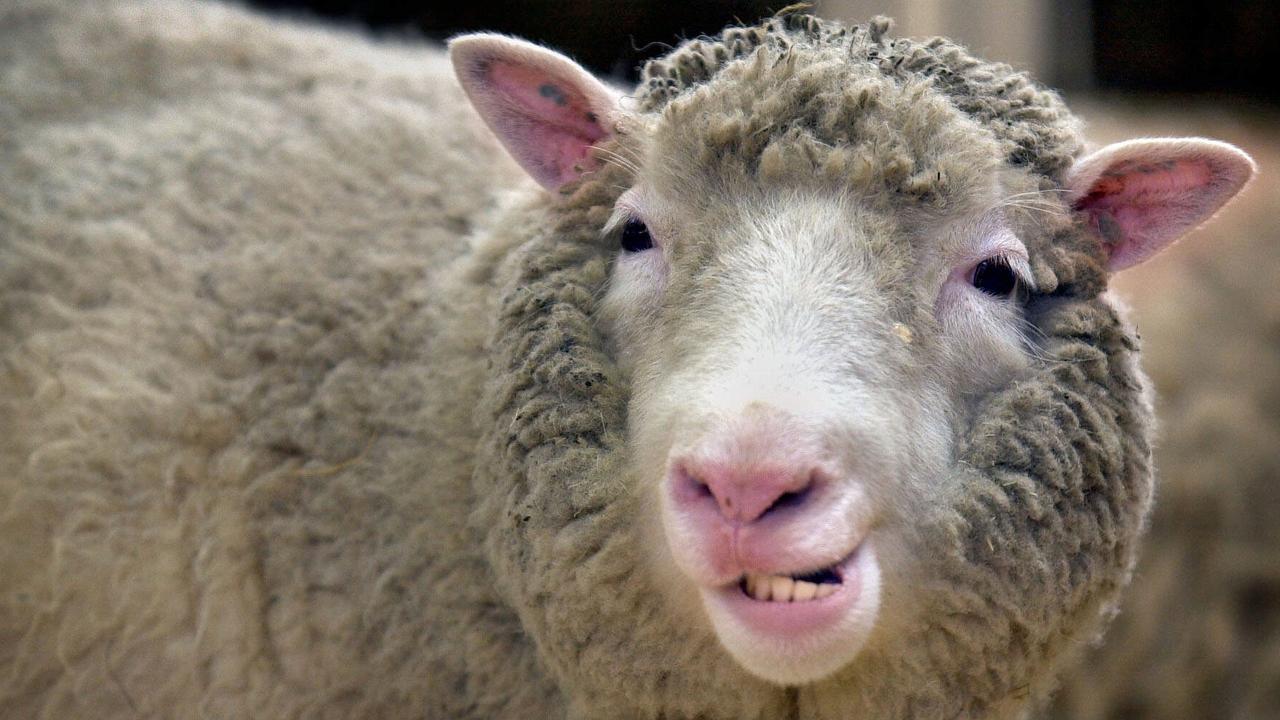 Dolly puts on a smile for the camera.
In September 2000, she became infected by a virus which causes lung cancer in sheep before also being diagnosed and treated for arthritis in 2001 after farm staff noticed her walking stiffly.
Dolly continued to have a normal life until February 2003, when she developed a cough. A medical scan showed tumours growing in her lungs. A decision was made to put her to sleep on February 14, 2003, at the age of six, to prevent her suffering.
A taxidermist* preserved her body and she can still be seen at the National Museums Scotland.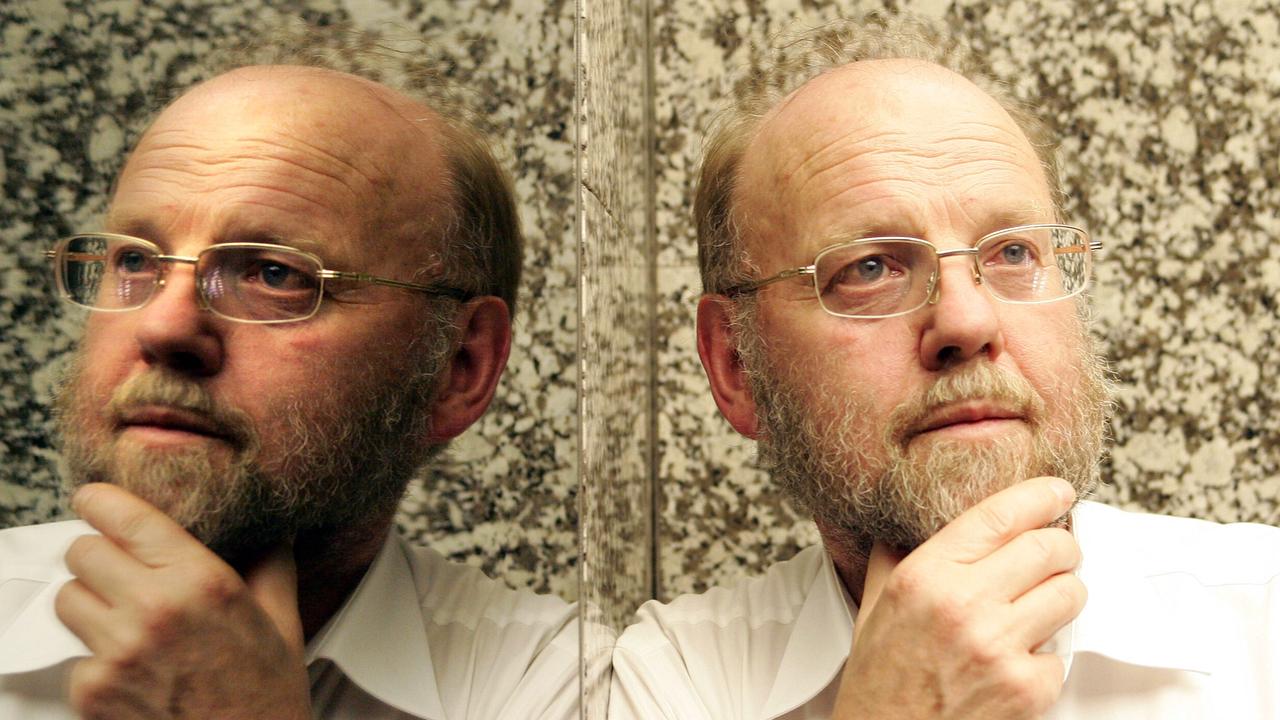 British embryologist Sir Ian Wilmut during a visit to Sydney.
WILMUT'S LIFE AFTER DOLLY
Sir Wilmut, a trained embryologist*, later experimented with cloning techniques to treat diseases by helping the body repair damaged tissue.
In 2007, he decided not to pursue a licence to clone human embryos, which he had been awarded just two years earlier, as part of a push to find new treatments for motor neurone disease*.
The Roslin Institute said Sir Wilmut was knighted in 2008, retired from the university in 2012 and later researched Parkinson's disease after he was diagnosed with the condition.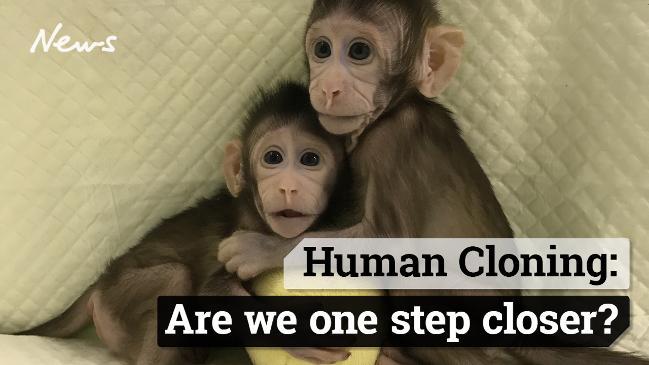 POLL
GLOSSARY
pioneer: the first to use or apply a new method or area of knowledge
cloned: made an identical copy
Parkinson's disease: a progressive disease of the nervous system marked by shaking, stiff muscles and slow movement
biosciences: the study of humans, animals, and plants
nucleus: centre
crossbreed: produced by mating two different species, breeds, or varieties
fertilised: the joining of an egg from the female and sperm from the male
embryo: an unborn baby in its first eight weeks of life
extinct: no longer living
gene: made up of DNA and passed on by parents to children
taxidermist: a person whose job is to prepare the skins of dead animals and birds and fill them with a special material to make them look as if they are alive
embryologist: a person who studies development of animals between the fertilisation of the egg and the time when the animal is born
motor neurone disease: a condition that causes weakness in the muscles leading to paralysis
EXTRA READING
Kurt the cloned horse kicking up his heels
Synthetic human embryo grown from stem cells
It works! Pig kidney functions in human patient
QUICK QUIZ
What breed of lamb was Dolly?
What world-first did Sir Wilmut's team achieve to create Dolly?
How does Dolly have three mothers?
How did scientists know Dolly was "older" than her real age?
What field of science was Sir Wilmut trained in?
LISTEN TO THIS STORY
CLASSROOM ACTIVITIES
1. Back from the dead
If you were able to clone an animal from the past, what would it be?
How would you re-create its environment in today's world?
Would we have the capacity to look after this animal and give it what it needs to survive?
Sketch your animal and how it would look in today's environment below.
Time: allow 25 minutes to complete this activity
Curriculum Links: English, Visual Art, Science, Personal and Social, Critical and Creative Thinking
2. Extension
Do you think modern-day scientists should be working on cloning to help find a cure for diseases such as motor neurone disease (MND), Parkinson's and other debilitating illnesses? Explain your answer in a strongly worded paragraph.
Time: allow 10 minutes to complete this activity
Curriculum Links: English, Science, Critical and Creative Thinking
VCOP ACTIVITY
1. Wow word recycle
There are plenty of wow words (ambitious pieces of vocabulary) being used in the article. Some are in the glossary, but there might be extra ones from the article that you think are exceptional as well.
Identify all the words in the article that you think are not common words, and particularly good choices for the writer to have chosen.
Select three words you have highlighted to recycle into your own sentences.
If any of the words you identified are not in the glossary, write up your own glossary for them.