Scientists use stem cells to grow whole model of human embryo
A synthetic human embryo has been made using stem cells in a historic medical breakthrough that scientists believe could offer valuable insights into the early stages of human development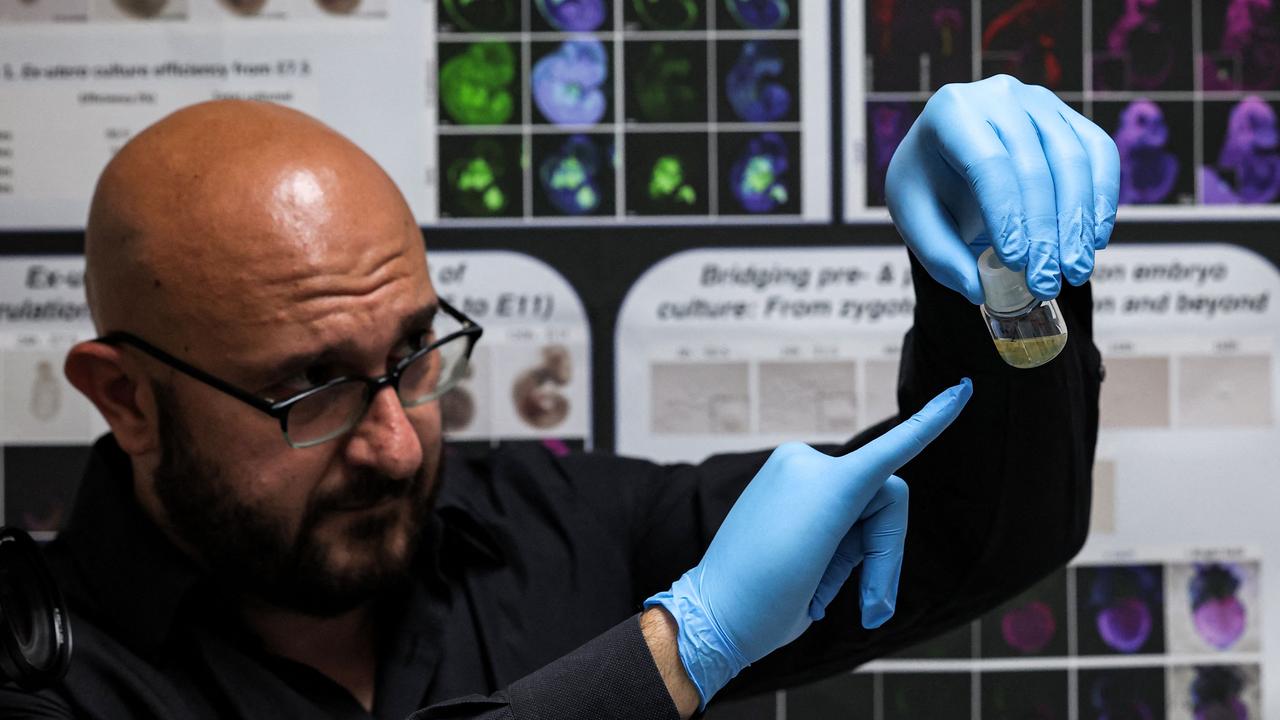 Dr Jacob Hanna holds a vial containing five-day-old synthetic mouse embryos. Picture: Ahmad Gharabli / AFP
Scientists have used stem cells to create an artificial human embryo in a major medical breakthrough.
By using stem cells, there was no need for human eggs or sperm to build the structure of the embryo, Israeli scientists said.
The synthetic embryo cannot grow into a living, breathing human being, but the study is being described as a landmark discovery.
The findings could help with research on the early development of embryos, which are not normally studied for legal and ethical reasons, The Sun reported.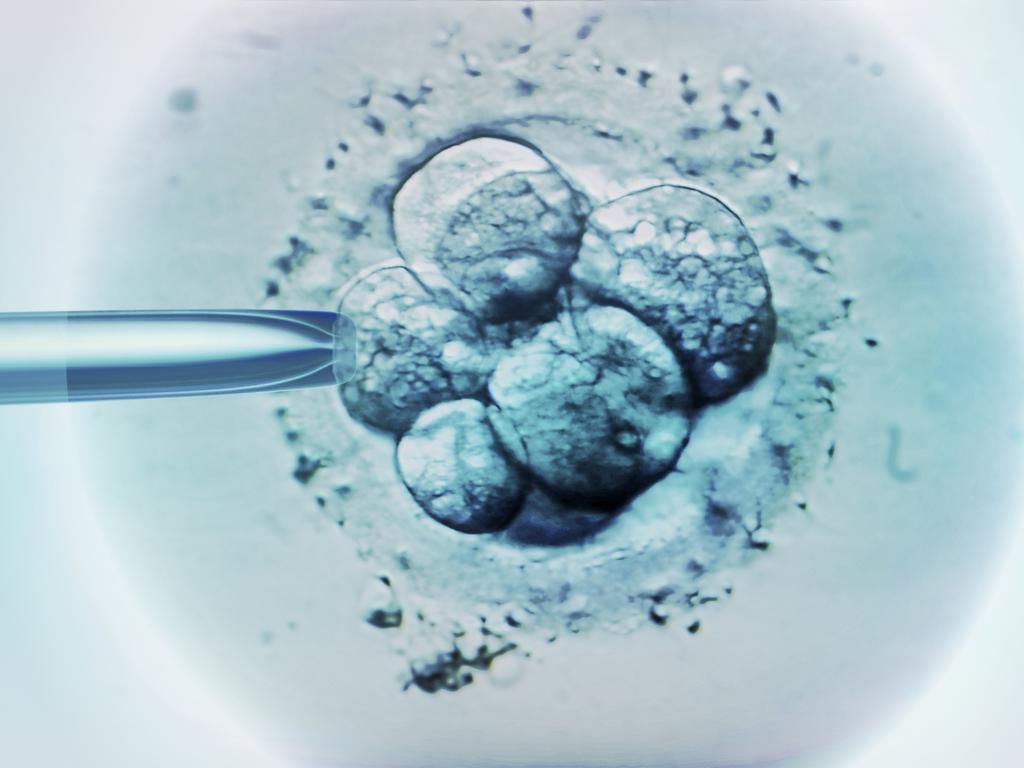 Researchers hope the embryo study will lead to discoveries that will help pregnant women in the future.
The Weizmann Institute of Science Professor Jacob Hanna said: "The drama is in the first month; the remaining eight months of pregnancy are mainly lots of growth.
"But that first month is still largely a black box."
He said the team's stem-cell created embryo model gives scientists a better idea of what happens in this early and largely unstudied part of human development. The artificial embryo mimics what happens in the development of a real human embryo and could offer clues on the way birth defects form in early pregnancy.
Embryo models that are stem cell-based can be easily made in large numbers, according to the Francis Crick Institute in London.
Professor Hanna and a rival group at the University of Cambridge had previously shown embryo models could be made from mouse stem cells.
This latest discovery in Israel is the first to be peer-reviewed and was published in the medical journal Nature.
Researchers hope the model could help scientists discover ways to help successful pregnancies in future.
The study is being called a landmark discovery that could help aid research on early development of embryos.
"Many failures of pregnancy occur in the first few weeks, often before the woman even knows she's pregnant," Professor Hanna said. "That's also when many birth defects originate, even though they tend to be discovered much later.
"Our models can be used to reveal the biochemical signals that ensure proper development at this early stage, and the ways in which that development can go wrong."
Professor Hanna also noted that the embryo model could help pharmaceutical research and the effect certain drugs may have on a developing foetus. Many drugs are not tested on pregnant women for safety reasons.
POLL
GLOSSARY
stem cells: cells from which all other cells that make up the body are made
synthetic: artificial or not naturally occuring
embryo: an unborn, developing human in the second to eighth week of development following fertilisation
black box: something that has mysterious or unknown internal functions
peer-reviewed: something that has been examined for accuracy by a number of medical experts
originate: create or begin something
biochemical signals: the way cells communicate or work together in a natural process
pharmaceutical: medical drugs
foetus: an unborn human in the process of developing into a baby
EXTRA READING
Can we bring frozen humans back to life?
It works! Pig kidney functions in human patient
Cells get 'seek and destroy' signal
QUICK QUIZ
1. What did scientists use to create the synthetic human embryo?
2. What are two things the research could be used for?
3. From the stem cells of which animal did scientists previously create an embryo?
4. According to Professor Jacob Hanna, when does most of "the drama" of human development happen in an embryo?
5. Why are most drugs not tested on pregnant women?
LISTEN TO THIS STORY
CLASSROOM ACTIVITIES
1. Create a fact file
Do you know what stem cells are and why they are important? Use your research skills to find out. Use the information that you have found to create a fact file for other students your age. The purpose of your fact file is to help them learn the most important things about stem cells.
Time: allow 30 minutes for this activity
Curriculum Links: English, Science
2. Extension
"Just because scientists can do something does not mean that they should do it." Do you agree with this statement? Use information in the story, as well as your own ideas, to write paragraphs that explain your opinion on this question.
Time: allow 15 minutes to complete this activity
Curriculum Links: English, Science, Ethical Capability
VCOP ACTIVITY
To sum it up
After reading the article, use your comprehension skills to summarise in a maximum of three sentences what the article is about.
Think about:
What is the main topic or idea?
What is an important or interesting fact?
Who was involved (people or places)?
Use your VCOP skills to re-read your summary to make sure it is clear, specific and well punctuated.