ROBOTS, flying cars, space sports and a volatile* environment — these are just some of the predictions science and technology experts and dedicated futurists* are imagining for Earth by the middle of this century.
While 2050 is still 33 years away, at the current rate of technological development things are going to look very different when we get there.
COMPUTER BOSS
The biggest innovations* expected to change our way of life are artificial intelligence* and machine learning, said renowned futurist Chris Riddell.
The ultimate goal (or ultimate concern, depending who you ask) is to build self-improving artificial intelligence into computers, meaning they learn to act like humans but can learn more and faster because of their artificial 'brain'.
Already, machines are proving more capable and reliable than humans in a number tasks such as diagnosing disease.
"You won't have just humans at the top of business by the year 2050," Mr Riddell said.
Company bosses will likely work alongside a computing system.
CARS AND DRONES
Cars are set for a makeover in years to come with flying cars, drones and driverless technology.
"We've already seen how driverless technology is picking up rapidly," Mr Riddell said.
Well before 2050 he predicts Australian roads will be filled with self-driving cars and people wanting to drive their own vehicle will be required to pay an extra fee for the pleasure.
Shortly after that, he predicted we'll take to the sky.
"Personal drones will absolutely be a thing by the year 2050," Mr Riddell said.
The city of Dubai has made plans to use drone taxis to ferry people over the city.
And eventually cars and drones will merge.
"What you'll see eventually is the converging* of the two … you won't be able to separate cars and drones," Mr Riddell said.
ONLINE AND OFFLINE BECOME ONE
Virtual reality is a computer-generated simulation of an image or environment that responds, and in the future it will feel even more real.
"What we're heading to already, very rapidly, is an era where we're augmenting* our experiences from digital — from the screen — to our offline real world. And those two are going together rapidly," futurist Mr Riddell said.
"Soon, we won't be able to tell the difference between virtual and true experiences."
One of the major new jobs of the future will be "experience architects" who are able to create tailor-made worlds for us to play in, he said.
"You'll be able to sit and immerse yourself in a 360 degree football stadium to watch your favourite football match. And you'll actually be able to feel that experience happening around you."
ENVIRONMENT AT RISK
By 2050 Australia's population could reach 40 million people, adding stress to the coastal cities and environment.
Retired professor of science at Griffith University Ian Lowe warned Australia needed to replace fossil fuels with renewable energy or we can expect more extreme weather events.
He said he was concerned population growth and an increase in consumption could have adverse effects on Australia's natural environment.
"We're losing biodiversity* at an alarming rate and we simply don't know what the long term effect of that will be," he said.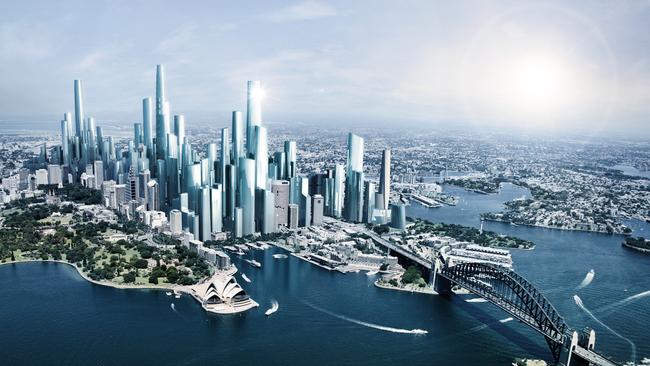 Despite growing concern about climate change, Prof Lowe said the future could still be changed with good government policy.
"There is no one preordained* future but a wide range of possible futures and which one happens will be the product of our decisions and actions," he said.
GLOSSARY
volatile: frequently and quickly changing
futurists: A person who studies the future and makes predictions on what will happen
innovations: technical
artificial intelligence: computer systems able to perform tasks normally done requiring human intelligence
array: mix
converging: blending
augmenting: changing
biodiversity: the variety of plant and animal life in the world
preordained: decide or determine an outcome beforehand
LISTEN TO TODAY'S STORY
CLASSROOM ACTIVITIES
Activity 1. The world is changing — FAST!
Read or listen to the article carefully then complete these activities.
Make a list of things this article states are likely to become a reality in the future.
Write them into a table and list some advantages and disadvantages to each of these predictions.
Who is predicting these changes?
Why do you think they were quoted?
Why do you think "machines are proving more capable and reliable than humans in a number of tasks' means?
What are there limitations?
Extension:
Which of these future technologies would you be most excited to see eventuate?
Write a paragraph or two explaining why you think the technology is a good move forward and how you and other people will benefit from it.
Time: allow 40 minutes to complete this activity
Curriculum links: English, Design and Technology
Activity 2. No more drivers?
If driverless and drone technology continues to improve as predicted it will have a big impact on many employment options.
What jobs currently use drivers that could possibly be replaced by driverless vehicles or drones?
Make a list of jobs that may no longer exist and jobs that could be changed with this technology.
Extension: Rules for the air.
We have very clear and detailed road rules to keep all road users safe.
Think of some rules for the air that might need to be considered to ensure the safety of drones and drone users.
Time: allow 30 minutes to complete this activity
Curriculum links: English, Design and Technology
VCOP ACTIVITY
(Vocabulary, Connectives, Openers and Punctuation)
Visualise and describe
Visualise a robot or flying car from the future.
Brainstorm adjectives and adverbs to describe each of these objects.
Can you include some alliteration too?
Extension:
Draw either the robot or flying car.
Label it using some of your descriptions.
Time: allow 30 minutes to complete this activity
Curriculum Links: English, Big Write and VCOP
Activity provided by Andrell Education www.andrelleducation.com.au
EXTRA RESOURCES
HELMETS OF THE FUTURE ALREADY HERE
A STITCH IN TIME SAVES PLASTIC FOR TRADERS
THIRTY YEARS SINCE FIRST MOBILE CALL
NEW MELBOURNE AIRPORT PLANS TAKE OFF
IN A SENTENCE, SHARE YOUR THOUGHTS ON TODAY'S STORY
Kids News loves reading your best grammar, vocabulary and spelling.
We publish the best comments.