There is no need to fight over the window seat on the plane anymore, with Qantas's newest aircraft offering a view for everyone.
Unveiled yesterday at plane manufacturer* Boeing's Future of Flying Museum in Seattle, the Dreamliner 787 has several unique features designed to maximise flying fun and minimise the discomfort of long-distance travel.
One quirky feature of the aircraft named Great Southern Land is that everyone can enjoy a view from the air with strategically placed windows.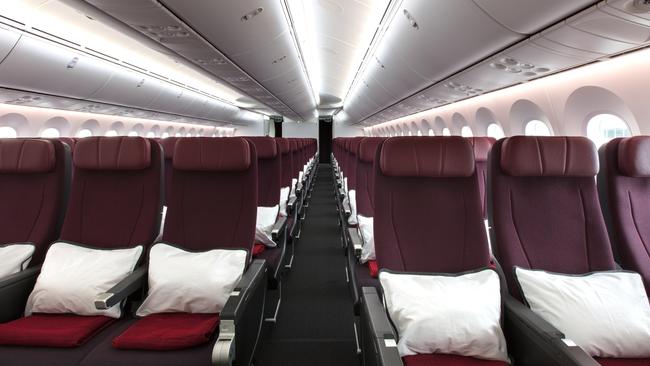 The plane also features reduced cabin pressure, increased air humidity and ambient* lighting.
"Taking delivery of a new type of aircraft is always an important milestone for an airline and the 787 is a game-changer," said Qantas CEO Alan Joyce at the unveiling ceremony.
"From the distance it's able to fly, to the attention to detail we've put into the cabin design, it will reshape what people come to expect from international travel."
Tech decks for electronics devices, foot rests, larger entertainment screens and more storage are standout features of consulting designer David Caon's new cabin design.
The windows are 65 per cent bigger than comparable aircraft with the opaque* plastic shades replaced with five polarised* settings to let in different levels of light.
The windows are also placed higher on the walls so passengers in every seating position can see outside.
The plane will use up to 20 per cent less fuel and produce lower carbon and nitrogen oxide emissions than others of a similar size.
The Dreamliner will be the first aircraft in the fleet with the capability to fly direct from Australia to Europe.
The 17-hour Perth to London route takes off early next year.
Great Southern Land is the first of eight 787s to be added to the Australian airline's fleet between now and late next year and will result in five older Boeing 747-400s being phased out*.
The aircraft was named after a public vote, with the other Dreamliners to be called Great Barrier Reef, Boomerang, Skippy, Waltzing Matilda, Uluru, Quokka, and Dreamtime.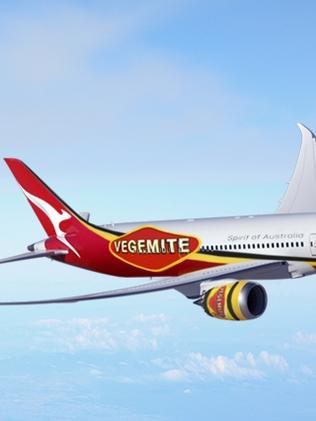 The Dreamliner arrives in Sydney on Friday morning.
"It's truly going to be the best aircraft Qantas has even put in the air," said Joyce.
The writer travelled to Seattle as a guest of Qantas.
GLOSSARY
manufacturer: maker
ambient: atmospheric
opaque: not clear
polarised: filtered
phased out: slowly removed
LISTEN TO TODAY'S STORY
CLASSROOM ACTIVITIES
Activity 1. Great Southern Land
Outline all the information and features of the newest addition to the Qantas fleet.
• Type of aircraft
• Name
• Which aircraft it is replacing
• Flying distance
• Design features
• Fuel consumption
• Emissions improvements
Extension:
At the bottom of the article there is a small sentence saying the writer of the article travelled to Seattle as a guest of Qantas.
What does this sentence mean and why have they put it there?
Time: allow 25 minutes to complete this activity
Curriculum links: English
Activity 2. Future of flying
The new Dreamliner 787 has made many improvements on traditional aircraft.
Design your own dream plane to be used in the future.
Think of new design features and the environmental impact of aircraft.
Your design must still be able to take passengers but should aim to make flying more enjoyable and comfortable.
Sketch your design in detail and outline your design features to share with the class.
Extension:
Think of some names for your new aircraft that could be put to a class vote like Qantas put their new aircraft names to a public vote.
Time: allow 40 minutes to complete this activity
Curriculum links: Design and Technologies, Critical and Creative Thinking
VCOP ACTIVITY
(Vocabulary, Connectives, Openers and Punctuation)
Scan the text about the new Dreamliner 787 and highlight any descriptive or emotive words used to describe the plane and its special features.
Extension:
Use these words to create a poster advertising Great Southern Land.
Think carefully about the placement of your text and use of colour.
Your goal is to encourage travellers to book a flight on this plane.
Time: allow 60 minutes to complete this activity
Curriculum links: English, Big Write and VCOP
EXTRA RESOURCES
HOLDEN CLOSURE THE END OF AN ERA
KIDS DITCH RIDING BIKES TO SCHOOL
CANBERRA TO CAPTURE CASSINI'S FINAL TRIP
TRAIN HORN LEVELS ON LONG TRACK
IN A SENTENCE, SHARE YOUR THOUGHTS ON TODAY'S STORY
Kids News loves reading your best grammar, vocabulary and spelling.
We publish the best comments.