IF YOU were up very early on Tuesday morning moon gazing you might have observed something quite special — a partial lunar eclipse.
The bright full moon was partially covered in the eclipse, seen right around the world from Australia to France and Pakistan.
It was most noticeable at 4.20am in Australia (Eastern Standard Time).
Kingaroy Observatory astronomer* James Barclay said the sky was clear in Queensland for prime viewing, although there wasn't much to see.
"It was like someone took a little bite out of the moon," he said.
"It was about 10% of the moon obscured*."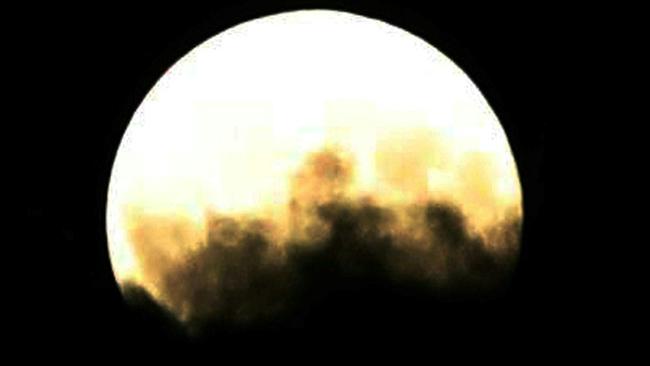 An eclipse occurs when the Sun, Earth and moon are exactly lined up behind each other and light gets blocked, causing unusual sights in the sky.
A lunar eclipse is observed when the Earth moves exactly between the Sun and the moon, which sees the Earth cast a shadow on the moon.
A solar eclipse happens when the moon moves exactly between the Earth and the Sun, blocking the sun's light from reaching us on Earth.
The moon's shadow darkens the Earth and the temperature drops. In the most noticeable cases this can last for around five minutes.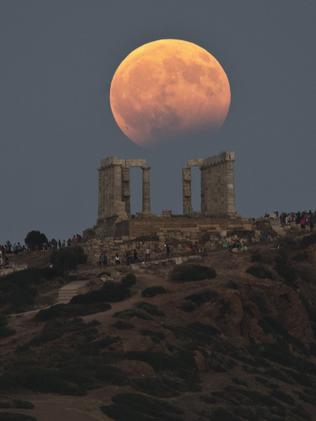 Full eclipses are very spectacular* and rare, while partial eclipses are more frequent.
Queensland astronomer Mr Barclay said next year would be big for Australian sky activity with
two total lunar eclipses visible around the country.
The first will happen about midnight on January 31 and then for the second time on July 27.
Later, on July 31, 2018, Earth will experience an opposition to Mars, which sees the red planet as close as it ever gets to our planet. It happens only approximately every 20 years.
The planet will be brighter and easier to observe than usual.
Mr Barclay recommends anyone to pick up sky watching as a hobby.
"We encourage young people and adults alike to use binoculars and then to sit back in a chair and look up," he said,
"If you've got a small telescope that is when you'll really see things!"
GLOSSARY
astronomer: a space and stars expert
obscured: hidden
spectacular: amazing
LISTEN TO TODAY'S STORY
CLASSROOM ACTIVITIES
Activity 1. Eclipse excitement
After reading the article about the partial lunar eclipse, answer the following questions in as much detail as possible and in your own words.
• When did the partial eclipse occur?
• Which countries could see the eclipse?
• How much of the moon was obscured?
• When does an eclipse occur?
• When do we get to see the eclipse?
• How long does the eclipse last?
• Can anyone observe these events in the sky?
• Are you interested in observing any of the eclipses coming up next year?
Extension:
Research some of the constellations in the sky and draw a diagram of what they look like and how you can find them at night.
Time: allow 25 minutes to complete this activity
Curriculum links: English, Science
Activity 2. Eclipse Beauty
Create an artwork of the partial lunar eclipse, a full lunar eclipse or the opposition to Mars events.
You could use black, white and yellow cardboard and some cellophane.
Label the activity and write a brief explanation of the event.
Make it look visually appealing, as well as being informative.
Extension:
Research some past lunar eclipses or comets seen from Earth and create an artwork about the events with a brief explanation.
Time: allow 40 minutes to complete this activity
Curriculum links: Visual Arts, Science
VCOP ACTIVITY
(Vocabulary, Connectives, Openers and Punctuation)
Blackout Poetry
Research blackout poetry.
Using a printed copy of the article about the lunar eclipse, select subject specific vocabulary to create a poem about the moon.
Use at least 10 words or phrases.
Extension:
Look at the words or phrases you selected.
Arrange them in alphabetical order.
Time: allow 50 minutes to complete this activity
Curriculum links: English, Big Write and VCOP

EXTRA RESOURCES
STUDENTS DEVELOP SPACE FACE CREAM
NEED GIVES RISE TO SPACE BREAD