An eight-year-old Australian schoolgirl has been invited to space agency NASA in the US after winning a national prize for inventing a portable* wheelchair hoist.
Amelia Fox, who is being called Australia's own mini Einstein*, beat 1000 competitors from across the country with her very personal creation.
Amelia, who lives in Melbourne, invented the hoist for her older brother Jake after watching her parents struggle to lift his 40kg body from his wheelchair for years.
"They had to lift him a dozen* times a day and mum had neck surgery and my dad's back hurts now," Amelia said.
"My mum and dad are very proud of me and think it's an amazing idea."
Her invention is a fabric hoist fitted into the wheelchair's seat cushion which attaches to hooks to help lift a person more safely and easily.
The Brunswick North Primary School student took the top prize in the Origin littleBIGidea competition against more than 1000 national entries.
"I was definitely surprised — I didn't scream but I was extremely happy and excited," she said.
Amelia will head to the National Aeronautics and Space Administration in the US with her mum.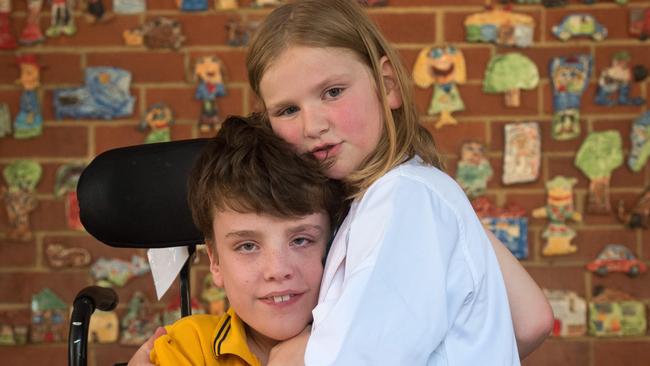 Despite her incredible invention, she's not quite sure she wants to invent full-time.
"I don't know but I'm definitely sure I want to be a vet, I love animals," she said.
GLOSSARY
Einstein: Albert Einstein was a very smart German physicist. Smart people are sometimes labelled Einstein
portable: able to be moved
dozen: 12
LISTEN TO TODAY'S STORY
CLASSROOM ACTIVITIES
Activity 1. Recalling facts and details
Read the article once and then answer these questions without referring back to the story to see how much of the information you have remembered.
• Who is the inventor in the story and what did she invent?
• What inspired her invention and who will it help?
• How does the invention work?
• The invention has landed its creator an exciting award. What is it?
• Does the inventor wish to pursue inventing as a career?
Once you have answered all of the questions, refer back to the article to check your answers. Correct any you got wrong.

Extension:
Who was Einstein and what did he do?
Time: allow 20 minutes to complete this activity
Curriculum links: English, Science
Activity 2.
Identify a task that you or someone in your family does frequently that is difficult.
In a couple of sentences, explain the task, what is difficult about it and some problems that it does or could cause.
Think about how this task could be made easier.
Design and invention to help.
Draw a picture of it and write a couple of sentences to explain how it works.

Extension:
Work with a partner.
Explain your inventions to one another, making sure that you ask each other lots of questions to clarify how the invention works, identify any problems and suggest improvements.
Update your design to reflect things identified in the discussion with your partner.
Time: allow 30 minutes to complete this activity
Curriculum links: English, Design and Technologies
VCOP ACTIVITY
(Vocabulary, Connectives, Openers and Punctuation)

Think of 20 words to describe Amelia Fox.
Use a thesaurus to add to your list.
Display these words in a word cloud (or something similar) on the computer.
Extension:
NASA is an acronym for National Aeronautics and Space Administration.
Can you think of 10 more acronyms and write down what they stand for?
Time: allow 20 minutes to complete this activity
Curriculum links: English, Big Write, VCOP
EXTRA RESOURCES
TEEN EXPLORER CHARTS NEW TERRITORY
NEW IPHONE TURNS YOUR FACE INTO AN EMOJI
ROBOT AWARDED SAUDI ARABIAN CITIZENSHIP
IN A SENTENCE, SHARE YOUR THOUGHTS ON TODAY'S STORY
Kids News loves reading your best grammar, vocabulary and spelling.
We publish the best comments.