When Hawaiian tour guide Erik Storm lost his GoPro down a volcanic crevice* he thought it was lost forever.
But instead, the tiny camera managed to capture the moment it was swallowed by molten* lava.
Mr Storm waited for the hot flow of lava to stop and cool into rock before he broke through to retrieve his camera, which to his surprise was still working and has recorded everything.
"The camera even still worked although not as well as it did before. Truly amazing it survived," he told camera website Peta Pixel.
The mesmerising* footage shows the lava slowly making its way towards the camera before engulfing* it.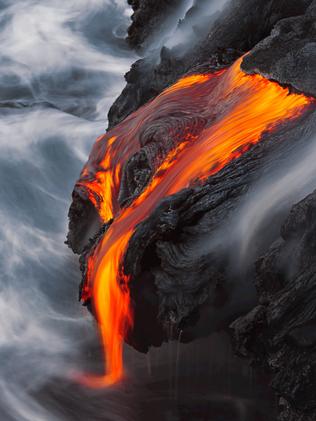 Magma is the name given to very hot, molten* rock when it is underground. It is heated by energy deep within the Earth's crust.
When volcanoes erupt or magma seeps to the surface it is called lava. After it cools it becomes rock, sometimes known as lava flows. These lava flows are sometimes so big they create whole islands in the sea.
Lava can be seen in areas of volcanic activity including Indonesia, Hawaii, Vanuatu, Italy, Guatemala and Chile.
GLOSSARY
crevice: deep crack
molten: hot liquid
unscathed: not damaged
mesmerising: hypnotising
engulfing: covering
LISTEN TO TODAY'S STORY
CLASSROOM ACTIVITIES
Activity 1. Volcano diagram
Use information in the article and from other sources to draw a labelled diagram of a volcano, showing the process that lava goes through from beginning to end including the different names it has through each stage of the process.
Extension:
Research a specific volcano and write down five facts about it.
Time: allow 15 minutes to complete this activity
Curriculum links: English, Science, Geography
Activity 2. A — Z adjectives
Fold a piece of paper in half lengthways to make two columns and write the letters from A — Z, giving each letter its own line.
Then watch the amazing footage that Erik Storm's GoPro captured as it was engulfed by lava.
On your piece of paper, write an adjective beginning with each letter of the alphabet to describe the footage.
For the letters Q, X and Z you might need to write a word that contains the letter rather than begins with it.

Extension:
Pair with a friend to compare your adjective lists.
Where you have both written the same word for a letter, work together to think of another one so you each have a unique word.

Time: allow 20 minutes to complete this activity
Curriculum links: English
EXTRA RESOURCES
WHAT'S HIDDEN UNDER EARTH'S CRUST?
ULURU CLIMBERS BANNED FROM 2019
CAPTURING OUR WONDERFUL, WILD WORLD
NASA ADMITS PLANET NINE IS REAL
IN A SENTENCE, SHARE YOUR THOUGHTS ON TODAY'S STORY
Kids News loves reading your best grammar, vocabulary and spelling.
We publish the best comments.