Deep inside a frozen mountain close to the North Pole is a secret vault of seeds that could one day feed the world if we run out of food after a natural or man-made disaster.
More than one million types of crop seeds are stored inside including wheat, rice, maize, corn, peas and beans.
The frozen and dried seeds stored in the "Doomsday Vault'' in the remote* Arctic Svalbard islands near Norway have come from around the world, including thousands from Australia, and could be used to regrow crops if they were wiped out by disease, war, or climate change.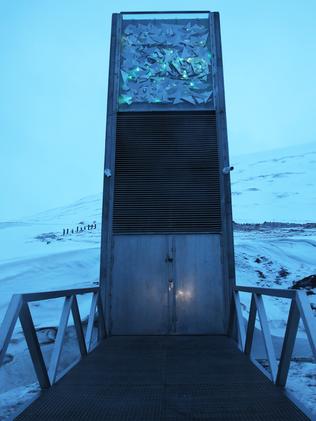 Designed by scientists as a back-up for genebanks, which operate around the globe to protect crop diversity by storing seeds, the Svalbard Global Seed Vault is a secure building drilled into solid rock, 130m up a permanently frozen mountain, surrounded by roaming polar bears.
Two Australian genebanks – the Pastures Genebank in South Australia and the Grains Genebank in Victoria — were among 23 institutes* from around the world which sent samples to Svalbard Global Seed Vault last week as the vault marked its 10th anniversary.
So why do we need the Doomsday Vault if we already have genebanks in Australia?
The seeds stored in genebanks are in buildings and freezers which are vulnerable* to power blackouts, wars and other disasters.
Marie Haga, the executive director of the Germany-based Global Crop Diversity Trust, one of the vault's major partners said: "But because things occasionally go wrong in the real world, because we might lose a crop collection genebank due to war, due to natural disasters, due to lack of money and competence, we want to have a system with backups."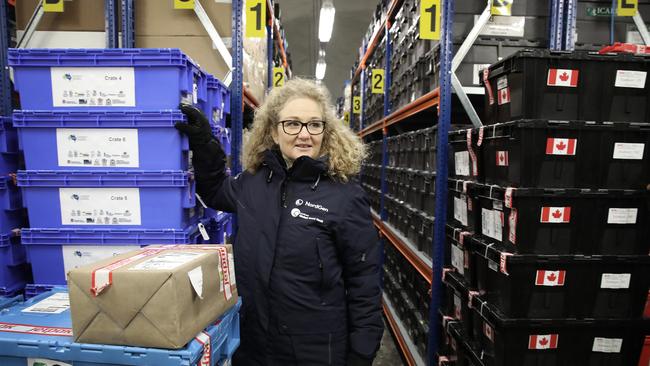 Despite the thousands of items on sale in supermarkets, Ms Haga said the majority of food we eat is made from wheat, maize and rice.
"If something happens to wheat, maize and rice we are in trouble,'' she said.
In the Doomsday Vault, the seeds are stored in a room frozen at minus 18 degrees celcius.
It can store 4.5 million species samples and 2.5 billion seeds, covering all the known crops in the world.
Dr Sally Norton, the scientist who runs the Australian Grains Genebank at Horsham in Victoria, was among the Australian team that visited Svalbard to donate 35,000 seed samples last week.
"It's really important for Australia to back up its own genebank materials into the Svalbard seed vault,'' she said.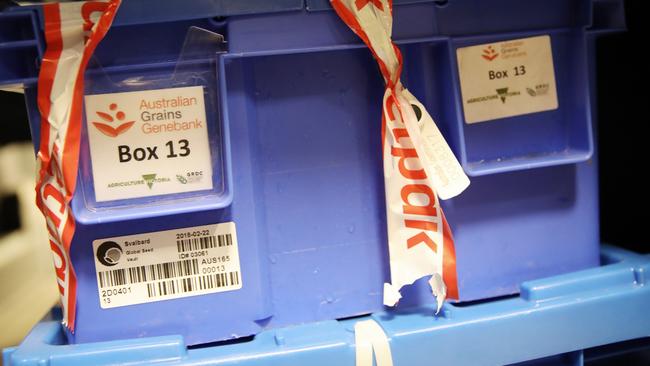 Dr Norton described walking down the long access tunnel and through the heavy, frost-covered doors and airlocks that lead to the chamber where the seeds are stored.
"Once it opens up you're just surrounded by … the history of agriculture that goes back 10,000-15,000 years over time,'' she said.
"It's quite an overwhelming experience to be surrounded by the plant materials that have sustained* life for such a long time.
"And more importantly the material that will be used to grow our crops in the future to feed our growing population and under changing conditions.
"It's such an important thing to have the ultimate back up, if you like.''
It costs $43.5 million a year to run the facility, which is owned and maintained by the Norwegian Government and operated by the Nordic Genetic Research Centre.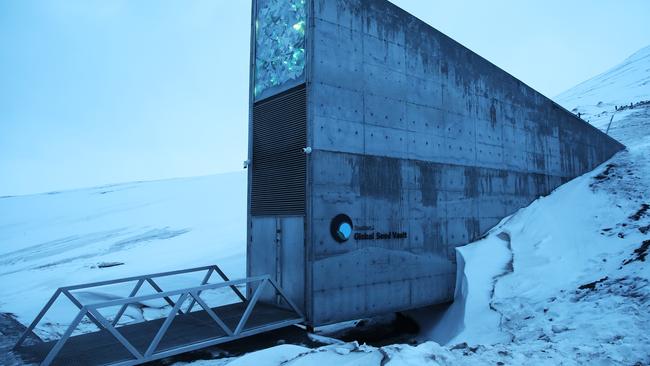 GLOSSARY
remote: a long way from anything else
institutes: organisations with a specific purpose such as education, medicine or science.
vulnerable: at risk of being hurt
sustained: continuing for a long time without a break
LISTEN TO TODAY'S STORY
QUICK QUIZ
Where is the seed vault?
How many institutes sent seeds to the vault on its 10th anniversary?
What is the majority of food we eat made from?
What temperature are the seeds stored at?
How much does it cost to run the seed vault each year?
CLASSROOM ACTIVITIES
1. Doomsday Vault
Read or listen to the article carefully and complete the following activities.
What is a 'Doomsday vault'? Why is it called this?
Why do we need a doomsday vault?
How many species of plants can be kept in it?
What 'back ups' does Australia already have in place?
Why is the Doomsday Vault called 'the Ultimate back up?'
Extension
The article says that it costs $43.5 million a year to run this facility. Is this money well spent? Write your opinion in a few paragraphs, justifying your opinion by giving examples or using evidence.
Time: Allow 40 minutes.
Curriculum links: English, Science
2. Visualisation
Draw a picture of what you think the secret vault of seeds might look like from the outside and what it might look like inside. Use information from the article to help you. There is some description in the article but you might have to use your imagination as well.
Extension
If the time comes that we need to utilise the seeds in this vault, what information would we need to know about each one? We will need to ensure that we look after them correctly so that the crops produce food for the population.
Write a list of the information that would be needed.
Time: Allow 40 minutes.
Curriculum links: English, The Arts – Visual Arts, Science
VCOP ACTIVITY
The glossary of terms helps you to understand and learn the ambitious vocabulary being used in the article. Can you use the words outlined in the glossary to create new sentences? Challenge yourself to include other VCOP (vocabulary, connectives, openers and punctuation) elements in your sentence/s. Have another look through the article, can you find any other Wow Words not outlined in the glossary?
IN ONE SENTENCE, TELL US WHAT YOU LIKE ABOUT TODAY'S STORY
Please do not use one-word answers. Explain what you enjoyed or found interesting about today's article. Use lots of adjectives.