A woman from Coober Pedy accidentally bought the priceless*, long-lost, opalised* toe bone of South Australia's only known dinosaur.
The bone is one of only three known specimens* of Kakuru kujani, a turkey-sized carnivorous* dinosaur, possibly about 1-2m in length, that lived 110 million years ago.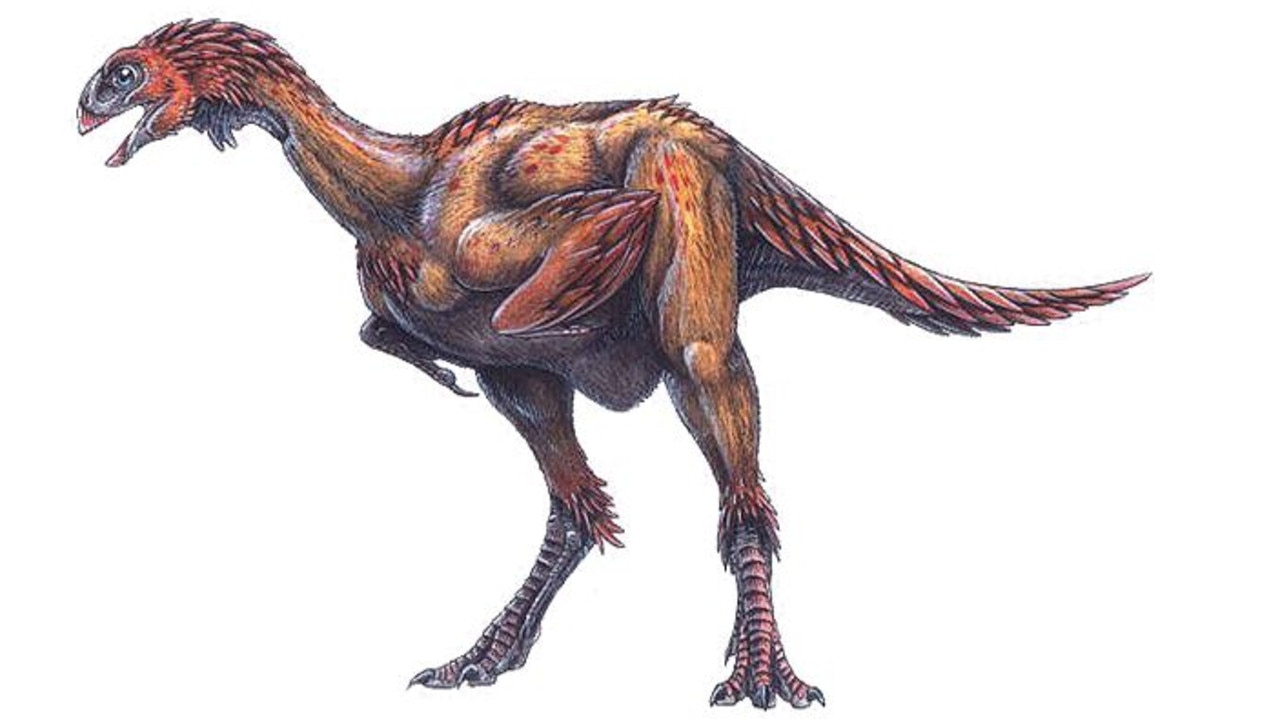 The toe bone was first found in the 1970s but disappeared soon after and was missing for 45 years.
Joy Kloester bought the bone in an online auction, didn't realise what it was and put it in a cupboard for months.
She eventually asked for advice on her purchase from opal buyers Tania and Dale Price, who advised her to contact the South Australian Museum, which told her the significance* of the bone.
The dinosaur bone was unearthed in the early 1970s at Andamooka, SA, and was spotted soon after by then SA Museum curator* of fossils Neville Pledge at an opal shop on Hindley St, Adelaide.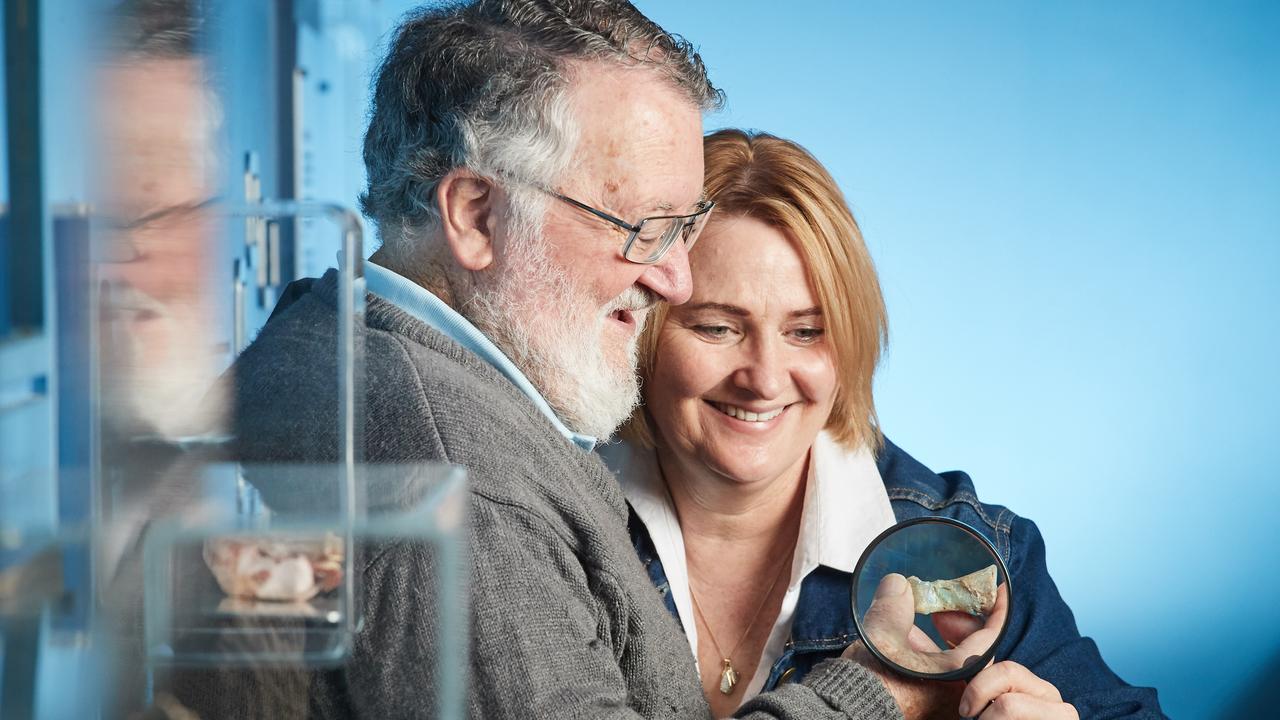 Mr Pledge was able to take some photos, measurements and make a few plaster casts of the toe bone in 1973.
"Unfortunately, not long after I saw the bone it was sold and disappeared from public knowledge for 45 years," Mr Pledge said.
Ms Kloester said her "fantastic" story shows opportunities do come around twice.
"I've always loved opal, so basically I just started looking at (auction company) Grays Online, I really didn't know what I was buying," she said.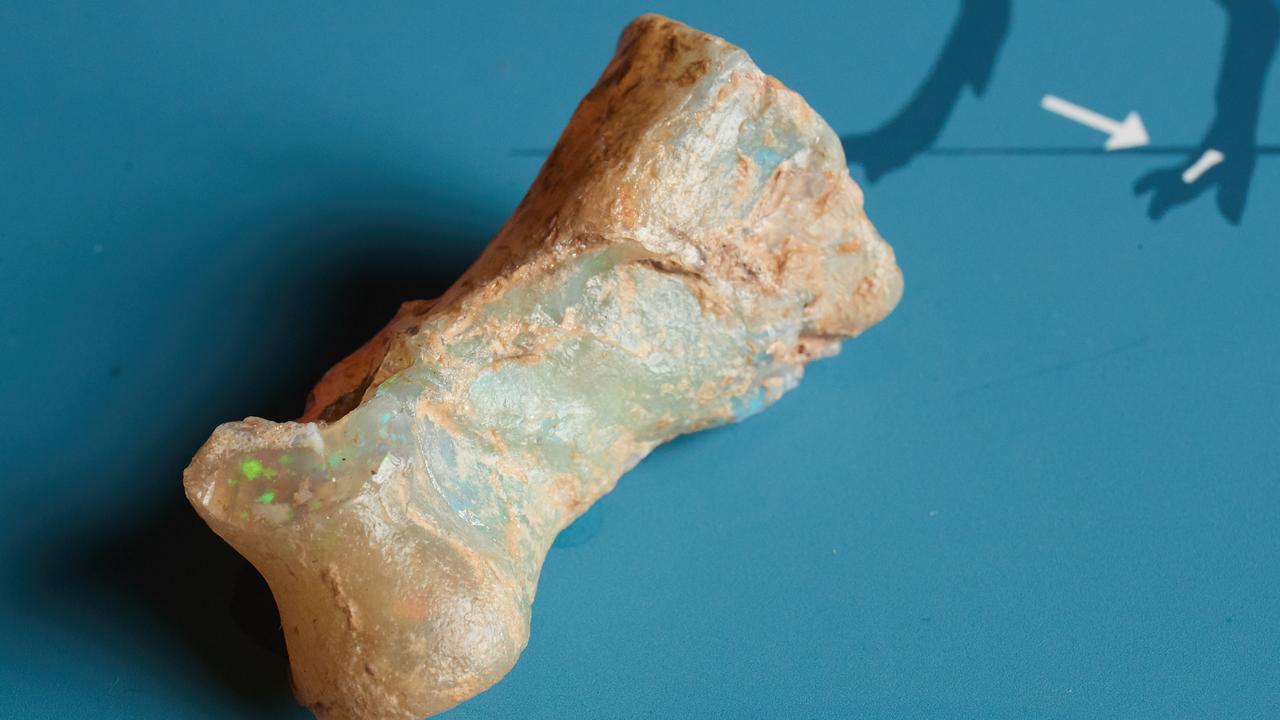 "I came across this collection from a liquidation* sale in Sydney and bid on the bone and seashells as well, no jewellery, all fossils.
"I didn't realise the significance and had it sitting in my cupboard for a couple of months."
The SA Museum has now put the specimen on display for all to see.
WHAT IS AN OPAL?
Opal is a coloured gemstone, made of the element called silica.
There are lots of opals found in South Australia, particularly around Cooper Pedy and Andamooka, where the opalised dinosaur toe bone was first found.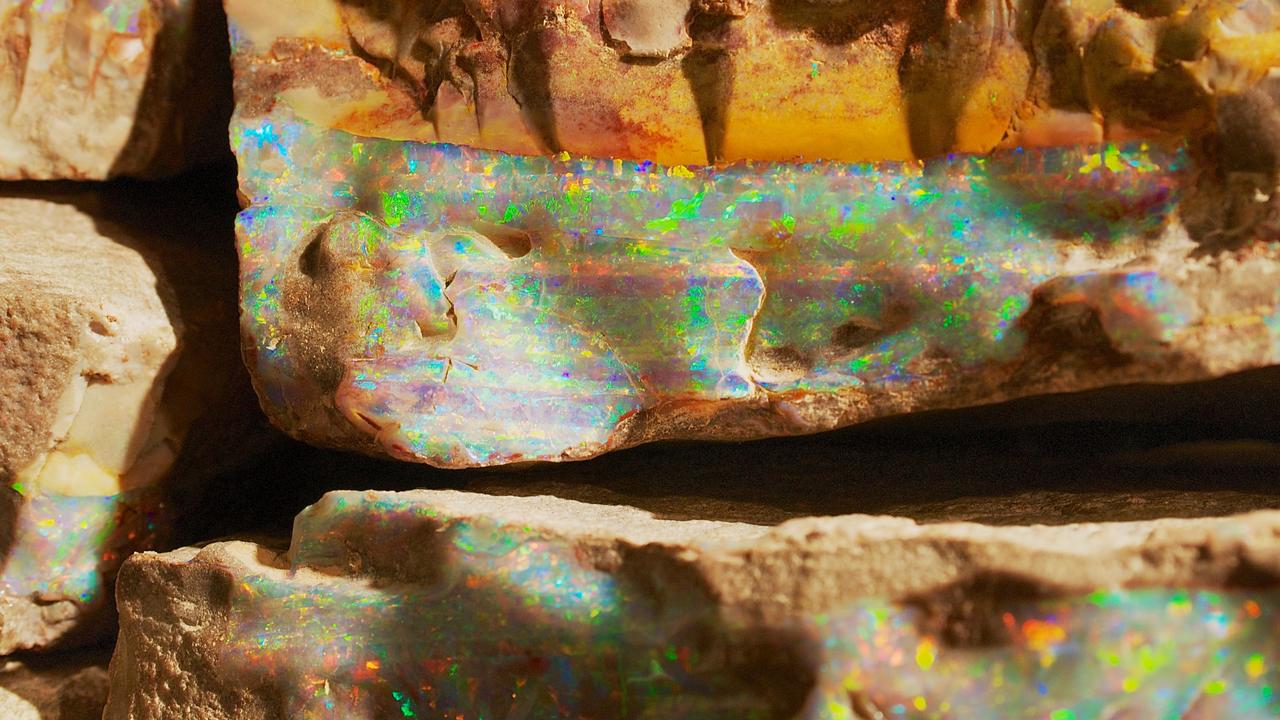 Opals form in cavities in rocks. Cavities in rocks are often there because there was once a bone, shell or piece of wood there and the rock formed around it. The opal fills the space, forming a fossil replica of the once-living thing.
Opalised fossils are rare. Opalised dinosaur bones are even rarer!
VIDEO: Dinosaur puppet creator and director Scott Wright shows how to drive a T-Rex
EXTRA READING
Giant bones change 4-legged dinosaur theory
Aussies identify world's oldest animal life form
Incredible new pterosaur discovery
Rare Viking Thor hammer pendant uncovered
Remote Australian ghost town comes back to life

GLOSSARY
priceless: so rare and valuable no price can be put on it
opalised: turned into an opal
carnivorous: meat eating
significance: importance
curator: manager, creator, designer
liquidation: sell up everything in a business

LISTEN TO THIS STORY
QUICK QUIZ
How big was Kakuru kujani?
Where did Ms Kloester put the bone when she bought it?
Where was it originally found? When?
Can people see the bone? Where?
What is opal made of?

CLASSROOM ACTIVITIES
1. Toe Jewels
As this fossil of the dinosaur's toe bone became opalised, and an opal is a gemstone, design a piece of jewellery to incorporate this unique find.
Sketch your item of jewellery and how you would wear it. Can you think of a unique name for it?
Extension: What does it mean when it says South Australia's only known dinosaur? Do you think there would have been others?
Time: Allow 20 minutes
Curriculum links: Design and technology, History
VCOP ACTIVITY
The glossary of terms helps you to understand and learn the ambitious vocabulary being used in the article. Can you use the words outlined in the glossary to create new sentences? Challenge yourself to include other VCOP (vocabulary, connectives, openers and punctuation) elements in your sentence/s. Have another look through the article, can you find any other Wow Words not outlined in the glossary?
HAVE YOUR SAY: If you could find any fossil or a gemstone, what would you want it to be? Why?
No one-word answer. Use full sentences to explain your thinking.