As another Australian summer kicks in and the mercury* rises, people are heading to beaches and getting in the water to cool off and have fun.
Surf lifesavers play a vital role in keeping both locals and tourists safe but it is important to be aware of the possible dangers so you can stay safe.
Surf Lifesaving Australia completed 10,879 rescues, administered* 108,044 first aid treatments and took 3.95 million preventive actions in our surf in 2016-17.
Every day our lifesavers rescue 30 people and they conduct 451 preventive actions every hour.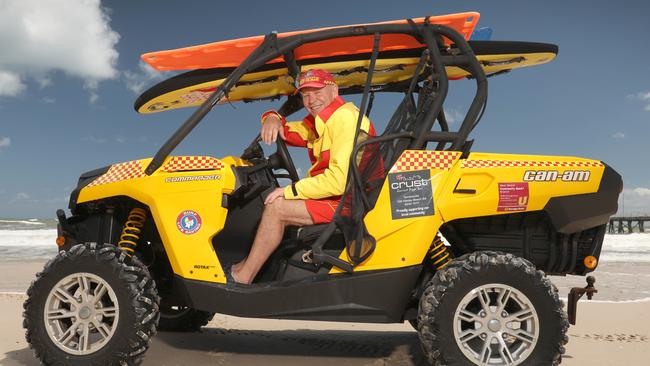 Sadly 116 lives were still lost in coastal related drownings in 2016-17. The causes included being caught in rip currents at the beach, drowning in rivers, falling into the water unexpectedly and boating accidents.
More people die in rips every year than die from shark attacks, floods and cyclones combined.
And yet 57 per cent of surveyed swimmers said they don't always look for rips before swimming, according to new research from the country's peak lifesaving body.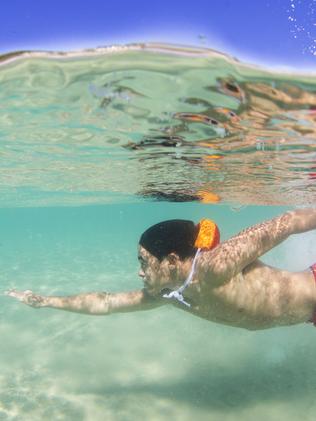 Shane Daw, Surf Life Saving Australia's coastal risk and safety manager, said people taking to the water offshore needed to know the risks and be prepared.
"Knowing what your capabilities* are, knowing what to take with you," he said.
Surf Life Saving Australia has set a goal to halve the number of coastal drowning deaths by 2020.
Here are six top tips for staying safe in the surf and having fun all summer long.
1. Swim between the red and yellow flags and read safety signs
Always swim or surf at places patrolled by lifesavers. The red and yellow flags show there is a lifesaving service on patrol and where the safest part of the beach is for swimming.
Last year Melbourne's Elwood Surf Life Saving Club had a simple message for beachgoers — stay between the flags.
"It's especially important in areas where it might look safe," he said.
"Even in conditions where it looks flat there can be currents* and rocks that you can't see which can be dangerous."
Before you go into the ocean read the safety signs. This way you are aware of any warnings or dangers on the beach such as dangerous currents and bluebottles.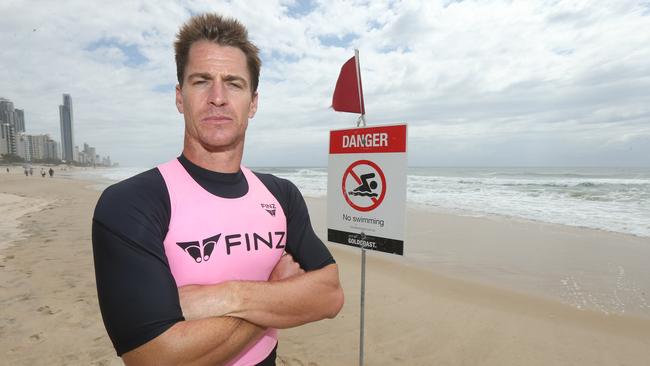 2. Be aware of rip currents
Rip currents are strong currents of water flowing away from the beach in a surf zone, according to Surf Life Saving Australia.
They can be very strong and can cause people to be swept out to sea quickly.
If caught in a rip, stay calm, float and raise one arm and wave it side to side for attention. While floating, rips can flow in a circle and return you to shore. Or you may escape a rip by swimming parallel to the beach, towards breaking waves. Don't struggle in a rip or you will become exhausted.
Surf lifesavers, people in the red and yellow tops at major beaches, are good to ask if you are unsure where currents are.
3. Swim with a friend
To avoid trouble in water, always swim with a friend or family member so you can keep an eye out for each other. If you need a lifeguard's assistance, raise your arm in the air. Try to stay calm.
4. Know what to do if a bluebottle jellyfish stings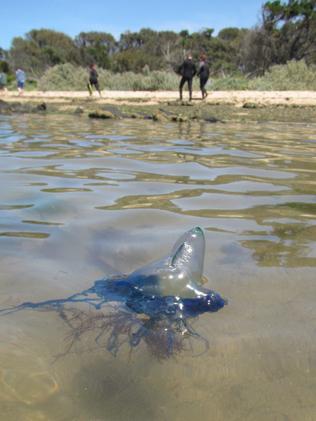 Bluebottles are commonly found floating in the water at Australian beaches and their long tentacles can sting if they come into contact with human skin.
If stung, wash off the tentacles with water, or pick off with fingers. Place the affected area in hot water for 20 minutes. If you don't have access to hot water a cold ice pack is also effective.
A group of bluebottles is called an armada, the Spanish word for a naval fleet.
5. Avoid sunburn
Apply sunscreen at least 15 minutes before going into the sun and reapply regularly (every 2-3 hours), particularly after swimming when some of it might have washed off.
Wear a shirt and hat for extra protection and spend time in the shade.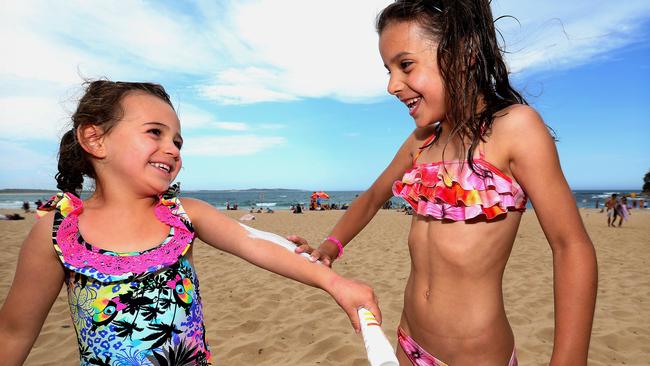 6. Stay hydrated and cool to avoid heat exhaustion
Heat exhaustion is relatively common with beachgoers, particularly the young and elderly*. Physical activity and a lack of hydration can cause weakness, nausea, vomiting and light-headedness. To treat it, stop any activity and move to a cooler environment to rehydrate with water and sport drinks. Call 000 in an emergency.
Avoid heat exhaustion at the beach by staying hydrated and spending time in the shade.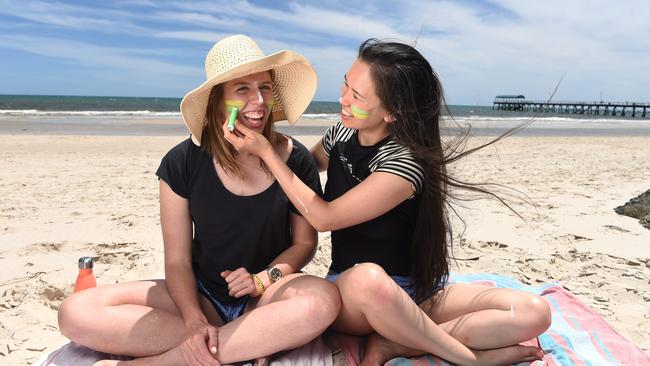 Head to the Surf Life Saving Australia website for more information and tips: beachsafe.org.au
GLOSSARY
mercury: liquid inside a thermometer that indicates temperature
capabilities: what you're able to do
currents: rips
elderly: old
LISTEN TO TODAY'S STORY
CLASSROOM ACTIVITIES
Activity 1. A picture of safety
Choose one of the tips in this article.
Draw a detailed picture that shows a person who is following the tip to stay safe or to get themselves out of trouble.

Extension:
In your own words, write down how you would explain the tip you chose to someone who has not read this news story.
Time: allow 30 minutes to complete this activity
Curriculum links: English, Health and Physical Education, Visual Art
Activity 2. Before you go swimming
Based on what you have learnt from the article, write a list of items you would take with you when visiting the beach and a list of things you would do when you arrive, before getting into the water.

Extension:
Write a song that includes the safety messages you have learnt to help you and others remember them.
The chorus has been written for you:
Be smart, swim safe
Be smart, swim safe
Enjoy the water
But always swim safe
Time: allow 15 minutes to complete this activity
Curriculum links: English, Health and Physical Education, Music
VCOP ACTIVITY
(Vocabulary, Connectives, Openers, Punctuation)
VCOP maths
1. Highlight all the VCOP you can find in the story
2. Count how many examples are present in each tip.
For example:
Vocabulary = 2
Connectives = 3
Openers = 1
Punctuation = 9
3. Calculate the score of each sections using the following scoring system.
Vocabulary = 5
Connectives = 3
Openers = 2
Punctuation = 1
You might like to create a tally and turn the your results into a graph to display your results.
Which tip for staying safe in the surf has the most VCOP points?
Time: allow 15 minutes to complete this activity
Curriculum links: English, Big Write, Mathematics, VCOP
EXTRA RESOURCES
BACKYARD POOL SLIDES INTO HOT WATER
SOGGY MOGGY A SEASIDE SENSATION
SEAL PUP'S EPIC SWIM FROM THE ANTARCTIC
WHAT'S THE WEATHER LIKE, KIDS?
IN A SENTENCE, SHARE YOUR THOUGHTS ON TODAY'S STORY
Kids News loves reading your best grammar, vocabulary and spelling.
We publish the best comments.