How to order your recycling education kit including 25-activity classroom workbook
Teach students why it's important to be part of the waste solution rather than the problem. Recycling kit includes 25-activity classroom workbook for $20.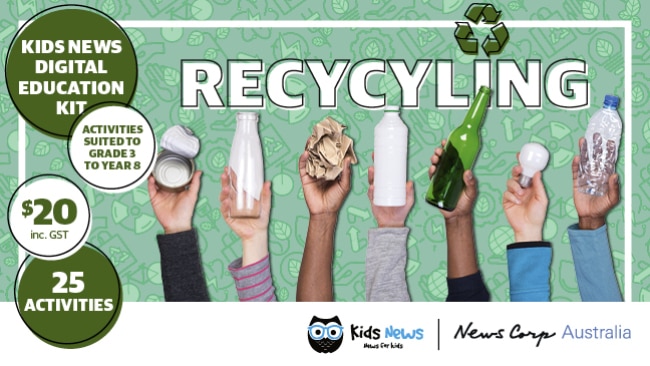 Recycling Kit
Kidsnews.com.au is proud to present this educational learning kit on Recycling.
This in-depth, comprehensive kit includes a 25-activity workbook for your students and covers topics including:
What's the problem? Why we need to recycle and why we're left with waste
History: a snapshot of recycling in the past and present
How and what do we recycle? Follow products from bin to brand new
How does Australia's recycling compare to the rest of the world?
How to be a good recycler. Take our audit
The amazing future of recycling and cutting-edge ideas
COST: $20 inc GST.
ORDER NOW at https://kidsnews.myshopify.com/products/kids-news-digital-education-kit-recycling
If you don't receive the kit immediately, please contact kidsnews@news.com.au to report this.
Our free classroom literacy resource kidsnews.com.au will feature accompanying news stories and educational features to enhance the learning experience and assist with completion of the workbooks.
To see all the stories, click HERE
Or, on kidsnews.com.au you will find the Education Kits module on the homepage. Click on the module to go through to all the stories.
This material will also be archived after the kit's release.
NOTE: There will be NO class sets of newspapers delivered to schools with this kit.

ORDER NOW at https://kidsnews.myshopify.com/products/kids-news-digital-education-kit-recycling