IT may be hard to imagine now, but Melbourne was, very briefly, a city of arches.
Towering over every prominent* CBD street, the 1901 Federation arches once provided a touch of elegance, grandeur* and drama to the city landscape.
Built in Melbourne and Sydney, the arches were part of Australia's celebration of nationhood.
Australia became a unified nation in 1901 when the six separate states of Victoria, Queensland, New South Wales, Tasmania, South Australia, and Western Australia came together to form the Commonwealth of Australia.
State governments were retained and an overarching federal government was formed. The government's ruling document, the Constitution, came into force on January 1, 1901 and the cities put on a show to celebrate.
A welcome banner hung on a majestic Chinese arch on Swanston St while King Edward VII had his own arch, cornering Swanston St and Flinders Lane. The Duke's Arch sat on Bourke St and the German citizens' arch stood on Collins St.
Lit up at night, the displays were impressive, as seen in photographs from the time before the arches disappeared.
Designed as temporary* installations*, the structures looked marvellous on the outside but were made of flimsy* wood on the inside.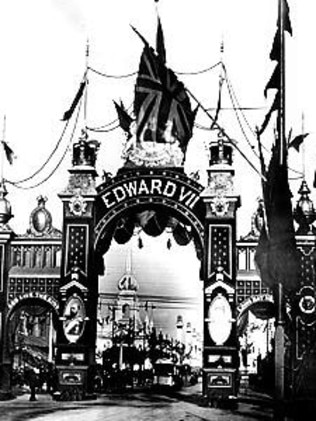 After disappearing from the streets, it took a century for the arches to return and when they did, they looked very different.
As a part of the country's centenary* celebration, a Federation arch was reimagined in 2001 by architect Peter Sandow.
The brightly coloured arch was nicknamed 'pick up sticks' after the children's game popular at the time and many disliked its unconventional* form.
It stood proudly on St Kilda Rd until it came down in 2003 and was given to Hume council.
The council is yet to do anything with the arch and it lays in pieces in a car park.
Melbourne may not be a city of arches again until next centenary — only 84 years to go.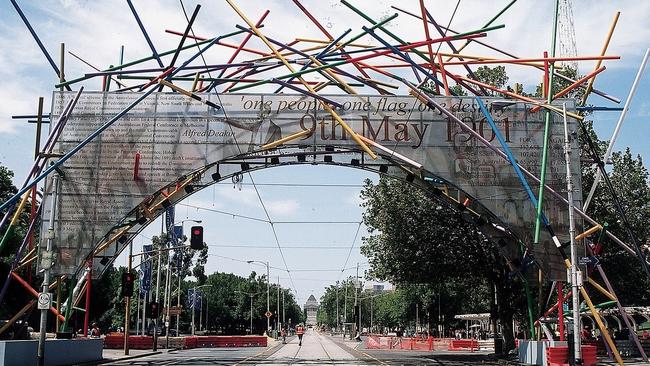 GLOSSARY
prominent: main
grandeur: splendour and impressiveness
temporary: not forever
installations: a non-permanent structure or object
flimsy: weak
centenary: 100 year anniversary
unconventional: unusual
Please enable Javascript to watch this video
LISTEN TO TODAY'S STORY
CLASSROOM ACTIVITIES
Activity 1. Comprehension
1. Write a sentence to explain how Australia changed on 1 January 1901.
2. What does the word 'constitution' mean?
3. Make a list of some of the arches that were erected to celebrate Australia's Federation.
4. Should it be surprising that the arches are not still standing today? Copy the sentence from the article that tells you the answer to this question.
5. Why do you think the author of this story suggested that there might be more arches in 84 years time?
Extension:
It is very difficult for the Australian constitution to be changed and it must be done in a very specific way.
Do some research and write a short explanation telling how the constitution can be changed.
Time: allow 30 minutes to complete this activity
Curriculum links: English, Civics and Citizenship
Activity 2. Arches everywhere
Arches are a popular architectural feature throughout the world, both on their own and as part of other structures. Naturally formed arches can also be found in the environment.
Create a short slide show with pictures and information about three famous arches of your choice. This can include
Extension:
Draw a design for an intricately decorated arch of your own.
Time: allow 30 minutes to complete this activity
Curriculum links: English, Geography, History, Digital Technologies, Visual Arts
VCOP ACTIVITY
(Vocabulary, Connectives, Openers and Punctuation)
Imagery
They say a picture says a thousand words, but what if you can't see the picture?
Well then we needs the words to describe the imagery instead.
Pick one of the pictures from this article and write a paragraph or two to describe in detail the picture for someone who can't see it.
You don't need 1000 words, but you do need to be specific.
Extension:
Draw a basic picture with a pen, paper and partner. Without letting them see your picture, describe your picture for them to draw on their paper.
How good was your description? Check their picture.
Time: allow 15 minutes to complete each activity
Curriculum Links: English, Big Write and VCOP
EXTRA RESOURCES
METRO "MOLES" MAY BE LEFT BELOW CITY
SUPERSIZED HOTEL GETS GREEN LIGHT
TOURISTS CRUISE INTO MELBOURNE