THERE is a new toy craze sweeping the globe and it is spinning Melbourne students into a frenzy.
The simple yet attention-seeking fidget spinners have been banned in thousands of schools across America and some Melbourne classrooms have already followed suit.
The small toys spin between fingers using a ball-bearing* mechanism* to provide a sensory* experience and come in a variety of shapes, colours and sizes with some even glowing in the dark.
Mazenod College assistant principal Tony Coghlan said the school had banned students from bringing them to class.
Josh Gordon from Caulfield, who runs a private import business, said he had sold 11,000 fidget spinners in a Facebook group in the past two months alone.
"Every kid seriously wants one but they are just as appealing for adults," Mr Gordon said.
"They are a great gadget* to keep on your desk and fidget with at work."
One Stop Sensory Shop owner Colin Kuhn, who sells the spinners online, said he had sold more than 400 units so far.
"We sell toys for children with autism and disabilities and fidget spinners are definitely a great toy to keep them occupied*," Mr Kuhn said.
He said he had many return customers who loved them and were coming back to purchase different styles and colours of the spinners.
Javier from Montrose, who has been selling the spinners on Facebook and Gumtree, said they were a great stress relief.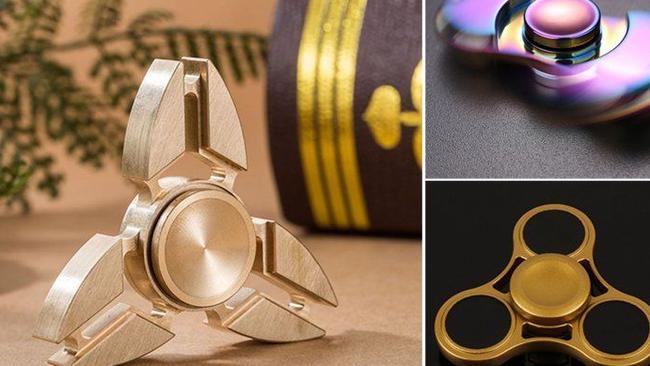 "The spinners are targeted at children but they are great to use for people who have quit smoking or dealing with anxiety," he said.
He said he had sold 200 spinners in the past three weeks.
"They are really all the rage right now and it's easy to see why."
GLOSSARY
ball-bearing: moving metal bead
mechanism: way something works
sensory: designed to engage multiple senses
gadget: toy
occupied: busy
LISTEN TO TODAY'S STORY
CLASSROOM ACTIVITIES
Activity 1.
You have read in the story that schools are banning fidget spinners.
List five reasons why schools would ban them.
Time: allow 15 minutes to complete this activity
Curriculum Links: Critical and Creative Thinking
Extension:
Ask an adult or search online to find a toy or gadget that was popular in each of these decades:
the 1970s
the 1980s
the 1990s
For each toy or gadget, write sentences describing it and why it you think it was so popular.
Time: allow 60 minutes to complete this activity
Curriculum Links: History
Activity 2.
Fidget spinners use ball-bearings to help them to spin.
Make sure that you understand what ball-bearings are and how they work.
Then, find five things at home or school that use ball bearings.
Time: allow 45 minutes to complete this activity
Curriculum Links: Science, Design and technologies
Extension:
Choose one of the items on your list.
Draw a diagram showing how ball bearings work in that object.
Don't forget to write information and labels to make your diagram really clear.
Time: allow 45 minutes to complete this activity
Curriculum Links: Science, Design and Technologies
VCOP ACTIVITY
(Vocabulary, Connectives, Openers and Punctuation)

Activity: Fidget Spinners — A helpful classroom tool, or a distraction?
Draw up a table with two columns, one for 'Classroom Tool', the other for 'Distraction'.
You can either complete this task independently, in pairs or by surveying a group of students.
Your job is to try and come up with at least 5 pro's and 5 con's about owning a fidget spinner and bringing it to school.
Think about who is effected by the spinners — Mum or Dad, classroom teacher, friends, principal, you.
This should help you consider how other might feel towards the fidget spinner and why.

Time: allow at least 15 minutes to complete the task
Curriculum Links: English, Big Write & VCOP
Activity provided by Andrell Education www.andrelleducation.com.au
EXTRA RESOURCES
SHOULD KIDS UNDER 14 HAVE PHONES?
ARCTO THE FUR SEAL JUST WANTED TO PLAY
UNLOCK IPHONE 8 WITH YOUR FACE
SHARING NO GOOD FOR CYBER SAFETY
IN A SENTENCE, SHARE YOUR THOUGHTS ON TODAY'S STORY
Kids News loves reading your best grammar, vocabulary and spelling.
We publish the best comments.